---
Crew
Director – Richard Bates Jr., Screenplay – Richard Bates Jr. & Mark Linehan Bruner, Producer – Dylan Hale Lewis, Photography – Lucas Lee Graham, Music – Michl Britsch, Visual Effects Supervisor – Steve Ansell, Makeup Effects – Hugo Villasenor, Production Design – Joshua Stricklin. Production Company – New Normal Films.
Cast
Matthew Gray Gubler (Raymond Wadsworth), Kat Dennings (Becca Thompson), Ray Wise (Donald Wadsworth), Barbara Niven (Eve Wadsworth), Mel Rodriguez (Hector), Jack Plotnick (Cousin Freddy), Ronnie Gene Blevins (Pope), Ray Santiago (Alberto), Jeffrey Combs (Dr Carpenter), Sally Kirkland (Virginia), John Waters (Cornelius), Mackenzie Phillips (Mrs Richards), Muse Watson (Ambrose Longstreet)
---
Plot
Having graduated from business school, Raymond Wadsworth is unable to obtain the top-drawer position he wants. He makes the reluctant decision to return home to stay with his parents. In the local bar, he befriends the barmaid Becca that he used to go to school with and potential romance rears its head. Meanwhile, Raymond's father has ordered the Mexican gardeners to renovate the lawn but they have unearthed a coffin containing the skeleton of a little girl. A sinister cloud emerges and enters the house. Raymond used to have psychic abilities. As he perceives things supernatural happening around the house, he and Becca try to solve the death of a young girl who was killed back in the 19th Century.
---
Suburban Gothic was the second film of Richard Bates Jr.. Bates gained some attention and genre notice a couple of years earlier with the darkly funny Excision (2012). Like Suburban Gothic, it features a central young person who is a social misfit both at school and amid the cloying WASP values of their home life. Bates spends a good part of either film skewering the values of this world, while outfitting the central character with a series of sarcastic asides. Both films also step over into being horror films, although you feel that such elements are a secondary concern to Bates' desire to sink fangs into middle-class America. Matthew Gray Gubler is in both films, while director John Waters makes a brief cameo in either too.
Most of Suburban Gothic consists of Matthew Gray Gubler making sarcastic asides that go over the heads of every character they are aimed at. None of this is particularly riotous or even outstandingly original, although I did enjoy one scene where Gubler silences a girl in his father's classroom who taunts him that he is gay. You feel there are other films – even Excision – which had more to say on the subject.
Matthew Gray Gubler is a potentially fine performer – for a look at his chameleon versatility, contrast his part here with his role as the hardass rule-splitting cop in Life After Beth (2014) from a few months earlier. The role he is given here cannot help but come across as wimpy and fey – characters keep calling him gay and asking when he is coming out, which leaves you with the feeling that the big surprise of the film is going to be that he comes out but he never does.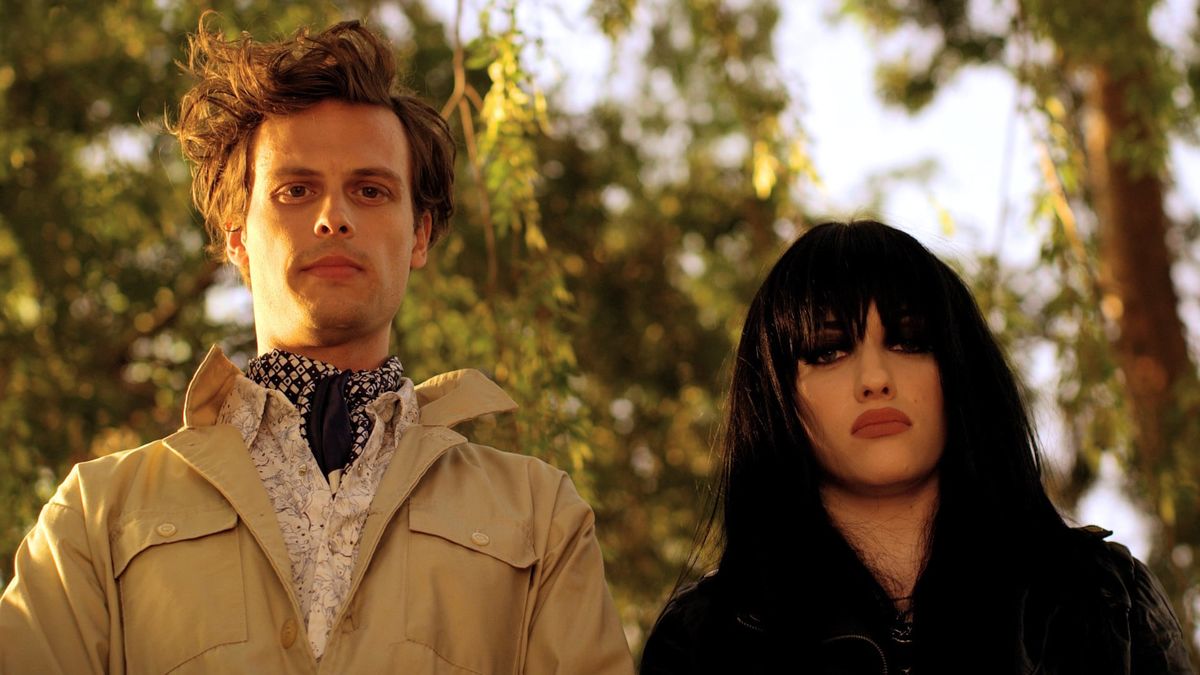 Paired against him is the great Kat Dennings who runs rings around the role she is given as the sarcastic rock chick barmaid. In a ways, I think the film would have worked far better if she had been cast in Matthew Gray Gubler's part – she would have eaten up the rebellion scenes, whereas here the film seems to condescendingly pass her off as being the sidekick/girlfriend in a part that doesn't seem very well defined on the script page or would have better suited an actress who would have given it a more run of the mill playing. I just couldn't ever seem to buy the relationship between the two characters.
Worse, for a film that seems to be all about rebellion against cloying middle-class values, the end settles for something for dreadfully average as to almost be a joke. Matthew Gray Gubler is validated after everyone sees the ghostly phenomena that has been claiming all along, after which he settles down with Kat Dennings, she gives up her job and they go into business together where the last we see of him is him now dressed in a suit.
You get the impression that Richard Bates Jr. is more interested in his take on middle-class families than he is in any of the genre elements. The ghost elements and Matthew Gray Gubler's mediumistic powers never arrive as anything of substance – certainly nothing that could ever be regarded as horror. Even the sinister looking digital blob that emerges out of the ground and possesses the gardener (Mel Rodriguez) is revealed as not being as scary as the scene initially makes it to be. All that we have is a few ghostly appearances, the investigation into a dead girl's corpse and the laying of her to rest – something that never rises above the average episode of Scooby Doo, Where Are You? (1969-72).
One thing that Richard Bates Jr. has managed to do is bring in an impressive guest cast. These include:- Ray Wise, best known for tv's Twin Peaks (1990-1), who has a long list of film credits both in and outside of genre material, as the father; an aging Sally Kirkland, who has a long career in indie films, as someone who helps them conduct the seance; Jeffrey Combs, a cult genre actor, as a corrupt doctor; cult director John Waters as the head of the local historical society; 80s darling Mackenzie Phillips as one of Matthew Gray Gubler's mother's very weird friends; even twin sisters Jen and Sylvia Soska, the cultish directors of Dead Hooker in a Trunk (2010) and American Mary (2012), in a brief cameo as mourners at the funeral.
Richard Bates Jr. next went on to make the non-genre Trash Fire (2016), Tone-Deaf (2019) with Robert Patrick as a wannabe serial killer and King Knight (2021) about a Wiccan coven leader reexamining his life.
---
---