---
USA. 2004.
Crew
Director – Mark Dippé, Screenplay – Simon Barrett & Scott Clevenger, Producers – David Hillary, Timothy Peternel & Ash Shah, Photography – Eliot Rockett, Music – Ryan Beveridge, Visual Effects – DiFarm & Girl Studio (Supervisor – Youngki Lee & Minsun Park), Physical Effects Supervisor – Richie Landerer, Makeup Effects – Almost Human, Inc. (Supervisor – Robert Hall), Production Design – Leslie Keel. Production Company – Silver Nitrate.
Cast
Tory Kittles (Sam Rivers), K.D. Aubert (Eliza), China Chow (Mary Callahan), Donna Biscoe (Gloria Crankton), Mathew Rauch (Dan), Tomas Arana (Jeff), Muse Watson (Elmer), Richard Edson (Roland), Raoul Trujillo (Ricardo), Noelle Evans (Bobbi), Mark Boone Junior (Joseph), Reggie Lee (Anton), Eugene Collier (John Crankton)
---
Plot
Medical examiner Sam Rivers is despatched to his swampland hometown of Otney to inspect a body that has been killed by an unknown animal. Joined by biologist Mary Callahan, Sam searches the bayous for the animal. Going to visit the dead man's wife, Sam finds that her daughter Eliza is a girl who had a crush on him in school. The three houseboats in the bayou lagoon are then attacked by a giant fish that is capable of jumping out of the water and surviving in the air. The giant fish also attacks anything that moves in the water and destroys the houseboats, leaving them trapped aboard as they slowly sink. As a group of hunters arrive, they discover that the fish are Chinese snakeheads that have been genetically engineered as prey for a wealthy huntsman.
---
Frankenfish is a made-for-cable-tv monster movie. As such, it is a relatively typical example of the low-budget CGI/genetically engineered monster movie that has grown into a modest sub-genre on cable/video from around 1999 onwards. The director is Mark A.Z. Dippé, a former visual effects supervisor whose only notable other screen credit was as director of Spawn (1997) and has elsewhere made various other tv/cable movies (see below).
Mark A.Z. Dippé directs with a fair competence. The film has been economically contrived so that almost all of it takes place around three houseboats in a single lagoon. The Frankenfish effects, which are done on the cheap by a South Korean CGI house, are competent and there is a fair array of splattery gore effects throughout. In fact, Frankenfish feels like it was made around the era of one of the cheerfully tongue-in-cheek copies of Jaws (1975) from New World Pictures such as Piranha (1978), Up from the Depths (1979), Alligator (1980) and Humanoids from the Deep (1980).
Frequently, Dippé plants his tongue in cheek – like the scene where Raoul Trujillo kills a Frankenfish and then promptly rips its heart out and throws it on a barbeque. And then there is the entertaining climax where Tory Kittles and K.D. Aubert contrive to get the fish to jump into the fan of a swamp boat and he consoles her afterwards: "You look great for a girl covered in giant fish brain." Dippé also takes frequent opportunity throughout to toss in wholly gratuitous sequences with big-breasted women parading about topless.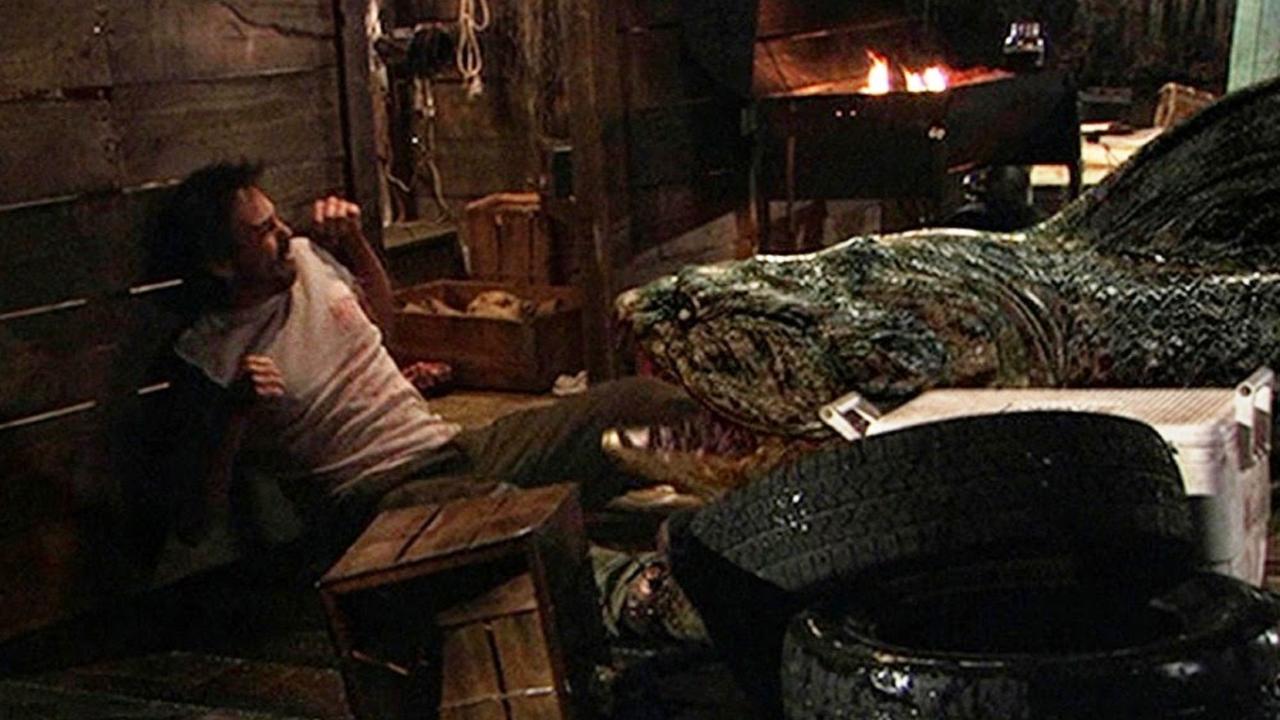 While Frankenfish progresses in standard ways for the better part, there are times it takes detours that leave one curling their eyebrows – like where hero Tory Kittles and biologist assistant China Chow sit down to have dinner with Donna Biscoe, daughter K.D. Aubert and K.D.'s lawyer boyfriend Mathew Rauch where it is suddenly revealed that Kittles is the lost high school crush of Aubert who began cheerleading just to be near him on the football team; how Aubert exits to the houseboat veranda after an argument with Rauch where Chow joins her and commiserates by suggesting she try a woman instead of a man; and Aubert then returns to the dinner table to find that her mother has fed Kittles a cup of voodoo tea to spur along their attraction. The victimology is not always predictable – China Chow seems set to be the female lead but is then bumped off two-thirds of the way through; Mathew Rauch is set up to be the asshole lawyer who has victim tattooed to his forehead but is spared up until the very end while far more likeable cast members end up being bumped off.
Lead actor Tory Kittles gives a strong and assured performance. More to the point, he plays the part with complete seriousness, which is way and above what the material requires. On the other hand, China Chow, who is initially paired as the lead actress opposite him, makes little distinction.
Mark A.Z. Dippé was a former Industrial Light and Magic visual effects supervisor who made his directorial debut with the graphic novel adaptation Spawn (1997). Dippé went onto make the tv movie Pixel Perfect (2004) about a holographic rock star, the Disney Channel movie Halloweentown High (2004) and the animated Garfield Gets Real (2007), Garfield's Fun Fest (2008) and Garfield's Pet Force (2009), and the animated The Reef 2: High Tide (2012), The Boxcar Children (2014) and The Boxcar Children: Surprise Island (2018).
The film was also one of the earliest writing credits of Simon Barrett who also wrote the horror films Dead Birds (2004), Red Sands (2009) and Temple (2017) and went onto become a regular screenwriter for Adam Wingard on A Horrible Way to Die (2010), Autoerotic (2011), What Fun We're Having (2011), You're Next (2011), The Guest (2014), Blair Witch (2016) and Wingard's segments of The ABCs of Death (2012) and the V/H/S films, while himself also directingthe Tape 49 segment of V/H/S/2 (2013) and The Empty Wake segment of V/H/S/94 (2021) and the full-length Seance (2021).
---
---