---
Crew
Director/Visual Effects Supervisor – Kelly Sandefur, Screenplay – Jim Geoghan, Producers – Kenneth Burke & Bari Carelli, Photography – Lawrence Schweich, Music – Tim Jones, Visual Effects/Creature Design/Animation – Ervin & Linda Bakhhian, Special Effects – Spectrum Effects Inc. (Matt Kutcher, Andy Loprino & Dan Powers), Production Design – Rick Walken. Production Company – Porchlight Pictures/Videal.
Cast
Whip Hubley (Dr John Winslow), Tracy Nelson (Detective Ally Parks), Corbin Bernsen (Carl Hart), Michael Gregory (Chief Sam Taylor), Lukas Behnken (Logan), Katie Stuart (Genny Winslow), Scott Davidson (Officer Howard Spiegel), Tony Longo (Louis), Mark Taylor (Professor Arthur Fuller), Corina Marie (Heather), Deborah Brown (Diane), Nicole Clendenen (Alexis Hart), Dennis Fimple (Willy Kramer)
---
Plot
Arthur Fuller, the biology professor at the university in the small town of Scottsville, is found gored to death. Detective Ally Parks investigates and joins with local veterinarian/pest control officer John Winslow who is puzzled over the disappearance of Fuller's genetically engineered bats. Not long after, the bats start killing people around the town. Ally tries to alert the police department to the menace but the police chief is in the pay of local real estate developer Carl Hart who is buying up all the property in the area and redeveloping it as housing tracts. As the menace spreads, Hart demands that all mention of the bat killings be quashed lest it affect his property prices.
---
Fangs is one of a host of B-budget CGI monster movie that came out during the 1990s and 00s. Indeed, Fangs plays like a much cheaper version of Bats (1999) – genetically engineered bats attack small town – along with a few dashes of the B-budget Bela Lugosi effort The Devil Bat (1940) wherein a madman uses bats that are controlled with homing devices to kill his enemies.
In the hands of Kelly Sandefur, a former editor, tv producer and a visual effects supervisor with Spectrum Effects, Fangs is a much more likeable film that one expected it to be. The bat attacks are relatively sparse but have a modest conviction. The plot is assembled out of entirely generic elements – a corrupt property developer, a genetically engineered menace amok, the authorities demanding silence about the menace lest it hurt business, the lone investigator who defies the department – however, the film is played with a sense of humour that ends up transcending this. The script throws in a number of witty characters around the edges – the two students who agree to shut up about what they saw in return for A's; Tony Longo as Corbin Bernsen's dim-witted enforcer; Nicole Clendenen as Corbin Bernsen's daughter constantly on the phone to her dermatologist; or Lucas Behnken as Whip Hubley's daughter's boyfriend.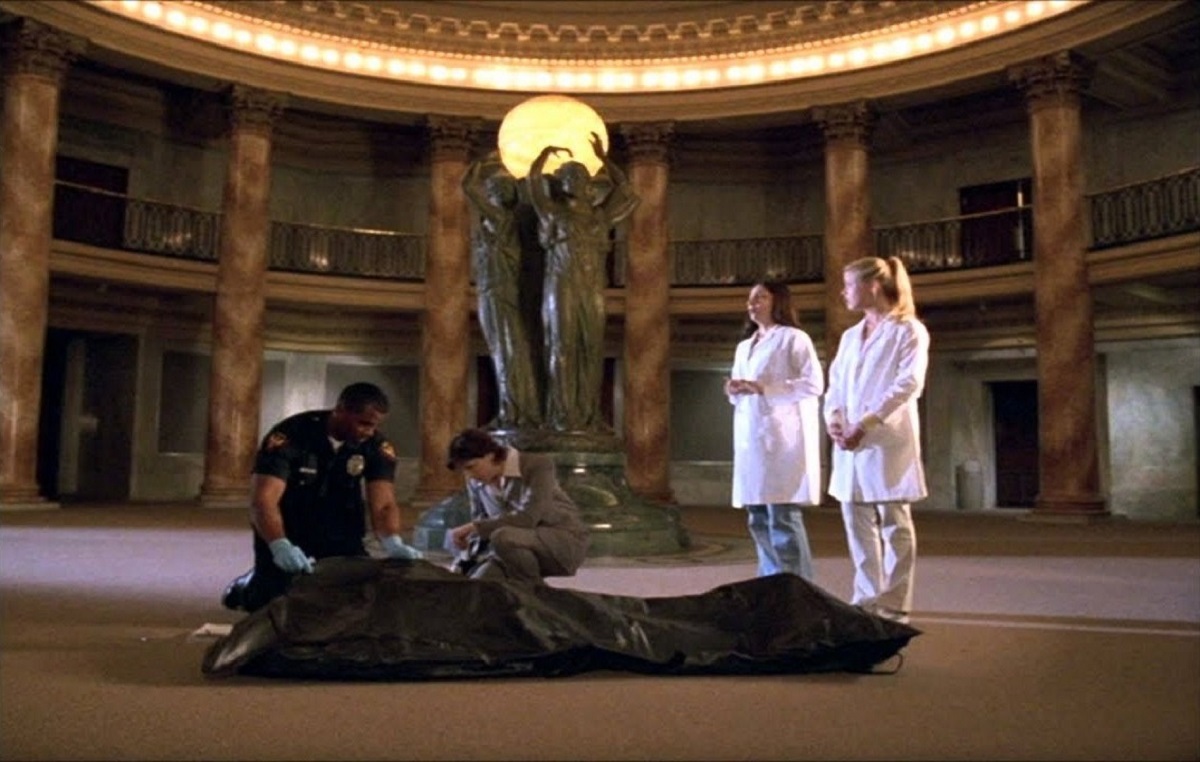 Corbin Bernsen has been taking on these sorts of B movie roles in the decade since the end of L.A. Law (1986-94) where he came to fame – see genre efforts like The Killing Box (1993), Final Mission (1994), Tales from the Hood (1995), Temptress (1995), The Dentist (1996) and sequel, Spacejacked (1997), Killer Instinct (2000), Raptor (2001), The Tomorrow Man (2001), Raging Sharks (2005), House of Fallen (2008), Vipers (2008), Dead Air (2009), which he also directed, The Ascension (2011) and Pizza Man (2011). As in most of these roles, Bernsen takes the opportunity to chew the scenery with entertaining regard.
There is also a good deal of amusement to be had in the relationship that develops between Tracy Nelson and Whip Hubley – both have a great rapport on screen and Kelly Sandefur plays everything with a considerable deal of amusement. Tracy Nelson, an underrated actress best known for The Father Dowling Mysteries (1989-91), who has also been reinventing herself in B thrillers of late, is good as well, if far too skinny to believe as a cop.
Fangs was Kelly Sandefur's feature-length debut as a director. He has subsequently gone onto make the haunted house film Inhabited (2003), the children's ghost story I Downloaded a Ghost (2004), the B-budget disaster movie Combustion/Silent Killer (2004) and Dancing Ninja (2010).
---
---