---
Crew
Director/Screenplay – Bernard Rose, Producers – Christian Angermeyer, Gabriela Bacher, Klemens Hallmann, Jennifer Holliday & Heidi Jo Markel, Photography – Candace Higgins & Bernard Rose, Music – Halli Cauthery, Visual Effects – Local Hero (Supervisor – Worth Bjorn Walters), Special Effects Supervisor – Jay T. Rockwell, Makeup Effects Supervisor – Randy Westgate, Makeup Effects – Skull Baby 13 Production, LLC, Production Design – Bradd Fillmann. Production Company – Summerstorm Entertainment/Bad Badger/Eclectic Pictures.
Cast
Xavier Samuel (Monster), Carrie-Anne Moss (Elizabeth), Tony Todd (Eddie), Danny Huston (Dr Victor Frankenstein), Maya Erskine (Wanda), Jeff Hillard (Officer Banks), Matthew Jacobs (Dr Marcus), McKenna Grace (Molly)
---
Plot
A young man is brought to life, being blank in everything, including memory and basic motor functions. He clings to the research scientist Elizabeth, the nearest figure offering him sympathy. He then breaks out in hideous sores, an unforeseen side effect of the process whereby he was created. The project's head Dr Victor Frankenstein orders him destroyed but the man escapes. He is unprepared for the outside world and reacts to things with violence and unnatural strength. After being arrested for throwing a young girl into the water, he is shot and left for dead by police. However, he survives and is taken in by Eddie, a blind, homeless man who teaches him rudimentary speech. All the while, Monster, as he calls himself, searches for Elizabeth.
---
Frankenstein is retelling of Mary Shelley's oft-filmed novel Frankenstein (1818). This new version comes from British director Bernard Rose. Rose has had several associations with horror material before, having made the reasonable hit of the Clive Barker adapted Candyman (1992), which went on to spawn several sequels. Elsewhere, Rose has made Paperhouse (1989), one of the best of the 1980s dream horror films, and Snuff Movie (2005). Outside of this, Rose has frequently dealt in classical subjects with the Beethoven biopic Immortal Beloved (1994) and Russian literature adaptations such as Anna Karenina (1997), Ivansxtc (2000) and The Kreutzer Sonata (2008).
Frankenstein – which many have confused with the far more high-profile period-set Victor Frankenstein (2015) with James McAvoy and Daniel Radcliffe that came out the same year – is one of several attempts that have been made to modernise Mary Shelley's novel. Other examples can be found in the likes of Dr Franken (tv movie, 1981), Frankenstein's Baby (tv movie, 1990), Frankenstein 2000 (1992), Mr. Stitch (1995), the Dean Koontz Frankenstein (tv movie, 2004), Frankenstein Reborn (2005), Frankenstein's Bloody Nightmare (2006), Frankenstein (tv mini-series, 2007), The Frankenstein Syndrome/The Prometheus Project (2010), Closer to God (2014) and Depraved (2019).
Bernard Rose's treatment offers up a very different Frankenstein film than anything we are used to. For one, there is nothing to do with creating patchwork bodies and resurrecting creatures from the dead, rather it appears that Frankenstein is building his creatures from scratch using a giant 3D printer. For once, even though he gives his name to the film's title, Frankenstein is a peripheral character and the major sections he would be expected to be in are taken up by Elizabeth (Carrie-Anne Moss), traditionally Frankenstein's fiancee, who now becomes his lab assistant/live-in girlfriend and a mother figure that the creature fixates on.
This also ends up being a modernised Frankenstein that seeks to find contemporary equivalents of various elements from the book and films. Traditionally, the creature is referred to as 'The Monster' but here takes the name Monster for itself after being called such by the mob at the lakeside. It gets the familiar scar across its forehead as a result of one of the autopsy doctors trying to cut it open with a buzzsaw. There is a replication of the scene from Frankenstein (1931) where Boris Karloff is playing with the little girl and innocently tosses her into the water.
The most radical reinvention is the scene from the book – later incarnated in slightly different form by O.P. Heggie in Bride of Frankenstein (1935) – where the monster hides in the woodshed of a cabin in the woods and learns to speak by listening to a blind man. Here the blind man becomes a blind, homeless blues guitarist (Tony Todd from Bernard Rose's Candyman) who befriends the monster. Rose also includes readings of sections from Mary Shelley's book in voiceover on the soundtrack.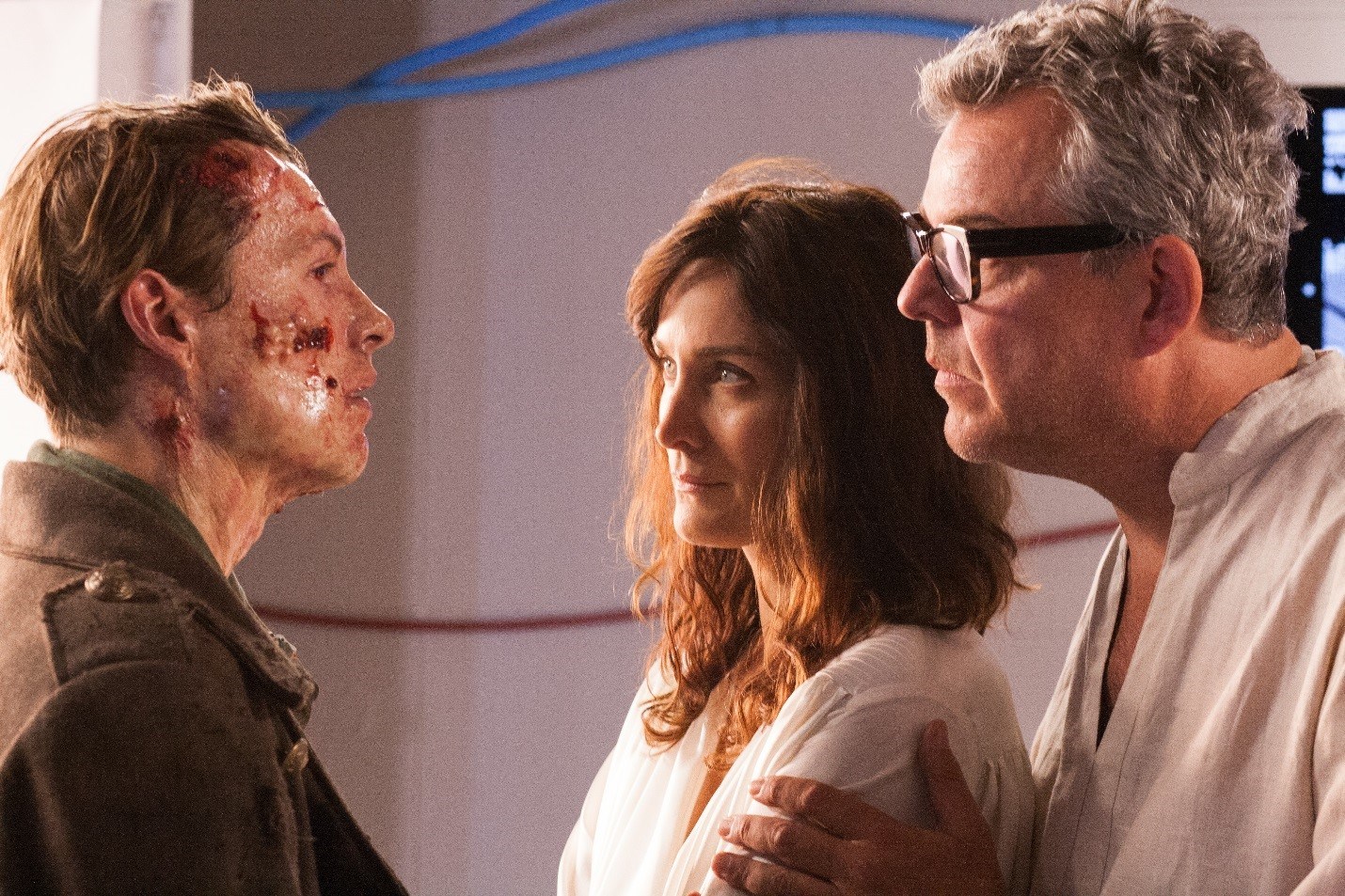 The film has a great opening – all told in terms of ragged emotional scenes wherein the creature (Xavier Samuel) comes to life and is like a newborn child, quickly bonding to Carrie-Anne Moss, screaming at the intrusive pain of injections, having to learn things like eating, drinking and walking for the first time. What we have is the Frankenstein story deconstructed and retold in terms of the creature's raw and fearful discovery of the world.
This is a fascinating new take that moves the film closer to something like The Mind of Mr. Soames (1969), which featured Terence Stamp as an adult man waking to consciousness for the first time with the mind of a newborn infant, rather than any traditional Frankenstein film. Indeed, the only other film that dealt with the creature's awakening and confusion about the world around it as such as primal experience was the Danny Boyle stage version of Frankenstein (2011).
---
---