---
Crew
Director – Gregory Plotkin, Screenplay – Blair Butler, Akela Cooper & Seth M. Sherwood, Story – William Penick, Christopher Sey & Stephen Susco, Producers – Gale Anne Hurd & Tucker Tooley, Photography – Jose David Montero, Music – Bear McCreary, Visual Effects – CoSA VFX & Ingenuity Studios, Special Effects Supervisor – Robert Trammell, The Other Mask Designed by Tony Gardner, Production Design – Michael T. Perry. Production Company – CBS Films/Tucker Tooley Entertainment/Valhalla Motion Pictures.
Cast
Amy Forsyth (Natalie), Stephen Conroy (The Other), Reign Edwards (Brooke), Roby Attal (Gavin), Rex Taylor Klaus (Taylor Smythe), Matt Mercurio (Asher), Christian James (Quinn), Michael Tourek (Security Guard), Tony Todd (The Barker)
---
Plot
Natalie returns home to spend a few days with her friend Brooke. Brooke has arranged for her roommate Taylor and their assorted boyfriends to go to the Hell Fest Halloween haunt that night. Brooke has set Natalie up with Gavin, a guy who has expressed interest in her. The group have VIP passes allowing them access to the section of Hell Fest that promises an extreme haunt. As they pass through the grounds, Natalie becomes certain that a masked figure is following them and may have killed a girl for real. The others dismiss him as one of the site's performers. However, the masked figure continues to follow and then begins eliminating members of the group.
---
Hell Fest was the second directorial outing from Gregory Plotkin, an editor who performed duties on all of the Paranormal Activity sequels and other Blumhouse works like Get Out (2017) and Happy Death Day (2017). Plotkin made his directorial debut on the final Paranormal Activity sequel Paranormal Activity: The Ghost Dimension (2015). He subsequently went on to direct the killer clown film Crimson (2020) and has also produced several other horror films including Area 51 (2015), Nightlight (2015) and Countdown (2019).
The film is produced by Gale Anne Hurd and her Valhalla Motion Pictures company. Hurd is best known as James Cameron's former wife and producer on all his films up to Terminator 2: Judgment Day (1991) and other works including Alien Nation (1988), Armageddon (1998), Virus (1999), Hulk (2003), The Punisher (2004) and tv's The Walking Dead (2010-22). Seeing Hurd's name come up on the credits leads you to expect something a cut above the average.
Certainly, the idea behind Hell Fest – of teens who encounter something murderous behind the facade of a Halloween haunt – is a familiar plot that has played out in a host of other films in recent years. See the likes of The Bates Haunting (2012), Hayride (2012), 6 Degree of Hell (2012), The House October Built (2014), The Scarehouse (2014), The Funhouse (2015), House of Purgatory (2016), Scariest Night of Your Life (2018), Haunt (2019) and Fear Pharm (2020). (For more detail see Films About Halloween).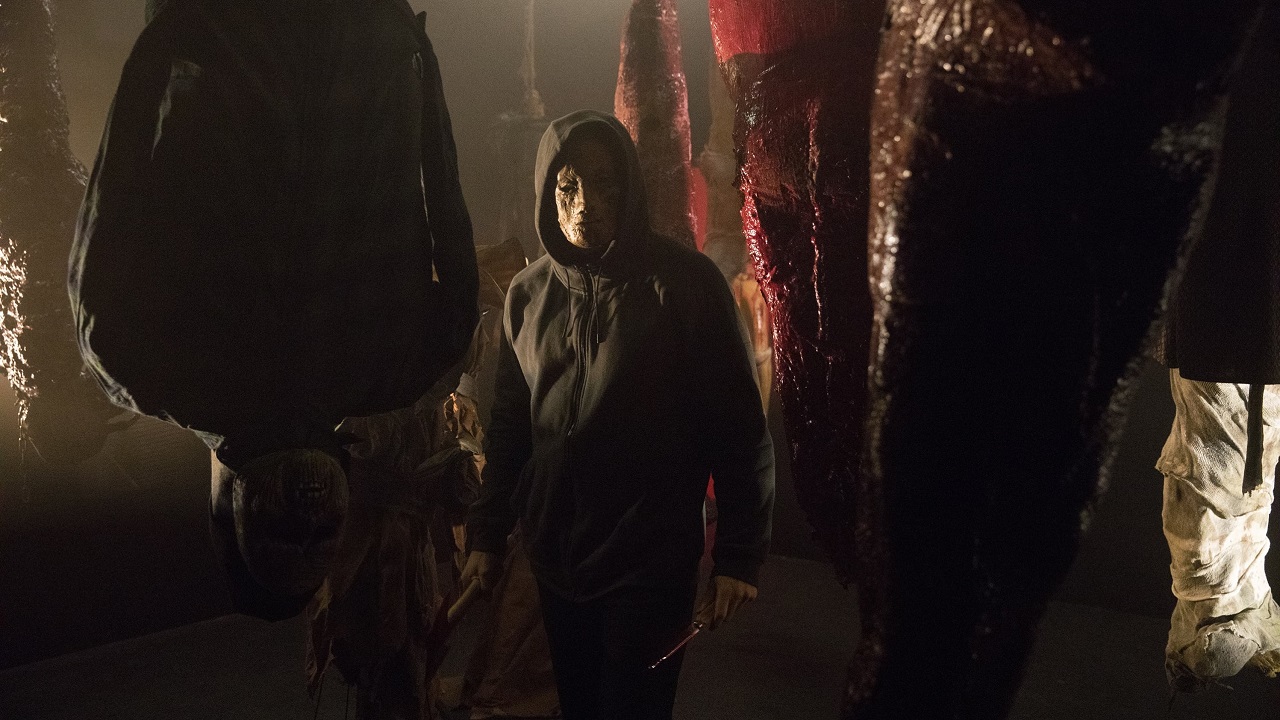 Usually all of these Halloween haunt films have the same problem in that the directors get so distracted by the faked scares of the haunt that there is nothing left for when they get to the business of trying to scare people. Frequently no distinction is made between the pop-up scares of the haunt, which blur into and become indistinguishable from the ones where the director is trying to scare people for real. That said, Hell Fest does not fall into this trap and little time is spent popping the fake scares out into the cast's faces.
Gregory Plotkin gets a reasonable degree out of effect out of the sinister relentlessness of the masked figure of The Other following the cast. The tension throughout comes in all the right places, delivered with an expertise and without any of the fakery allowed to distract. There is also great use made of the location – in this case the Six Flags White Water amusement part in Mariette, Georgia (which is not a Halloween haunt, although subsequently introduced one after Hell Fest came out). What we have feels like an entire fairground spread out over a large area rather than a single haunted house they pass through.
There is a fine scene where Amy Forsyth sees The Other pursuing a girl, directs him to where the girl is hiding, thinking it is part of the act and then her sudden realisation that what is going on is real as the masked figure starts stabbing the girl. In another fine scene, Amy Forsyth is using a bathroom dryer to dry her hair and is unaware as The Other comes right up close to her and caresses her hair before leaving unnoticed.
---