---
Ireland/Luxembourg/UK. 2017.
Crew
Director/Additional Writing – Haifaa Al-Mansour, Screenplay – Emma Jensen, Producers – Amy Baer, Ruth Coady & Alan Moloney, Photography – David Ungaro, Music – Amelia Warner, Visual Effects Supervisor – Tilman Paulin, Special Effects Supervisors – Aidan Byrne, Brendan Byrne, Ken Fitzke & Michael Kerns, Production Design – Paki Smith. Production Company – Bord Scannan na Heireann (The Irish Film Board)/HanWay Films/Film Fund Luxembourg/Parallel Films (Storm) Limited/Juliette Films SA/Sobini Films.
Cast
Elle Fanning (Mary Godwin Shelley), Douglas Booth (Percy Bysshe Shelley), Bel Powley (Claire Clairmont), Stephen Dillane (William Godwin), Tom Sturridge (Lord Byron), Ben Hardy (Dr John Polidori), Maisie Williams (Isabel Baxter), Joanne Froggat (Mary Clairmont Godwin), Ciara Charteris (Harriet Shelley), Derek Riddell (William Baxter), Jack Hickey (Thomas Hogg), Hugh O'Conor (Samuel Coleridge)
---
Plot
1814. Seventeen year-old Mary Godwin is raised by her father, the bookseller William Godwin, her mother having died shortly after giving birth to Mary. Mary is sent to stay with her father's friend William Baxter in Scotland and there meets the poet Percy Bysshe Shelley. The two become enamoured and Shelley follows her back to London and signs on as her father's pupil, while the two conduct a romance in secrecy. Mary then discovers that Shelley is married to another woman, although he maintains that he does not love her. With her father refusing to sanction their romance, Mary and Percy decide to elope. Mary's half-sister Claire Clairmont insists on coming too. All three move in together, although it makes Mary unhappy when Shelley also sleeps with Claire. The three take a tour of the continent and visit Lord Byron where he is staying at the Villa Diodati in Switzerland. There Claire becomes Byron's lover but is spurned by him after she becomes pregnant. Mary channels her increasing unhappiness into writing a story that she calls Frankenstein, or The Modern Prometheus. She finds that nobody will publish it under her name and is forced to do so anonymously but with an introduction by Shelley, only for the book to become a sensation.
---
Mary Shelley (1797-1851) probably needs no introduction as the author of Frankenstein, or The Modern Prometheus (1818), the story that gave birth to hundreds of horror films, sequels, parodies and wacky interpretations, even comic-books, Halloween masks and children's toys. Even if the book is a far cry from what it and its creature have become in the popular imagination, there has been a fascination with the woman who created it. Many biographies and academic treatises have sought to explore Mary Shelley and the book as a product of her life and times. Mary wrote six other novels and a number of other works but none of these caught the fire of the public imagination as Frankenstein did.
Haifaa Al-Mansour is the first woman director from Saudi Arabia and the first Saudi director to helm a major English language film. Al-Mansour first appeared with the documentary Women Without Shadows (2005), followed by the award-winning dramatic film Wajda (2012), both of which concern the role of women in Saudi society. She subsequently wet on to make the comedy the US comedy Nappily Ever After (2018) and The Perfect Candidate (2019) about a Saudi woman who decides to run for public office.
There have been several other depictions of Mary Shelley on screen before with Gothic (1986), Haunted Summer (1988), Rowing with the Wind (1988) and Frankenstein Unbound (1990), even the Doctor Who episode The Haunting of Villa Diodati (2020). She has also made the odd appearance in various Frankenstein tales such as Bride of Frankenstein (1935), the aforementioned Frankenstein Unbound and the tv series The Frankenstein Chronicles (2015-7). In all of these, she has appeared in relation to the writing of Frankenstein, while the first five mentioned all take place around the locus of the events of 1816 at the Villa Diodati – in other words, the event is like a play with Mary as just one of the players.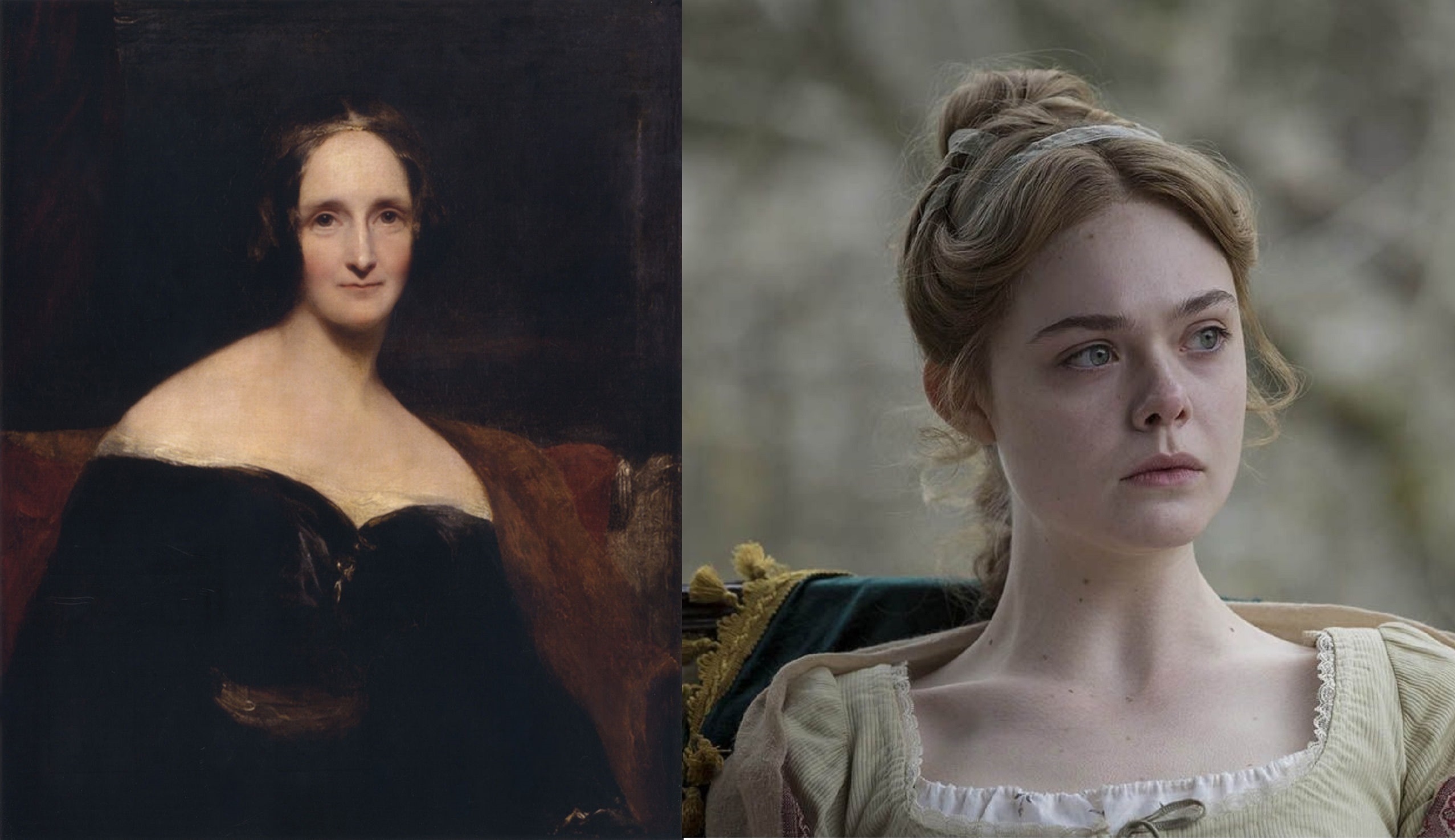 By contrast, Mary Shelley is the first of these films to deal with Mary Shelley as a biographical figure. None of the other stories, for instance, go into who Mary was as a person, the forces that shaped her and the how these played out in the writing of Frankenstein; rather she is seen as merely the person who accompanied Percy and was inspired to write a famous book.
The Villa Diodati Writer's Workshop does take place here, although it is far less celebrated as the great meeting of minds and their determination to challenge orthodoxy as it is seen in these other works. In all these other depictions and other works like the tv mini-series Byron (2003), the men's actions have been seen as admirable. Here however Haifaa Al-Mansour and screenwriter Emma Jensen are more concerned with how both Shelley and Byron treated women badly – throughout Percy is seen as causing Mary's unhappiness with his multiple affairs and notion of free love; while Byron comes across as a pig who uses Mary's sister sexually and then spurns her, leaving her alone and pregnant.
In other words, what we have here is an interpretation of the Mary Shelley story as a feminist work, written from the perspective of the emotional effects the men's behaviour has on the women. Mary's character arc throughout is that of a teenager who is swept off her feet, is shunned by her family for doing so but then finds herself neglected by a philandering husband and channels her unhappiness into the writing of a book that unexpectedly becomes a success.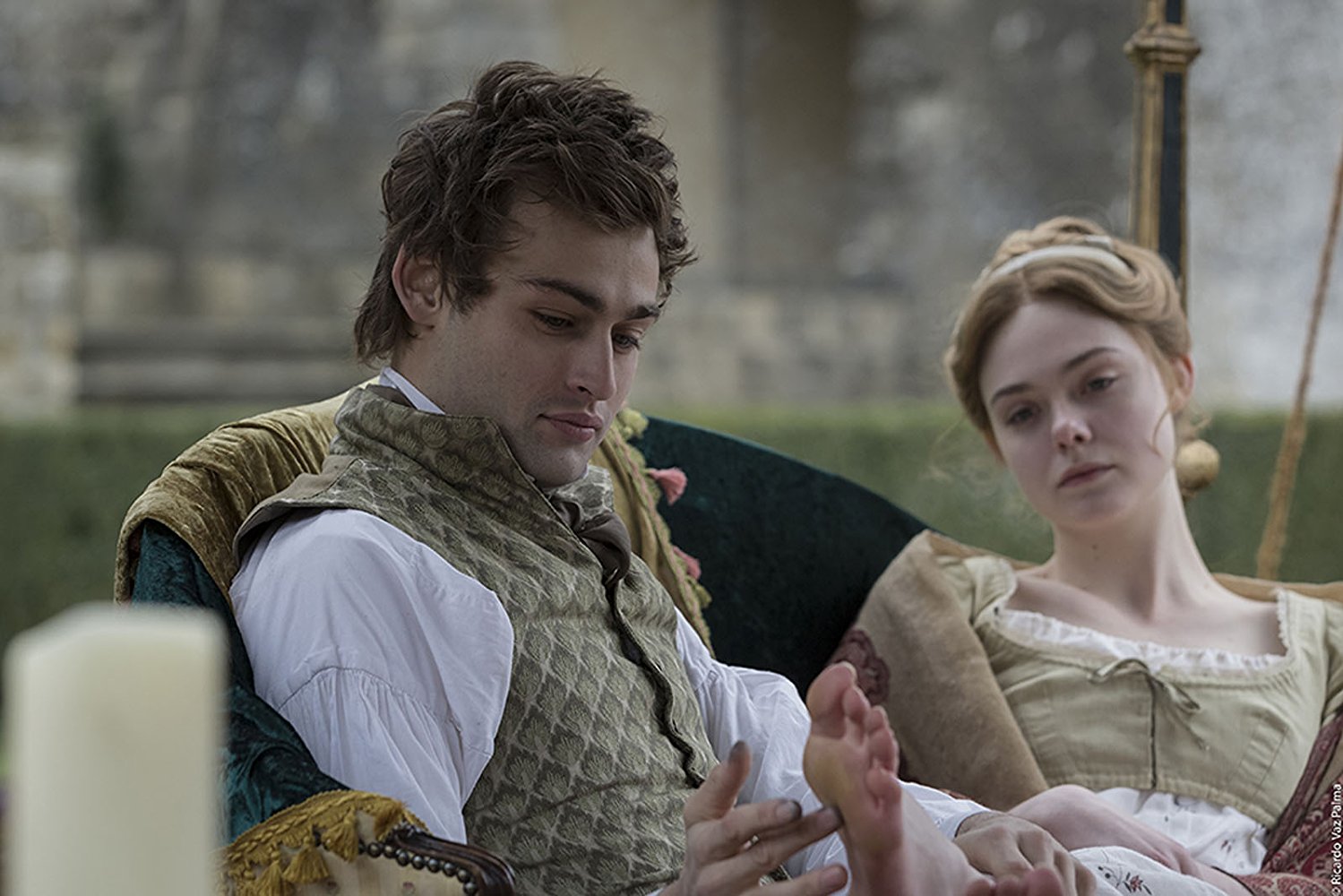 The most sympathetic of the men present is the usually overlooked Dr Polidori, who in all the other works is shown as weak and ineffectual. Here Polidori is understanding of Mary's unhappiness and later we have a scene where both he and Mary compare their respective works of horror fiction – Frankenstein and Polidori's short story The Vampyre (1819) – and discuss how they are depictive of the self-centred men around them (Shelley and Byron) and reflect on the irony of how both works ended up being published under the names of the men they sought to characterise and wrongly believed by the public to be written by said men.
This is the only screen depiction of Mary Shelley that covers her biographical detail. This it does with a reasonable degree of accuracy, bringing out aspects such as her family life, her admiration of her late mother and dislike of her stepmother. Moreover, it is about the only film that depicts the characters as around the same ages they were in real-life – namely, that Mary was nineteen, Shelley was 24, Claire eighteen and Byron 28 – and casts them with actors of roughly the equivalent age – whereas the abovementioned films have cast the roles with actors well into their thirties and forties in some cases. Current It Girl Elle Fanning doesn't much look like the surviving portraits of Mary Shelley (see above photo comparisons) but is reasonable in the role.
There are one or two aspects that have been changed for the film – Mary didn't meet Shelley in Scotland, only after he had become her father's pupil. (As a result we don't get to see the possibly apocryphal story where Mary lost her virginity in a London graveyard). Also Claire had begun her affair with Byron before the group had even left England and corresponded with him – it was in fact she who persuaded Mary and Percy to visit the Villa Diodati so she could see Byron with whom she had become infatuated. There is no mention (possibly for budgetary reasons) of the group's travels throughout Europe that had been ravaged by the Napoleonic Wars, imagery of which featured in their writings. Or even the fact that Mary's stepmother followed them to France in an effort to persuade them to return.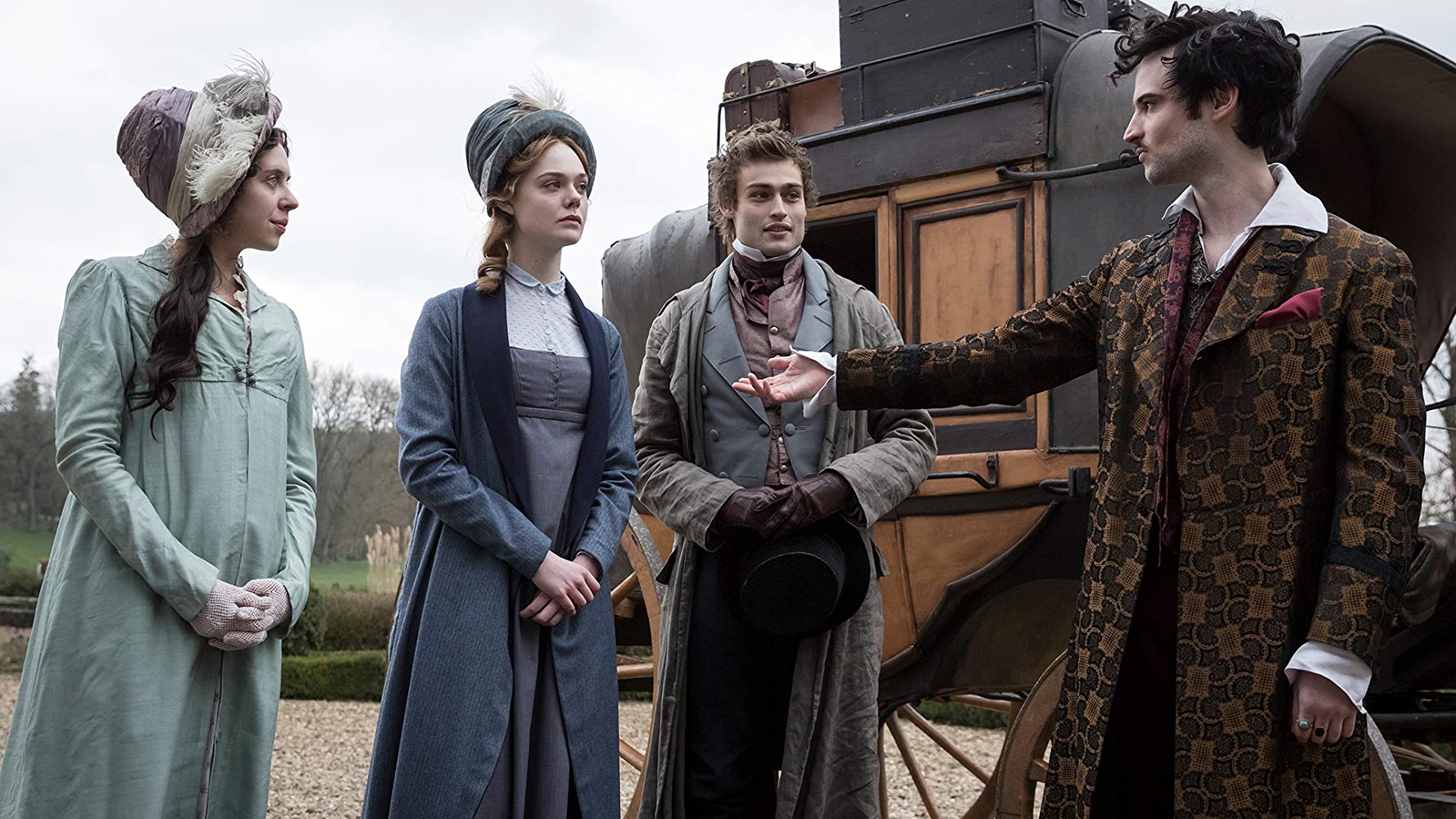 The main quibble I would make is the film's interpretation of the subtexts in Frankenstein. Screenwriter Emma Jensen and Haifaa Al-Mansour see this in terms of the feminist frame they place on the Mary Shelley story. Here the creature is a stand-in for the way in which Mary is neglected by Shelley during his multiple affairs. This is never an interpretation that occurred to me during the reading of the book or indeed the BBC when they made the Mary Shelley documentary Frankenstein: Birth of a Monster (2003).
Most academic interpretations see the story as reflecting Mary's grief at the loss of her child in 1814 rather than her relationship with Percy. The greater themes that run throughout in the book (and certainly the films) are ones about the nature of science, hubris and the very Gothic notion of mankind defying divine provenance but these are never even considered here. Is Frankenstein really a work about Mary being left alone and unhappy – it's hard to say, the creature is not always a sympathetic figure in the book, which it surely would be more so if it were Mary's stand-in – but it is certainly a very different interpretation of the story than we have had before.
---
---