---
Crew
Director – Richard E. Cunha, Screenplay – Ralph Brooke & Frank Hart Taussig, Producer – Arthur A. Jacobs, Photography (b&w) – Dick [Richard E.] Cunha, Music – Albert Glasser, Special Effects – Harold Banks, Makeup – Jack Pierce. Production Company – Screencraft Enterprises.
Cast
Edward Kemmer (Wayne Brooks), Morris Ankrum (Dr Frederick Cleveland), Sally Fraser (Janet Cleveland), Bob Steele (Sheriff Parker), Buddy Baer (Vargas), Gary Crutcher (Charlie Brown), Joline Brand (Ann Brown), Billy Dix (Indian Joe)
---
Plot
The small town of Pine Ridge is rocked by the latest in a series of murders up near Devil's Crag. Sheriff Parker suspects geologist Wayne Brooks who has just returned from hiking in the area. Wayne meets archaeologist Frederick Cleveland and his daughter Janet as they pass through town. Cleveland tells Wayne about his search for the remains of Vargas, a brutish conquistador who was nicknamed The Diablo Giant. Wayne agrees to take Cleveland up to Devil's Crag where he has found various artifacts. There they discover the resting place of Vargas where Wayne theorises that a peculiar mix of chemicals in the soil has preserved the body. A lightning strike brings the hulking Vargas back to life where he now attacks the locals and abducts Janet.
---
Giant from the Unknown was a film from Richard E. Cunha, one of the less remembered no-budget directors in 1950s cinema. Cunha has started out making newsreels while in service during World War II. Back in civilian life, he branched out to make commercials and industrial films, before directing various shows in the early days of television. His first film as director was the very first Nazi mad scientist movie She Demons (1958), which was followed by Giant from the Unknown and the Z-budget classics Frankenstein's Daughter (1958) and Missile to the Moon (1959). The only other film Cunha ever directed was the crime drama The Girl in Room 13 (1960).
Giant from the Unknown was made the year after The Incredible Shrinking Man (1957). The success of that film inspired a host of other giant and miniature people films with the likes of The Amazing Colossal Man (1957), Attack of the 50 Foot Woman (1958), Attack of the Puppet People (1958) and The 30-Foot Bride of Candy Rock (1959). Even aside from that, there were a host of giant insect and animal films cluttering up the decade.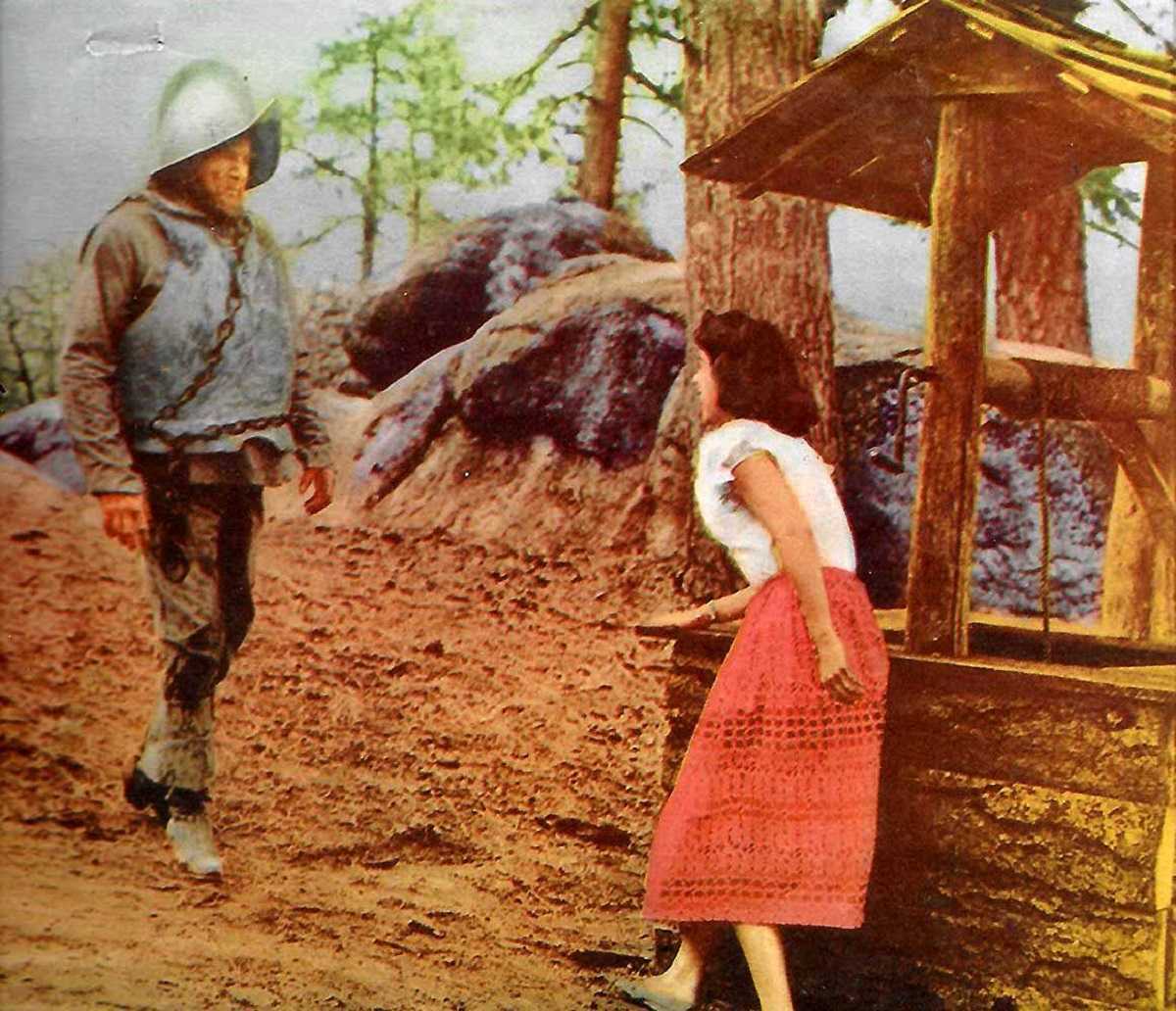 On the face of it, Giant from the Unknown would seem to be intended as another of these big and small films. However, when seen, the film's giant turns out to be no more than 6'6" former boxer Buddy Baer in Conquistador armour. Baer looks burly and barrel chested more than he ever does a giant, something that you cannot help feel is a big letdown on the promise of the film's title. In all other regards, Baer is a standard monster of the decade – he attacks Joline Brand and peeps in on Sally Fraser undressing in a tent and later abducts her.
Giant from the Unknown is probably one of the more competent among Richard E. Cunha's films in that it rises to a level of strictly average (as opposed to being cheap and terrible). The film travels along in the flat and pedestrian way that most 1950s B movies do. The sole moment that the show perks up in any way is at the climax, which has a well-shot scene of Edward Kemmer struggling with Buddy Baer on the edge of a dam – unfortunately this is let down by Cunha only shooting in a single wide angle and not dramatically breaking the scene up, before ending on a shoddy optical of Baer falling over the side of the dam.
The scenes with Indian Joe (played by the very Caucasian Billy Dix) read as incredibly racist today – he is first seen lying drunk in the street, only speaks in Pidgin English and is at one point told by sheriff Bob Steele to get out or he will be run in on a vagrancy charge.
---
---