---
Crew
Director – Ashwin Saravanan, Screenplay – Kaavya Ramkumar & Ashwin Saravanan, Producer – S. Sashikanth, Photography – A. Vasanth, Music – Ron Ethan Yohann, Visual Effects Supervisor – Lakshmanan C, Prosthetics – Pal FX Studio, Art Direction – Shiva Shankar. Production Company – Ynot Studios/Reliance Entertainment.
Cast
Taapsee Pannu (Swapna), Vinodhini (Kalamma), Anish Kuruvilla (Psychiatrist), Ramya (Varsha), Sanchana Natarajan (Amudha/Amrutha), Maala Parvathi (Amuda's/Amrutha's Mother), David Solomon Raja (Inspector)
---
Plot
In Gurugram, Swapna is a videogame designer who is suffering post-traumatic stress as a result of an attack one year earlier. Her psychiatrist uses Virtual Reality therapy to deal with the panic attacks she suffers every time she is left in darkness. Swapna has also had a game console tattooed on her wrist. She now learns from her tattooist that she was mistakenly tattooed with an ink that has the ashes of a dead person mixed into it. As Swapna struggles with her issues, the three masked figures responsible for her attack return.
---
Game Over was a Bollywood horror film. It was the second film from Ashwin Saravanan who is based in Chennai and shoots in the Tamil language. Saravanan had previously made the horror film Maya (2015).
Ashwin Saravanan dispenses with the formula of most Bollywood films. In Game Over, there is none of the usual lengthy song-and-dance numbers that take up Bollywood films, nor any of the requisite romantic plots. The film also hails in at a respectable 97-minute feature-length rather than the 2½-hour running time of many Bollywood films. Ashwin Saravanan has also clearly studied Western (as opposed to Bollywood) horror films with the end in particular producing hulking masked figures that could easily have stepped out of a Slasher Film (a genre that Bollywood cinema has never touched upon).
The main problem with Game Over is that it is not clear for much of the film what actually is going on. We have Taapsee Pannu as a woman who has survived an assault. She has traumatic flashbacks and experiences irrational fears of the dark. The film tosses up a bunch of suggestions about what is the cause – suggestion of killers prowling the city; that she may have she received a tattoo that had the ashes of a dead person mixed in, while towards the end strange black masked figure appear, although it is not clear if these were the same ones that attacked her.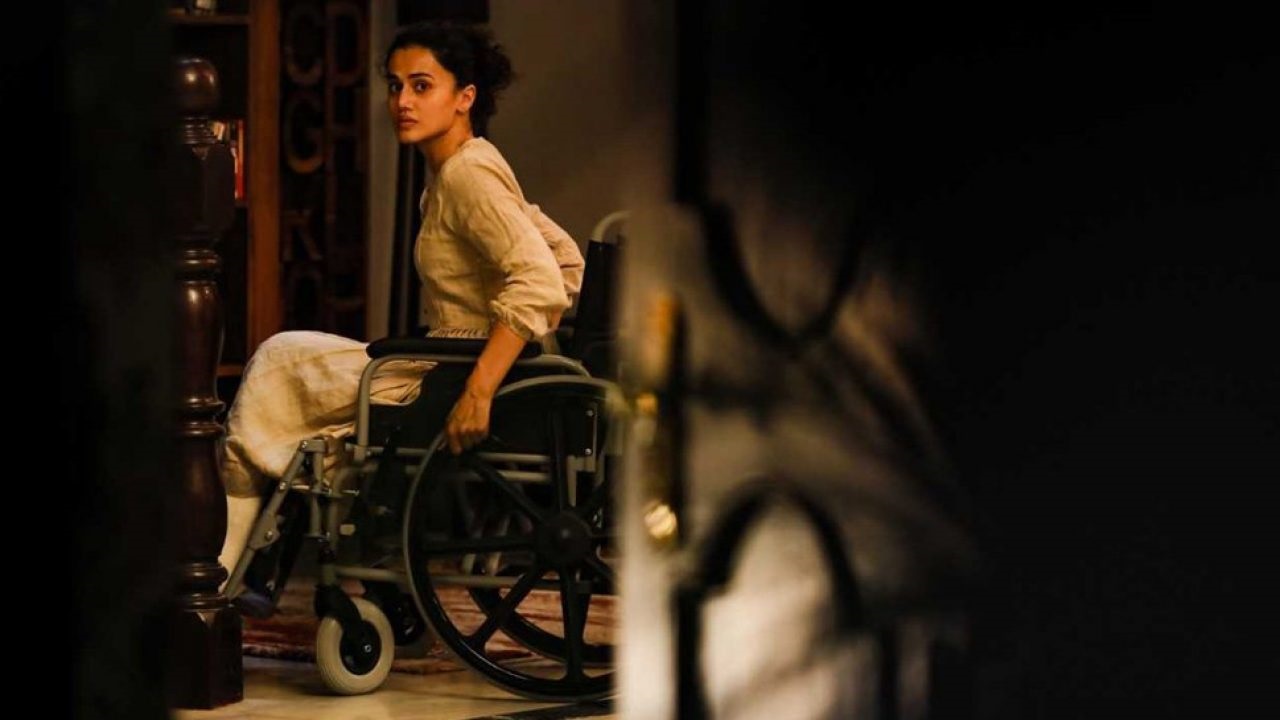 The scenes where Taapsee's psychiatrist (Anish Kuruvilla) engages her in a Virtual Reality treatment and the videogame/VR elements makes you think that maybe we are in for some kind of reality-bending horror akin to Brainscan (1994). Similarly, the appearance of the game console tattoos on Taapsee's wrist makes you think she is playing in some kind of simulation akin to the central character in Avalon (2001). Her suddenly having multiple game console tattoos appear on her wrist tends to suggest that these are her lives inside a game.
On the other hand, I am still not sure what exactly is going on after watching the film. The last twenty minutes fragment off into narrative incomprehensibility. I was not sure who the multiple masked figures attacking Taapsee were. Moreover, the wrist tattoos prove to be of no significance. Quiet what it all means, I confess to not knowing.
---
Trailer here
---