---
Crew
Director/Screenplay – Ataru Oikawa, Based on the Manga by Junji Ito, Producers – Yasuhiko Azuma, Youichiro Onishi & Shun Shimizu, Photography – Akira Sakoh & Kazuhiro Suzuki. Production Company – Daiei.
Cast
Mami Nakamura (Tsukiko Izumisawa), Miho Kanno (Tomie Kawakami), Yoriko Douguchi (Dr Hosono), Tomorowo Taguchi (Detective Harada), Kouta Kasano (Yuuichi Saiga), Rumi (Kaori)
---
Plot
Tsukiko Izumisawa is visiting psychologist Dr Hosono, trying to deal with her insomnia and amnesia as a result of what happened two years earlier. Dr Hosono tries to get to the root of this by hypnotising her. While she is under, Tsukiko mentions the name Tomie but can remember nothing of this when she wakes. Dr Hosono is later visited by a detective who tells her about the death of schoolgirl Tomie Kawakami two years ago and how a number of the other girls in her class subsequently committed suicide. Tsukiko's parents moved her away before she became the next victim. A neighbour in Tsukiko's building has carried Tomie's severed head home and it has grown into a little girl, bringing Tomie back to life.
---
Tomie is another of the Japanese horror (J-horror) films that emerged following the amazing success of Ring (1998). Unlike Ring and many of its imitators, Tomie is one J-horror that remains largely unknown outside of Japan. It has however produced an incredible eight sequels – Tomie: Another Face (1999), Tomie: Replay (2000), Tomie: Rebirth (2001), Tomie: The Final Chapter (2002), Tomie: Beginning (2005), Tomie: Revenge (2005), Tomie vs Tomie (2007) and Tomie: Unlimited (2011).
The shadow of Ring hangs heavily over Tomie – with her unnerving little girl's voice, Tomie is yet another clone of Sadako. Unfortunately, I found Tomie uninteresting to the point of being dull. It has clearly been shot on a low-budget and features non-professional lighting and photography. This only results in a film that looks dreary, has little in the way of visual style and where director Ataru Oikawa does little to spice the show up. It is certainly hard telling from this that you are looking at a film that inspired a major horror franchise.
Ataru Oikawa throws in the odd shock – there is a captivating and literally eye-opening scene that opens the film (and promises well – at least until the rest of it kicks in) where a man carries a bag on the street and opens it to reveal a head inside, whereupon the head suddenly opens its eye and looks up at the camera. Mostly though, Ataru Oikawa fails to develop any mood and does little to draw one into the film.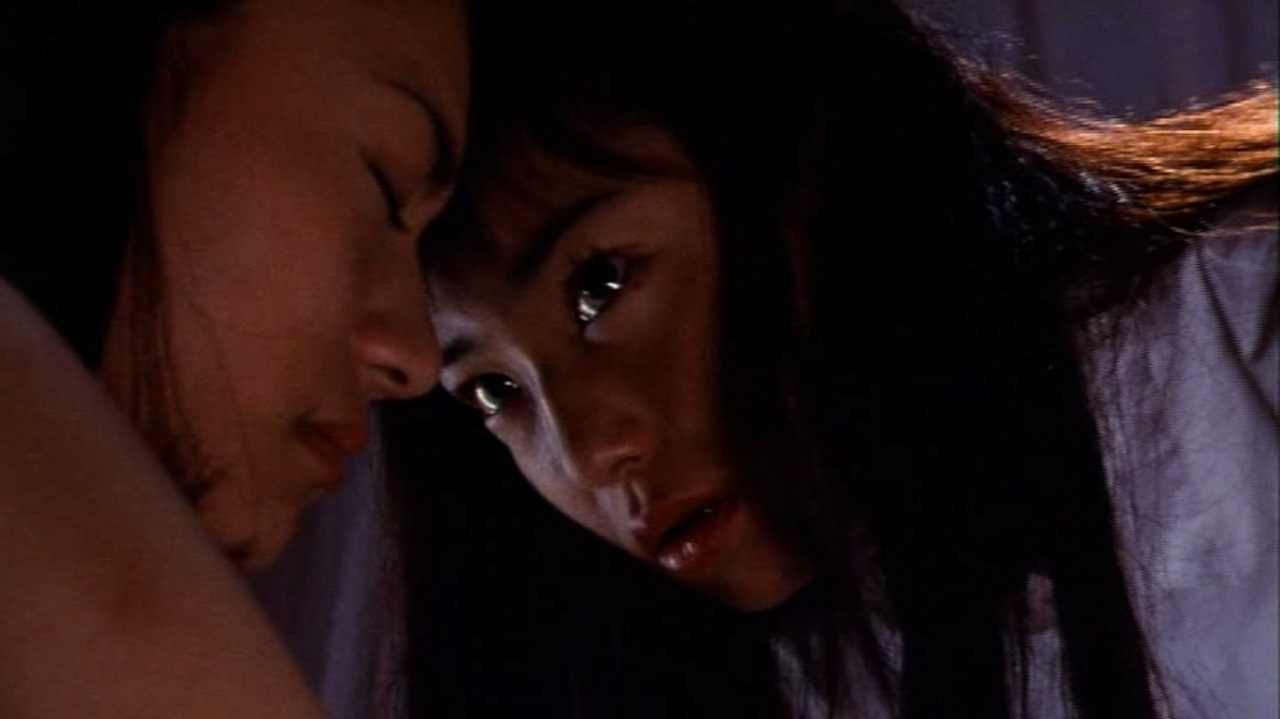 Tomie is eventually a fascinatingly creepy character once her face is unveiled but the film surrounding her is soporific. This is at least one J-horror film that would substantially benefit from an English-language remake that would give it the far superior production polish and better director it virtually cries out for.
At times, Tomie resembles a J-horror film like Ring or Ju-on: The Grudge (2003) as conducted by the ultra-cryptic Kiyoshi Kurosawa of Cure (1997), Pulse (2001) and Retribution (2006) fame – albeit minus Kurosawa's uncanny ability to conjure unearthly scares. I failed to fully make sense of the plot, especially the ending where heroine Mami Nakamura confronts Tomie and says "You are me, I am you," before blowing herself up with fireworks.
Ataru Oikawa returned to the series to make Tomie: Beginning and Tomie: Revenge. He went onto make a number of other genre films, including Tokyo Psycho (2004), Einstein Girl (2005), Apartment 1303 (2007), Shrill Cries of Summer (2008) and Shrill Cries: Reshuffle (2009).
---
---