(Kabiyo Otama-Ga-Ike)
---
Crew
Director – Yoshihiro Ishikawa, Screenplay – Jiro Fujishima & Yoshihiro Ishikawa, Based on the Short Story by Sotoo Tachibana, Producer – Mitsugu Okura, Photography – Kizuko Kawasaki, Art Direction – Haruyasu Kurosawa. Production Company – Shintoho,
Cast
Shozaburo Date (Yachimaru/Tadahiko), Noriko Kitazawa (Kozasa/Keiko), Yoichi Numata (Gensai)
---
Plot
Tadahiko is travelling with his girlfriend Keiko to visit her father so that he can ask his permission to marry her. As they pass Otama Pond, something causes them to keep returning to the lake no matter which way they turn. As they take refuge at a nearby house, Keiko is haunted by terrifying apparitions. Tadahiko takes her to a doctor who tells the story of what happened at the house a century earlier. The samurai Yachimaru of the Nanjo clan loved Kozasa but she belonged to a rival family who had forbidden her to see him. Kozasa's father Gensai plotted against the Nanjo clan, wanting to marry Kozasa off to another man and take Yachimaru's sister Akino for a friend. While Yachimaru was away in the city, Gensai and his men killed his family, burned their home down and threw the bodies in Otama Pond. When he tried to confront Gensai and the corrupt magistrate about what happened upon his return, Yachimaru was killed and his body thrown in the pond too. As Kozasa was about to be married, the ghosts of the murdered came to exact retribution on their killers.
---
The Ghost Cat of Otama Pond was one of the kaidan (Japanese ghost stories) that became extremely popular on film in the country during the 1950s, following the success of Ugetsu Monogatari (1953). This era produced a number of other classics such as Ghost Story of Yotsuya (1959), Jigoku (1960), Kwaidan (1964), Oni Baba (1964) and Kuroneko (1968), among many others.
Most of these are set period and centre around samurai characters, featuring tales of morality – the supernatural taking retribution for sins and misdeeds (usually murder) that have been conducted in this life. The Ghost Cat of Otama Pond falls into a particular sub-genus of the kaidan known as the bakemono (concerning shape-changing cats) – although despite the fact that the title makes reference to a ghost cat, the actual cat does very little throughout the film.
The Ghost Cat of Otama Pond comes from Shintoho, a company that was in operation between 1949 and 1961 during which they made some 150 pictures. Initially, Shintoho specialised in lurid thrillers but also turned to ghost stories and made a number of kaidan eiga, which also included Black Cat Mansion (1958), Ghost of Chibusa Enoki (1958), M.P. and the Ghost (1958), Ghost Story of Yotsuya, Lady Vampire (1959), Vampire Bride (1960) and Jigoku. The Ghost Cat of Otama Pond is based on a story by Sotoo Tachibana, a writer of kaidan whose works were adapted into a number of other films during this era.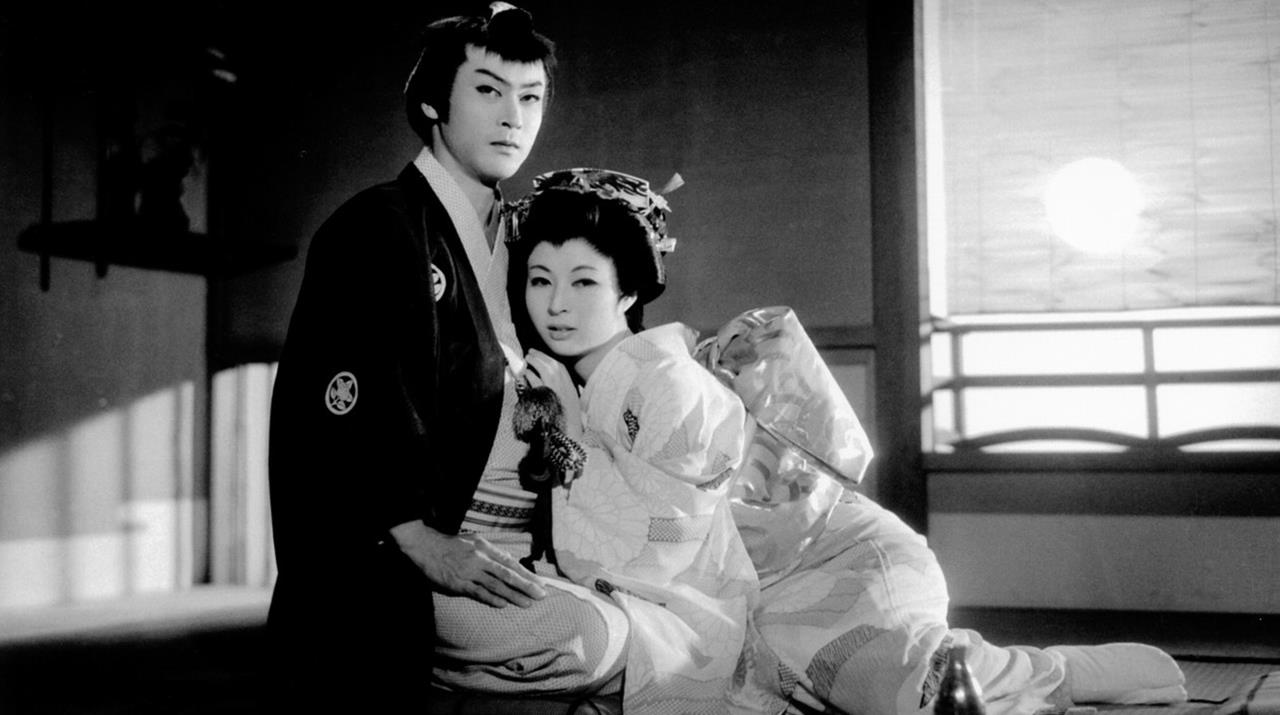 The kaidan eiga of this period were much slower than we have come to expect from the modern Japanese ghost story – Ring (1998), Ju-on: The Grudge (2003) et al. The Ghost Cat of Otama Pond takes its time building up through the often complicated saga of family rivalries, complicities and desires in which almost anybody who has initially come across as being a decent person ends up being murdered.
When it arrives at being its ghost story, director Yoshihiro Ishikawa's handling and shocks are disappointingly staid. He goes overboard on colour effects, underlighting the faces of the ghosts a lurid emerald green whenever they appear; turning the pond a bright scarlet red; and throwing up all manner of effects – the pond moving closer to the house, the giant shadow of the black cat outlined against the wall, the murdered sister's hairpin turning up in odd places and ominously dripping with blood, blood appearing in cups of sake, the appearances of the mother with the hideous face of a hag.
For all the effort that Ishikawa puts into creating such effects, they seem like nothing more than crude pop-up effects that you might get in a fairground haunted house. What the film is crucially lacking is the ability to lead up to any of these in a way that holds suspense or generates atmosphere. The first half of the film is all contorted family drama, while the last third becomes these strident pop-up effects, which are akin to ending a sentence with a bunch of exclamation marks!!!!!
---