---
USA. 1993.
Crew
Director – Anthony Hickox, Screenplay – Sam Bernard & Kevin Rock, Story – Kevin Rock, Producers – Peter Abrams & Paul L. Levy, Photography – Gerry Lively, Music – Mark McKenzie, Visual Effects Supervisor – Robert D. Bailey, Visual Effects – BB&J Visual Effects, Digital Visual Effects – The Post Group, Makeup Effects – Image Animation (Supervisor – Bob Keen), Production Design – Steve Hardie. Production Company – Trimark/Tapestry Films.
Cast
Julian Sands (The Warlock), Chris Young (Kenny Travis), Paula Marshall (Samantha Ellison), Steve Kahan (William A. Travis), R.G. Armstrong (Franks), Bruce Glover (Reverend Ted Ellison), Charles Hallahan (Ethan Larson)
---
Plot
The Devil's son, The Warlock, spontaneously impregnates a woman during a lunar eclipse and gives birth to himself as a full-grown man. He then sets forth to obtain the six druidic stones that will open the gateway to Hell on Earth. Each stone must be given willingly by its possessor. However, once each possessor surrenders their stone, The Warlock has a bizarre death in store for them. Meanwhile, teenager Kenny Travis is shot by his father and then magically revived. Kenny learns that he is a druidic warrior and has been empowered with stopping The Warlock from bringing about Armageddon.
---
Warlock (1989) was an unusual and inventive film that succeeded by playing elements of purported historical witchcraft with deadpan seriousness. This barely connected sequel however turns the premise into a silly comic-book of a film. The reason for this may be laid at the door of Anthony Hickox, a genre director with a penchant for splattery effects and a less-than-serious attitude toward the material. (See below for Anthony Hickox's other genre films).
Some pieces in the film are incredibly silly – like the Warlock's birthing sequence, emerging as a full-grown adult out of a giant turd-like cocoon from a woman's womb, something that might have been an original sequence if it had not been stolen wholesale from Xtro (1982); or Chris Young's druidic training sequence, which might be best described as a failed attempt to send up the Jedi training sequences in The Empire Strikes Back (1980). There are some campy effects set-pieces like the yuppie who is turned into a living Picasso-esque sculpture.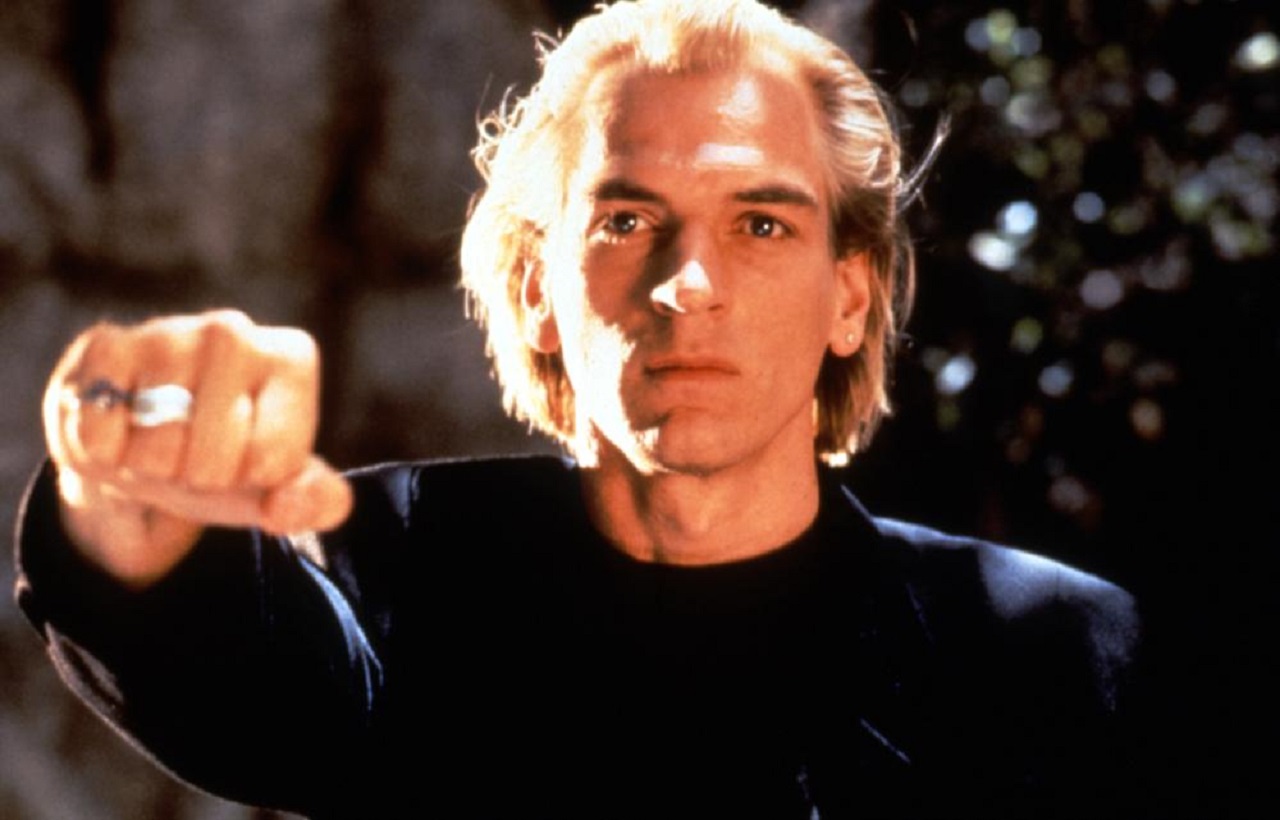 Julian Sands is at least required to play in a way that suits his typically overwrought manner – all the film requires him to do is deliver campy one-liners, loom handsomely and menacingly without ever having to act. The two leads barely rise to anything – Chris Young has a certain geekishly happy appeal but Paula Marshall gives a snooty and wimpy non-performance.
Warlock: The Armageddon was followed by the slightly better Warlock: The End of Innocence (1999) where Julian Sands was replaced in the title role by Bruce Payne.
Director Anthony Hickox has made a number of other genre films, including the genre homage Waxwork (1988), the vampire film Sundown: The Vampire in Retreat (1989), Hellraiser III: Hell on Earth (1992), Waxwork II: Lost in Time (1992), the werewolf tv movie Full Eclipse (1993), Prince Valiant (1997) from the comic-strip, the action techno-thriller Storm Catcher (1999), the sadomasochism thriller Jill the Ripper/Jill Rips/Tied (2000), the biowarfare spill thriller Contaminated Man (2000), the action films Blast! (2004) and Submerged (2005), and the psycho-thriller Knife Edge (2009), while he has also produced Children of the Corn III: Urban Harvest (1995) and Carnival of Souls (1998) and written Prisoners of the Sun (2013).
---
Trailer here
---