aka Cold to Touch
---
Crew
Director – Aaron Norris, Screenplay – Brent Friedman & Donald C. Thompson, Story – Brent Friedman, Anthony Ridio & Ian Rubin, Producers – Ridio & Dean Ferrandini, Photography – Joao Fernandes, Music – George S. Clinton, Special Effects – Pini Klavir & Ken Speed, Prosthetic Effects – Bashir Abu Rabiah, Production Design – Kuly Sandor. Production Company – Cannon/Anthony Ridio Productions
Cast
Chuck Norris (Sergeant Frank Shatter), Calvin Levels (Cal Jackson), Christopher Neame (Professor Malcolm Lockley), Sheree J. Wilson (Leslie Hawkins), David Robb (King Richard), Erez Atar (Bezi)
---
Plot
During the Crusades, King Richard stops the Satanic avatar Prosatanos and imprisons him in a crypt. In the 20th Century, Prosatanos is accidentally freed by tomb robbers. He now sets about finding the four pieces of his sceptre that were broken apart by the Crusaders and entrusted to holy men around the world. In Chicago, police detectives Frank Shatter and Cal Jackson are near the scene as a rabbi attempts to stop Prosatanos and Prosatanos instead throws him out a window. Examining the crime scene, Shatter finds a piece of the sceptre. He travels to Jerusalem to help Israeli police with the murder but becomes engaged in a battle to stop Prosatanos in the guise of archaeologist Professor Malcolm Lockley from calling down the Armageddon.
---
Without question, all of Chuck Norris's films are awful. A former world karate champion, Norris projects an obnoxious macho quality on screen. He deals in ridiculously black-and-white moral certainties and beats people up with a tight-lipped, steel-fisted self-righteousness. He is only matched in repugnance by the screen presence of Steven Seagal. What Norris also has in common with Seagal, besides a background in martial arts, is a complete lack of acting ability – both have the on-screen charisma of blocks of wood, their only appeal lies in the martial arts fan's empowerment fantasy of watching people kick one another's head in.
HellBound is directed by Norris's brother Aaron. Aaron Norris is someone who, like his brother's attempts to act, has been foolishly granted the opportunity to rise to his level of incompetence in a way that is there to be perceived by the entire world. A former stuntman, Norris frere began directing with Chuck's Braddock: Missing in Action III (1988) and also put his older sibling through the dropkicks in Delta Force 2 (1990), The Hitman (1991), Sidekicks (1992), Top Dog (1995) and Forest Warrior (1996), almost all of which went direct to video. Notedly, Aaron Norris's directorial career outside of material for his brother has been zilch.
HellBound is an amazingly awful film. Some of the dialogue has a moronic quality that defies belief – "Armageddon – the fires of Hell unleashed on Earth," which gets the inane response: "You mean worse that it is now?" Or the discovery that Sheree J. Wilson is of royal blood: "Is that Leslie [upon discovering a photo of her]. Wow, she looks like royalty." Aaron Norris trades in cheap shocks – not to mention bloodless, entirely PG-rated ones. The cheap animation effects and chintzy shocks that he pulls belong in a film made on an extremely cheap budget, not the halfway respectable one that HellBound has.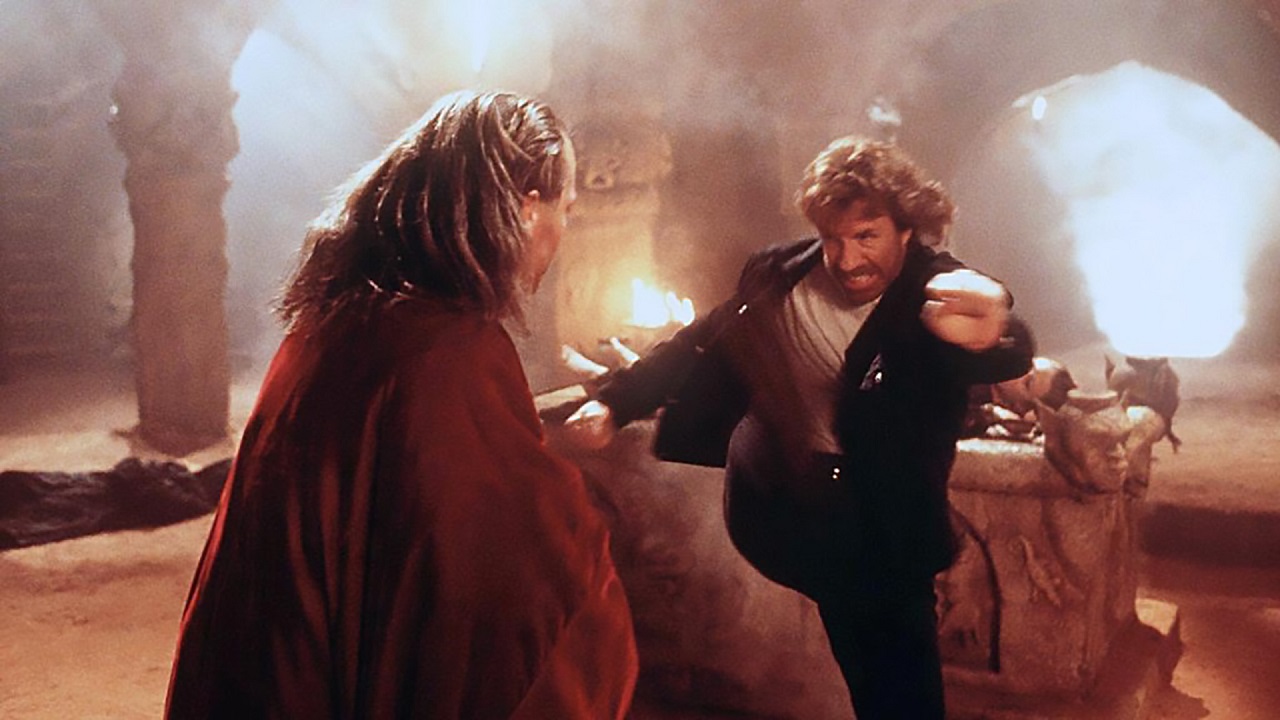 The whole cast give awful performances. Chuck Norris is about the same he ever is – tight-lipped and monosyllabic, neither any better nor any worse than in any other film he has appeared in. Christopher Neame, who has become a latter-day Michael Caine of sorts (maybe if Caine had started playing villains in B-budget films), overacts atrociously in a performance of maniacally loud, rafter-rattling excess.
Calvin Levels gives an equally bad performance. Clearly under the post-Tarantino misapprehension that chatter equals authenticity, Levels never stops babbling throughout the film, whining to the stony-faced, tight-lipped Chuck Norris about everything from wanting to find something to eat to the air conditioning.
HellBound was produced by Yoram Globus, the former partner in Cannon Films, for whom Chuck Norris made most of his action films in the 1980s. Here Globus returns to his native Israel to shoot in a unbelievable plot twist that involves the Israeli police summoning Chuck Norris and Calvin Levels over at a moment's notice to provide information. (Haven't the Israeli police ever heard of faxing files over or asking questions on the phone?) At least the Israeli locations make for an interesting background in comparison to the rest of the thoroughly awful film on show.
---
Trailer here
---