---
Crew
Director – William Castle, Screenplay – Ranald Graham, Producer – Steven North, Photography – Joe Biroc, Music – Alex North, Special Effects – Richard Albain, Makeup – Jack Young, Puppets Designed by Bob Baker, Production Design – Boris Leven, Choreography – Marcel Marceau. Production Company – Paramount.
Cast
Marcel Marceau (Malcolm Shanks/Old Walker), Tsilla Chilton (Mrs. Barton), Philippe Clay (Mr. Barton), Cindy Eilbacher (Celia), Helan Kallianiotes (Mata Hari), Larry Bishop (Napoleon), Don Calfa (Einstein), Biff Manard (Goliath), Mondo (Genghis Khan)
---
Plot
Malcolm Shanks is a deafmute French expatriate who works as a puppeteer. He lives with his sister and drunken brother-in-law Barton. Shanks now receives a commission to come and visit the wealthy aging Old Walker where he will be paid $500 each time he goes. The Barton are eager for the money and push Shanks to accept. Old Walker gets Shanks to take part in his experiments where he uses pins to revive a succession of dead animals. However, Old Walker then dies much to the upset of the Bartons. Shanks has the idea of using the pins to revive Old Walker and uses a control box to walk his corpse like a puppet. After Barton is run over and his wife killed, Shanks revives them as puppets too. The house is then invaded by a biker gang whose leader has been killed. Shanks revives him but the bikers find the controls and take the resurrected puppet people away from Shanks.
---
William Castle (1914-77) was a director most associated with his promotional gimmicks during the 1950s and early 60s. These included stunts like taking out insurance policies in case audience members died of fright in Macabre (1958), winching a skeleton across a theatre in House on Haunted Hill (1959), wiring theatre seats up with electric shock buzzers to jolt audiences during The Tingler (1959) and a Fright Break so the faint of heart could leave the theatre in Homicidal (1961). (See below for William Castle's other genre films).
When the fad for gimmicks ended, Castle made various other types of films – venturing into the psycho-thriller with Homicidal, Strait-Jacket (1964) and I Saw What You Did (1965); the crime comedy The Busy Body (1967); the ghost comedy with The Spirit is Willing (1967); and the SF film with Project X (1968). Shanks would be the very last film Castle ever made as director. Subsequent to this, all he did was produce the firestarting insect film Bug! (1975) and make small cameo appearances in Day of the Locust (1975) and the Warren Beatty film Shampoo (1975).
Shanks is in essence another of William Castle's gimmick films. The gimmick in this case is Marcel Marceau. The French-born Marceau (1923-2007) gained world recognition as a mime artist, touring with his performances of what he called 'the art of silence.' He had made other film appearances with a small part in Barbarella (1968) and shortly after this in Mel Brooks' Silent Movie (1976) in which he delivers the sole speaking part. More recently, there was a biography of his life with Resistance (2020) starring Jesse Eisenberg.
Castle personally sought Marceau out for the project and Marceau enthusiastically jumped on board. In the film, Marceau plays the deafmute title character as well as a speaking role where he is heavily disguised under makeup as the old man who hires Shanks. Marceau also choreographs the mime routines and brings with him Tsilla Chilton and Philippe Clay, two members of his performing troupe, who play the parts of Shanks' drunken sister and brother-in-law.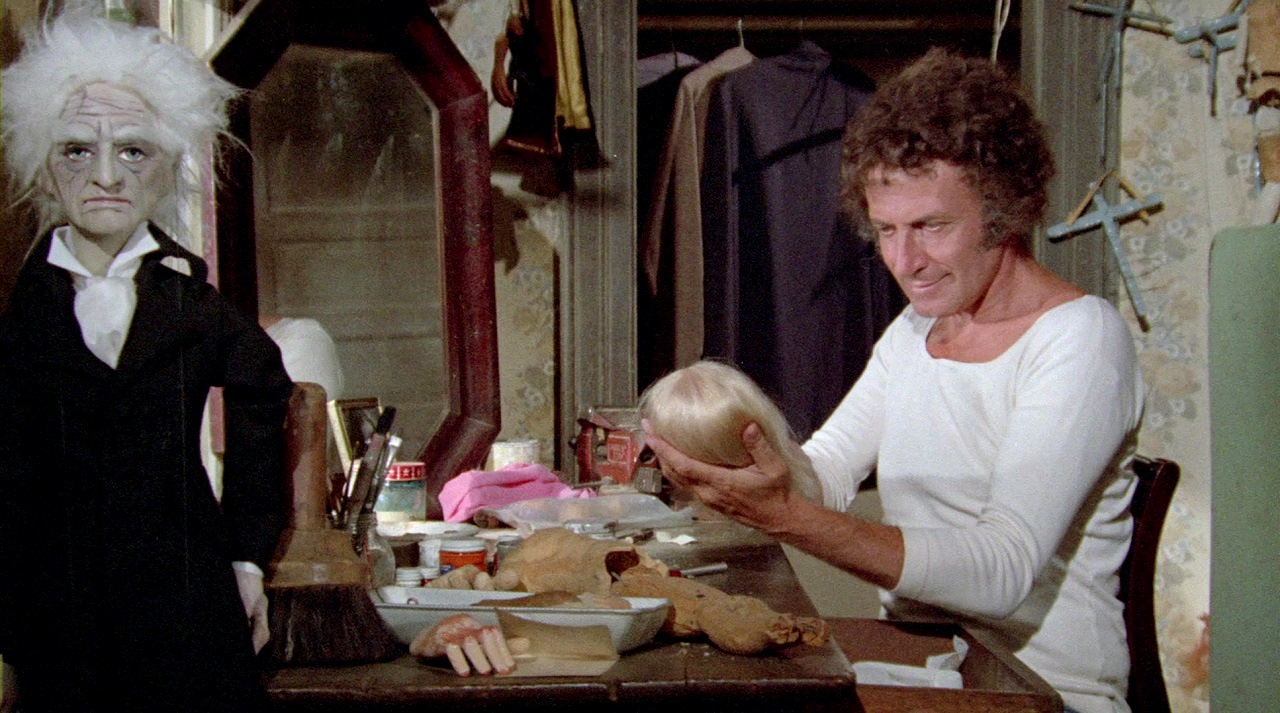 Shanks was not a success and has a critically divided reputation. Part of the problem is it oddness. It is a horror vehicle centred around Marcel Marceau's mime routines and these dominate to the extent that the horror element is pushed aside almost to being an afterthought – if anything, the film's tone is more that of a strange fairytale. The horror element is overtaken by the bizarre grotesquerie of scenes with Tsilla Chilton and Philippe Clay serving dinner and lighting cigarettes while moving around as puppets and then the extended climax with the biker gang gaining use of the control boxes and then Marceau reanimating the corpse of the old man and others in a showdown to eliminate them.
Another large part of the problem is that much of the show is dependent on a premise – resurrection of the dead who are then turned into puppets – without actually giving us any clear idea, even any handwave explanations, of how this is being conducted. At various points we see people hit by cars, crashing off the road on motorcycles – all that Marceau seems to do is apply the pins whereupon they return to life.
William Castle's other films of genre note as producer-director are:– as director of Crime Doctor's Manhunt (1945), the sixth in a series of Columbia crime thrillers, of which Castle directed several, featuring a forensicologist against a split-personalitied killer; the psycho-thriller Macabre (1958); House on Haunted Hill (1959); the classic The Tingler (1959), probably Castle's best film; the haunted house film 13 Ghosts (1960); the psycho-thriller Homicidal (1961); Mr. Sardonicus (1961) about a man with his face caught in a grotesque frozen smile; the juvenile comedy Zotz! (1962) about a magical coin; the remake of The Old Dark House (1963) for Hammer; the Grand Guignol psycho-thriller Strait-Jacket (1964) with Joan Crawford; The Night Walker (1965), a psycho-thriller about a dream lover; the prank phonecall psycho-thriller I Saw What You Did (1965); the psycho-thriller Let's Kill Uncle (1965); the ghost comedy The Spirit is Willing (1967); the reality-bending sf film Project X (1968); as producer of the classic occult film Rosemary's Baby (1968); as producer of the anthology series Ghost Story (1972-3); and as producer of the firestarting insect film Bug! (1975).
---
Trailer here
---