---
Crew
Director – Herbert L. Strock, Screenplay – Herman Cohen & Kenneth Langtry, Producer – Herman Cohen, Photography (b&w + colour) – Maury Gertzman, Music – Paul Dunlap, Makeup – Philip Scheer, Art Direction – Leslie Thomas. Production Company – AIP.
Cast
Robert H. Harris (Pete Dumond), Paul Brinegar (Rivero), Gary Conway (Tony), Gary Clarke (Larry), Eddie Marr (John Nixon), Paul Maxwell (Jeff Clayton), Malcolm Atterbury (Richards), Dennis Cross (Monahan), Morris Ankrum (Captain Hancock)
---
Plot
Paul Dumond has been a makeup artist at American International Studios for 25 years and has created many of their famous monsters. American International is now brought out by NBN Associates. As part of the cuts made by the new owners, they announce that Paul is going to be made redundant when he finishes the current picture. Paul seethes with revenge and comes up with a plan. He uses a special mix of makeup to transform teenage actor Larry into a werewolf creature. The makeup also has properties that put Larry under Paul's hypnotic control, which he uses to send Paul to kill one of the new studio heads. Transforming other youths with different monster makeups, Pete sends them to kill the new owners and eliminate all witnesses.
---
Producer Herman Cohen had great success in the late 1950s with films like I Was a Teenage Werewolf (1957), I Was a Teenage Frankenstein (1957) and Blood of Dracula (1957), wherein he reinvented classic monster themes with a specifically teenage focus. In 1959, Cohen moved operations to England where he made a series of lurid Grand Guignol films with the likes of Horrors of the Black Museum (1959), Konga (1961), The Black Zoo (1963), Berserk (1967), Trog (1970) and Craze (1973) usually starring Michael Gough as a mad killer/mad scientist.
How to Make a Monster sits halfway between being one of Herman Cohen's teenage monster movies, which usually centred around a sinister adult placing teenagers under hypnosis and/or turning them into monsters, and the formula of the films of his later British period, which centre around a madman conducting a series of novelty theme killings.
How to Make a Monster is a fairly routine monster movie. You could almost imagine it having been made as a postmodern horror film of the 1990s a la Scream (1996). A director like Joe Dante – who makes genre films that constantly refer to other films with the likes of The Howling (1981), Explorers (1985), Matinee (1993) and Looney Tunes: Back in Action (2003) – or screenwriter Kevin Williamson of Scream and The Faculty (1998) fame would have had a field day with the material.
Indeed, How to Make a Monster is a modern in-referential horror movie well before such ever existed. It makes reference to other Herman Cohen films like I Was a Teenage Werewolf and I Was a Teenage Frankenstein, and even mentions how they are making what would be Cohen's next picture Horrors of the Black Museum. The film also shoots on the AIP backlot and refers to the company by name. In the temple at the end, we see creature makeups from other AIP films such as It Conquered the World (1956), The She-Creature (1956) and Invasion of the Saucer Men (1957). In some ways, How to Make a Monster looks forward to a film like Wes Craven's New Nightmare (1994), which follows on from a series of horror films but plays a game that they were just movies while it is set in the real world.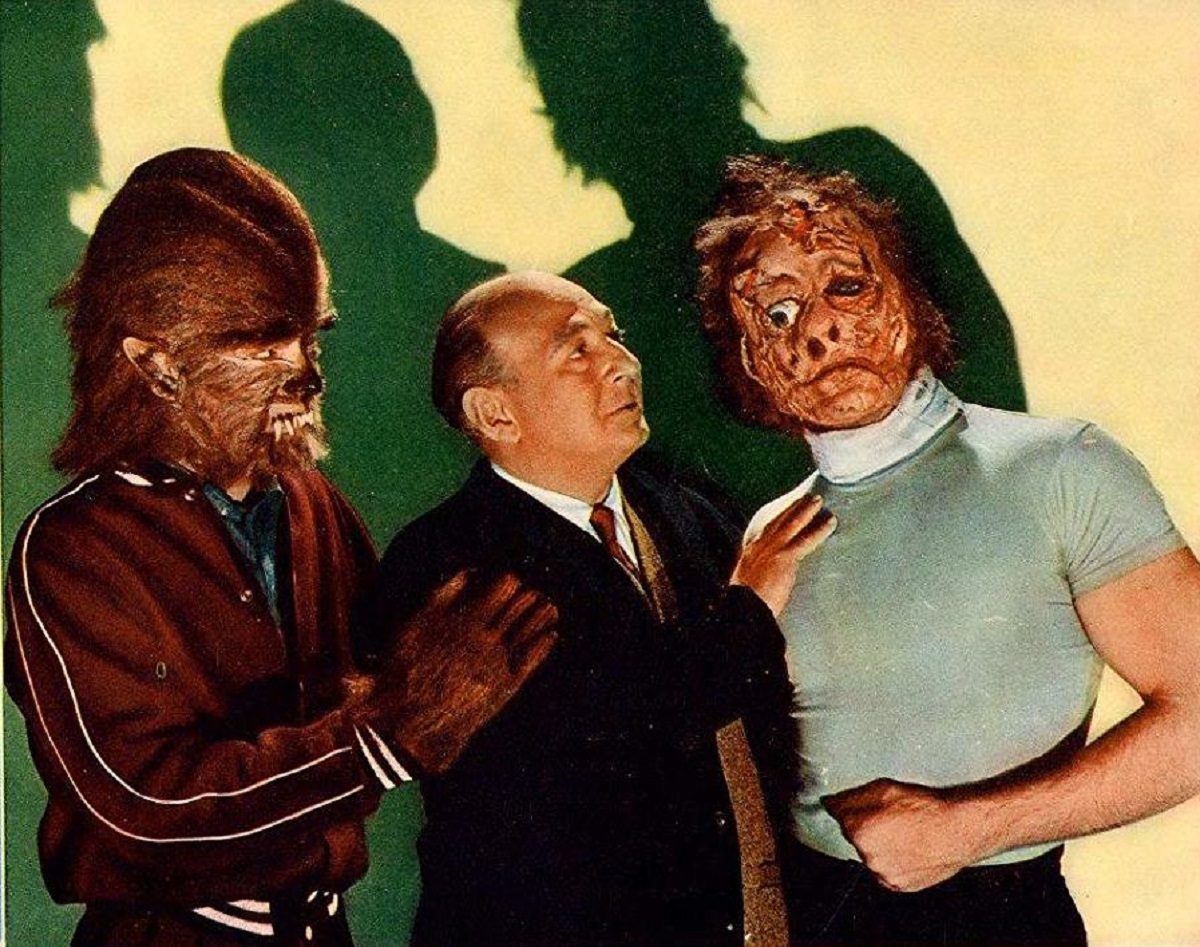 The idea of a makeup man as a mad scientist creating monsters out of the makeups he has created for movies is one rich in potential metaphor, even if How to Make a Monster is too prosaic to ever tap into this. There are certainly many points of connection with mad scientist cinema – mind control, monsters being created and, of course, the laboratory going up in flames at the end – although, as mad scientists go, Robert H. Harris is unusually sympathetic. He seems only an ordinary guy rather than especially deranged. The basic premise does become stretched with Harris having to create a new monster makeup every time he needs to kill another victim. How to Make a Monster holds a considerable affection for horror movies. Robert H. Harris's makeup artist has several lines expressing the psychological harmlessness and necessity of horror movies.
Unfortunately, How to Make a Monster is a film where the basic idea is more interesting than any of the delivery. Herbert L. Strock, the director of Teenage Frankenstein and Blood of Dracula, had a technical competence but is pedestrian – the film comes with no surprises or tension. It does turn from black-and-white to colour in the last ten minutes during the scenes in the temple.
The film was later remade as How to Make a Monster (2001) as part of the Creature Features package of cable tv movies, which used the titles of old AIP films to make modern films. However, this version was about an amok AI motion capture suit and has nothing at all to do with this film beyond the title.
Director Herbert L. Strock made a number of Herman Cohen's other films including I Was a Teenage Frankenstein (1957) and Blood of Dracula (1957). Strock also made a number of other low-budget genre films including Gog (1954), The Devil's Messenger (1962), The Crawling Hand (1963) and uncredited work on Monster (1979).
---
Trailer here
Full film available online here:-
---