---
Crew
Director – Mario Van Peebles, Screenplay – Larry Brand & Mario Van Peebles, Story – Larry Brand, Producers – Donald Kushner, Mario Van Peebles & Brad Wyman, Photography – Alex Nepomniaschy, Music – Tree Adams, Music Supervisors – G. Marq Rowell & Adam Swart, Visual Effects – Pixelmonger, Inc. (Supervisor – Scott Billups), Special Effects Supervisor – J.C. Brotherhood, Production Design – Loren Weeks. Production Company – Raamen Filmworks/MVP Films.
Cast
Wesley Snipes (Lucky), Jacquely Quinones (Angela), Mario Van Peebles (Captain Davis), Cybill Shepherd (Cass), James Liao (Walter), Aubrey Dollar (Rainn Bentley), Luis Guzman (Mendez), Kevin Chapman (Detective Franklin), Noah Fleiss (Sol Rosenbaum), Kevin Thoms (Roland), Tom Kemp (Gina Gambetta), Tony Hua (Detective Lee)
---
Plot
Lucky is a former gangster who has been trying to go straight after being released from jail. He married but his wife was killed in the Hurricane Katrina floods and Lucky is now reduced to hustling goods on the streets of New York City. A friend Sol persuades Lucky to accompany him as he makes a big drug deal. However, the strip club owner that Sol is selling to has been wired by corrupt cops. Lucky spots the sting flees from the ensuing shootout with the two briefcases containing $500,000, forcing the stripper Angela to drive away from the scene. A grudging cooperation grows between Lucky and Angela as they are pursued by mobsters, the corrupt cops and their captain Davis, an old nemesis of Lucky, all following the tracker placed in the briefcases. At the same time, Cass and her younger lover Walter are abducting and imprisoning women, filming themselves as they torture them. Both groups of people are fated to collide.
---
Hard Luck was rather of an oddity to come across. At face value, the film appears to be a variant on the romantic comedy staple of the two mismatched characters on the run who end up coming to care for one another throughout the course of the flight – see The African Queen (1952) for the template for the genre. Hard Luck is a mismatched couple on the run film as filtered (somewhat) through modern African-American 'hood cinema. The real oddity comes in that Hard Luck takes a left field turn during its latter quarter to become a variant on the torture cinema of Saw (2004), Hostel (2005) et al.
Hard Luck is directed by actor Mario Van Peebles. Mario Van Peebles has developed a minor career as a director throughout the 1990s with films like New Jack City (1991), Posse (1993), Panther (1995), Gang in Blue (1996), Love Kills (1998), How to Get a Man's Foot Out of Your Baadasssss! (2003) and subsequently Redemption Road (2010), All Things Fall Apart (2011), We the Party (2012), Red Sky (2014), USS Indianapolis: Men of Courage (2016) and Armed (2018). Most of these centre around issues African-American.
I don't have a huge amount of patience with gangsta cinema and found the opening parts of Hard Luck, shot in a busy fractured style and with much tough street talk concerning drug deals, tedious going. On the plus side, Hard Luck features a not-too-bad performance from Wesley Snipes who seems a lot more smooth and charismatic on screen than in his usual action roles where he comes across as slightly dopey.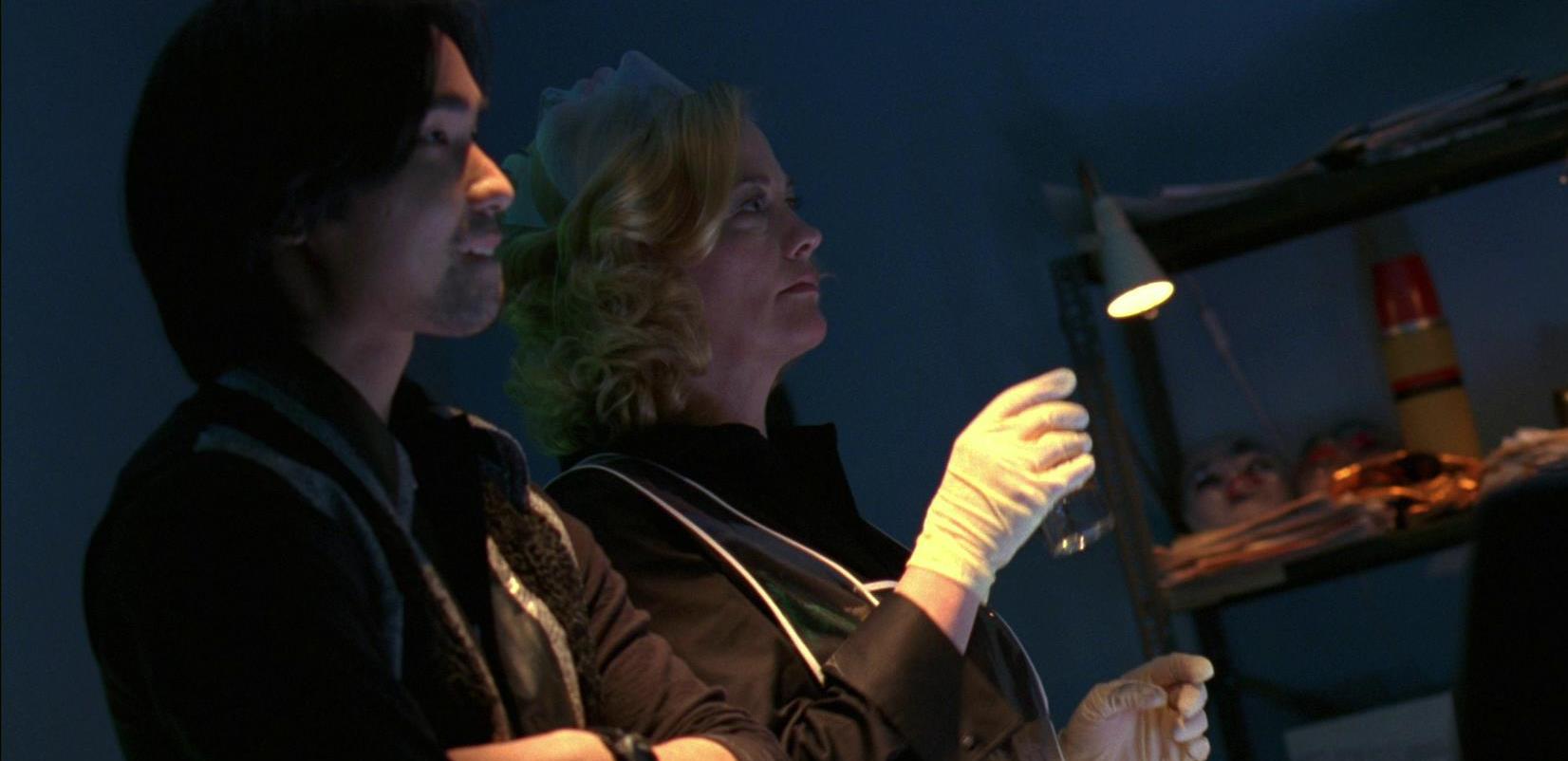 Where Hard Luck goes totally off beam is during the scenes where it tries to turn into a copy of Saw/Hostel. One suspects that Hard Luck started out as a straight film but end up being bent out of shape by producers wanting to turn it into a Torture Porn Films film. We get some fairly out there scenes of Cybill Shepherd whacking people over the head with a tire iron or feeding rats down a tube inserted into the mouths of bound victims.
Shepherd seems to be doing all she can to trash her wholesome, light comedy image. It is like What Ever Happened to Baby Jane? (1962) and the number of films that copied its success where we had a spate of middle-aging actresses going mad in grandly theatrical style, trashing their previous leading lady roles and submitting to all manner of indignities in the name of a paycheque. Shepherd's performance starts out fascinating but eventually becomes incredibly silly. Not to mention the fact that she and Asian-American actor James Liao, some thirty-five years her junior, must make for what is the least convincing couple ever paired together on screen in the entire history of cinema.
Hard Luck eventually sinks amid a series of indulgent and lunatic performances. Aside from Cybill Shepherd, there is Luis Guzman madly acting his head off as a gay producer of porn films. Even Mario Van Peebles, who aside from directing, plays the captain of the corrupt cops and (in a plot point that is never explained) is also Wesley Snipes's long-time nemesis. Every time Van Peebles turns up on screen he gives himself a series of pseudo lines that try to make his character seem a dispenser of canny wisdom or stages the scene in a way that seems designed to show off the fact that he is there. He looks for all the world like an insecure stage actor who feels he has to upstage the others around him by taking all the best lines and dominating each scene. Case in point being a scene where he has to dress down corrupt cop Kevin Chapman where, rather than face the other off and browbeat him, Van Peebles has chosen to deliver his lines while riding a bicycle in a circle around Chapman for the whole of the scene.
---
---