---
Crew
Director – Greg McLean, Screenplay – Greg McLean & Aaron Sterns, Producers – Helen Leake, Greg McLean & Steve Topic, Photography – Toby Oliver, Music – Johnny Kilmek, Visual Effects Supervisor – Marty Pepper, Visual Effects – Kojo, Special Effects Supervisor – Clint Ingram, Prosthetic Makeup – Connelly Make-Up FX Team (Supervisor – Rick Connelly), Production Design – Robert Webb. Production Company – Screen Australia/Mu Creek Pictures/Duoart Productions/True Crime Australia.
Cast
John Jarratt (Mick Taylor), Ryan Corr (Paul Hammersmith), Shannon Ashlyn (Katarina Schmidt), Philippe Klaus (Rutger Engvist), Shane Connor (Snr. Sergeant Gary Bulmer Jr), Ben Gerrard (Constable Brian O'Connor), Gerard Kennedy (Jack), Annie Byron (Lil)
---
Plot
German tourists Rutger Engvist and Katarina Schmidt go hitchhiking up to Wolf Creek Crater. Putting up a tent for the night, they are interrupted by Mick Taylor who warns them they are on a state park. When they find him unnerving, he stabs Rutger and cuts his head off and then takes Katarina prisoner. While Mick is gutting Rutger's body, she manages to make an escape. Making it to the road, she flags down and begs a ride from British traveller Paul Hammersmith. Mick comes in pursuit, shooting Katarina. Paul flees, pursued by Mick – only to be captured and taken to be tortured.
---
Wolf Creek (2005) was a solidly effective debut feature for Australian director Greg McLean. It made a number of ripples on the international stage – in particular, due to the canniness of McLean tapping into the spate of real-life backpacker murders that had occurred in several Australian states in the years before, most notably the high-profile trial of Joanne Lees over the murder of Peter Falconio. McLean widely diverged from the facts and largely made Wolf Creek into an Australian variant on the innocents encounter backwoods brutalities that The Texas Chain Saw Massacre (1974) delved into.
Greg McLean next went onto make the excellent killer crocodile film Rogue (2007) and subsequent to this the ghost story The Darkness (2016), The Belko Experiment (2016) and the non-genre survival film Jungle (2017), as well as produced Crawlspace (2012). With Wolf Creek 2, McLean, accompanied by John Jarratt, returns to the familiar and expands on the saga of Mick Taylor, and subsequent to this Mclean oversaw and directed several episodes of the tv series spinoff Wolf Creek (2016-7).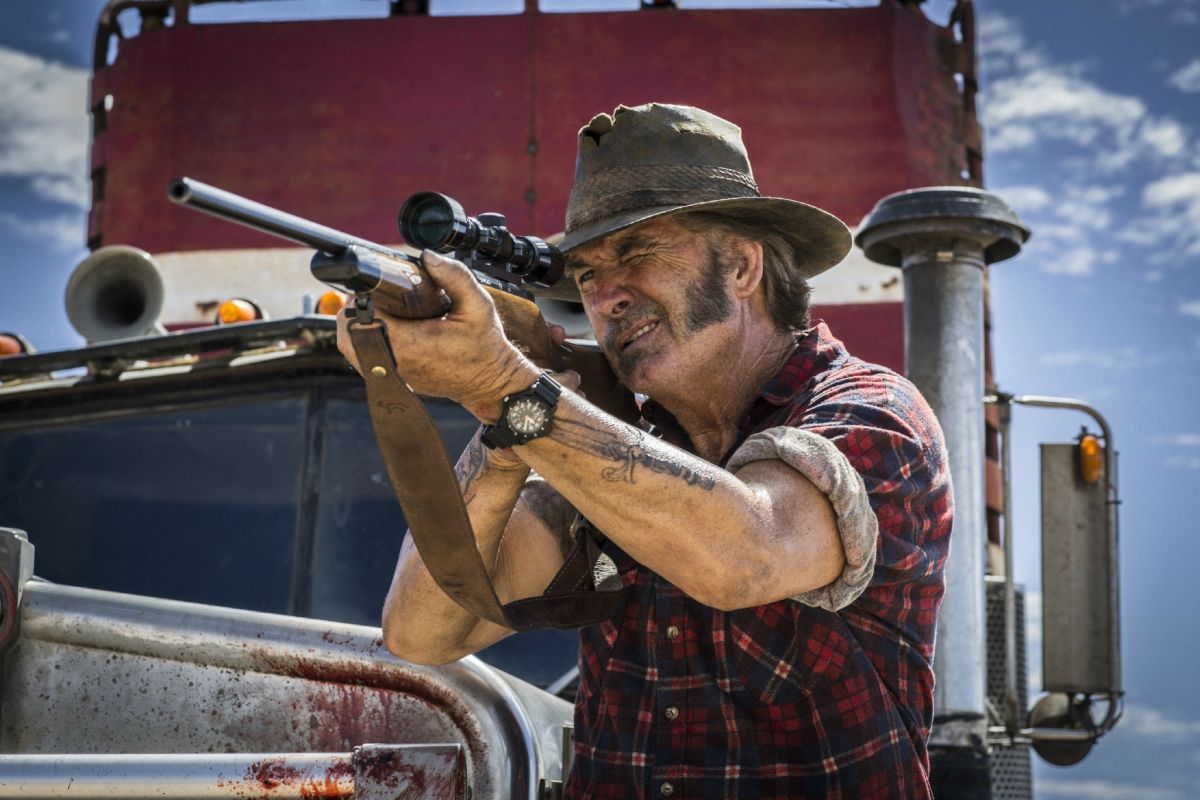 The film kicks in with an undeniably effective prologue in which John Jarratt is pulled over by two bored and corrupt smalltown cops (Shane Connor and Ben Gerrard) where he stands through their petty bullying with a stupid grin, only to pursue them as they depart, blowing Gerrard's head off at the steering wheel with a rifle and then setting the other cop (Connor) alight in the crashed car. (The scenes with the cop torched in a car is another of McLean's homages to Mad Max (1979) that peppered the first Wolf Creek).
The sequence also comes with several bad puns made between Mick's profession of shooting pigs and killing 'pigs' ie. cops – where you can see that the emphasis in this film is definitely on a much blacker sense of humour. Thereafter, McLean gets back into familiar territory with two German tourists (Philippe Klaus and Shannon Ashlyn) whose roadside camp is disturbed by John Jarratt who abruptly stabs the guy and then cuts his head off while pinning the girl to the ground with his knife and preparing to rape her.
Wolf Creek 2 reminds of when Tobe Hooper followed The Texas Chain Saw Massacre with The Texas Chainsaw Massacre 2 (1986) where the emphasis of the original's relentless brutality slid over to incredibly black humour. Here McLean serves up images like John Jarratt driving alongside Ryan Corr's Jeep as he flees with Shannon Ashlyn, tapping on the side window of their speeding vehicle with his knife while chanting "Little pig, little pig, come out to play."
Jarratt's Mick is expanded as a character – if you could call it that – and made to embody an astonishingly coarse barrage of colloquialisms and racial jokes, where he is wont to give crass drinking toasts such as "Here's looking up your bum," or make Nazi "heil" salutes to the German tourists. Here we can see that McLean's vision of Mick as not merely someone who kills tourists but who also embodies a particular virulent strain of Australian racism and contemptuousness of almost anybody of any other nationality.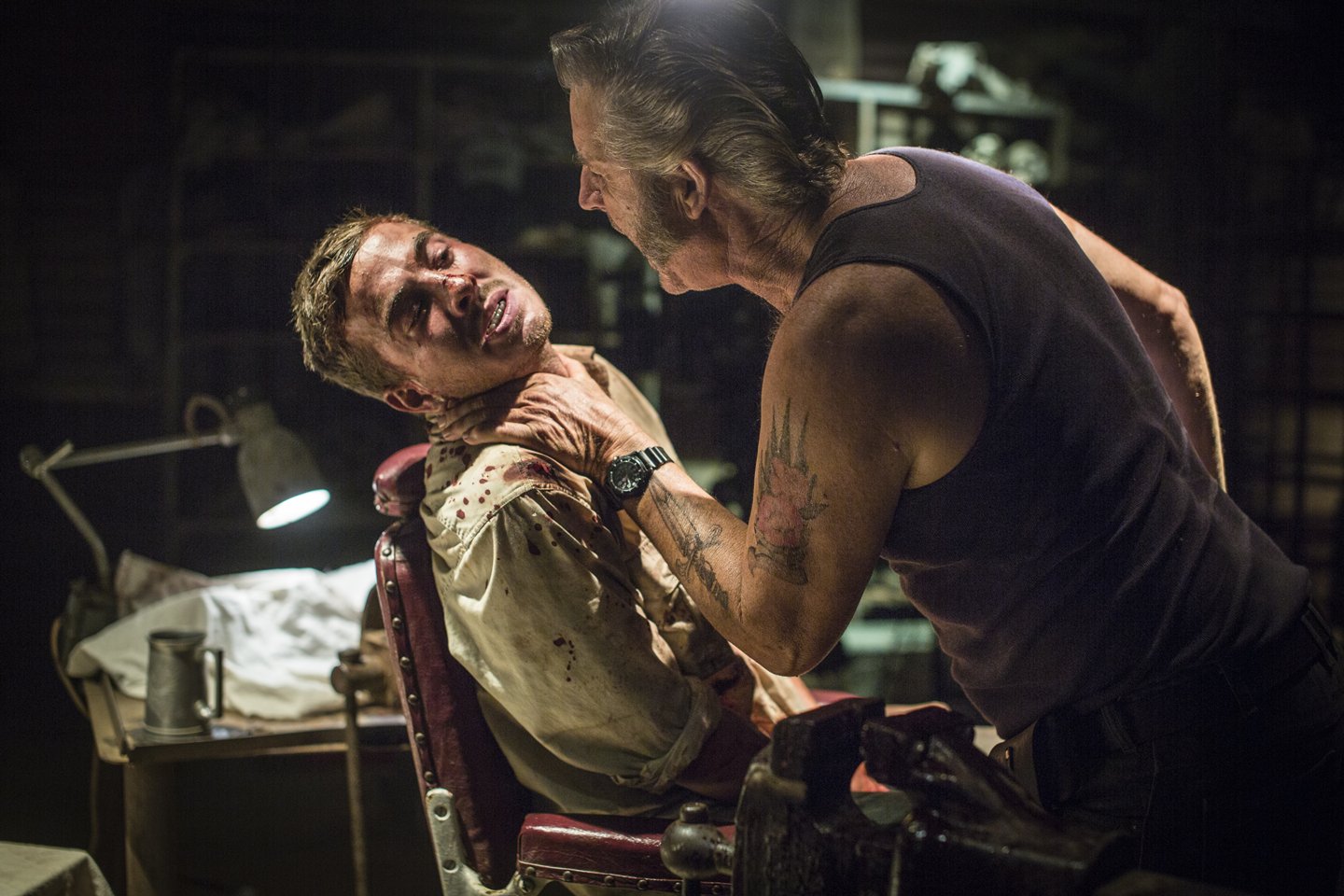 Greg McLean holds little back in terms of brutality – we see the body of Philippe Klaus being gutted and cut up as meat at one point. The film's highlight is one scene where John Jarratt has Ryan Corr's British tourist tied up in his lair and what initially seems a nasty scene is suddenly defused as Corr starts singing Aussie folk songs and instead of torture ends with Jarratt freeing Corr's arm so that the two men can sit and have a drink and sing together. The most uncomfortable to watch and the grimmest scene of the two Wolf Creek films is the Australian Trivia game Jarratt subsequently plays with Ryan Corr in which he threatens to remove one of Corr's fingers using a grinder each time he gets an answer wrong.
There is one sequence with John Jarratt pursuing Ryan Corr in a giant semi-trailer truck – a scene that undeniably reminds of Steven Spielberg's Duel (1971) – which contains some harrowing suspense as Jarratt tries to ram Corr's Jeep, grinding it into the metal side rail of the road, with the high-speed chase being interrupted by a troop of (digitally-created) kangaroos running out across the road and impacting with or being driven over by both vehicles, before the jeep is run off the road, followed by the undeniably spectacular image of the semi-trailer left to run down the hill and impact with the jeep in a massive explosion. It is Greg McLean with a decent budget behind him showing off just because he can.
---
---