---
Crew
Director – Darren Lynn Bousman, Screenplay – Leigh Whannell, Story – James Wan & Leigh Whannell, Producers – Mark Burg, Greg Hoffman & Oren Koules, Photography – David A. Armstrong, Music – Charlie Clouser, Visual Effects – Switch VFX (Supervisor – Jon Campfens), Special Effects Supervisor – Tim Good, Prosthetic Makeup Effects – Francois Dagenais, Production Design – David Hackl. Production Company – Twisted Pictures/Burg-Koules-Hoffman.
Cast
Tobin Bell (John Kramer), Bahar Soomekh (Dr Lynn Denlon), Shawnee Smith (Amanda), Angus MacFayden (Jeff), Dina Meyer (Kerry), Donnie Wahlberg (Eric Matthews), Barry Flatman (Judge Halden), Debra Lynne McCabe (Denika Scott), Mpho Koaho (Tim Young)
---
Plot
Surgeon Lynn Denlon is abducted by the Jigsaw Killer John Kramer's assistant Amanda and forced to operate to save Kramer's life. To ensure that she does so, an explosive collar is placed around her neck that will detonate if Kramer's heartbeat stops. Lynn protests that she does not have the necessary surgical equipment to perform the operation. At the same time, Jigsaw has created another fiendish trap involving Jeff, a man who is deeply angered over the killing of his son by a drunk driver who ended up getting off with a minimal sentence. Jeff is offered a series of tests where he must either let those his anger is directed against die or forgive and save them if he is to save his own life.
---
This is the third of the films that began with Saw (2004). Saw offered up a superbly sustained series of psychological twists and turns and became an instant modern classic. Saw was made by the novice directing-writing team of James Wan and Leigh Whannell. Wan and Whannell stepped back with Whannell only take a co-screenwriting credit and let newcomer Darren Lynn Bousman take over as director for the immensely disappointing Saw II (2005). There Bousman failed to understand any of the things that made the original a classic. Happily, Wan and Whannell have taken a more hands-on position with Saw III, while far less enthusiastically Darren Lynn Bousman is back in the director's seat. Also returning are Tobin Bell as Jigsaw and Shawnee Smith, as well as minor return appearances from Donnie Wahlberg and Dina Meyer.
To its credit, Saw III is a better film than Saw II. It just feels unnecessary. Once again, Darren Lynn Bousman lacks what made the original work. In Saw, James Wan's effectiveness was in providing a series of jolting twists and turns and the ability to conjure unbearably drawn-out suspense and dread. That was missing when Darren Lynn Bousman appeared on the scene.
Darren Lynn Bousman is a director whose training ground seems to be MTV. Unlike Saw, Saw III comes with little suspense or dread. Stylistically, all that Darren Lynn Bousman offers up is a heavy arsenal of cut-up editing, roving camerawork, as well as a soundtrack of loud bangs and amplified noise and music, which seems to substitute for a lack of any original style. Although to its credit, Saw III works slightly more intensively and stylishly than the bland Saw II.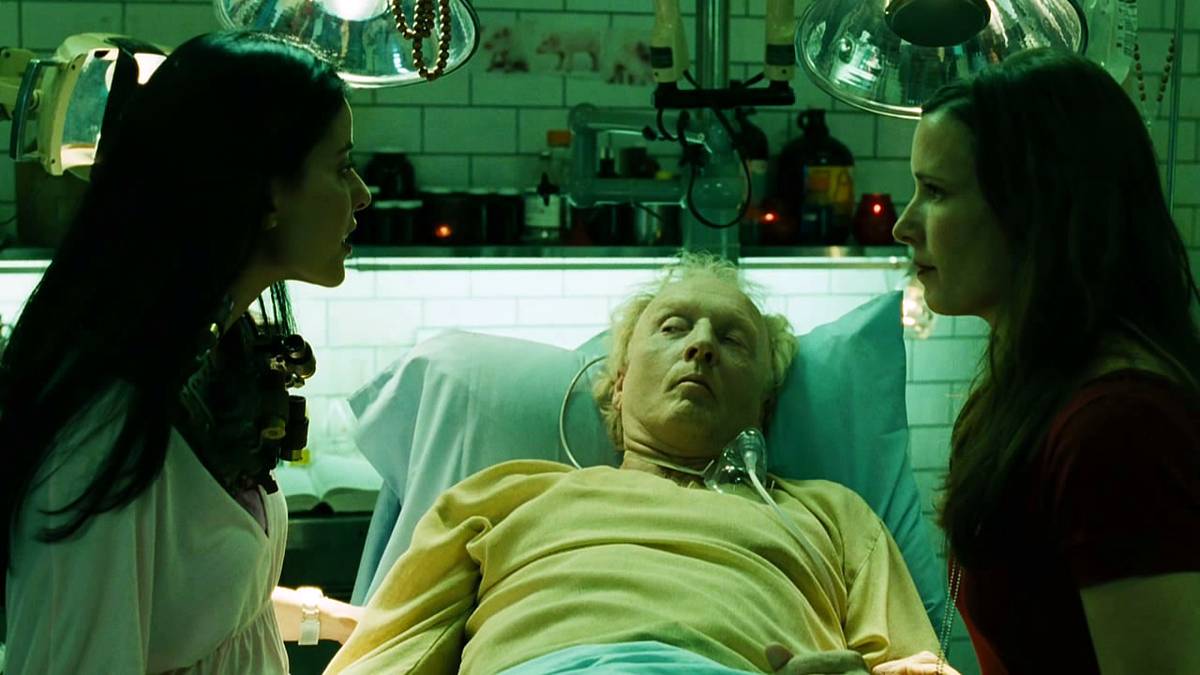 Saw III is certainly gorier than any of the previous films put together. Here Darren Lynn Bousman determines to compete with the boundary-pushing sadism and gore-heavy extremes of recent films like Hostel (2005) and the works of Takashi Miike – Audition (1999) and Ichi the Killer (2001). There are some fairly nasty scenes – chains being ripped out of Dina Meyer's body and her torso being torn apart; heads blown off; bodies being partially blasted apart by shotguns; Mpho Koaho's limbs being twisted around in a torture device. The most absurd of these is the scene where Bahar Soomekh must operate on Tobin Bell's brain with only a power drill and a saw as tools and with he merely under a local anaesthetic – a scene that surely must count as the most credibility-defying medical procedure in cinematic history.
Moreover, this time around the plot starts to feel contrived and improbable in its twists. The killings no longer seem to have the thematic connection of Jigsaw exposing hypocrisy and forcing his victims to make brutal decisions – Dina Meyer, for instance, is killed simply because of the rather specious notion that as a detective she "preferred the dead to the living". Here, in imitation of the structure of Saw II, we are given the main plot with one person dealing with/confronting Jigsaw and a B plot with people caught in one of his traps, which this time seems merely like a nastier version of The Crossing Guard (1996) about a man obsessed with vengeance over the death of his son in a drunk-driving incident.
Darren Lynn Bousman continued the series with Saw IV (2007), although departed when it came to the making of Saw V (2008), Saw VI (2009), Saw 3D (2010), Jigsaw (2017) and Spiral: From the Book of Saw (2021).
Darren Lynn Bousman made the next sequel then later returned for Spiral. He subsequently went onto make Repo: The Genetic Opera (2008), Mother's Day (2010), 11-11-11 (2011), The Barrens (2012), The Devil's Carnival (2012), Alleluia! The Devil's Carnival (2016), Abattoir (2016), St Agatha (2018) and Death of Me (2020), as well as the The Night Billy Raised Hell episode of Tales of Halloween (2015).
---
---