---
Crew
Director – Darren Lynn Bousman, Screenplay – Peter Goldfinger & Josh Stolberg, Producers – Mark Burg & Oren Koules, Photography – Jordan Oram, Music – Charlie Clouser, Visual Effects Supervisor – Jon Campfens, Visual Effects – Switch VFX (Supervisor – Beau Parsons), Special Effects Supervisor – Jeff Skochko, Animatronics – Backbone Engineering Corp., Prosthetics Designer – Francois Dagenais, Production Design – Anthony Cowley. Production Company – Twisted Pictures/Burg-Koules/Serendipity Productions/Dahlstar LLC.
Cast
Chris Rock (Detective Zeke Banks), Max Minghella (Detective William Schenk), Samuel L. Jackson (Marcus Banks), Marisol Nichols (Captain Angie Garza), Richard Zippieri (Detective Fitch), Patrick McManus (Peter Dunleavy), Daniel Petronijevic (Detective Marv "Boz" Boswick), K.C. Collins (Detective Drury), Zoie Palmer (Kara Boswick), Edie Inksetter (Detective Kraus)
---
Plot
Police detective Marv Boswick is lured down into the underground only to be captured by a figure in a pig mask. He is chained up to the railway track where he is given a choice to tear out his own tongue or be killed by an oncoming train. After the body is found, fellow detective Zeke Banks takes the news badly. An unpopular loner, Zeke insists on investigating but is forced to take on a rookie partner William Schenk. As they investigate, they find Boswick's severed tongue along with a video left by the pig-masked figure who calls themselves Spiral and announces they are going to eliminate the corruption in the police department. Zeke believes someone is trying to be a copycat of the late Jigsaw killer John Kramer. Spiral continues to send videos to Zeke as they target the detectives in his office. As the bodies pile up, Zeke tries to piece together the clues tying Spiral to events in his own past.
---
The Saw series was one of the most popular horror franchises of the late 2000s. The series began with James Wan's first film Saw (2004), a superbly tense and twisty locked room thriller that is quite different to the films that followed. Its' low-budget success was quickly followed by a string of sequels. Director Darren Lynn Bousman entered with the first of these Saw II (2005). However, it was with the next sequel Saw III (2006) that Bousman began to push the Sadism and Torture elements to grim extremes, something that was labelled Torture Porn in the press. Bousman followed with Saw IV (2007) and other directors came in for Saw V (2008) and Saw VI (2009), before the series then appeared to come to an end with Saw 3D (2010).
There had previously been an attempt to reignite the Saw franchise with Jigsaw (2017), although this was of mixed box-office success and presaged nothing further. The series was further revived here with Spiral: From the Book of Saw, although it should be added that it is not another chapter featuring John Kramer. Subsequent to this, Tobin Bell was brought back as Kramer with Saw X (2023).
Quite what the subtitle From the Book of Saw means though is a good question – people seem to forget that the saw of the original title was only the tool Cary Elwes was given to free himself by cutting through his foot in the first film. The impression you get is that Spiral is intended along the lines of Halloween III: Season of the Witch (1982) where John Carpenter and associates decided to springboard off the success of the popular Michael Myers series and feature a series of original standalone films under the Halloween umbrella (although this was not a success and the subsequent films in the series continued the convoluted continuity of the Michael Myers saga).
In actuality, Spiral: From the Book of Saw is a Saw film in all but name. It features the return of Darren Lynn Bousman to the franchise. The original film's creative partnership of James Wan and Leigh Whannell are back as Executive Producers, as are Mark Burg and Oren Koules who produced all the other films. Tobin Bell's John Kramer does not feature but is referenced and the film features a copycat who seems to be replicating his crimes – placing people in traps where they are forced to make terrible choices to sever body parts or die – in every way but actual name.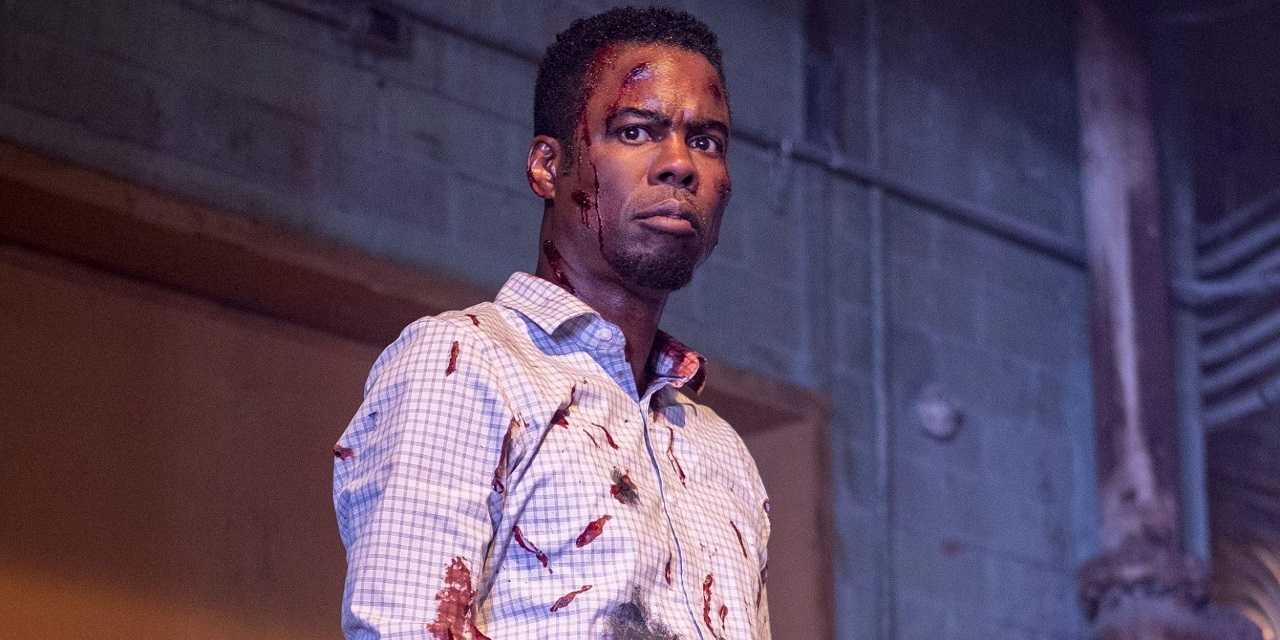 With Darren Lynn Bousman back, Spiral quickly falls into familiar patterns. The film opens with a nasty scene where Daniel Petronijevic is tied to a train track before an oncoming train with a clamp device attached to his mouth to get him to tear his own tongue out. Bousman serves up assorted such tortures in extreme and grisly detail throughout – Richard Zippieri in a bath where he faces a choice to allow a winch to tear his fingers off or else be electrocuted; hot wax dropped onto Marisol Nichols' face; another cop shredded by shards of broken glass blown at him. By contrast, the climactic scenes where Samuel L. Jackson is strung up on wires having his blood drained out seems tame in comparison.
Spiral apparently came about as a result of Chris Rock expressing an interest to the studio head. Rock emerged as a name in stand-up comedy in the 1990s, which led to a number of starring roles in films such as Lethal Weapon 4 (1998), Dogma (1999), Down to Earth (2001), Bad Company (2002), The Longest Yard (2005) and Grown Ups (2010), among others, as well as a number of voice acting roles in Dr Dolittle (1998), Osmosis Jones (2001), Madagascar (2005) and sequels and Bee Movie (2007). The 2010s have seen somewhat of a slowdown for Rock in terms of screen appearances, apart from a surprising number of Adam Sandler films and a supporting role in Dolemite is My Name (2019). Rock, who was apparently a fan of the Saw series, viewed taking on Spiral as something that would allow him to branch out from comedy roles.
Certainly, Chris Rock's presence and that of Samuel L. Jackson as his father gives the Saw series the most high-profile casting the series has had to date. The previous most high-profile names that series boasted would have been Cary Elwes and Danny Glover, both of whom were at a point where the marquee power their names had would have been ten years earlier. Jackson in particular is the only name to appear in the series that could be considered A-list talent. It is interesting to see Chris Rock in a more serious, grimmer role, even if there are times you feel like he is itching to open up and deliver one of his characteristic monologues. Samuel L. Jackson owns the show whenever he turns up with his witheringly sarcastic deliveries.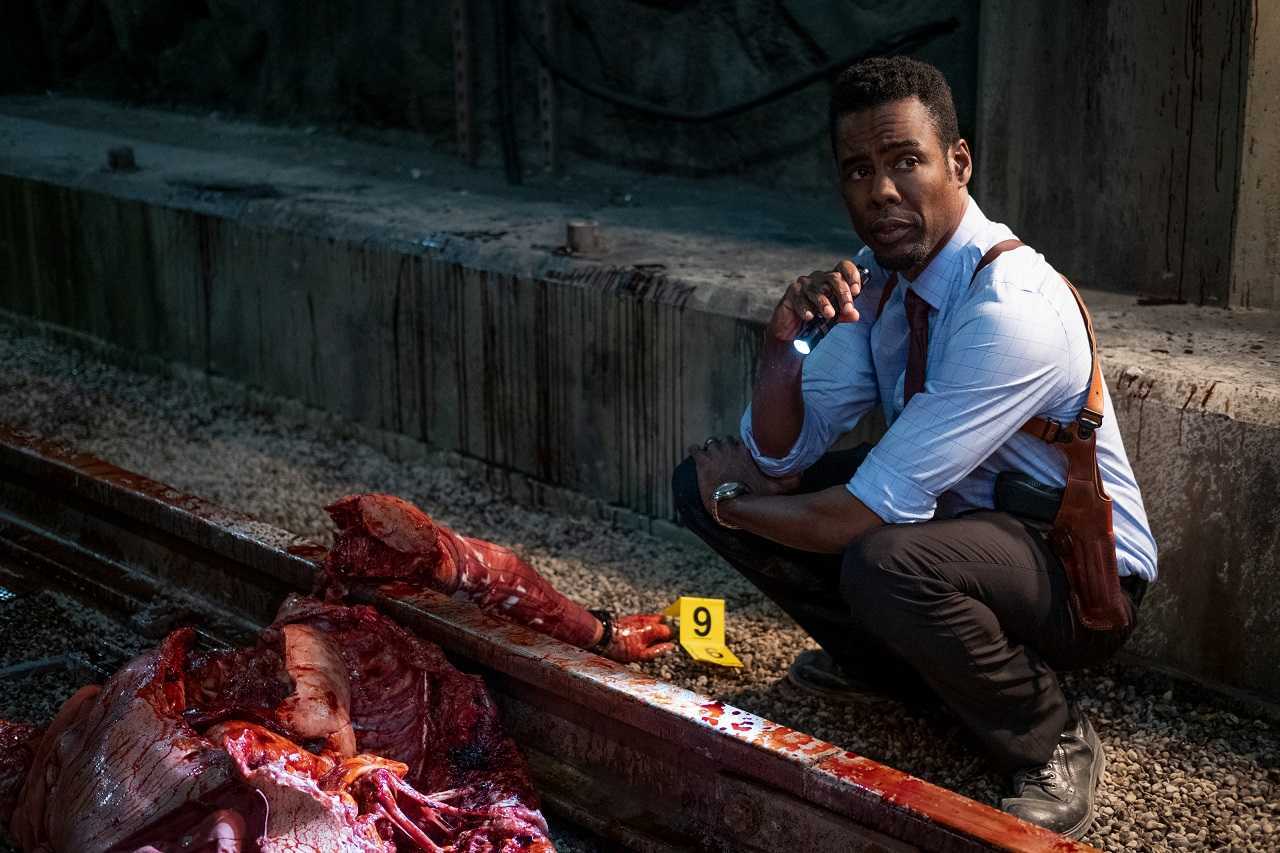 Mostly, Spiral is just the Saw franchise as before. Chris Rock and Samuel L. Jackson certainly make it the best performed of the series and give it far more of a character-driven focus. In this regard, it is also one of Darren Lynn Bousman's better films as he seems to be more in touch with his characters and performers than he has seemed in any of his other films (see below). On the other hand, it is also a Saw films that feels tamer than usual. The plot treads no particularly new ground and has sufficient predictability that one was easily able to guess the identity of Spiral by simply choosing the least likely seeming character in the cast.
In the past, the Saw films have not shied away from being political – notedly Saw VI's attack on the US medical insurance nightmare. Similarly here, Spiral with its plot about rooting out corruption in the police force cannot help but wade into Black Lives Matter and the whole Defund the Police campaign that went out across social media in 2020 (although the film had actually been shot earlier in 2019 before the slogan appeared). The film seems to draw itself out across racial grounds where the decent cops on the force (Rock, Jackson) are played by non-whites and the corrupt cops are mostly played by white actors (Richard Zippieri, Patrick McManus and Daniel Petronijevic, the exception being K.C. Collins and the Mexican Marisol Nichols). On the other hand, when Spiral is revealed to be eliminating bent coppers, you are left wondering if the film is siding with the torture and elimination of corrupt law enforcement or it is saying that someone who desires to do so is wrong and in effect is siding with establishment cover-up. It is an intriguing moral divide whose contradictions I don't think the film comes anywhere near grappling with.
Darren Lynn Bousman first appeared with Saw II (2005), followed by Saw III (2006) and Saw IV (2007). He subsequently went onto make other films such as Repo: The Genetic Opera (2008), Mother's Day (2010), 11-11-11 (2011), The Barrens (2012), The Devil's Carnival (2012), Alleluia! The Devil's Carnival (2016), Abattoir (2016), St Agatha (2018), Death of Me (2020) and Cello (2023), as well as the The Night Billy Raised Hell episode of Tales of Halloween (2015).
---
Trailer here
---