---
Crew
Director/Screenplay – Bo Zenga, Producers – Kirk Shaw, Scott Steindorff & Bo Zenga, Photography – Robert C. New, Music – Ryan Shore, Special Effects Supervisors – Brant McIllroy & Martin Testa, Prosthetic Makeup/Character Effects – Masters FX (Supervisors – Todd Masters & Dan Rebert), Production Design – Chris August. Production Company – Stone Village/Boz Productions/Insight Film Studio.
Cast
Steve Howey (Stan Helsing), Kenan Thompson (Teddy), Diora Baird (Nadine), Desi Lydic (Mia), Leslie Nielsen (Kay), Darren Moore (Crazy), Travis McDonald (Finbar 'The Butcher' O'Hara), Jeremy Crittenden (Altar Boy), Charles Zuckerman (Needlehead), Ben Cotton (Fweddy), Lee Tichon (Michael Criers), Jeff Gulka (Lucky), Twan Holliday (Pleatherface), Ken Kirzinger (Mason), Chad Krowchuk (Sully), Ray Thunderchild (Husband), Hilary Strang (Hippy Lady), John Burnside (Security Guard), Nathan Dashwood (Busboy), Denyc, Holly Eglinton & Idilko Frenczi (Brides of Dracula)
---
Plot
Stan Helsing works a nowhere job as a clerk in a Schlockbuster videostore. He is about to depart for a Halloween party along with his best friend Teddy, his ex Nadine and former stripper Mia when his superior asks him to drop some dvds off for his boss's wife. This means that they have to take a detour to Linwood. Along the way, they have a series of strange encounters – a man who swears vengeance after they run over his dog, followed by their giving a ride to a hitchhiker who turns out to be a mad killer who has just escaped from jail. They arrive at the Stormy Nights Estates, which used to be a film studio that burned down and is now a gated community, and encounter the strange people who live there. Everyone tells Stan that he is the descendent of the great monster hunter Abraham Van Helsing. As they try to make their way to the east gate to get out, they are pursued by various monsters come to life.
---
It's hard to drum up enthusiasm for a film that bills itself as being by "one of the producers of Scary Movie (2000)". In so doing, Stan Helsing says that it is a film that has absolutely nothing else going for it. Either that or it is seeking to appeal to the same audience for lowbrow genre parody that Scary Movie did. Where I come from, pulling out the Scary Movie connection is not exactly a ringing endorsement, nor an inspiring prospect.
The sole point of connection between the two films is director/writer Bo Zenga who had acted as an executive producer on Scary Movie. Elsewhere, Zenga has executive produced the horror movies A Light in the Darkness (2002) and Turistas (2006), and is probably best known as producer/screenwriter of Soul Plane (2004). Stan Helsing was Bo Zenga's directorial debut, although he has failed to go onto make anything else subsequently.
Certainly, the Scary Movie connection is not in inapt one as Stan Helsing acts as a parody of various horror classics mostly from the 1980s in much the same way that Scary Movie parodied various 90s slasher films. The principal characters are chased by figures that are clearly modelled on Freddy Krueger from the A Nightmare on Elm Street films, who still has his pizza face but now resembles a pimped-out gang banger; Pinhead from the Hellraiser films where the nails in his head on closer inspection turn out to be syringes and darts; Michael Myers from the Halloween series, Jason from the Friday the 13th series, a leaf blower wielding Leatherface from the Texas Chain Saw Massacre series and Chucky from the Child's Play films.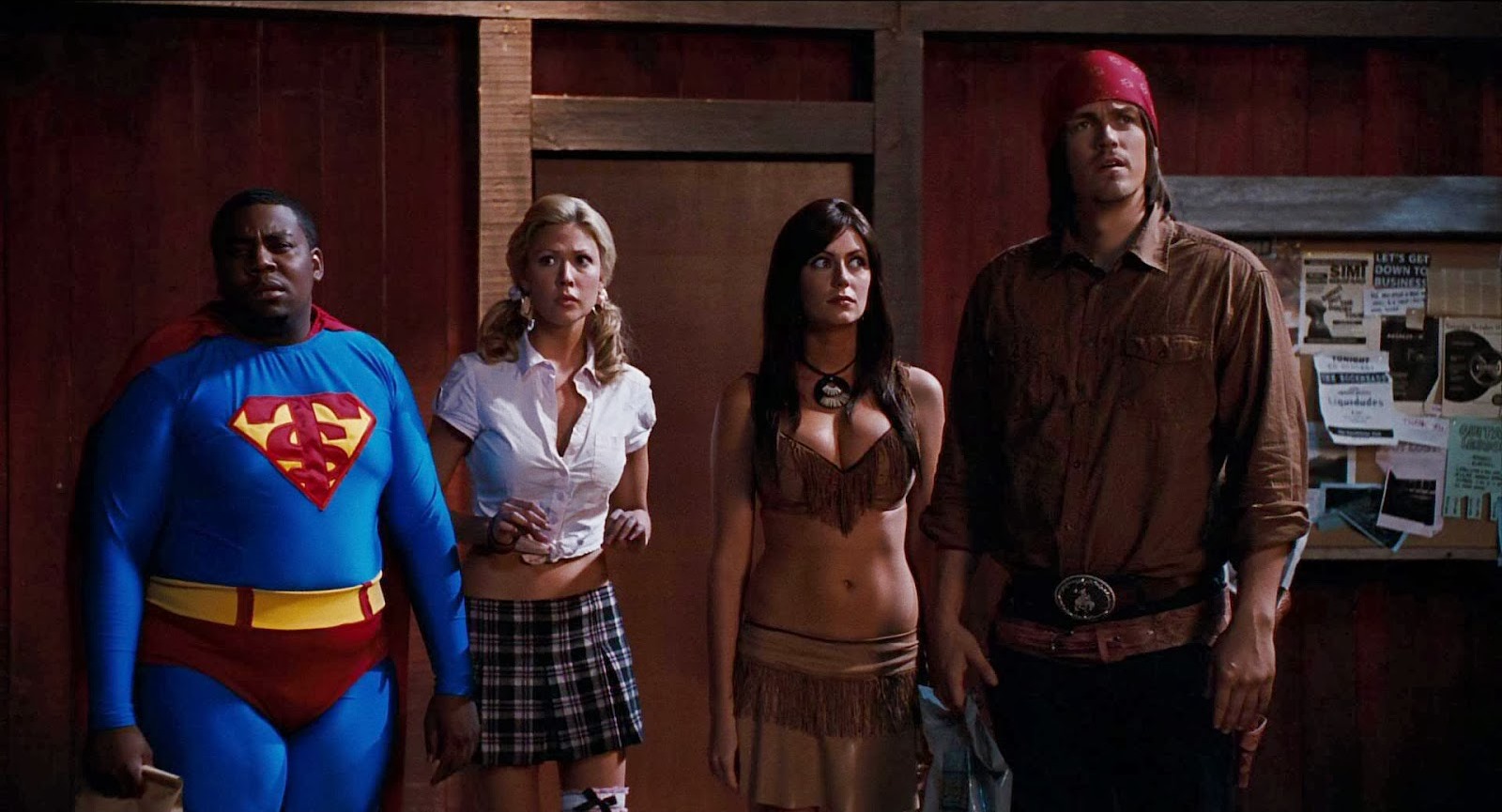 There are scenes spoofing various horror movies – the peephole scene from Psycho (1960); the killer dumping bodies down the chute in Jeepers Creepers (2001). In the videostore, there is a poster for The Ring (2002) – "everyone who sees The Ring dies" and beneath it a pile of bodies. Elsewhere, there are sundry references to The Last House on the Left (1972), The Blair Witch Project (1999) and The Sixth Sense (1999). Zenga even does a variant on the Michael Jackson child molester gag that was played out through several of the Scary Movie sequels. Oh and the film also casts Leslie Nielsen who has become the patron saint of the parody movie and appears in drag throughout for no apparent reason.
Unfortunately, Bo Zenga suffers from the same problems that the Scary Movie films and others who have copied these successes such as the directing duo of Jason Friedberg and Aaron Seltzer – Date Movie (2006), Epic Movie (2007), Meet the Spartans (2008), Disaster Movie (2008), Vampires Suck (2010), The Starving Games (2013), Best Night Ever (2013) and Superfast! (2015) – frequently do and that is that successful parody requires more than merely quoting the films that one is trying to send up. Stan Helsing wants to be funny and sarcastic but most of the gags and one-liners fall flat. Even as such, the humour is scattershot.
On a plot level, the film is extremely shapeless and there is nothing that ever seems to drive it from one gag to another. For that matter, though everybody speaks of the title character as the inheritor of a legendary monster hunter role, he rarely does any monster hunting – although, at least when he does accept his role at the end, he puts on a slouch hat and oil slicker just like Hugh Jackman in Van Helsing (2004).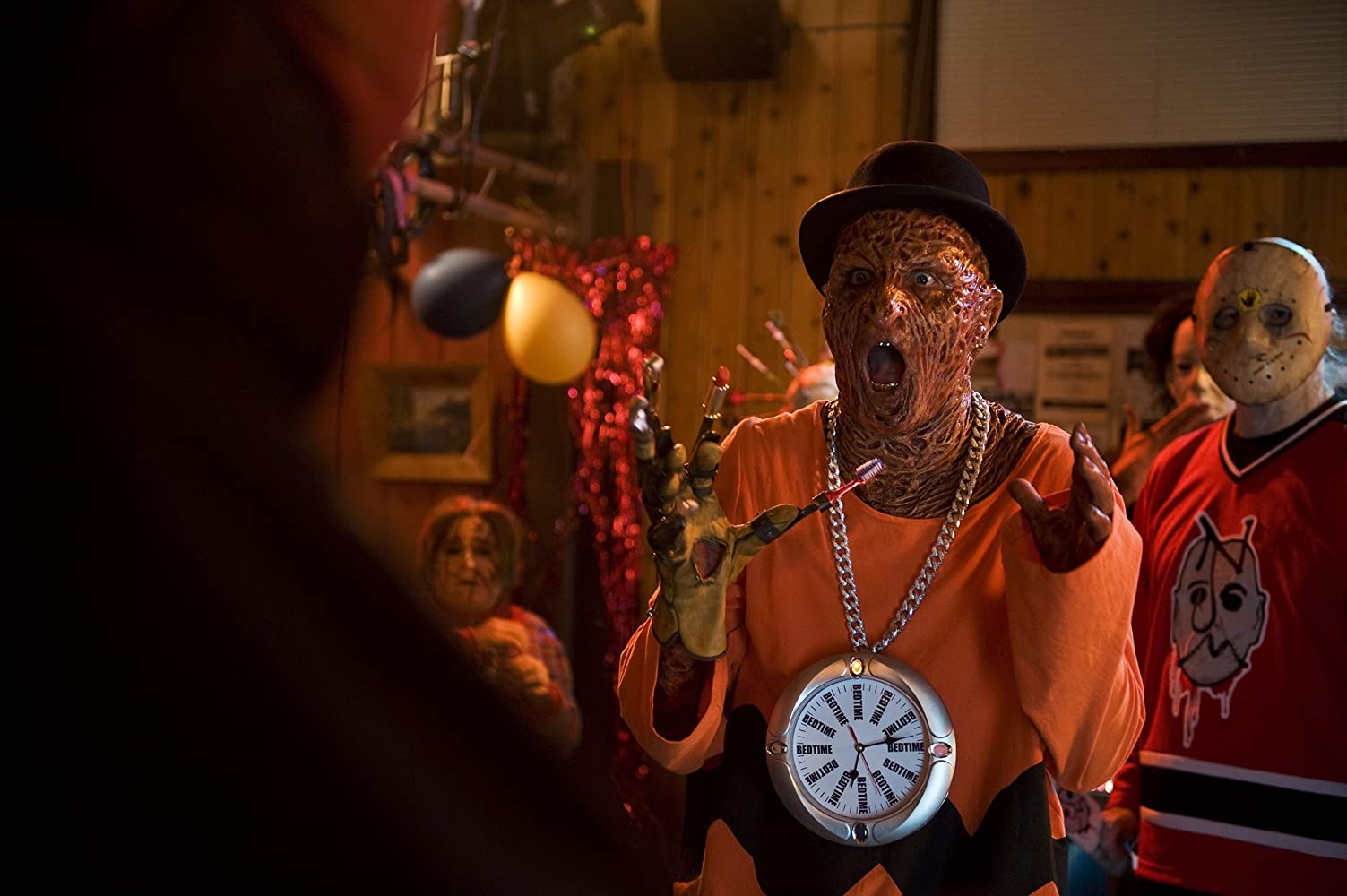 It is hard to invest much time in a film where all the characters are conceived and played as morons. To the film's credit, it is never as relentlessly centred around crude and vulgar humour as the Scary Movies and Friedberg and Seltzer's films are. Still there is a constant pitch to moronically lowbrow humour – gags about the guys looking at the girls' underwear as they slide down the pipe, grabbing breasts and so on. There is a pointless sequence where the Brides of Dracula turn up and do a stripper routine.
The film opens with Steve Howey reciting a list of pornographic spoofs of popular film titles, which feels exactly like the film's creative team cracked up laughing in conceiving the list and then could not bear to cut it out of the film, more so than it ever sounds funny. One sinks in their seat at the point of the climax where the various monsters engage in undercranked Keystone Kops routines, before they and heroes face off over a karaoke showdown, which involves the monsters conducting a Village People routine.
---
---