---
Crew
Director/Screenplay – Stephen Susco, Producers – Timur Bekmambetov & Jason Blum, Photography – Kevin Stewart, Visual Effects Supervisor – Michael Kofsky, Makeup Effects – Jason Collins, Production Design – Chris Davis. Production Company – Blumhouse/Bazelevs.
Cast
Colin Woodell (Matias O'Brien), Stephanie Nogueras (Amaya DeSoto), Connor Del Rio (AJ Jeffcott), Andrew Lees (Damon Horton), Betty Gabriel (Nari Jemisin), Rebecca Rittenhouse (Serena Lange), Savira Windyani (Lexx Putri), Bryan Adrian & Douglas Tait (Charon IV), Chelsea Alden (Kelly)
---
Plot
Plot: Matias O'Brien takes home and logs onto a laptop he has found left behind at the internet cafe where he works. Via video chat, he tries to reconcile with his girlfriend Amaya DeSoto after they broke up over the fact that she is deaf and he has not learned sign language. At the same time, he and five other friends meet up in a video conference for game night. In the process of exploring what is on the laptop's hard drive, Matias discovers snuff videos of mystery figures attacking and abducting people, including Erica Dunn who went missing in the neighbourhood. At the same time, Matias has to deal with an anonymous figure popping up on chat demanding their laptop back. In trying to respond, he is drawn to the darknet site The River where people exchange the snuff videos. Charon IV, the owner of the laptop, then breaks into Amaya's apartment and kills her roommate as Matias watches. Charon tells Matias that he has been covertly watching everything and demands that Matias keep all his friends online, that none of them alert the authorities and that Matias must convince Amaya to come to him. However, when Matias responds by removing the large sum of money in a bitcoin account, this triggers the wrath of the community and Charon IV warns that they are coming to kill both he and Matias. As Matias watches, the mystery hackers begin targeting his friends.
---
I enjoyed Unfriended (2004), which came with a novelty take on the Found Footage film – everything was shot in one take and took place on a computer screen ie. the computer screen became the movie screen as we watched everything take place on it. It produced a modest novelty at the time. Here producers Blumhouse and Timur Bekmambetov, the director of Night Watch (2004), Wanted (2008) and Abraham Lincoln, Vampire Hunter (2012), are back with a sequel.
The director this time is Stephen Susco who makes his directorial debut here. Susco had previously worked as a screenwriter, delivering script work for films such as The Grudge (2004), The Grudge 2 (2006), Red (2008), Texas Chainsaw (2013), Beyond the Reach (2014) and Hell Fest (2018).
Unfriended was an average film carried a good way by the novelty of its approach. With that novelty gone, there seemed little for a sequel to do and it took me some time to drum up enthusiasm for sitting down to watch Dark Web. It is this zero expectation in watching that made Dark Web a surprise.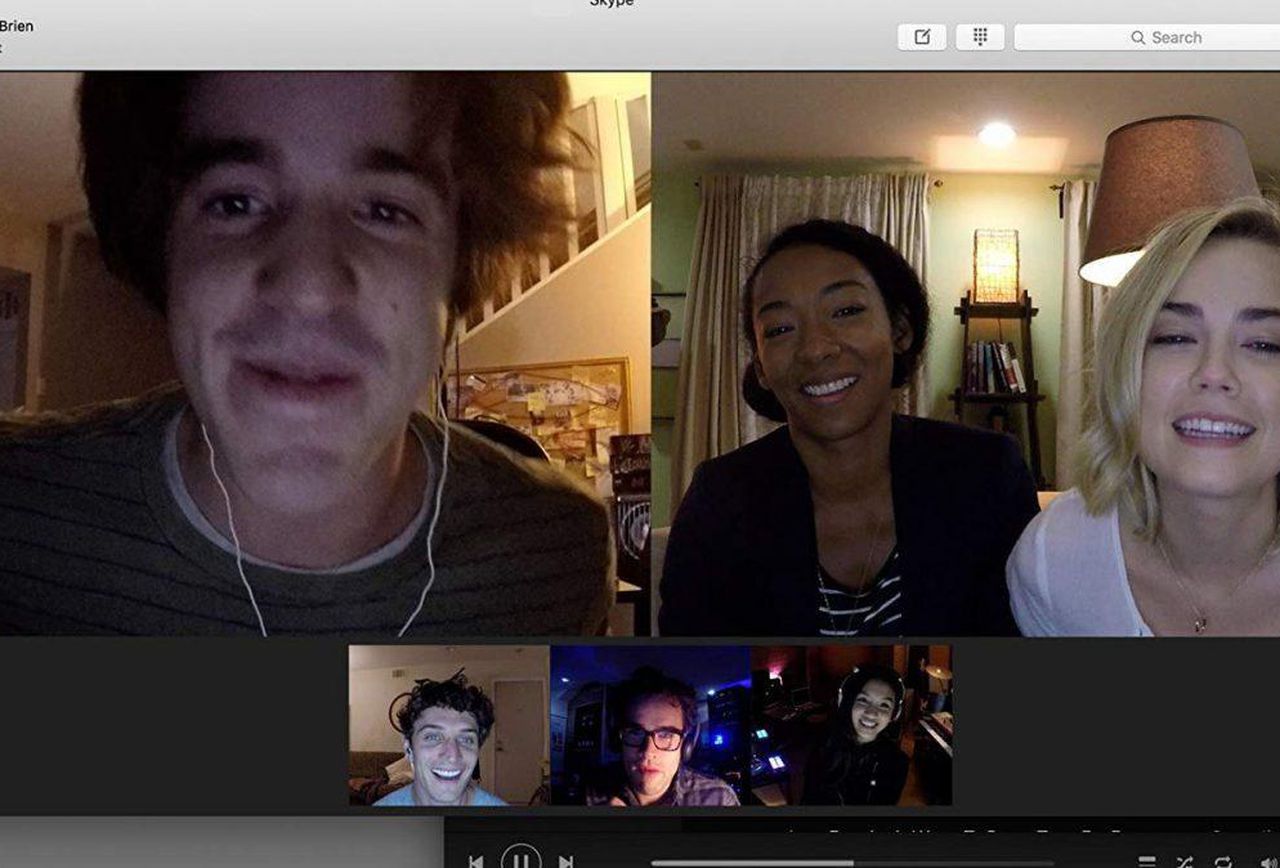 Firstly, Stephen Susco has abandoned any connection to the first film – there is only the same mode of approach where what we see on the film's screen is what is taking place on a computer screen. The first film's story about supernatural retribution for a teen bullying occurring across social media has been replaced by a story about a group of people unwittingly incurring the wrath of a shadowy group of darkweb hackers who make snuff movies. This is a plot that makes Dark Web very similar to The Den (2013), the first film to employ the computer screen as film screen approach.
As soon as Colin Woodell starts finding snuff movies and investigating mysterious darkweb sites, the film becomes rather compulsive. There is a particular jolt as the screen goes to black and a figure abruptly appears behind Stephanie Nogueras's roommate Chelsea Alden and drags her off. From that point on, the film maintains a tight grip and tension as Colin Woodell is forced to keep the truth from his friends at the same time as having to get them all to stay online or his tying to alert everybody while the cell signal is blacked out by the underground. Susco continually puts twists on the scenario, creating a constant paranoia out of the ever-present monitoring Charons. (Charon may be have a leeetle too much ability to remotely wreak havoc but unlike many other films set around the internet – looking at you The Den – the technology here is either existing or plausibly developed). The tension workout by the end actually makes for a far superior film to the original Unfriended.
---
---