aka The Haunting of Hamilton High
---
Crew
Director – Bruce Pittman, Screenplay – Ron Oliver, Producer – Peter Simpson, Photography – John Herzog, Additional Photography – Brenton Spencer, Music – Paul Zaza, Special Effects – Jim Doyle, Makeup – Nancy Howe, Art Direction – Sandy Kybartas. Production Company – Simcom Ltd.
Cast
Wendy Lyon (Vicky Carpenter), Michael Ironside (Bill Nordham), Lisa Schrage (Mary Lou Maloney), Justin Louis (Craig Nordham), Terri Hawkes (Kelly Hennelotter), Beverly Hendry (Monica Waters), Brock Simpson (Josh), Beth Gondele (Jess Browning), Richard Monette (Father Buddy Cooper), Steve Atkinson (Young Billy)
---
Plot
1957. Beautiful Mary Lou Maloney is about to fulfil her greatest desire and be crowned Hamilton High's prom queen. Bill Nordham, the boyfriend that she rejected, plots revenge and drops a stink-bomb on her from above as she is crowned. Instead, the fuse sets Mary Lou's dress alight and she is torched. Twenty years later and Nordham is now principal of Hamilton High. His son Craig is going out with the sweet Vicky Carpenter. While searching in the school basement, Vicky opens a trunk that contains Mary Lou's sash and tiara. This releases the spirit of Mary Lou who immediately possesses Vicky and sets about regaining her prom crown.
---
The title is pure numeric exploitation – Hello Mary Lou: Prom Night II has no whatsoever connection to Prom Night (1980), which was a quickie slasher ripoff of Halloween (1978). In fact, Hello Mary Lou: Prom Night II wasn't even originally made as a Prom Night film – it was a wholly unrelated work entitled The Haunting of Hamilton High until someone had the idea of labelling it Prom Night II and capitalising on audiences that flocked to, or might even have liked, the original. This appears to have been motivated by the clear intention of turning Prom Night films into a franchise a la the A Nightmare on Elm Street series, which featured a campy, one-liner quoting villain(ness) dispatching teenagers by novel means.
Prom Night took itself seriously and was dreary; Hello Mary Lou doesn't and is all the more enjoyable for it. It runs like a fast-paced parody of everything from Carrie (1976) to The Exorcist (1973) and A Nightmare on Elm Street (1984). It slickly jumps from one not-entirely-serious shock effect to the next and is shot over with a dash of cynical humour – and in doing so proves a far more enjoyable film than anything it is sold as might suggest. The entirety of the film comes tongue-in-cheek – like the guy who kisses his girlfriend just after she has given the prom judge a blowjob as bribe: "Got any more of those mints – your breath smells great."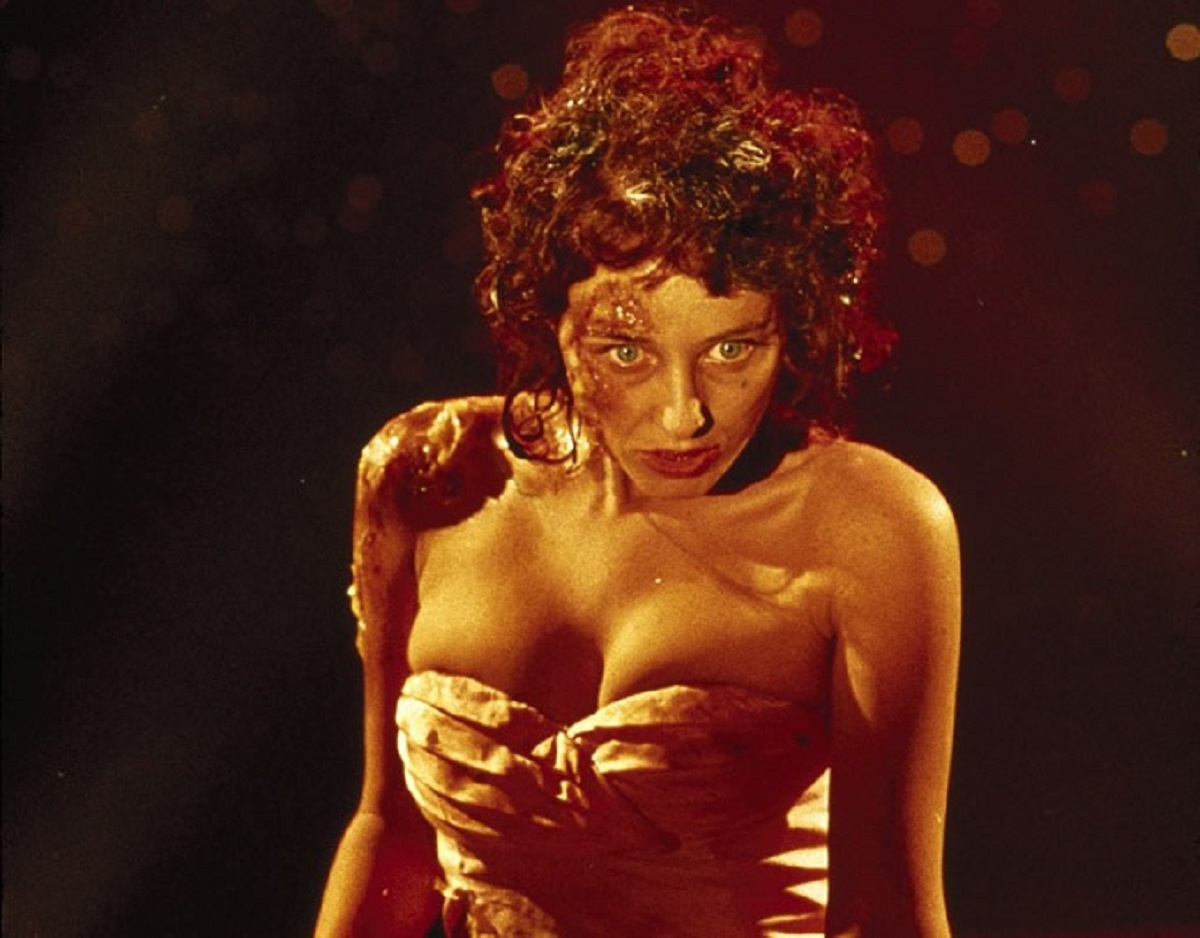 The effects work is accomplished – particularly good is the blackboard that drags a person in and turns into a swimming pool. Even the effects work comes tongue-in-cheek – like the mummified hand with the perfect red nails that struggles its way up out of Wendy Lyon's body or the image of Lyon draped across a rocking horse that rolls its eyes and obscenely slithers its tongue.
Wendy Lyon's performance is rather good with her virtuous baby-blonde innocence played against expectation in a series of increasingly straight-faced acts of wilful licentiousness.
The film was followed by a direct sequel Prom Night III: The Last Kiss (1990) also featuring Mary Lou. The subsequent Prom Night IV: Deliver Us From Evil (1992) abandoned the tongue-in-cheek exploits of Mary Lou and concerned a psycho priest stalking teenagers. Prom Night (2008) was a loose remake of the original.
Canadian director Bruce Pittman had previously made the dreary twin psycho-thriller The Mark of Cain (1985) and went onto make the Kurt Vonnegut adaptation Harrison Bergeron (1995), Alien Tracker (2003) about alien prison escapees and the film set thriller The Last Movie (2012). He has almost exclusively worked in television subsequently.
---
---