---
Crew
Director/Screenplay – Jordan Peele, Producers – Jason Blum, Ian Cooper, Sean McKittrick & Jordan Peele, Photography – Michael Gioulakis, Music – Michael Noels, Visual Effects Supervisor – Grady Cofer, Visual Effects – Industrial Light and Magic, Special Effects Supervisor – Elia Popov, Makeup Effects – Scott Wheeler, Production Design – Ruth De Jong. Production Company – Monkeypaw Productions.
Cast
Lupita Nyong'o (Adelaide Wilson/Red), Wilson Duke (Gabe Wilson/Abraham), Shahadi Wright Joseph (Zora Wilson/Umbrae), Evan Alex (Jason Wilson/Pluto), Elisabeth Moss (Kitty Tyler/Dahlia), Tim Heidecker (Josh Tyler/Tex), Madison Curry (Young Adelaide Wilson/Young Red), Cali Sheldon (Becca Tyler/Io), Noell Sheldon (Lindsey Tyler/Nix)
---
Plot
Husband and wife Gabe and Adelaide Wilson head to a holiday home in Santa Cruz along with their two children Zora and Jason. At the beach, Adelaide becomes fearful. She remembers back in 1986 as a child when she entered a nearby fairground attraction and encountered a doppelganger of herself. They are startled that evening when doppelgangers of themselves appear on the drive and then force their way into the house. All around, these duplicates are emerging and attacking the originals. Gabe, Adelaide and the children are now forced into a desperate fight for survival against their doppelgangers.
---
Jordan Peele found massive success with Get Out (2017), a modestly budgeted Blumhouse release that went on to earn a substantial $170 million at the US box-office. The film's charged tackling of race issues struck a chord with audiences and won Peele an Academy Award for Best Original Screenplay. Peele immediately became a major new Hollywood power broker and was attached to a slew of projects including producing Spike Lee's BlackKklansman (2018), producing/acting as narrator of a revival of The Twilight Zone (2019-20), writing/producing the remake of Candyman (2021) and producing the tv series Lovecraft Country (2020) – all with only his first film as director. Subsequent to this, Peele went on to make Nope (2022).
Us was Jordan Peele's second film as director. (Interestingly, although Jason Blum is listed as co-producer, his production house Blumhouse is not and the only production company on the credits is Peele's own Monkeypaw Productions). Us enjoyed almost identical box-office to Get Out, if critical reception was more mixed.
In his second film, it feels as though Jordan Peele is at the same place that M. Night Shyamalan was at during the early 2000s. That is to say, he has been hailed as a visionary genius following a sleeper box-office hit, is one of the few voices in the horror/fantastic genre who is making original product rather than franchise material, and has been regarded as an auteur and left to do essentially what he wants. Of course, the question that remains to be seen is whether Peele will go the same path that Shyamalan did – where his first few films were celebrated before audiences started to turn off in a big way after seeing their flaws writ large.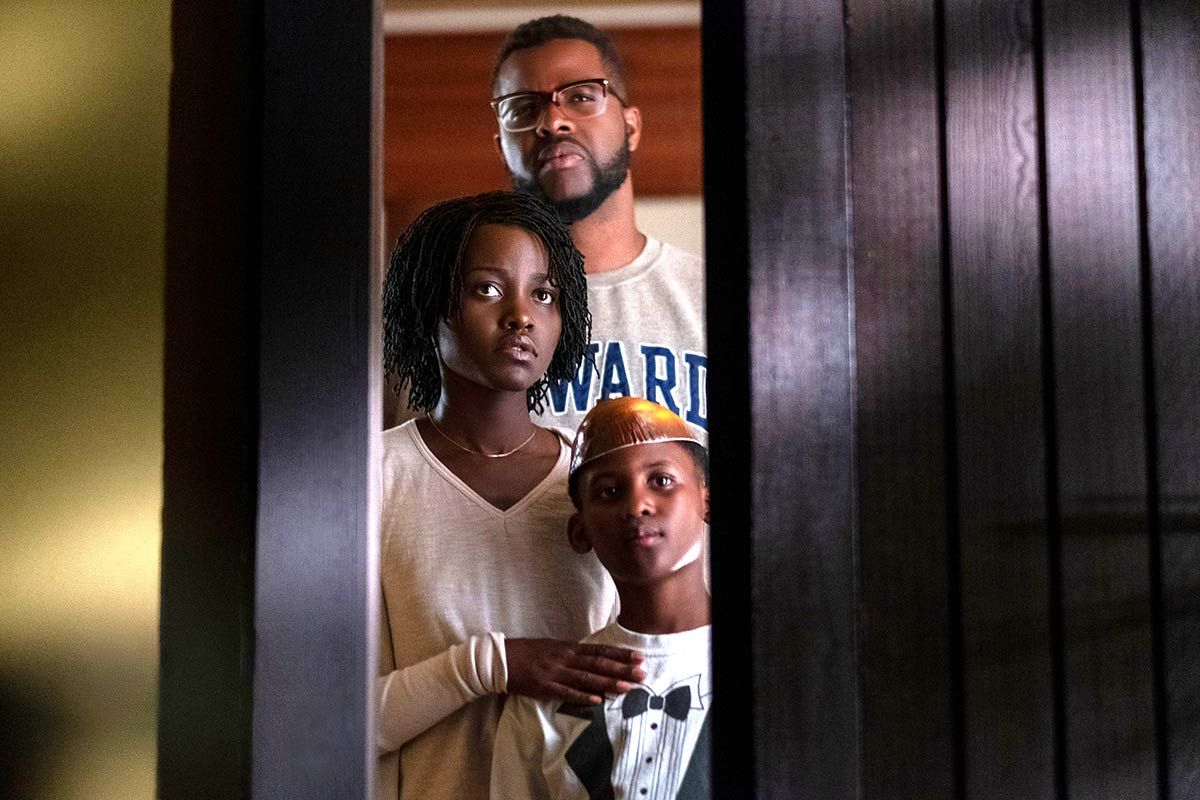 With both Get Out and Us, Jordan Peele has demonstrated an ability to take familiar genre themes and rework them with a contemporary political edge. Get Out was a remarkable reworking of a film like The Stepford Wives (1975) in terms of American racial disparities. Us similarly takes the Body Snatchers film and turns it into a modern parable (although quite whether it is a political metaphor is not something entirely clear).
Far more so than an alien body snatchers film, Us is a Doppelganger film. There has been a reasonable body of these – see the likes of The Man Who Haunted Himself (1970), The Dark Half (1993), Doppelganger (1993), Another Me (2013), The Double (2013), Enemy (2013) and Cam (2018) – usually with a plot in which a malevolent double invades and takes over the placid life of the protagonist(s). The opening scenes here where Madison Curry encounters a doppelganger in a fairground mirror made me think of the doppelgangers in The Brøken (2008), although this mirror aspect does not feature beyond this one scene. The other film I kept thinking back to was one starring this film's supporting actress Elisabeth Moss, The One I Love (2014) where she and husband Mark Duplass were on a couples retreat and met doppelgangers of themselves that wanted to steal their lives.
The major issue I have with Us is that it is not clear why things are happening. (It is the same issue I had with Get Out – Peele seems to have constructed his film as a strong and vivid social metaphor but has not done much in the way of logical follow-through of his premise). We are given the idea of a species of doppelgangers each of which is a mirror of people who live aboveground. There is some explanation given later in the show about experiments that created beings that lack a soul but this is not nearly enough to make sense of proceedings – for example, given that Lupita Nyong'o met her doppelganger as a child and then went on to have children, does the process also create doppelgangers of the children or does the doppelganger just happen to coincidentally have her own children that look identical to Lupita's?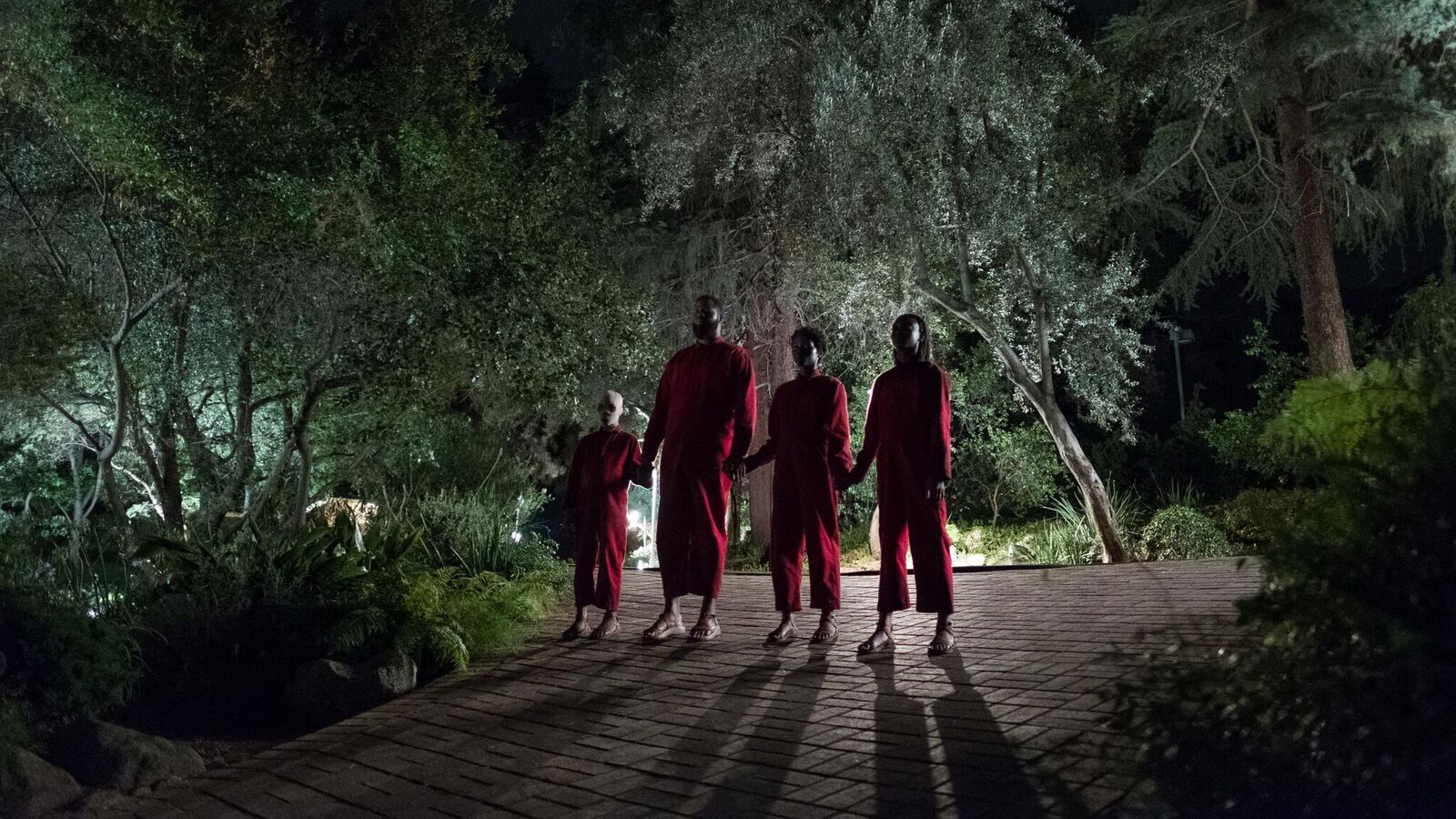 Peele seems to be wanting to create a metaphor – the film seems geared to do that but you reach the end of it not sure what the doppelgangers represent. Their enigmatic claim "We are Americans" puzzles as much as it offers any answers. The only real clue seems to be the one that Peele himself gave at the Q&A at SXSW: "This movie is about this country. We're in a time where we fear the other, whether it's the mysterious invader that we think is going to come and kill us and take our jobs, or the faction we don't live near, who voted a different way than us. We're all about pointing the finger. And I wanted to suggest that maybe the monster we really need to look at has our face. Maybe the evil, it's us." That make a good deal more sense of everything to me – at least after viewing the film. Although it doesn't do so during it – my feeling is always that a film should give you all the clues you need to interpret its meaning.
It is also not clear what the significance of the bunnies or the Hands Across America event that opens and closes the film is meant to stand for. The fact that the film has launched a host of articles where people seek to offer explanations and manage to read all manner of wildly different social allusions into what is going on is surely indicative of how vague and open-ended Peele leaves everything.
This also brings us to the twist ending [PLOT SPOILERS], which ends up being predictable and no real surprise if one has watched enough of these alien body snatchers/doppelganger films. It also makes the plot feel manipulative in the ways it has led us in certain direction – if Lupita Nyong'o was the doppelganger all along, then why does she feel apprehensive about the fairground and not seem to have any memory of the person she was? Why then is it that Red, who is supposedly the real Lupita, ends up being the spokesperson of the Tethers, the one who explains everything to us (including the Lupita doppelganger) when she should have been the one seeking to flee and return to her own life?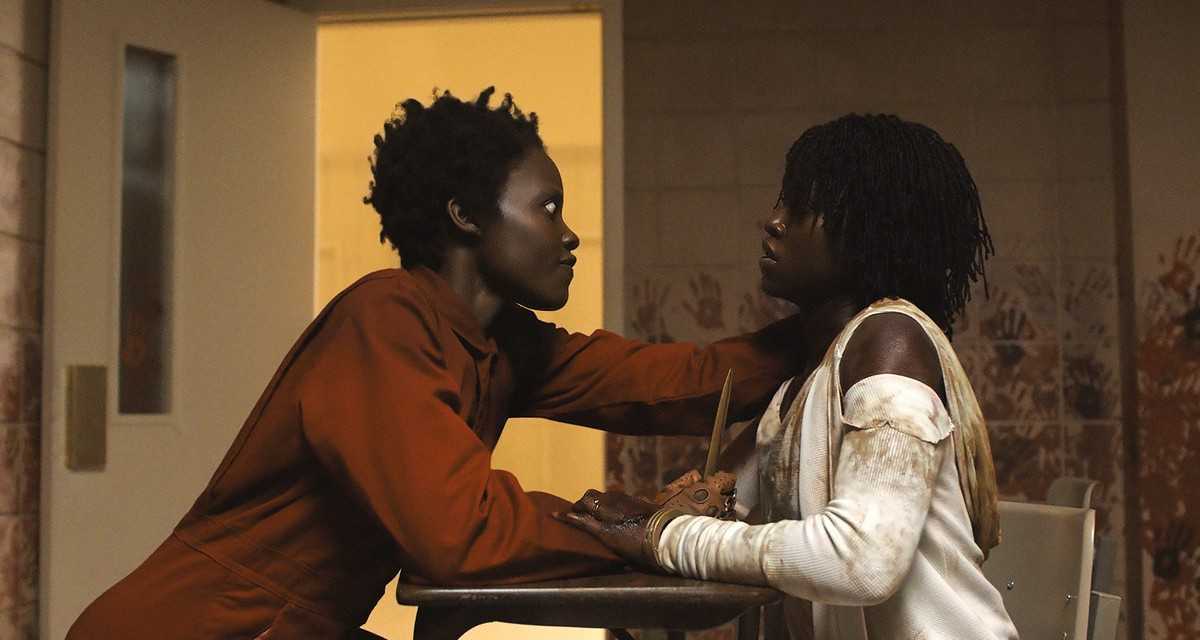 What you cannot deny is that Jordan Peele has matured considerably as a director. The film opens with banal effect where we spend some twenty minutes observing the everyday life of the family as they head to their holiday home. But from about the point that Evan Alex ominously announces "There's a family in the driveway," Peele puts the screws on us and keeps twisting. There is something decidedly unsettling to the long scene where the doppelgangers keep the family prisoner and Lupita Nyong'o explains the life of the shadows in a hoarse whispery voice.
The film erupts into full-on The Strangers (2008) mode with the family at furious siege from the doppelgangers and fighting for their lives and of the doppelgangers taking over the home of their neighbours. Peele demonstrates a strong ability to set up shots that come with an unsettling effect or suggest something off-centre. Peele has sufficient assurance he can also underscore what is happening with a fair degree of humour – like ongoing jokes comparing the defence efforts to Home Alone (1990) and an attempt to flee by car that fractures off into the family arguing over who has the highest kill count.
(Nominee for Best Director (Jordan Peele) at this site's Best of 2019 Awards).
---
---