---
Crew
Director – Pete Walker, Screenplay – Michael Armstrong, Based on the Novel Seven Keys to Baldpate by Earl Derr Biggers, Producers – Yoram Globus & Menahem Golan, Photography – Norman Langley, Music – Richard Harvey, Art Direction – Mike Pickwoad. Production Company – Cannon.
Cast
Desi Arnaz (Kenneth Magee), Julie Peasgood (Mary Norton), Christopher Lee (Corrigan), Vincent Price (Lionel Grisbane), Peter Cushing (Sebastian Grisbane), John Carradine (Elijah Grisbane), Sheila Keith (Victoria Grisbane), Richard Todd (Sam Allyson), Richard Hunter (Andrew Caulder), Louise English (Diana Caulder)
---
Plot
Writer Kenneth Magee makes a $20,000 bet with his publisher Sam Allyson that he cannot write a novel in the classic horror tradition within 48 hours. Allyson arranges for Kenneth to goes to the old Bllddpaetwrr or Baldpate mansion in Wales to write in seclusion. Throughout the night a number of strangers arrive at the house for varying reasons. It develops that they and the house's caretakers are all members of the Grisbane family, the owners of the house. Kenneth learns that forty years ago one member of the family, Roderick, was locked up in his room and kept as an animal after he raped and killed a woman. When they now go up to the room, they find that Roderick has escaped. Someone then starts killing off those gathered and they realise that Roderick is disguised as one of the group and has returned to take revenge.
---
House of the Long Shadows could be considered the very last gasp of the Anglo-horror cycle of the 1960s and 70s that was started off by Hammer Films back in 1957. Although made by American-based producers Menahem Golan and Yoram Globus, House of the Long Shadows is definitely a British horror film in tone.
As recounted by Pete Walker in the Cannon documentary Electric Boogaloo: The Wild, Untold Story of Cannon Films (2014), Menahem Golan was a fan of classic horror and wanted to reunite the old legends on film, believing that it would hold a box-office draw. Thus the film was mounted with the intention of uniting four genre legends – Christopher Lee, Vincent Price, Peter Cushing and John Carradine. As Vincent Price wryly commented in the publicity back at the time, it was a good idea as it might be the last chance that they had to work together again. This proved prophetic with John Carradine dying in 1985, Vincent Price in 1993, Peter Cushing in 1994 with Christopher Lee hanging on until 2015. None of them ever paired with any of the others again. From that viewpoint, House of the Long Shadows can be see as the marker stone that denotes the passing of an era. That said, the film was not a financial success.
Golan and Globus have hired director Pete Walker, one of the leading lights of England's Sadean cinema of the 1970s. There Walker made efforts like Die Screaming, Marianne (1971), The Flesh and Blood Show (1972), Frightmare (1974), House of Mortal Sin/The Confessional (1976), Schizo (1976), The Comeback (1978) and most famously House of Whipcord (1974). (Walker has stated that he had always financed his films independently and that this was the only film where he ever acted as a director for hire. It is also somewhat of an irony that Pete Walker ends up directing a film that demarcates the end of the Anglo-horror cycle given that he was always regarded and disdained as a black sheep by those who praised the Hammer film). House of the Long Shadows was also scripted by Michael Armstrong who directed one similar Old Dark House thriller with The Haunted House of Horror (1969), the notorious witch persecution Mark of the Devil (1970) and the anthology Screamtime (1983), as well as scripted various British sex films.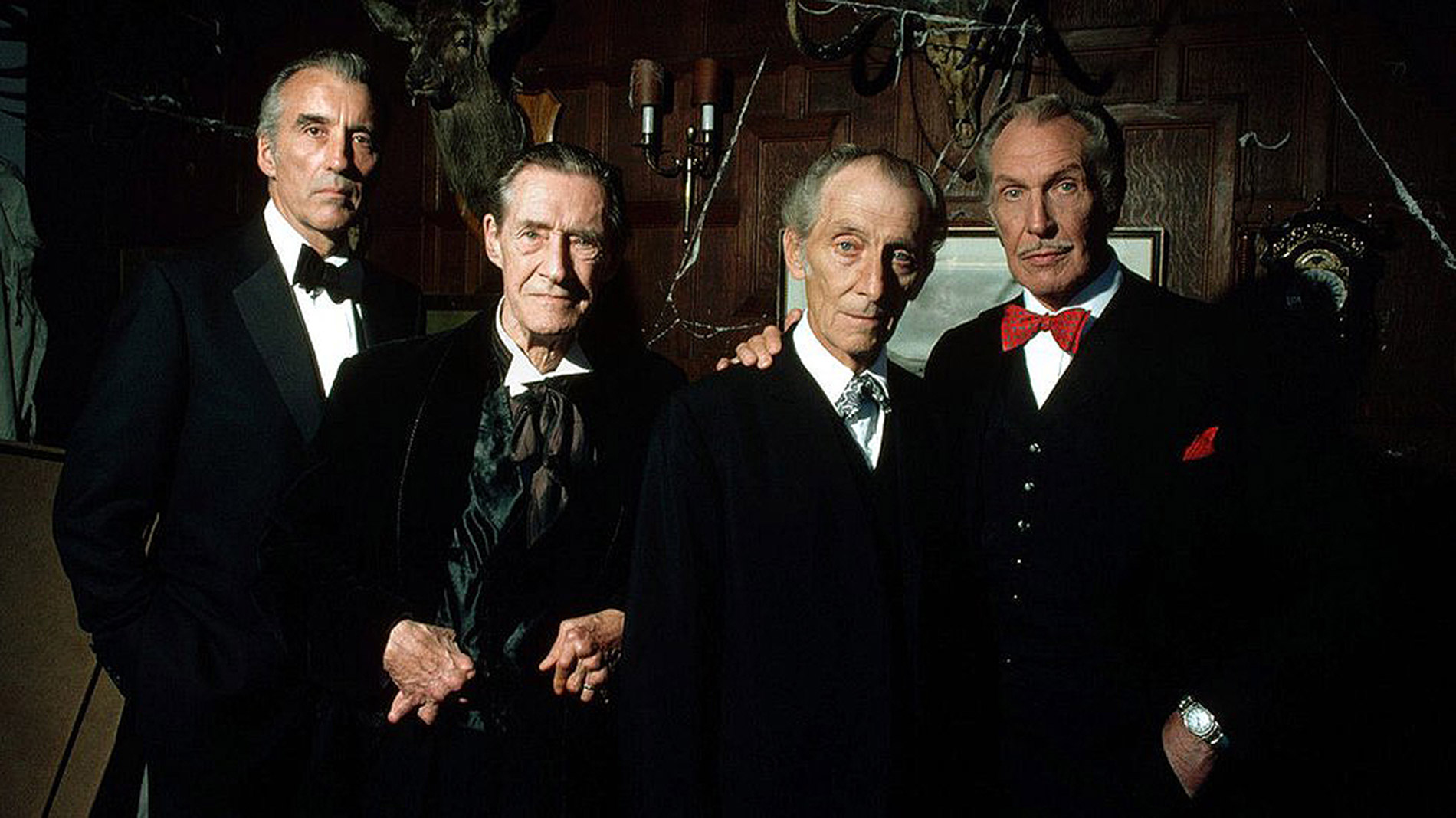 The story itself is an oddly anachronistic throwback to the creaky old fake haunted house thrillers of 1920s and 30s. The same story Seven Keys to Baldpate (1913) from Charlie Chan creator Earl Derr Biggers had been turned into a popular play and was filmed five times previously – in 1917, 1925, 1929, 1935 and 1947, all under the story's original title Seven Keys to Baldpate. The crucial difference between the play and House of the Long Shadows is that the play and other films are old dark house thrillers and involve plot elements like stolen jewels, gangsters, femme fatales, sliding panels and disappearing dead bodies but they are not horror tales. The film here has rewritten the material, keeping fairly much only the writer hero and Baldpate Inn/Manor (here relocated to England from the US), adding the Grsibane family and given everything a much stronger horror emphasis.
In House of the Long Shadows, the story of Seven Keys to Baldpate receives a cursory 1980s updating but is so reliant on Gothic atmosphere and cliche that one hardly notices. For a film that was mounted to unite its four genre names, House of the Long Shadows regrettably emerges as flat and mediocre. Hero and heroine Desi Arnaz and Julie Peasgood never come to life. Pete Walker goes through all the old dark house cliches and occasionally delivers some effective stylistic pastiches – like the moment when the lights come back on and Julie Peasgood finds that she is holding a dead man's hand, or the axe decapitation of Vincent Price shown in shadow silhouette.
What finally does House of the Long Shadows in is its escalating series of multiple twist endings that reduce it to absurdity. It seems ridiculous to suggest that something hinging on such heavy coincidence and the likes of people being hacked up by axes could be conducted as an elaborate charade. If one plots back, you realise that both the killer and his alter ego had to both be in separate rooms at the same time. As to the final twist ending – that this cheap penny dreadful plot could sit up with the 19th Century literary greats – please, don't make me laugh.
---
---