---
Crew
Director – Gordon Hessler, Screenplay – Christopher Wicking, Based on the Novel The Disorientated Man by Peter Saxon, Producers – Max J. Rosenberg & Milton Subotsky, Photography – John Coquillon, Music – David Whittaker, Production Design – Bill Constable. Production Company – AIP/Amicus.
Cast
Vincent Price (Dr Browning), Alfred Marks (Detective-Superintendent Bellaver), Christopher Lee (Fremont), Christopher Matthews (David Sorel), Marshall Jones (Konratz), Michael Gothard (Keith), Judy Huxtable (Sylvia), Uta Levka (Jane), Peter Cushing (Major Benedek Heinrich), Judi Bloom (Helen Bradford)
---
Plot
London police try to track down a man responsible for a series of vampire killings. The man is finally captured and handcuffed to a car fender but escapes, leaving his severed arm inside the cuff where it is found to be an artificial limb. Pursued by police, the man jumps into a vat of acid. Meanwhile, the secret service official of a foreign dictatorship starts killing members of his own government. A forensicologist uncovers a research project by the scientist Browning to replace top government officials with artificial replicas.
---
Scream and Scream Again has a small reputation as a minor cult classic. There are a number of people, particularly when the film came out, who dismissed as incomprehensible, although this is equally something that Scream and Scream Again's proponents cite as one of its virtues.
To take a converse stance, one found Scream and Scream Again to be neither difficult to follow, nor compulsively culty. The plot is certainly all over the place and there is a clear desire to find out what is going on that keeps one glued to it for the most part. Once all the clues fall into place, the film becomes rather straightforward and by no means incomprehensible. Some of the running subplots – particularly the various killings set in the fascist dictatorship and of the two escaping British prisoners being recaptured and tortured – are of no importance to the plot and could easily have been dropped.
On the other hand, neither does Scream and Scream Again contain enough to call it an undiscovered masterpiece. Gordon Hessler's direction is at best workmanlike. Some of the usually cited gems of imagery – like when artificial man Michael Gothard escapes by leaving his hand inside a handcuff that is attached to a police car grille and then kills himself by jumping into the vat of acid – are routinely directed and would not have seemed that wild had not genre reviewers drawn attention to them. On the other hand, the image that works best is the nightmare-like one of the man who wakes up in a hospital bed, each time finding that another of his limbs has been surgically removed.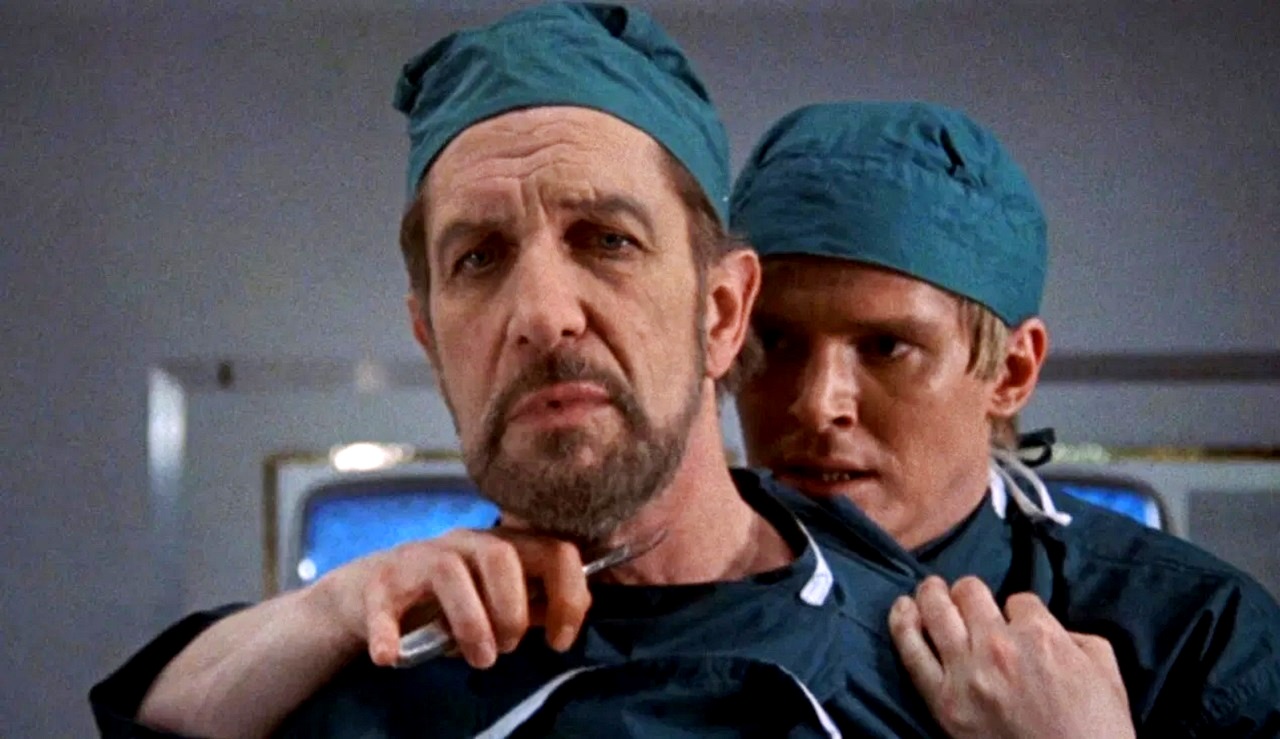 Scream and Scream Again is certainly an ambitious film in the number of genres it tries to straddle at once – it is trying to appeal to then the fad for Anglo-horror with its vampire-like killer and particularly its big name horror cast – Christopher Lee, Peter Cushing and Vincent Price; it is also trying to be a spy film with its cutaways to shadowy goings on in Whitehall and foreign countries; it is trying to be a swinging 60s London film; and finally it unveils itself as a paranoid science-fiction thriller that hearkens back to Quatermass 2/The Enemy from Space (1957) with its alien takeover of British bureaucracy.
Ultimately, despite its modern surroundings and paranoia politics, Scream and Scream Again is squarely an old-fashioned mad scientist film. The film's one moment of megalomaniac glory is Vincent Price arrogantly claiming: "God is dying all over the world. Man invented Him, but Man doesn't need Him anymore. Man is God now – as a matter of fact he always was." Disappointing usage is made of the name horror cast, particularly Peter Cushing who gets to appear for only a single scene before being killed off.
Director Gordon Hessler made a number of films during the Anglo-horror cycle and after, including The Oblong Box (1969), Cry of the Banshee (1970), Murders in the Rue Morgue (1971), the classic fantasy film The Golden Voyage of Sinbad (1973), the tv movie Scream Pretty Peggy (1973), the tv movie The Strange Possession of Mrs. Oliver (1977), Kiss Meets the Phantom of the Park/Kiss in the Attack of the Phantom (1978) and the ghost story The Girl in a Swing (1988).
Screenwriter Christopher Wicking also developed a modest career in the British horror film, writing the scripts for Gordon Hessler's The Oblong Box, Cry of the Banshee and Murders in the Rue Morgue, as well as other Anglo-horror efforts such as Venom (1971) and Dream Demon (1988), and the Hammer films Blood from the Mummy's Tomb (1971), Demons of the Mind (1972) and To the Devil a Daughter (1976).
---
---