aka The Confessional
UK. 1976.
Crew
Director/Story/Producer – Pete Walker, Screenplay – David McGillivray, Photography – Peter Jessop, Music – Stanley Myers, Makeup Supervisor – George Partleton, Art Direction – Chris Burke. Production Company – Pete Walker (Heritage) Ltd.
Cast
Anthony Sharp (Father Xavier Meldrum), Susan Penhaligon (Jenny Welch), Norman Eshley (Father Bernard Cutler), Stephanie Beacham (Vanessa Welch), Sheila Keith (Miss Brabazon), Hilda Barry (Mrs Meldrum), Julia McCarthy (Mrs Davey), Stuart Bevan (Terry Wyatt), Jon Yule (Robert)
---
Plot
Upset after her boyfriend Terry breaks up with her, Jenny Welch bumps into her old friend Bernard Cutler, now a Catholic priest, and accepts his offer of support. She goes to the church to find Bernard and inadvertently ends up in the confessional booth. There she tells the church's senior priest Father Xavier Meldrum what happened and he pushes her to confess that she had an abortion. That night, Father Meldrum sneaks into the apartment and kills a male friend of Jenny's and later Terry. Jenny's certainty that Meldrum has become obsessed and is stalking her is dismissed by her sister and others, even as Meldrum kills more of the people around her.
---
Britain's Pete Walker is one of the more underrated and overlooked directors of the Anglo-horror cycle of the 1970s. During this period, Walker made a string of psycho films that include titles such as Die Screaming Marianne (1971), The Flesh and Blood Show (1972), Frightmare (1974), House of Whipcord (1974), Schizo (1976), The Comeback (1978) and the old dark house film House of the Long Shadows (1983). These placed a focus on Sadean tortures, often contrasting harsh conservative and institutional forces with the carefree open sexuality of the Swinging Sixties generation.
House of Mortal Sin/The Confessional slips into what by now is the Pete Walker formula. Anthony Sharp's Father Meldrum is another of Walker's insane institutional figures, enforcing a harsh morality with psychopathic regard – in this case, determined to punish the men who defiled Susan Penhaligon, including the boyfriend who made her have an abortion (which would have been quite a charged issue back in the day).
Moreover, the idea of a Catholic priest as psychopathic killer – his implements of murder are all props of the church like censers, rosaries and poisoned communion wafers – caused quite a degree of outrage when the film came out. No doubt, the film was given an additional frisson by being made in England, which has a long history of antipathy to the Catholic Church.
House of Mortal Sin/The Confessional works reasonably well. In particular, the initial confessional scene where Susan Penhaligon's vulnerability is pounced upon by Anthony Sharp who forcefully probes deeper to get at her secrets, comes across with a psychological tautness. Walker delivers his trademark sensationalistic despatches, which come embedded in a plot that has a strong overarching moral edge.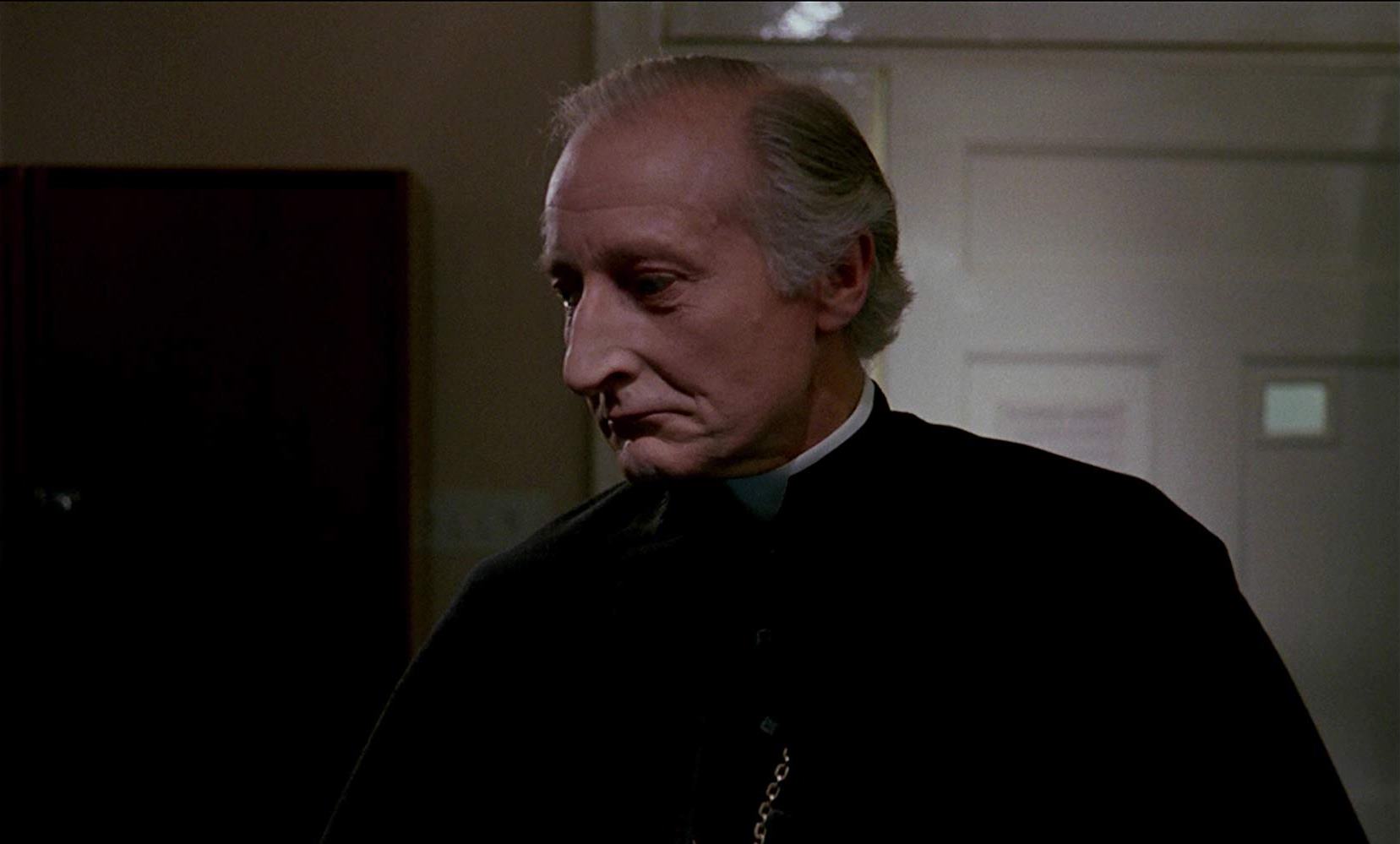 On the other hand, House of Mortal Sin is not the strongest among Pete Walker's films – that distinction belongs to House of Whipcord. Some of the subplots seem contrived – such as where junior priest Norman Eshley abruptly decides to move into the flat with the two sisters and is barely there before he is conducting a romance with Stephanie Beacham.
Susan Penhaligon, a rising and incredibly lovely actress of the day, seems an ideal of fresher-than-fresh-faced innocence. The tall, bony Anthony Sharp – in a role that was apparently original offered to Peter Cushing who turned it down (not, as is rumoured, because he hated the script but because he was contracted for another film) – gives a fine haughty performance as Father Meldrum. In particular, it is his voice, which comes with a full theatrical gravitas and well-bred accent, that makes the part.
There is also the great class act Stephanie Beacham who was dallying in English horror cinema around this time. That said, the film here never gives her much to do other than play the sister of Susan Penhaligon – although we do at least get to see Anthony Sharp strangle her with a rosary.
Walker regular Sheila Keith plays the housekeeper with drippingly ice-cold haughtiness. Towards the end of the film, she gets a left field revelation about her past with Father Meldrum, which opens both of their characters up in surprising ways, allowing her the most depth of character and nuanced performance that Keith managed to give in any of Pete Walker's films.
---
---