---
Crew
Director/Screenplay – Paul Solet, Producers – Kevin DeWalt, Adam Green, Cory Neal & Ingo Vollkammer, Photography – Zoran Popovic, Music – Austin Wintory, Visual Effects – HimAni Productions, Inc., (Supervisor – Kevin Kutchaver), Special Effects Supervisor – Wade Maurer, Makeup Effects – Emerson Ziffle, Production Design – Martina Buckley. Production Company – arieScope Pictures/Dark Eye Entertainment/Bremer Productions, LLC.
Cast
Jordan Ladd (Madeline Matheson), Gabrielle Rose (Vivian Matheson), Samantha Ferris (Patricia Lang), Malcolm Stewart (Dr Richard Sohn), Stephen Park (Michael Matheson), Serge Houde (Henry Matheson), Kate Herriot (Shelly)
---
Plot
Madeline Matheson becomes pregnant to her husband Michael. Madeline insists when the baby comes that it be delivered by her old university friend Patricia Lang, a midwife, instead of in a regular hospital. They are then caught in a car crash and Michael killed. Madeline survives but the baby is found to be dead. Madeline is insistent that she carries the foetus to full term and Patricia backs her decision. The foetus is delivered and Patricia is amazed to watch as Madeline pleads with it to come to life and it does. She names the baby Grace. Madeline insists on raising the baby on her own but soon finds that there are things wrong with it. It refuses all milk and comes to subsist only on her blood. As Madeline becomes more ill, problems begin when others try to take the baby away from her.
---
Grace was a debut feature film for American writer-director Paul Solet. Solet gained exposure on the basis of his acclaimed short horror film Means to an End (2005), which was highly praised by Fangoria magazine and included on their video compilation Fangoria: Blood Drive II (2005). As a result of his work there and in several screenwriting competitions, Solet was solicited to work on an as-yet-unproduced screenplay by Eli Roth. In between this, Solet made his next short film, the six-minute long Grace (2006). After this played at a number of horror festivals, Solet was given the backing to expand this as a feature-length film from Canadian companies, as well as the arieScope Pictures production company of Adam Green, director of films like Hatchet (2006) and Frozen (2010). Grace had its premiere at Sundance and played at a reasonable number of international film festivals.
I was hugely impressed with the things that Paul Solet does with Grace. It is one of the most astonishing directorial debuts I have seen in some time. We have had pregnancy horror films before – most notably Rosemary's Baby (1968) and a bunch of films that took their cue from it, or the likes of It's Alive (1974) and sequels. For a greater part of the film, Solet eschews horror conventions – another more cliched film would have had the baby or protective mother killing people at regular intervals – a perfect example of this might be the remake of It's Alive (2008). By contrast, Solet throws out all such effect (at least until near the end) and concentrates the film on the slowly accruing psychological disintegration of mother Jordan Ladd.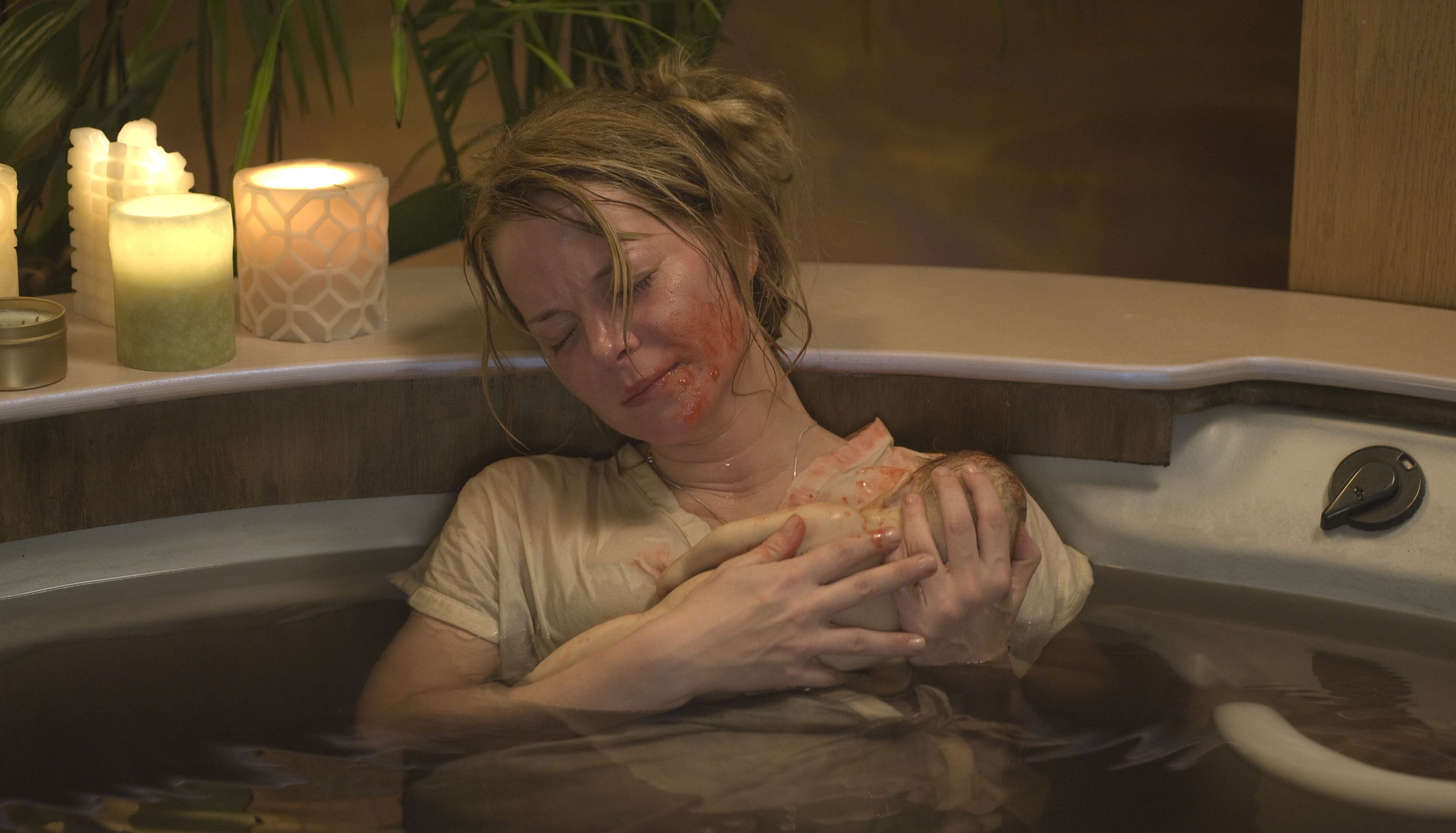 Grace is a film that takes place in the subtlety of nuance. In the opening scenes, we have Jordan Ladd and Stephen Park inviting her mother Gabrielle Rose and mother's husband Serge Houde to dinner – all we need to know about Gabrielle Rose's character is suggested in the distaste at which she greets the health food served up and takes the knife and fork and separates out Houde's food for the sake of his diet. Or just the way that Solet opens the film on the disinterested expression on Jordan Ladd's face as she lies on her back during sex.
There are a number of shock juxtapositions like where Solet creates constant revulsion by association showing Jordan Ladd watching videos of animal abuse contrasted to her drinking soymilk, the cat bringing in a rat and her having to dispose of it juxtaposed with her cutting food to be served up. There is particularly effective scene where Malcolm Stewart comes to the house and insists on giving Jordan Ladd a medical exam and just in the way he looks at and touches her with his stethoscope that resonates with suggestion of improper sexual interest on his part.
The true effect and horror of Grace comes during the middle third in the scenes where Jordan Ladd shuts herself in the house and insists on tending the baby. The film focuses on the accruing minutiae of detail – the flies gathering around the baby's crib, the slow rotting of food, Ladd's calmness as we see the baby is drinking blood from her breast, followed by the increasingly more disturbing scenes where she starts filling the baby's bottle with blood squeezed from packs of meat from the supermarket.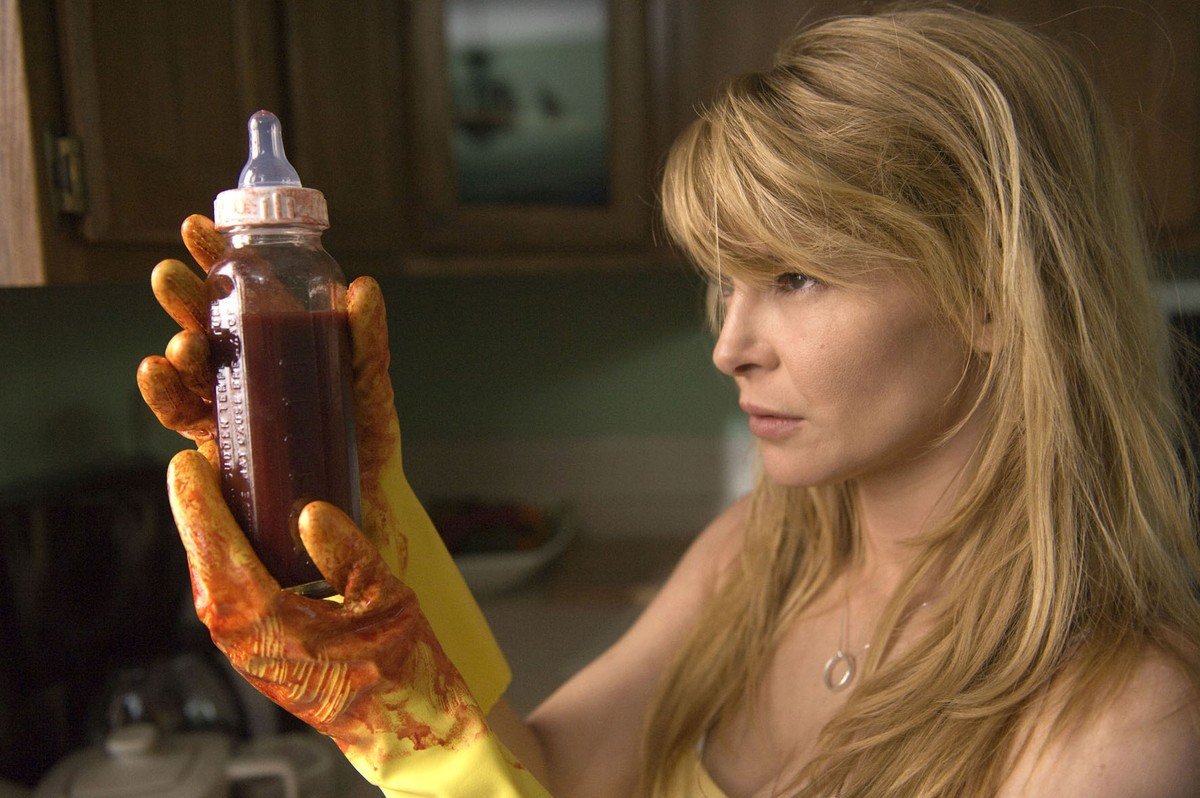 Part of the effectiveness of these scenes is that Paul Solet has made a fascinatingly well detailed attempt to research the issues surrounding pregnancy, birthing and midwifery and does not stint in littering these throughout the film, making the film almost a clinical study in the proper medical and aftercare procedure of birthing, while equally taking the time to deconstruct many of the traditional procedures in medical practice. I don't know to what extent these scenes are accurate but I felt like I came away from the film knowing a whole lot more about the procedure involved in pregnancy and birthing than before I went in. The fact that Jordan Ladd's slow psychological disintegration sits amidst this add immeasurably to the film's effect. The film travels down more traditional routes in its last twenty minutes where a variety of people contrive to turn up at the house and end up being slaughtered where it feels that Solet finally comes under pressure to give over to horror film expectation.
In the central role is Jordan Ladd who gives a good performance. However, the film ends up being taken over by relatively unknown Canadian actress Samantha Ferris from the moment she enters the show, spouting facts that immediately turn all traditional views of medicine on their head and moments later charges into the emergency room to dismiss the doctors treating Jordan Ladd for their incompetence. Ferris gives a highly intelligent performance here and I am certainly interested to see what else she has done. Equally good is the distinguished Canadian actress Gabrielle Rose who gives a nicely autocratic performance as the mother determined to wrest control of the baby away from Jordan Ladd.
Paul Solet next made the home detention ghost story Dark Summer (2015), the The Weak and the Wicked episode of Tales of Halloween (2015), the killer dog film Bullet Head (2017) and the non-genre Clean (2020), as well as write numerous episodes of the tv series Mars (2016-8).
---
---