---
Crew
Director/Story – Peter Daskaloff, Screenplay – Peter Daskaloff & Matt Toronto, Producers – Alexi Stavrou & Ashlyn Yennie, Photography – Lucas Pitassi, Music – Ryan Harrison, Makeup Effects – Maurie Davidson. Production Company – Souvenir Films.
Cast
Ashlynn Yennie (Sharyn Berkley), Louis Mandylor (Dr Aaron Hellenbach), Yorgos Karamihos (Detective Costas Aetos), Augie Duke (Cassandra Franklin), Ravi Naidu (Everett), Christos Vasilopoulos (Rizzo), Scott Alin (Nico Cash), Elli Rahn (Hector)
---
Plot
In Los Angeles, Sharyn Berkley is rushed to hospital in an emergency with appendicitis. She comes around in a strange facility run by Dr Aaron Hellenbach where it becomes apparent that she and others are prisoners. As she seeks to find a way to escape, she also learns that Hellenbach is conducting experiments on patients by severing limbs or burning people and then causing their wounds to regenerate. Also at the facility, she sees her old drug dealer boyfriend Nico who committed suicide but is now back alive again.
---
My attention was caught by the plot description for Antidote – "A young woman is held captive in an underground medical facility where selected individuals are perpetually mutilated and then healed using a secret antidote."
It soon becomes apparent not far into Antidote that we are in for a sinister hospital film. The sinister hospital has a reasonable history in genre cinema with films like Autopsy (2008), A Cure for Wellness (2016), The Void (2016) and Fractured (2019). Haunted hospitals feature in Unrest (2006), Dark Floors (2008), Nails (2017), The Power (2021) and to some extent in The Kingdom (1994).
The work that Antidote most comes to resemble is Sublime (2007) where Tom Cavanagh ends up in a hospital were what is happening keep shifting and becomes increasingly surreal. Ashlynn Yennie, who also produces the film, came to fame in one of the weirdest and most perverse of all medical horror films The Human Centipede (First Sequence (2009). (For a more detailed overview see Medical Horrors).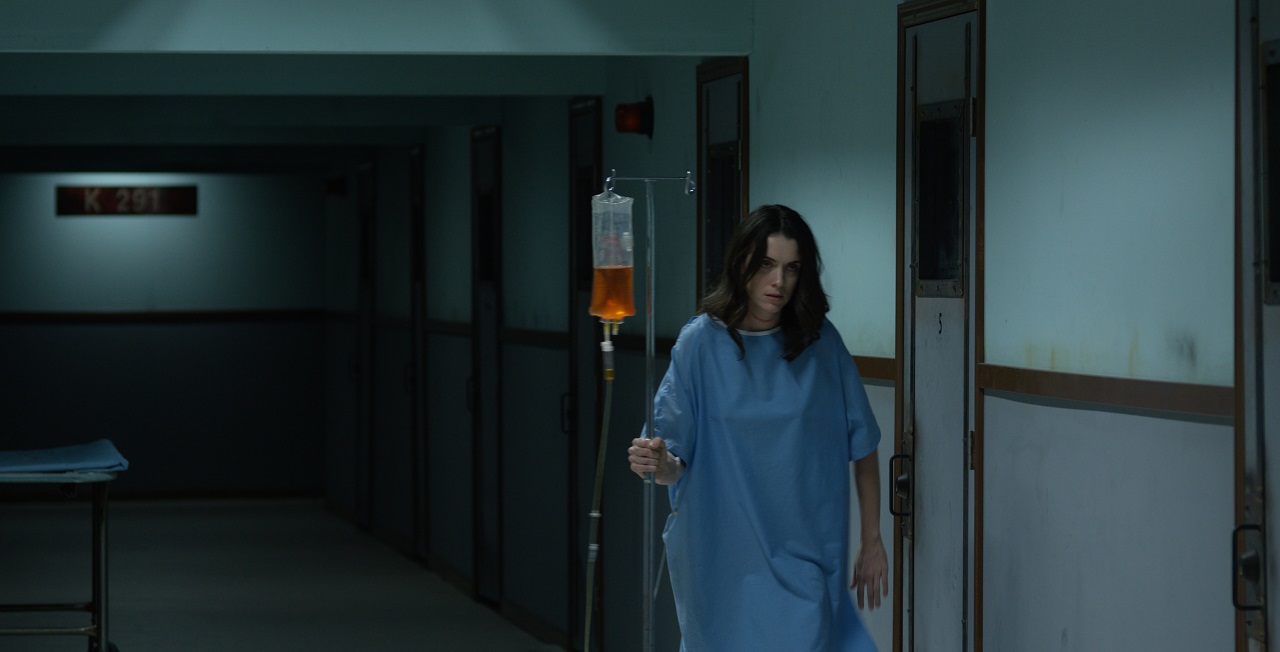 The disappointment of the film is that it never quite matches up to its plot description. There are one or two scenes like where we see Ravi Naidu have his tongue ripped out in surgery and it then restored again. Augie Duke has an alarming scene where she describes what it is like being burned alive multiple times, while we also see her slit her throat and then reappear unharmed later.
These scenes sit alongside others where surgeon Louis Mandylor clearly has malevolent intent, or where other patients act threatening. Things then slide over into the outrightly hallucinatory where Ashlynn Yennie is encountering her dead boyfriend (Scott Alin) returned to life. Not to mention ever so mind-bending moments where she exchanges notes with someone through the wall of her room and asks "What sort of hospital is this?" and gets the reply "This is not a hospital."
Eventually what is going on unimaginatively transpires as being yet another Deathdream Ending that takes place as [PLOT SPOILERS] Ashlynn Yennie was clinically dead for a brief time during her appendectomy operation, The deathdream ending has become a tediously overused cliche ever since The Sixth Sense (1999). It proves an disappointing let down on a solid set up.
---
Trailer here
---