(Män Som Hatar Kvinnor)
---
Sweden/Denmark/Norway/Germany. 2009.
Crew
Director – Niels Arden Oplev, Screenplay – Nikolaj Arcel & Rasmus Heisterberg, Based on the Novel by Stieg Larsson, Producer – Soren Staersmore, Photography – Eric Kress, Music – Jacob Groth, Visual Effects Supervisor – Torbjorn Olsson, Special Effects – Panorama Film & Teatereffekter, Makeup Effects – Love Larsson, Production Design – Niels Sejer. Production Company – Filmpool Stockholm Malardalen/Film i Vast/Nordisk Film/Nordisk Film-&-TV-Fond/Splitan Underhallning MAB/Sveriges Television (SVT)/Svensk Filmnstitut/Det Danske Filminstitut/Yellow Bird Films/ZDF/ZDF Enterprises/Danmarks Radio (DR)/TV2 Norge.
Cast
Michael Nyqvist (Mikael Blomkvist), Noomi Rapace (Lisbeth Salander), Sven-Bertil Taube (Henrik Vanger), Peter Harber (Martin Vanger), Peter Andersson (Nils Bjurman), Ingvar Hirdwall (Dirch Frode), Lena Endre (Erika Berger), Bjorn Granath (Gustav Morell), Marika Lagercrantz (Cecilia Vanger), Ewa Froling (Harriet Vanger), Thomas Kohler (Plague), Gosta Brederfeldt (Harald Vanger), Gunnel Lindblom (Isabella Vanger), Stefan Sauk (Hans-Erik Wennerström)
---
Plot
In Stockholm, Mikael Blomkvist, the editor of 'Millennium' magazine, is found guilty of libelling industrialist Hans-Erik Wennerström, and is sentenced to jail, even though Mikael insists he was set up because he had uncovered incriminating information. He has six months before he must go to jail but before that receives a job offer from 82 year-old businessman Henrik Vanger who lives on Hedeby Island. Mikael used to play there as a child and Henrik wants him to find what happened to his sixteen-year-old niece Harriet, who used to baby-sit Mikael. She mysteriously disappeared in 1966 when the extended Vanger family were gathered on the island for a business meeting. A tanker crash blocked off the only bridge to the mainland and Henrik is certain that the person responsible for Harriet's disappearance must have been one of the Vanger family. Every year since, Henrik has received a pressed flower from somewhere around the world on his birthday, as Harriet always used to send him, and is certain that it is her killer is taunting him. Mikael begins investigating the circumstances of the disappearance and the background of the notoriously difficult Vanger clan, several of whom were Nazis during the War. Meanwhile, Lisbeth Salander, who was employed by Vanger's secretary to do a background check on Mikael, has been continuing to secretly monitor Mikael's computer activity. At the same time, she must deal with a new probation officer who withholds her funds and forces her to have sex with him, even raping her, before she turns the tables on him. She is able to see an important clue in some of the documents on Mikael's computer and sends him an email. He goes and presses her to join him in solving the case. Together they discover that Harriet may have been the victim of a serial killer. However, as they piece together the trail, someone on the island starts trying to kill Mikael.
---
The Girl with the Dragon Tattoo is a Swedish thriller (although in actuality is produced among a handful of Scandinavian countries). The Girl with the Dragon Tattoo, or to give it its translated Swedish name Men Who Hate Women, is based on a trilogy of books, the so-called Millennium Trilogy, by Swedish author Stieg Larsson. The first of these was Men Who Hate Women (which was retitled The Girl with the Dragon Tattoo in English translation) (2005) and its two sequels The Girl Who Played With Fire (2006) and The Air Castles That Blew Up (English translation The Girl Who Kicked the Hornet's Nest) (2007). All three feature the same central characters of editor Mikael Blomqvist and outlaw hacker Lisbeth Salander. These became best-sellers, aided in no small part by the various film adaptations, selling some five million copies worldwide.
Stieg Larsson is an interesting figure who was active in both the Communist party and science-fiction fandom in Sweden. Like the character of Mikael Blomqvist here, he also became the editor of Expo, a magazine exposed corrpution and right-wing political extremism. The Millennium books attack many of the political issues that Larsson felt angry about – Sweden's complicity with the Nazis, child prostitution, government corruption, the power of corporations. Unfortunately for Larsson, he died in 2004, before the books were even published.
I went into watch The Girl with the Dragon Tattoo not sure if it was a work that I was going to write about on this site. It falls into the long established genre of the investigative thriller genre – one that involves characters, usually detectives, methodically piecing together clues to solve a murder. This is a genre that has largely dropped away on cinema screens in the last decade or so, having been supplanted by forensic thrillers such as tv's CSI: Crime Scene Investigation (2000-15) or the realism-based detective stories of NYPD Blue (1993-2005) and the various Law and Order shows, with occasional traditional holdouts still appearing on British television. Cinematically, the last investigate thriller to appear on screens would have to be the non-fiction Zodiac (2007), unless one wants to count something like The Da Vinci Code (2006).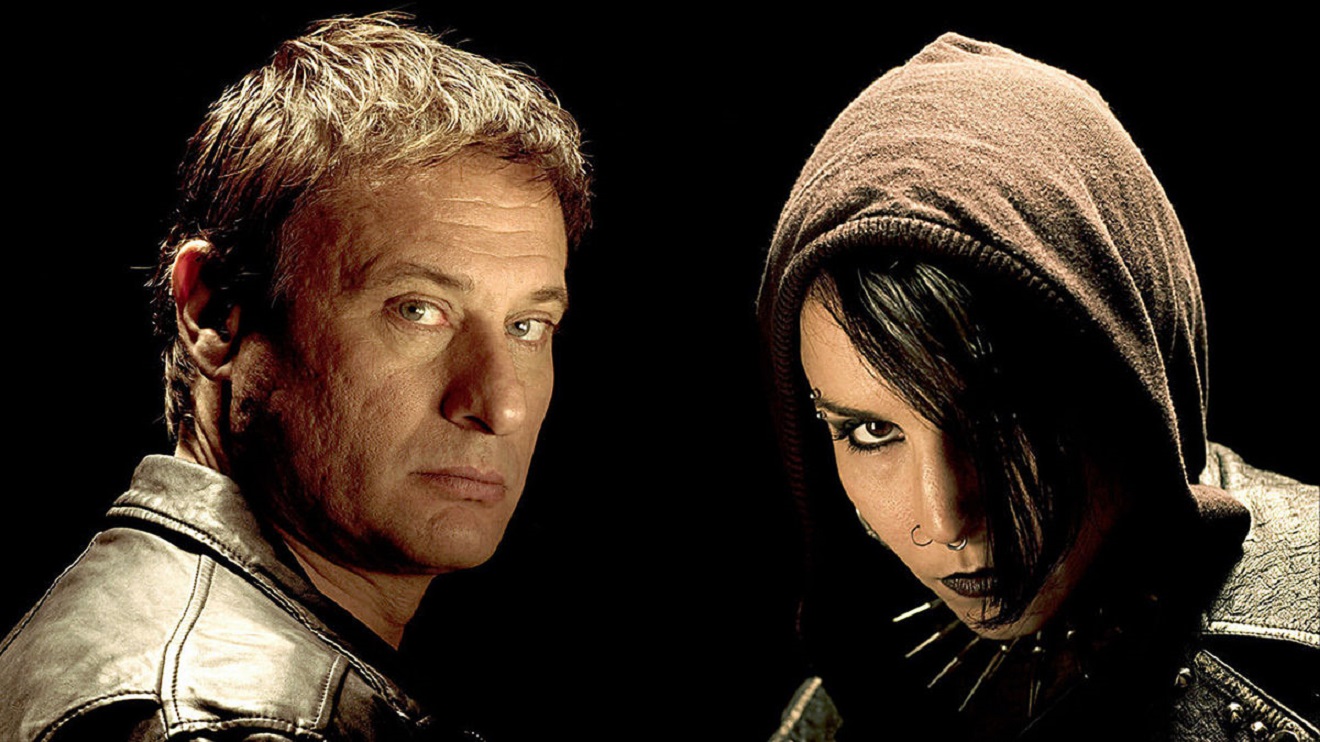 Like any good murder mystery, The Girl with the Dragon Tattoo creates a captivating puzzle and draws one in. The film generates a great fascination to watching what would normally be the dull and painstaking process of piecing together clues from photographs, cryptic diary entries and watching people pore through old ledgers. There is not a huge amount in the way of action – a brief fight sequence, a scene where Michael Nyqvist is shot at – but the film's unfoldings still remain entirely captivating.
The one puzzle about the story as it starts is the double structure. There is the main thread following Michael Nyqvist as he begins the investigation into the secrets of the Vanger family. Alongside this, for at least the first half of the film, there is a parallel plot following Noomi Rapace's Lisbeth Salander and principally her dealings with a corrupt probation officer (Peter Andersson) who blackmails her into having sex with him. We are not sure how these two strands connect up until the two characters eventually come together.
These scenes hold a grim and nasty scene where the probation officer handcuffs Noomi to a bed and rapes her and an equally powerful sequence where she takes revenge on him, which comes with all the primal red-blooded turning of tables that we get in films like Day of the Woman/I Spit on Your Grave (1978) and Dirty Weekend (1992). The complaint might be that this is not a subplot that has any bearing on the rest of the story, except for introducing some background to the character of Lisbeth (which does become relevant in the subsequent books/films). What it does do however is reinforce the theme that runs through the film, one made clear by the original Swedish title Men Who Hate Women, about pathological misogyny and sexual sadism.
With Gothed makeup and hair, a curt attitude, lethal toughness and casually alluded alternate sexual practices, Noomi Rapace's Lisbeth is one of the more original and provocative heroines to come our way in some time. Without a doubt, The Girl with the Dragon Tattoo would be a considerably flatter story without Noomi Rapace's presence. She gives the film a dark troubled fire. (The one complaint might be the English language title The Girl with the Dragon Tattoo, which refers to the tattoo we briefly see taking up most of Noomi Rapace's back. For all the prominence the tattoo is given not only in the title but on the English language promotional poster for the film, it has no more significance than just being another colourful part of Lisbeth's character). Michael Nyqvist plays with handsome charisma opposite her but it is without a doubt her film.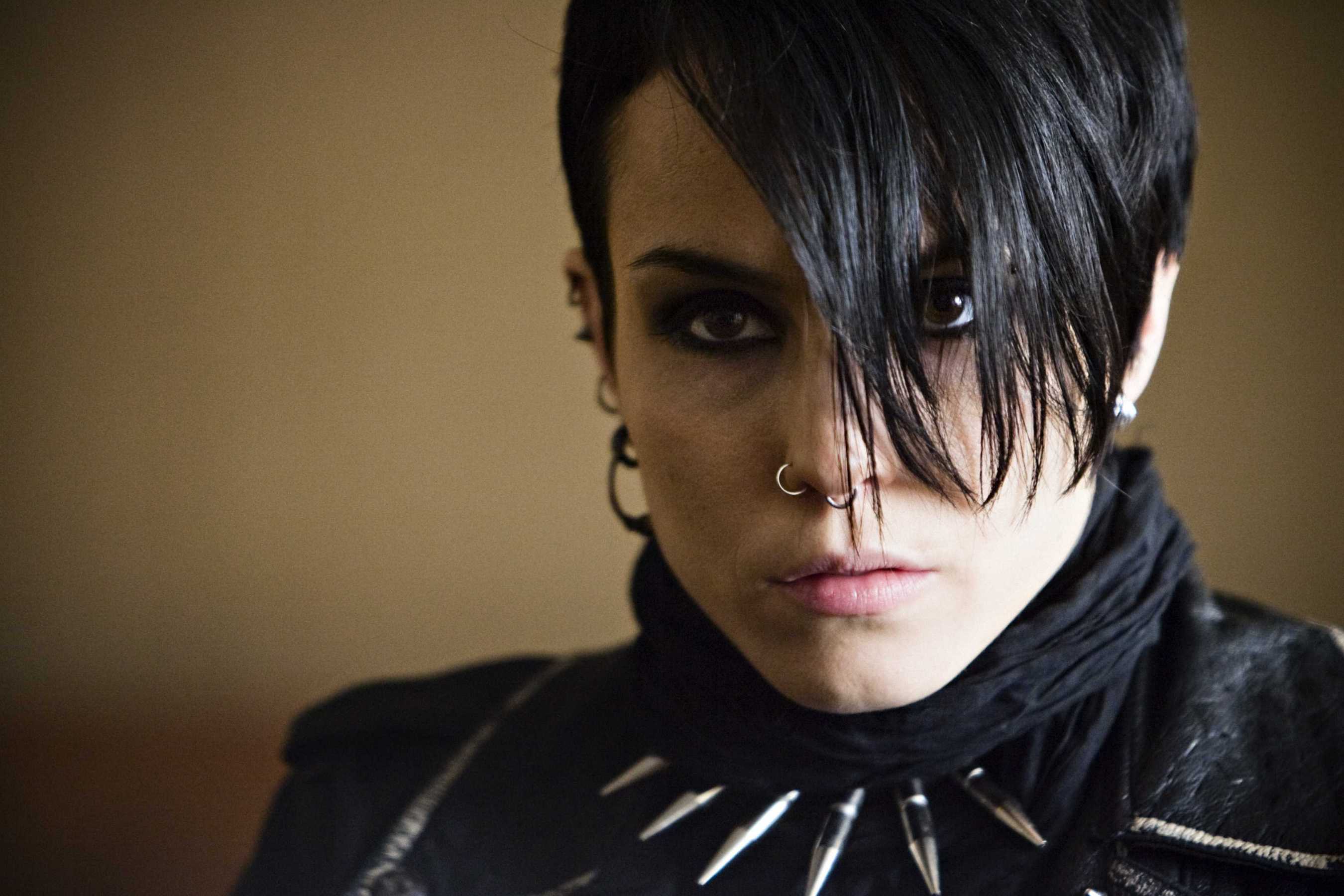 The film eventually arrives at one of the most surprisingly satisfying (and ultimately feelgood) endings that one has seen in a film. It takes its time but the story winds to its close gracefully bringing a number of the balls it has juggled in the air throughout to a warmly welcome conclusion. In the course of this, the film reveals itself as a serial killer thriller where the eventual unveiling of the killer's identity holds some chillingly well written psychopathology.
The other two books were filmed back-to-back as The Girl Who Played With Fire (2009) and The Girl Who Kicked the Hornet's Nest (2009) with both Michael Nyqvist and Noomi Rapace repeating their roles, although neither of these are as effective as this film or contain any genre material. A Hollywood remake was announced soon after the film's US premiere, which emerged as The Girl with the Dragon Tattoo (2011) directed by David Fincher and with Daniel Craig inheriting the Michael Nyqvist role and Rooney Mara stepping into Noomi Rapace's shoes. A further sequel was made with The Girl in the Spider's Web (2018) based on one of the original Lisbeth Salander follow-up novels by David Lagercrantz, which was filmed with Claire Foy as Lisbeth and is a genuinely terrible film that turns everything into an overblown action thriller.
Niels Arden Oplev next made his English-language debut with the revenge film Dead Man Down (2013), also starring Noomi Rapace, followed by the remake of Flatliners (2017).
(Winner in this site's Top 10 Films of 2009 list. Winner for Best Actress (Noomi Rapace), Nominee for Best Adapted Screenplay at this site's Best of 2009 Awards).
---
---