---
Crew
Director – Adam Mason, Screenplay – Simon Boyes & Adam Mason, Producers – Timothy Patrick Cavanaugh, Mary Church, Patrick Ewald, Lee Librado & Andrew Mason, Photography – Stuart Brereton, Music – Martin Grech, Visual Effects – Barbedwire FX (Supervisor – Avi Das), Special Effects Supervisor – Mark "Soap" Lovell, Makeup Effects – Tristan Versluis, Production Design – Neil Jenkins. Production Company – Leonidas Films/Epic Pictures.
Cast
Andrew Howard (Joseph), Ian Duncan (Clark Ewald), Tess Panzer (Summer Ewald), Sarah Essex (Angie)
---
Plot
Husband and wife Clark and Summer Ewald are on a road trip to visit his parents where they are planning to announce that Summer is pregnant. Travelling through the desert, they pass a man hitchhiking on the road but don't offer him a ride. Later they find the man has signed into the motel up the way. Unknown to them, the man Joseph forces the hotel clerk to kill herself in the bath after she comes onto him. Clark and Summer continue on the next morning only for the car's tire to blow out fifty miles up the road. They walk to the nearest settlement of Blood River but find this is an abandoned ghost town. Not long after they arrive so does Joseph. However, Joseph's flinty manner makes them feel ill at ease. During their efforts to find a way out of the town, Joseph insists that Clark is not the man he appears and has committed a terrible crime. Joseph then claims that he has come to visit a terrible judgement on the two of them.
---
British director Adam Mason has been a rising independent name in horror over the last decade. I was very impressed with Mason's third film Broken (2006), a brutally savage backwoods horror about a woman imprisoned by a man in a forest. Mason has also made other horror films such as Dust (2000), The 13th Sign (2000), The Devil's Chair (2006), Luster (2010), Pig (2010), Hangman (2015), I'm Just F*cking With You (2019), Songbird (2020) and Baby Blue (2022), as well as wrote the scripts for Not Safe for Work (2014), Play Dead (2022) and The Visitor (2022).
Blood River begins deceptively. Ian Duncan and Tess Panzer are painted as an archetypical married couple on a road trip before they stray into something that goes wrong. However, Mason and his regular scriptwriter Simon Boyes soon turn the expectations of the genre on their head. Andrew Howard, a frequent face in Adam Mason's films, is played as a dangerous drifter. Howard has perfected the role that radiates a cold, flinty dangerousness, something that has had him regularly cast as killers and psycho sheriffs elsewhere.
Right throughout Blood River you keep seeing Howard as someone akin to Rutger Hauer's title character in The Hitcher (1986). We see him in the background on the road in the opening scenes, followed by the receptionist (Sarah Essex) at the motel coming onto him in the bar and then next he in her room and she sobbing in the bath as she raises a razor to slash her wrists. All of this leads one to expect a road movie psycho-thriller with the young whitebread couple being stalked through the desert by a psychopathic drifter.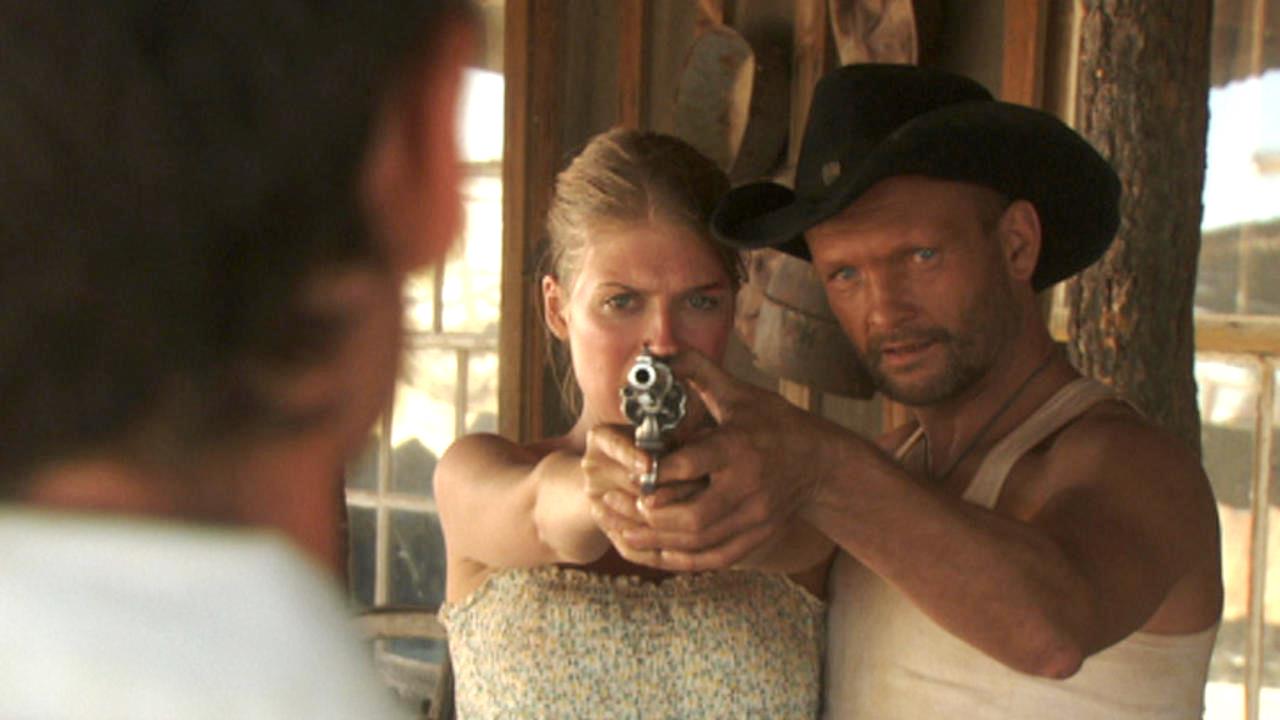 By about the halfway point, things start to get turned on their head. There's the foot journey that Ian Duncan and Andrew Howard take back to the car to siphon gas where Howard has some particularly charged dialogue attacking Duncan's ivory tower existence before bafflingly disappearing and leaving Duncan in the middle of nowhere, whereupon Duncan opens the trunk of the car and finds something shocking there (what it is we are never privy to).
It is after this point that Blood River starts to take a turn into seriously weird (and fantastical) territory. [PLOT SPOILERS]. Back at the ghost town, Andrew Howard reappears to Tess Panzer, intimating that Ian Duncan is not the person she knows and is guilty of terrible things. He starts to speak in increasingly Biblical terms before claiming that he is an angel come to exact judgement. By this point, we suddenly go from what starts as a desert road psycho film to a bizarre divine judgement film in which neither of the male parties are what they originally started out seeming to be.
This is a fascinating spin but also one where the film slowly starts to lose impetus. The ending the film leads you to is effectively conveyed but it is one where Mason and Boyes crucially leave far too much unsaid – what was in the trunk of the car, what exactly the crimes that Ian Duncan is guilty of are, what he did to Tess Panzer's daughter – and the film ends on a frustrating note of puzzlement.
---
---