---
Canada. 1990.
Crew
Director – Tibor Takacs, Screenplay – Michael Nankin, Producer – Andras Hamori, Photography – Bryan England, Insect Photography – Christopher Porter, Music – George Blondheim, Visual Effects – Ruckus Enterprises (Supervisor – Randall William Cook), Special Miniatures – The Garden of Allah & Michael F. Hoover, Special Effects – Frank C. Carere, Makeup Effects – Craig Reardon, Production Design – William Beeton. Production Company – Alliance Entertainment/Andras Hamori Productions.
Cast
Louis Tripp (Terry Chandler), Pamela Segall (Liz), James Villemaire (John Starkey), Simon Reynolds (Moe), Neil Munro (Art Chandler)
---
Plot
Terry Chandler is joined by three disaffected teens who inadvertently burst in as he is conducting an occult ceremony. During the ceremony, he captures a six-inch tall demon known as Minion. Terry is able to make Minion grant wishes, he wanting something better for his father who has become alcoholic and suicidal after the death of Terry's mother. The other teens then steal the Minion and start wishing for things for themselves. What none of them realise is that all the wishes turn to excrement by the morning. Everything that Terry has wished for his father rebounds disastrously. As Terry conducts a ceremony to try and return the Minion from whence it came, two of the teens, having been scratched by it, start to transform into demons themselves.
---
The Gate (1987) was an average juvenile take on Poltergeist (1982). It did get some good genre press in its day and was praised for its effects. This sequel proves an extremely rare surprise – one that is superior to its predecessor.
The effectiveness of this sequel all comes in the strength of its characterisations. Many of the characters are stock but they are written with a strong sensitivity. The scene where Louis Tripp tells about how he came home to find his father sitting with a gun in his mouth is extraordinarily potent. The scene where the slightly awkward Pamela Segall suddenly opens up and shows Louis Tripp how to touch his father and let himself care is genuinely poignant.
The image of cursed wishes is a well conveyed one – there is the wonderfully queasy image of a Cherry Chevette half-melted down into a pile of shit. Perhaps the ending, where Louis Tripp, James Villemaire and Simon Reynolds return from the dead out of Tripp's coffin is a little too much of a happy ending in its refusal to allow the good guys to die off, nevertheless is palatable.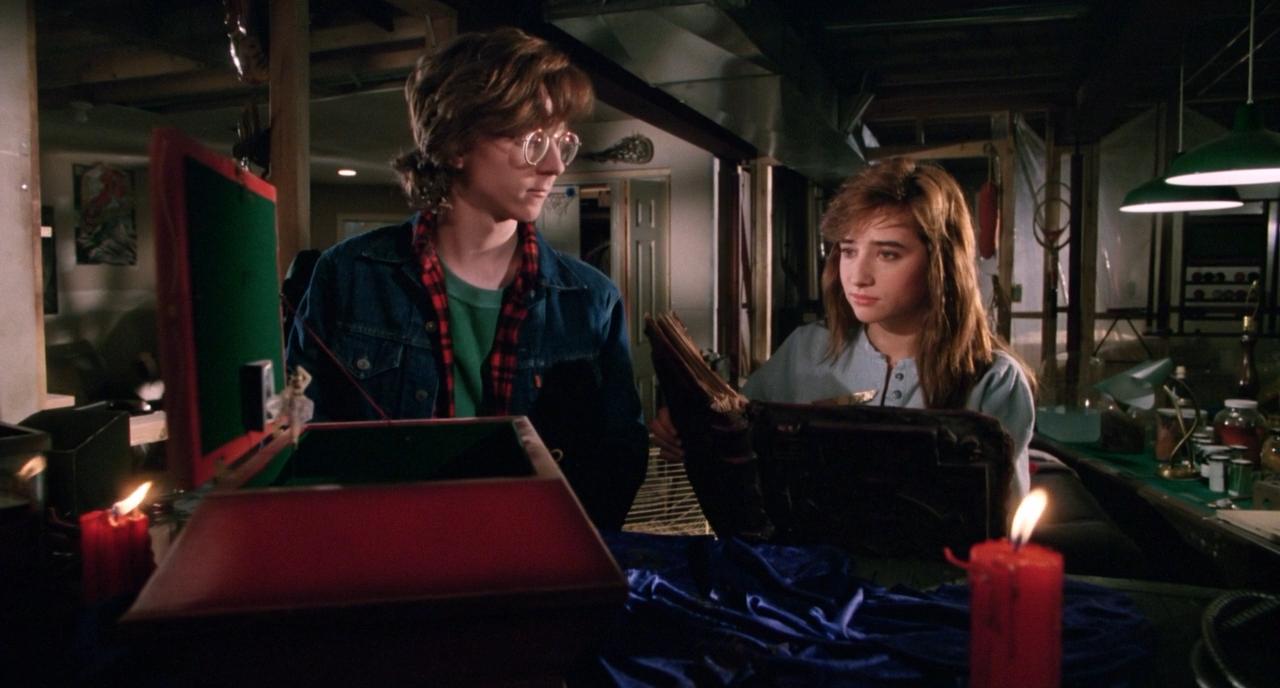 The script effectively borrows from H.P. Lovecraft to create a vivid picture of Elder Gods waiting to return to this world, of human sacrifices being held on the abyss between dimensions, and of menaces that not only come from without but also come three-dimensionally ie. from within.
The film's greatest weakness is its special effects. The stop-motion animation is decidedly spotty and never very well tied to the live action. The scenes of the two punks transformed into demonic figures work far less effectively than the earlier scenes because the stop-motion animators fail to invest the creatures with any of the character of their live-action counterparts.
Director Tibor Takacs has also made a number of other genre films including the very obscure Metal Messiah (1978) about a futuristic rock star; the excellent I, Madman/Hardcover (1989) about a killer the emerges from a book; Redline/Deathline (1997) set in a near-future Russia; the bizarre Nostradamus (2000) about a time-travelling occult war and the attempt to reincarnate the title character; the Christmas films Once Upon a Christmas (2000) and Twice Upon a Christmas (2001) about Santa's daughter; Rats (2003) about an asylum of intelligent rats; and the monster movies Mansquito (2005), Kraken: Tentacles of the Deep (2006), Ice Spiders (2007), Mega Snake (2007) and Spiders (2013); The Black Hole (2006), a monster movie about the titular stellar mass loose in St Louis; and the disaster film Meteor Storm (2010) and Destruction Los Angeles (2017).
---
---