(Sakebi)
---
Crew
Director/Screenplay – Kiyoshi Kurosawa, Producer – Takashige Ichise, Photography – Akiko Ashizawa, Music – Kuniaki Haishima. Production Company – TBS (Tokyo Broadcasting Service) Pictures/Oz/Entertainment Farm.
Cast
Koji Yakusho (Detective Noboru Yoshioka), Riona Hazuki (Woman in Red), Manami Konishi (Harue Nimura), Tsuyoshi Ihara (Detective Toru Miyaji), Ikuji Nakamura (Dr Shoichi Sakuma), Jo Odagiri (Dr Takagi), Kaoru Okunuki (Miyuki Yabe), Hironobu Nomura (Seiji Onoda)
---
Plot
Tokyo detective Noboru Yoshioka investigates the death of a woman who has been found murdered. She has been drowned in a puddle but her lungs are puzzlingly filled with salt water. Yoshioka is baffled to find a button from one of his own coats near the scene and his fingerprints on the dead body. Next a respectable doctor drowns his wayward son in an identical manner and there is also evidence at the scene implicating Yoshioka. Yoshioka is haunted by the ghost of a woman in a red dress who insists that she knows him, even though he is certain that he has never seen her before. Gradually, she begins to show Yoshioka that he may have been responsible for her abandonment and death in a building during urban redevelopment.
---
Retribution is a film from the highly individualistic Japanese director Kiyoshi Kurosawa. Kurosawa has made a number of genre films that include the haunted house film Sweet Home (1989); the psycho film Guard from the Underground (1992); Cure (1997) about a series of cryptic hypnotism murders; Serpent's Path (1997) and Eyes of the Spider (1998), a duo of studies in obsessive revenge; the medium thriller Seance (2000); the ghost story Pulse (2001), his best known film that later underwent an English-language remake; Bright Future (2003), a strangely unfathomable film about two frustrated workers and jellyfish amok; Doppelganger (2003) about an overworked man being helped out by a mysterious double; the ghost story/mummy film Loft (2005); the dreamscape film Real (2013); the ghost story Daguerreotype (2016); and the alien invasion film Before We Vanish (2017) and its follow-up Foreboding (2017). Kurosawa has developed a growing reputation and has an undeniable flair for atmosphere but at the same time his films are also bafflingly cryptic and wilfully obscure.
Retribution can be seen as Kiyoshi Kurosawa's attempt to give the J-horrors of recent years – Ring (1998), Ju-on: The Grudge (2003) and their various sequels, English-language versions and imitators – a good run for their money. Retribution essentially taps into the image of the same unearthly ghost woman with hair hanging across her face that both Ring and The Grudge do.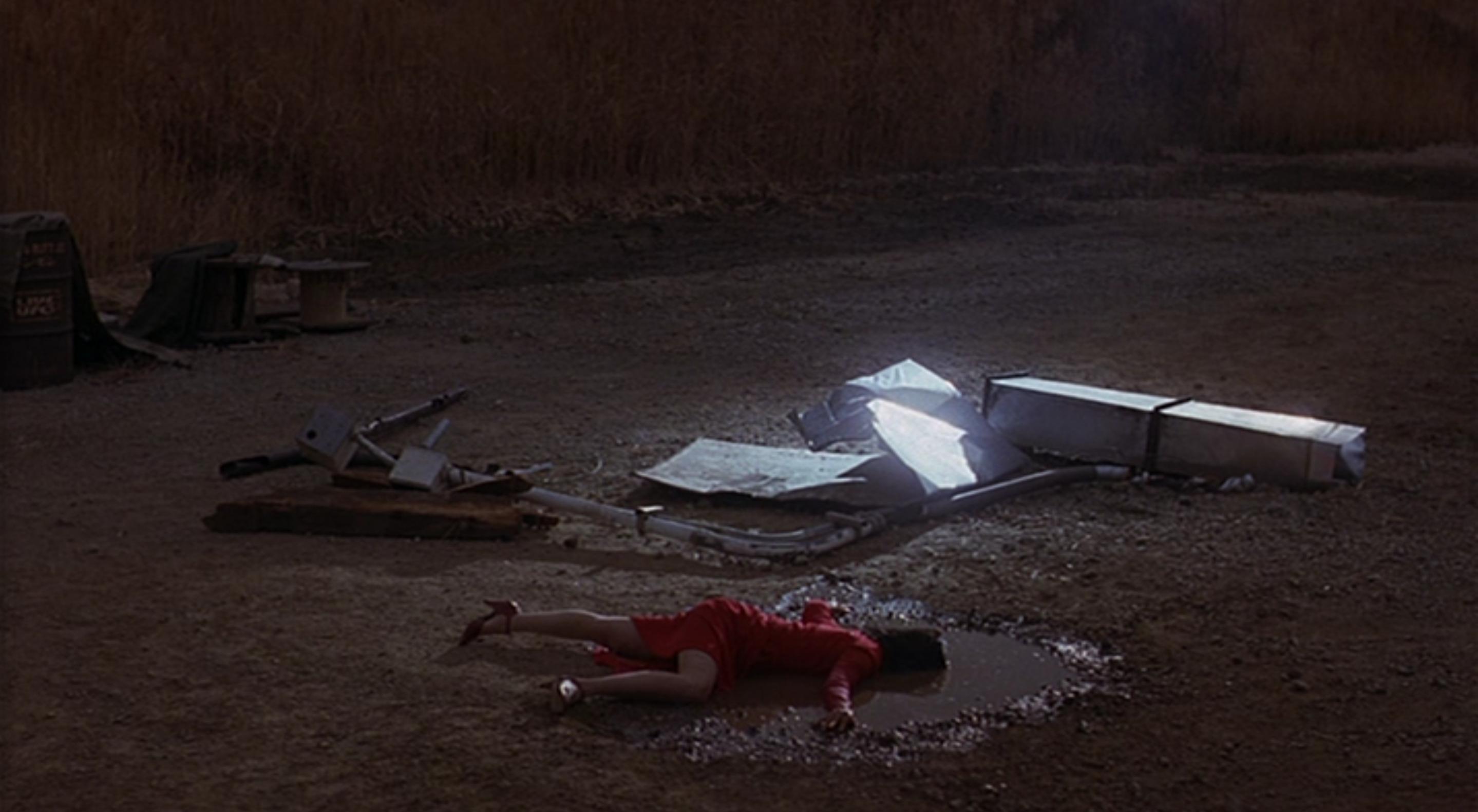 Retribution emerges as one of Kiyoshi Kurosawa's best films to date. It is perhaps only a little less cryptic and baffling that most of Kurosawa's other films but is probably his best film in terms of sustained haunting mood. We are plunged into a compulsively weird set-up from the outset – a detective investigates a series of murders where, shades of the same plot in Cure, unconnected people seem to have committed murders with identical m.o.'s but where pieces of evidence – a button, the detective's fingerprints, paint from a cable in his apartment – have been planted that make him the suspect. For a time, you begin to think that maybe Kurosawa is heading into Philip K. Dick territory.
The appearances of the mystery woman in red are unearthly. The scream she gives when she first appears to Koji Yakusho is something that makes an entire theatre audience jump out of their seats. Seeing her moving across a room in slow motion as though she were swimming and with her hair eerily blowing up off her face from an invisible wind is incredibly eerie. Her appearances and especially the completely left field moment where she jumps off a balcony and flies off into the sky, not to mention the jolt surprise that comes where she abruptly appears to snatch someone right at the very end, all have something genuinely unsettling to them.
That said, as with all of Kiyoshi Kurosawa's films, Retribution is wrapped up in a deeply unfathomable plot where you only get a headache trying to work out what is going on. Kurosawa's plots always leave a baffling tangle of unanswered questions and unresolved strands. We never find out why the woman in red was abandoned in a building in the middle of the river, or what it was that Koji Yakusho did that she blames him for her death.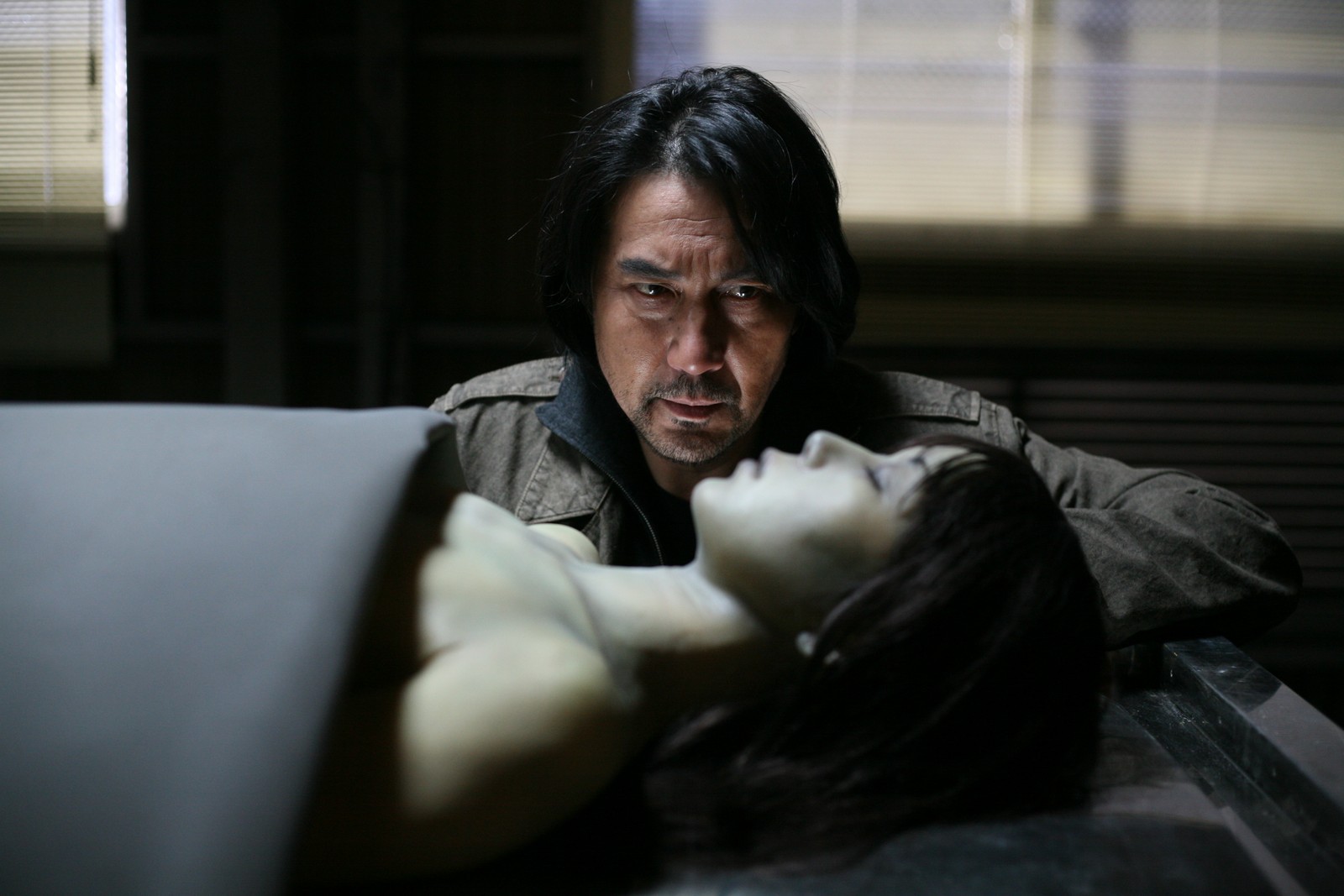 Or for that matter how the other people who conduct the murders throughout, who are said to also be responsible, are connected. Is it that the woman in red is a figure of truth in Koji Yakusho's mind as the police psychologist suggests about another patient? Does she stand for his guilt about Harue – and if so what did he do to her? If the woman in red is only a figment of Koji Yakusho's imagination/guilt then how can she affect crime scenes in the objective world? Why does she appear to attack the otherwise incidental character of Miyagi at the end? Is Harue dead and, if so, how come she keeps appearing as though still in Koji Yakusho's life? What is the significance of the earthquakes? What is the significance of the connection to death by drowning in a basin of salt water that was conducted at the asylum and appears to be being re-enacted at each murder scene?
Like Pulse, Kurosawa also offers up an enigmatically apocalyptic ending, where the film ends on the ghost's voice that goes on about wanting to kill everybody and we see the streets of the city deserted and filled with blowing paper – although what this means could be anybody's guess. Much of this confusion is par for the course that you have to accept with any Kiyoshi Kurosawa film. That said, you cannot deny the eerie effectiveness of the ghostly appearances, which are genuinely unworldly.
(Nominee for Best Director (Kiyoshi Kurosawa) at this site's Best of 2006 Awards).
---
---