---
Spain/France. 2011.
Crew
Director – Juan Carlos Fresnadillo, Screenplay – Nicolas Casariego & Jaime Marques, Producers – Belen Atneiza, Mercedes Gamero & Enrique Lopez-Lavigne, Photography – Enrique Chediak, Music – Roque Banos, Visual Effects Supervisor – David Heras, Visual Effects – User TM, Special Effects – EFE-X (Supervisors – Paul Costa & Raul Romantillos), Makeup Effects – Dot, Production Design – Alain Bainee. Production Company – Apaches Entertainment/Antenna 3 Films/Canal Plus/ICAA/Ministerio de Cultura.
Cast
Clive Owen (John Farrow), Ella Purnell (Mia Farrow), Carice Van Houten (Susanna Farrow), Izan Corchero (Juan), Pilar Lopez de Ayala (Luisa), Daniel Brühl (Father Antonio), Adrian Rawlins (Police Inspector), Kerry Fox (Dr Rachel), Hector Alterio (Old Priest), Mark Wingett (Dave)
---
Plot
In London, construction foreman John Farrow attends the eleventh birthday party of his daughter Mia. While they are at his parents' place, Mia finds a wooden box in a hole in a tree. This contains a story about the emergence of the faceless creature called Hollowface that desires to possess a human child and steal its face. Mia writes this into a story that she tells in class but then becomes scared, believing that Hollowface is hiding in her closet. Some years earlier, Juan, a young boy in Spain, was similarly haunted by a faceless creature that appeared to him at night. John tries to banish the creature that Mia fears but then finds that there really is a person inside the house. As he tries to stop Hollowface, he faces psychologists insisting that it only exists in his and Mia's imaginations.
---
Spanish director Juan Carlos Fresnadillo made an impressive appearance with Intacto (2001), which had an unusual premise about a secret underground that dealt with people gambling on other's luck quotients. This was sufficient to have Fresnadillo brought to England to make 28 Weeks Later (2007), which ended up being even more impressive a film than its predecessor. These two films gave Fresnadillo a high profile and he has been attached to a number of other Hollywood projects including the remakes of X – The Man with X-Ray Eyes (1963), Highlander (1986) and The Crow (1994). With all of these film projects stuck in development limbo, Fresnadillo returned to Spain to make Intruders. He subsequently went on to produce the cryptic dream tv series Falling Water (2016-8).
I was looking forward to Intruders as Juan Carlos Fresndillo had shown an impressive hand on both Intacto and 28 Weeks Later and proven that he had a strong future in genre cinema. On the other hand, Intruders suffered from some very middle of the road reviews. I equally must add my voice to the disappointment it represents.
You keep searching for a conceptual handle on where the film is coming from. On one hand, it reminds of Pan's Labyrinth (2006) or Ink (2009), the story of a young girl as she seems to open up an allegorical world of children's fears and fantasies. There is something perhaps of the underrated Paperhouse (1989) about a young bedridden girl who brings a nightmare world to life out of her drawings. You could make further comparison to more formulaic films like Darkness Falls (2003) and Boogeyman (2005) about monsters of childhood imagination coming to life.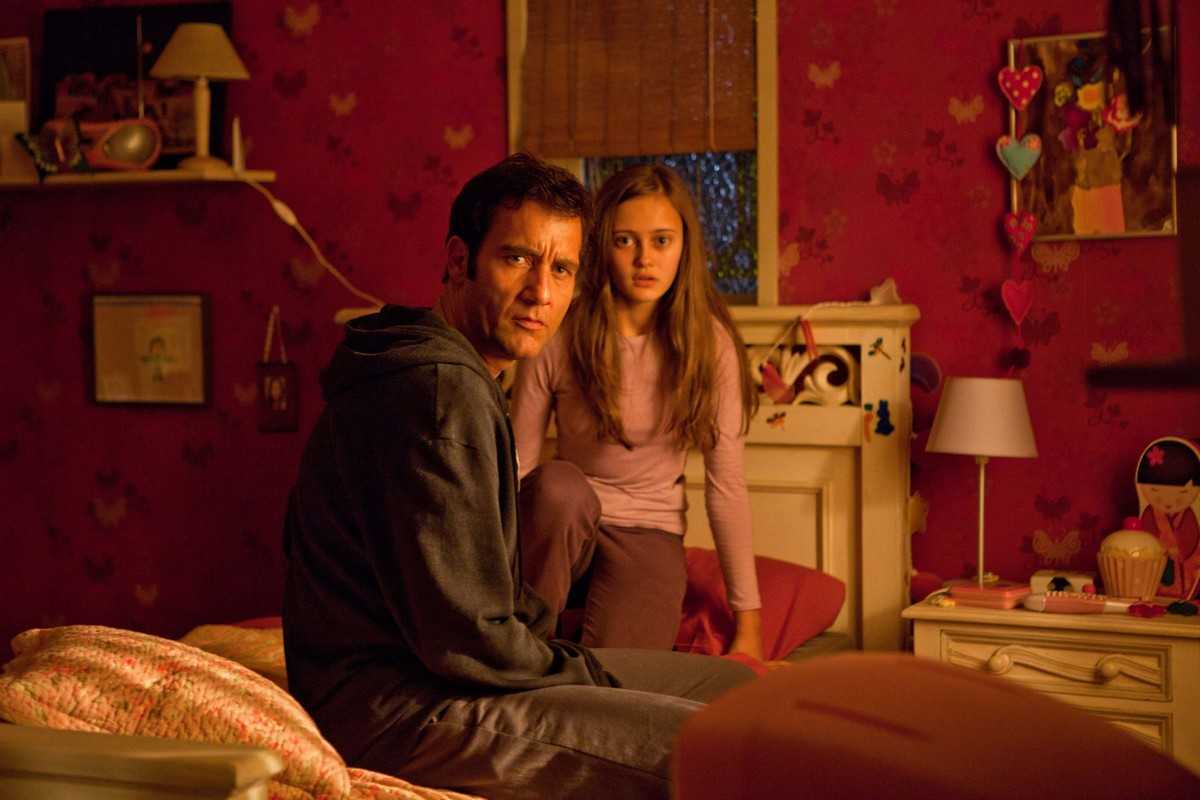 For much of Intruders' running time, you try to understand where it is coming from. You are not sure whether the Hollowface creature is merely intended as something allegorical or else the film is about the creature attaining a physical existence after having been woken out of the story. Even the end of the film fails to clarify anything about what the creature is. There are two parallel stories – one set in London following Clive Owen and daughter Ella Purnell as she awakens Hollowface after finding the story in the tree and the other set in Spain about a mother (Pilar Lopez de Ayala) who tries to deal with her young boy (Izan Corchero) as he is haunted by the creature at night. You are not sure how these stories relate – although this does become apparent at the twist ending, which is alas not nearly as profound or interesting a big reveal as the film seems to want us to think it is.
I think I wanted more from Intruders. It is a nicely made film, directorially smooth and with decent performances from Clive Owen and Ella Purnell. However, Juan Carlos Fresnadillo never pushes any of it beyond a pleasantly polished treatment, never anywhere that unsettles or leaves a safety zone. Given its underwhelming revelation about what is going on, that makes it a film that suffers from artistic pretensions. Despite one seeing echoes of works like Pan's Labyrinth in it, at heart it just remains a variation on Darkness Falls and Boogeyman with inflated ambitions to greater significance.
---
Trailer here
---