aka Bleeders
---
Canada/USA/Germany. 1997.
Crew
Director – Peter Svatek, Screenplay – Charles Adair, Dan O'Bannon & Ronald Shusett, Producers – Julie Allan & Pietr Kroonenburg, Photography – Barry Gravelle, Music – Alan Reeves, Special Effects Supervisor – Pierre 'Bill' Rivard, Makeup Effects – Adrien Morot, Production Design – Michel Proulx. Production Company – Fries-Schultz Film Group/Kingsborough Greenlight Pictures/Falstaff Films/Telepool Fernsehprogrammkontor/Bloodline Films Inc.
Cast
Rutger Hauer (Dr Marlowe), Roy Dupuis (John Strauss), Kristin Lehman (Kathleen Strauss), Jackie Burroughs (Lexie Krongo), Janine Theriault (Alice Gordon), Joanna Noyes (Byrde Gordon), Felicia Schulman (Yolanda), John Dunn-Hill (Hank Gordon)
---
Plot
John Strauss arrives on the remote island of Van Daam's Landing. He has come in search of clues about the unknown family he was adopted out from, the only hope he has of finding salvation from the mysterious hereditary blood condition that afflicts him. Just as he arrives, locals are being attacked from underneath the coffins in the graveyard by mysterious creatures that live in the tunnels beneath the island and feast on dead flesh. As he searches for information about his past, Strauss finds that the creatures are somehow connected to his ancestry.
---
As with Screamers (1995), which came out around the same time, this Canadian production was made from an old unproduced Dan O'Bannon script that had been gathering dust in the bottom drawer for several years. O'Bannon had previously written such strong and solid genre entries as Dark Star (1974), Alien (1979), Lifeforce (1985) and Total Recall (1990), as well as having directed Return of the Living Dead (1985) and The Resurrected (1992).
As might be expected from Dan O'Bannon, Hemoglobin/Bleeders is an interestingly complex, intelligent and well thought-out story, not unreminiscent in many ways of Edgar Allan Poe's The Fall of the House of Usher (1839). Although what O'Bannon appears to have had in mind is an uncredited adaptation of the H.P. Lovecraft story The Lurking Fear (1923) – the same story was also adapted as Lurking Fear (1994) and The Lurking Fear (2023).
Unfortunately, the film falls down due to dreary direction. The photography is drab, while director Peter Svatek's pace drags – almost nothing happens in the first half-hour, for instance. One can see that a number of sequences have been designed on paper in a way that could have had some shock impact had they been directed by someone with half an ounce of talent – creatures snatching bodies up from underneath coffins, Roy Dupuis having to devour a dead foetus – but Peter Svatek directs them with a dreary lack of event.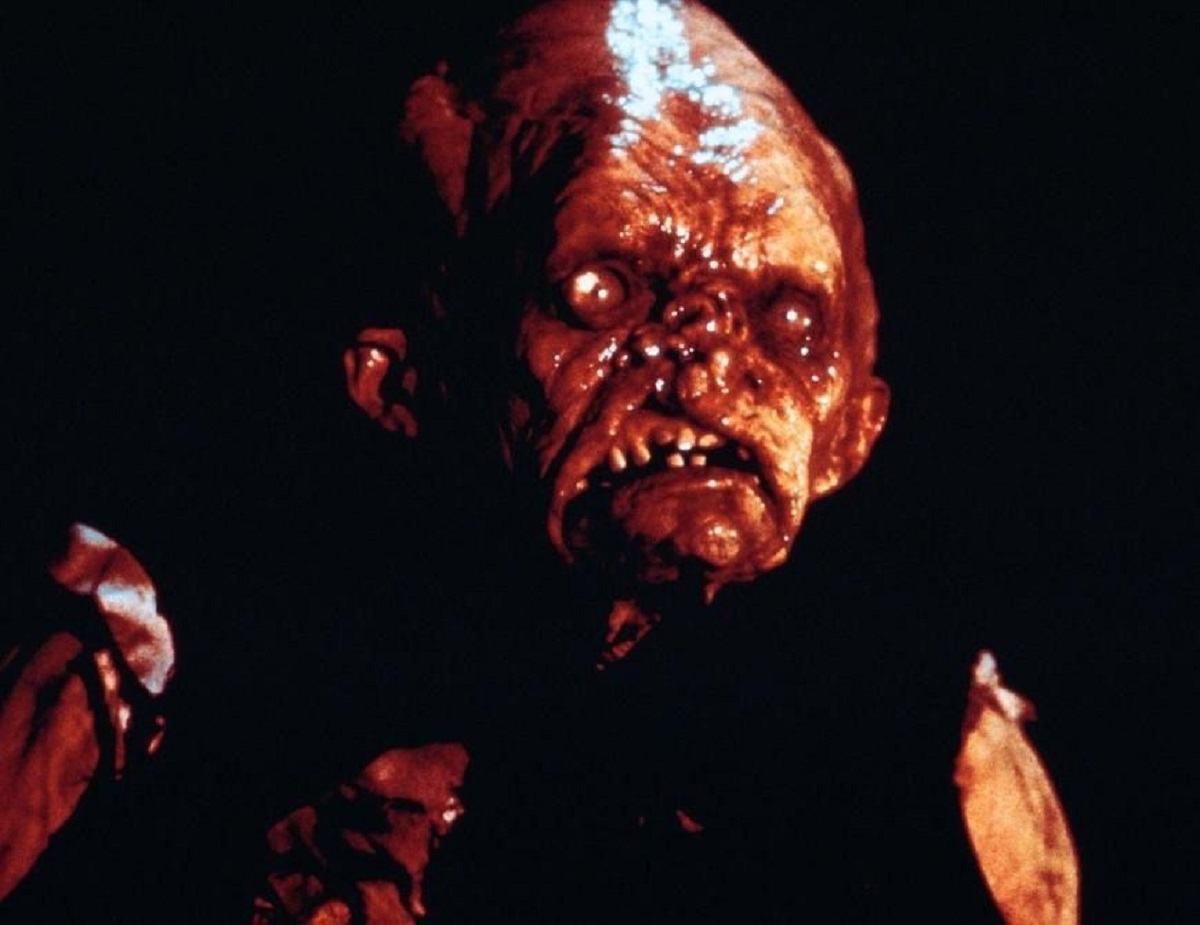 Indeed, in the case of the dead foetus devouring, the camera censuredly looks away when it comes to the act of doing so, which is surely a criminal lack of nerve for a horror film. A sex scene between Roy Dupuis and Kristin Lehman has never seemed more pointless and gratuitously inserted. It is only during the climax with the survivors huddled in a lighthouse during a rainstorm shooting off the monsters as they clamber up the cliffs that Peter Svatek manages to rouse anything approaching mild tension.
Director Peter Svatek had previously made Witchboard III: The Possession (1995) and Sci-Fighters (1996), although all of his work subsequent to Hemoglobin/Bleeders has been in television.
Screenwriter Dan O'Bannon also worked on Dark Star (1974) and the huge hit of Alien (1979). He subsequently turned in a series of excellent, cynical hard-edge genre scripts such as the zombie film Dead & Buried (1981), episodes of the adult animation anthology Heavy Metal (1981), the hi-tech helicopter action film Blue Thunder (1983), Tobe Hooper's soul-sucking alien vampire film Lifeforce (1985) and remake of Invaders from Mars (1986), and the Philip K. Dick adaptations Total Recall (1990) and Screamers (1995), as well as directing the zombie black comedy Return of the Living Dead (1985) and the H.P. Lovecraft adaptation The Resurrected (1992). Jodorowsky's Dune (2013) details O'Bannon's work as special effects director on Alejandro Jodorowsky's failed adaptation of Dune (1965) in the 1970s.
---
---