aka Jaws III
---
USA. 1983.
Crew
Director – Joe Alves, Screenplay – Carl Gottlieb, Michael Kane & Richard Matheson, Story – Guerdon Trueblood, Producers – Rupert Hitzig & Alan Lansbury, Photography (3-D) – James A. Contner, Music – Alan Parker, Visual Effects – Private Stock Effects, Visual Design Consultant – Roy Arbogast, Visual Design Coordinator – Philip Abramson, Photographic/Optical Effects – Praxis Film Works (Supervisor – Robert Blalack), Makeup – Alec Gillis, Production Design – Woods Mackintosh. Production Company – Alan Lansburg Productions.
Cast
Dennis Quaid (Mike Brody), Bess Armstrong (Kathryn Morgan), Simon MacCorkindale (Philip Fitzroyce), Louis Gossett Jr (Calvin Bouchard), John Putch (Sean Brody)
---
Plot
Chief Brody's son Mike now works at a marine amusement park in Florida. A great white shark turns up, having managed to penetrate into the self-enclosed confines of the oceanarium. However, Mike has difficulty convincing the oceanarium management of the shark's existence. Cocky British biologist Philip Fitzroyce arrives, wanting to capture the shark. Panic ensues when the shark emerges into plain view and starts attacking the guests.
---
Jaws 3-D was the second sequel to Steven Spielberg's Jaws (1975). The first sequel Jaws 2 (1978) had been a big success and so Jaws 3-D was made and would be followed by a further sequel Jaws: The Revenge (1987). For a time around 1979-80, there was serious speculation that Jaws 3 would be made as a spoof of the cycle, which at one point was to have been rather hilariously titled Jaws 3, People 0. However, the pitifully bad Western Comin' at Ya (1981) became a big hit due to its being released in 3-D and heralded a brief 3-D revival fad. As a result Jaws 3 was quickly filmed in the 3-D process and named Jaws 3-D. (Although seen flat on tv today, it has been renamed merely Jaws III).
The directorial reins of Jaws 3-D were handed over to Joe Alves, production designer on the first two Jaws films, who made his directorial debut with this film. Joe Alves gained some fame as a result of his work on the first two Jaws films and Spielberg's Close Encounters of the Third Kind (1977) and his debut in the director's chair had been announced for several years, beginning with a highly intriguing science-fiction project announced circa 1978-9 called Weather Wars. Alas, with the flop and universal critical excoriation that Jaws 3-D received, Alves has never been heard from again as director and subsequently returned to work as production designer on films such as Freejack (1992), Geronimo: An American Legend (1993) and Drop Zone (1994).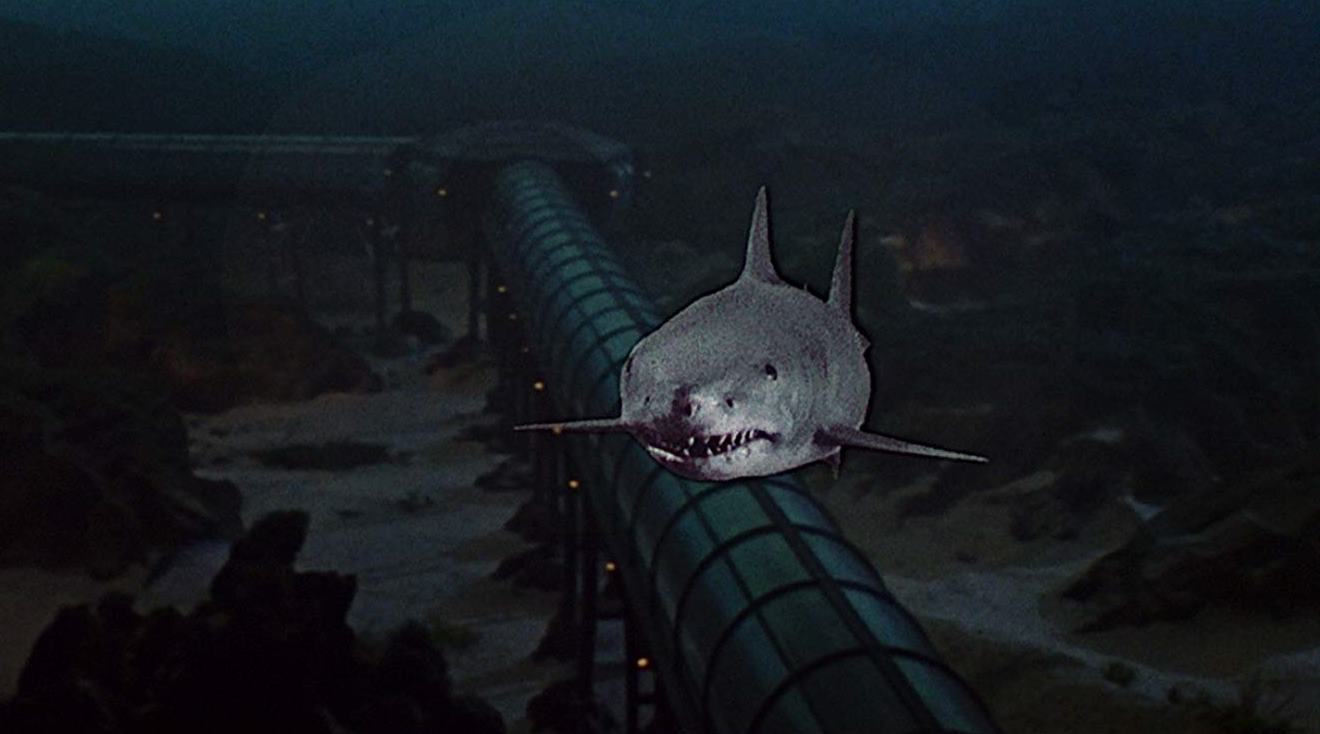 The script comes from Carl Gottlieb, who co-wrote the original film's superb script, and surprisingly enough from regular genre screenwriter and novelist Richard Matheson, responsible for The Incredible Shrinking Man (1957), Duel (1971) and most of Roger Corman's Edgar Allan Poe films, among numerous others. Joe Alves and Carl Gottlieb are the only personnel from the original involved in this exercise. Roy Scheider has had the good sense to bow out of the series at this point with his dignity intact and the script is improbably focused around his two now grown sons.
Jaws 3-D is the worst of the Jaws sequels. Joe Alves invokes little suspense in the action. He is an incredibly dull director. The difference between the good and the bad films to emerge from the various 3D fads was the difference between those that used the depth of vision to create atmosphere and those that merely used it as a gimmick to pop objects into an audience's lap. Jaws 3-D alas belongs to the latter. Thus we see fish being fed, dolphins flipping and skeletons, shark snouts, syringes and harpoons popping out of the screen. The film comes with exactly the same novelty value as an oceanarium puts on its exhibits, highlighting stunt skiers and various fish stunts as though it were conducting an advertising film for the real Seaworld.
The time taken out for banal characterisation scenes frequently slows proceedings to a standstill. The model effects of the shark are dreadful. The gap between what Steven Spielberg achieved with the same material and Joe Alves does here are almost as removed in terms of style as it is possible to get.
---
Trailer here
---