---
Crew
Director – Christopher Douglas-Olen Ray, Screenplay – H. Perry Horton, Story – Ed Deruiter, Producer – David Michael Latt, Photography – Stuart Brereton, Music – Chris Ridenhour, Visual Effects Supervisor – Joseph J. Lawson, Makeup Effects – Haley Trifiro & Eric Wilson, Production Design – Alexa Roland. Production Company – The Asylum.
Cast
Charlie O'Connell (Professor Franklin Babbish), Brooke Hogan (Kate), Carmen Electra (Dr Anne Babish), David Gallegos (Paul), Geoff Ward (Cole), Mercedes C. Young (Liza), Christina Bach Norman (Dana), Shannan Stewart (Lyndsey), Tihirah Taliaferro (Michelle), Michael DiCarluccio (Ethan), Lauren Vera (Jamie), Marckenson Charles (Ryan), Ashley F. Bissing (Kristen), Corinne Nobili (Kristen), Benjamin James (Alex), Chase Conner (Kirk), Anna Jackson (Haley), Amber English (Haley), Collin Carmouse (Jeff), Casey King Leslie (Mike), Morgan Thompson (Laura), Gerald Webb (Han), Anthony Edwin Valentin (Dikila)
---
Plot
Professor Franklin Babbish and his wife Anne have taken a classroom of students on a tour of the South Pacific seas aboard the yacht Sea King as part of a summer school program. The Sea King is then abruptly attacked by a giant two-headed shark. With the boat taking on water, the only course of action is for everybody to put down on a nearby atoll while repairs are affected. As the two-headed shark continues to attack and devour anything that moves in the water, the group find that the atoll is rapidly subsiding into the ocean.
---
2-Headed Shark Attack is another of the monster movies from The Asylum. The Asylum is a US production company that is mostly known for their low-budget mockbusters copying the title of other popular releases – see the likes of Snakes on a Train (2006), Transmorphers (2007), Allan Quatermain and the Temple of Skulls (2008), The Day the Earth Stopped (2008), The 18 Year Old Virgin (2009), Paranormal Entity (2009), Battle of Los Angeles (2011), Abraham Lincoln vs. Zombies (2012), Age of the Hobbits (2012) and others.
The Asylum also have a lucrative sideline making cheap monster movies where they seem in a competition to come up with the most absurd-seeming title. This began with Mega Shark vs Giant Octopus (2009) and has continued through the likes of Mega Piranha (2010), Mega Shark vs. Crocosaurus (2010), 2010: Moby Dick (2010), Mega Python vs. Gatoroid (2011), Sharknado (2013), Blood Lake: Attack of the Killer Lampreys (2014), Ice Sharks (2016), Planet of the Sharks (2016), Empire of the Sharks (2017) and 5 Headed Shark Attack (2017).
There have been other gonzo killer shark copycat films in a similar vein from other companies with the likes of Shark in Venice (2008), Dinoshark (2010), Sharktopus (2010), Snow Shark: Ancient Snow Beast (2011), Swamp Shark (2011), Jersey Shore Shark Attack (2012), Jurassic Shark (2012), Sand Sharks (2012), Avalanche Sharks (2013), 90210 Shark Attack (2014), Raiders of the Lost Shark (2015), Roboshark (2015), Shark Exorcist (2015), Zombie Shark (2015), Atomic Shark (2016), Ozark Sharks (2016), Piranha Sharks (2016), Sharkansas Women's Prison Massacre (2016), Sharkenstein (2016), House Shark (2017), Trailer Park Shark (2017), Post Apocalyptic Commando Shark (2018), Santa Jaws (2018), Ouija Shark (2020), Sky Sharks (2020), Noah's Shark (2021), Sharks of the Corn (2021), Virus Shark (2021) and Shark Side of the Moon (2022).
The lead for many of these films was given by the remake of Piranha (2010), which planted tongue considerably in cheek and determined to make a good old-fashioned exploitation film in ironic quote marks. Like Piranha, 2-Headed Shark Attack maximises the number of girls in bikinis and conducts a great many shots of them sunbathing. Indeed, you suspect that the ability to fill out a bikini was mandatory casting call for the women of the show more so than any necessary acting ability. Director Christopher Douglas-Olen Ray has clearly learned well from his father, prolific exploitation movie director Fred Olen Ray, who has made some seventeen softcore films with the word bikini in the title. To be fair, 2-Headed Shark Attack only has a single scene where it asks any of the actresses to take their bikinis off – where Douglas-Olen Ray promptly has the two girls start making out. At the same time, the film is clearly taking itself not too seriously and is constantly deflating the macho cockiness of the guys hitting on the girls.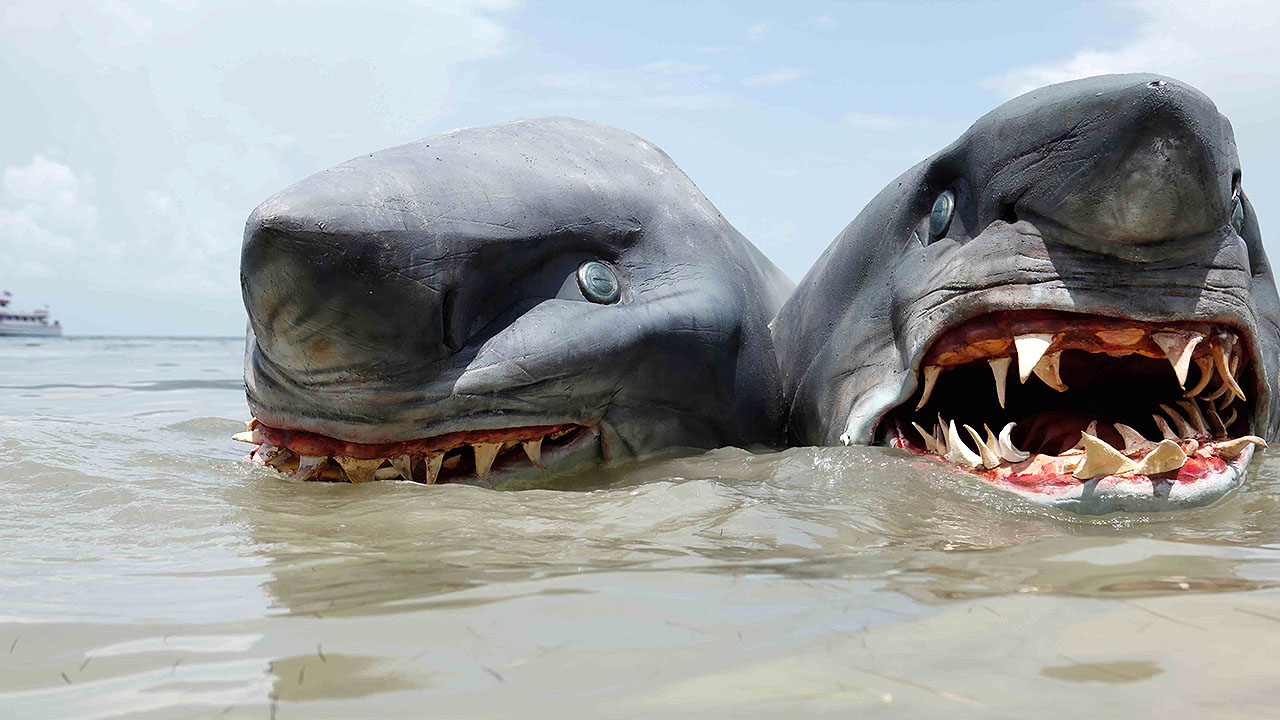 Certainly, the level of plotting, acting, directing and visual effects has improved immeasurably if one compares 2-Headed Shark Attack alongside Mega Shark vs Giant Octopus. The CGI effects in The Asylum's films are not the greatest but they at least seem to be getting better by this point. Like Mega Shark, which was made with a minimal number of CGI effects shots, there are very few shots where the two-headed shark is seen directly reacting with any of the cast. This is also clearly not a film you are meant to take too seriously. The idea of a two-headed shark is something that you just have to regard as part of the film's preposterousness – the film never offers any particular explanation for its existence. There is an absurd improbability to some of the contrivations of the plot – like the cast taking refuge on a small atoll that by vast coincidence then starts geologically collapsing into the ocean.
These Asylum films are not exactly known for their high-profile casting names, most of whom are faded names from the past who are trying to eke out careers in tv movies or as episode of the week guest stars. Top-billed is Baywatch (1989-2001) heroine Carmen Electra, still filling out a bikini well at the age of forty, but stuck in a backseat role where she gets surprisingly little to do. Charlie O'Connell, the younger brother of Piranha's Jerry O'Connell, does an admirably straight-faced job in the frontseat of the film.
The Asylum returned with 3 Headed Shark Attack (2015), 5 Headed Shark Attack (2017) and 6-Headed Shark Attack (2018).
Christopher Douglas-Olen Ray (sometimes also credited as Christopher Ray) has become a regular director and producer at The Asylum. He has also directed Reptisaurus (2009), Megaconda (2010), Mega Shark vs. Crocosaurus (2010), Almighty Thor (2011), Shark Week (2012), Asteroid vs. Earth (2014), A House is Not a Home (2015), Mega Shark vs Kolossus (2015), Circus Kane (2017), Minutes to Midnight (2018) and Attack of the Meth Gator (2023).
---
---