---
Crew
Director – Darren Lynn Bousman, Screenplay – Darren Lynn Bousman & Leigh Whannell, Producers – Mark Burg, Greg Hoffman & Oren Koules, Photography – David A. Armstrong, Music – Charlie Clouser, Visual Effects – C.O.R.E. Digital Pictures (Supervisor – Bret Culp), Special Effects Supervisor – Tim Good, Prosthetics – Francois Dagenais, Production Design – David Hackl. Production Company – Twisted Pictures/Burg-Koules-Hoffman/Lions Gate Films.
Cast
Donnie Wahlberg (Detective Eric Mathews), Tobin Bell (Jigsaw/John Kramer), Shawnee Smith (Amanda), Franky G (Xavier), Erik Knudsen (Daniel Mathews), Glenn Plummer (Jonas), Dina Meyer (Kerry), Emmanuelle Vaugier (Addison), Beverly Mitchell (Laura), Lyriq Bent (Rigg), Norm Jenkins (Michael), Timothy Burd (Obi), Tony Nappo (Gus)
---
Plot
Police detective Eric Mathews is called to the scene of the latest of the Jigsaw Murder where his name has been painted on the roof, along with a cryptic phrase telling him to look closer. He eventually realizes there is a clue that leads to an abandoned factory. They raid the factory to find the Jigsaw Killer waiting for them – a man, John Kramer, who is dying of cancer. Kramer shows them a live video feed where seven people, including Mathews' son Daniel, have been abducted and placed in a house filled with traps. The group in the house must coordinate and piece together the clues in order to escape before nerve gas in the air kills them in two hours time. Escaping also comes by realizing the one thing that unites them and Mathews together.
---
Saw (2004) was a sleeper hit and became an instant classic. It was that rare example of a horror film/psychological thriller generating a sense of total dread and pushing into genuinely disconcerting territories, not to mention being conducting with a series of brilliant whiplash twists that kept the audience entirely on edge. That the film was the brainchild of two Australian novice filmmakers aged only 27 made it even more remarkable.
Such successes inevitably mandate a sequel. Saw II is that sequel – indeed, became the first of an entire franchise of sequels. Disappointingly for a film that did so brilliantly the first time, Saw II is a generic sequel that rarely ever emerges with any of the sharp effectiveness of the original. Part of the problem can be put down to the absence of the original creative talent. Original writer/star Leigh Whannell is co-credited on the script but the name of director James Wan is only present as an executive producer. In Wan's place is novice director Darren Lynn Bousman.
Alas, Darren Lynn Bousman has little of James Wan's ability to evoke tension and psychological dread. Certainly, Bousman copies some of the stylistic pieces of Saw okay, especially the scene that opens the film with a Jigsaw victim having to gouge out their own eyeball but mostly Saw II feels like it is being directed by someone who is a hired gun from the MTV arena whose arsenal is limited to flashy jump cuts and blurred editing. Saw II feels slick and effective but lacks any punches that jolt an audience or creep them out. There are a few killings but nothing that the original held that completely spins around and leaves an audience stunned. (Although, Darren Lynn Bousman certainly pushed the level of gore and sadism in the series to a maximum in the subsequent sequels).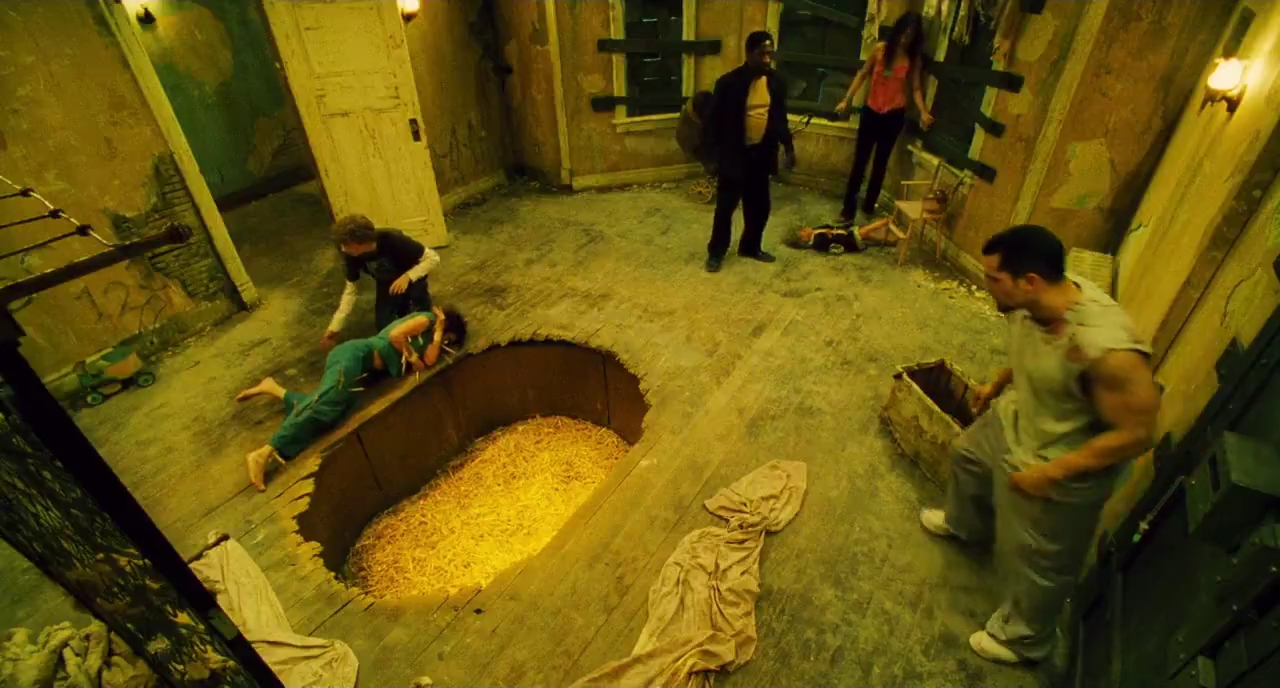 Nor is there anything that comes with the ingenuity that Saw held, excepting perhaps the ending, which holds an undeniable surprise revelation. Although, even that revelation does not make much sense when you trace the logic back – why for example would the mole among the party deliberately injure themselves? Saw II certainly changes the set-up of the original. For one, we are given the identity of the Jigsaw Killer from the outset and he remains on screen for the entire running film (a reasonably effective performance from Tobin Bell), whereas in the original his identity was hidden from us entirely. The set-up also tries to expand out beyond the basic concept of the original, which was essentially two people locked in a room and here adds a group of people who are trying to piece together clues in a house. This makes Saw II seem less like Saw than it does the sleeper hit of Cube (1997). Alas, unlike either Saw or Cube, there is a crucial lack of ingenuity to the clues and games that Darren Lynn Bousman keeps throwing up at us.
Saw II was followed by Saw III (2006), Saw IV (2007), Saw V (2008), Saw VI (2009), Saw 3D (2010), Jigsaw (2017) and Spiral: From the Book of Saw (2021).
Darren Lynn Bousman made the first two of the sequels then later returned for Spiral. He went onto make other genre entries such as Repo: The Genetic Opera (2008), Mother's Day (2010), 11-11-11 (2011), The Barrens (2012), The Devil's Carnival (2012), Alleluia! The Devil's Carnival (2015), Abattoir (2016), St Agatha (2018) and Death of Me (2020), as well as the The Night Billy Raised Hell episode of Tales of Halloween (2015).
---
---