---
Crew
Director – Robert Englund, Screenplay – Dan Staller, Producers – Avi Chesed & Wayne Rice, Photography – Daniel Stump, Music – Timothy Andrew Edwards, Visual Effects Supervisor – Steve Lloyd, Special Effects Supervisor – John Hartigan, Makeup Effects – Robert Hall & Almost Human, Inc., Production Design – Erich Schultz. Production Company – Wayne Rice Productions.
Cast
Shane McRae (Brody), Daniel Franzese (Doug), Eric Jungmann (Craig), Emily Foxler (Lucy), Jeff Davis (Backwater), Sam McMurray (Fire Marshal), Hector Jimenez (Angel), Noreen Dewulf (Delilah), Corri English (Jezebel), Bobby Lee (Winnie), Andy Milonakis (Brian Trelane), Edward Carnevale (Joe Molato), Katie Chonacas (Constance), Lin Shaye (Marge), Joey Lawrence (Himself), Michael Timothy Post (Tito the Porn Star), Greg Cipes (Vance), Bobbi Sue Luther (Amber Waves), Bergen Williams (Tina), Christine Berger (Gwen), Haley Hudson (Morgan), Christopher Titone (Wayne)
---
Plot
Three friends, Doug, Craig and Brody, arrive in Los Angeles from Illinois. Searching for an apartment together, they are offered a palatial house in the hills and immediately lease it, seeing the possibilities it holds in terms of boosting their social life. Soon after, they are visited by the hot neighbour Lucy and immediately decide to throw a housewarming party. They print off invite posters and place them up around the area. At the same time, they discover a glowing pit in the basement, which causes people to disappear into it. As the party gets under way, they realise that the pit may be a portal to Hell and that Lucy's hot friends may be demons come to claim victims among the partygoers.
---
Robert Englund gained prominence after being cast as Freddy Krueger in A Nightmare on Elm Street (1984). Englund went on to play Freddy in all of the Elm Street sequels and in doing so became one of the iconic figures of 1980s cinema, appearing on numerous magazine covers, posters and lunchboxes. After the end of the Freddy phenomenon, Englund became a genre regular and continues to appear in other horror films.
At the height of his fame, Englund also took the opportunity to take up the director's chair with two episodes of the spinoff tv series Freddy's Nightmares: A Nightmare on Elm Street – The Series (1988-90) and the poorly received horror film 976-Evil (1988) about a demonic telephone line. Englund made his second and to date last directorial outing with Killer Pad. Neither of Robert Englund's directorial outings were particularly well received by horror fandom – Killer Pad was not widely release, for instance, and soon disappeared to dvd.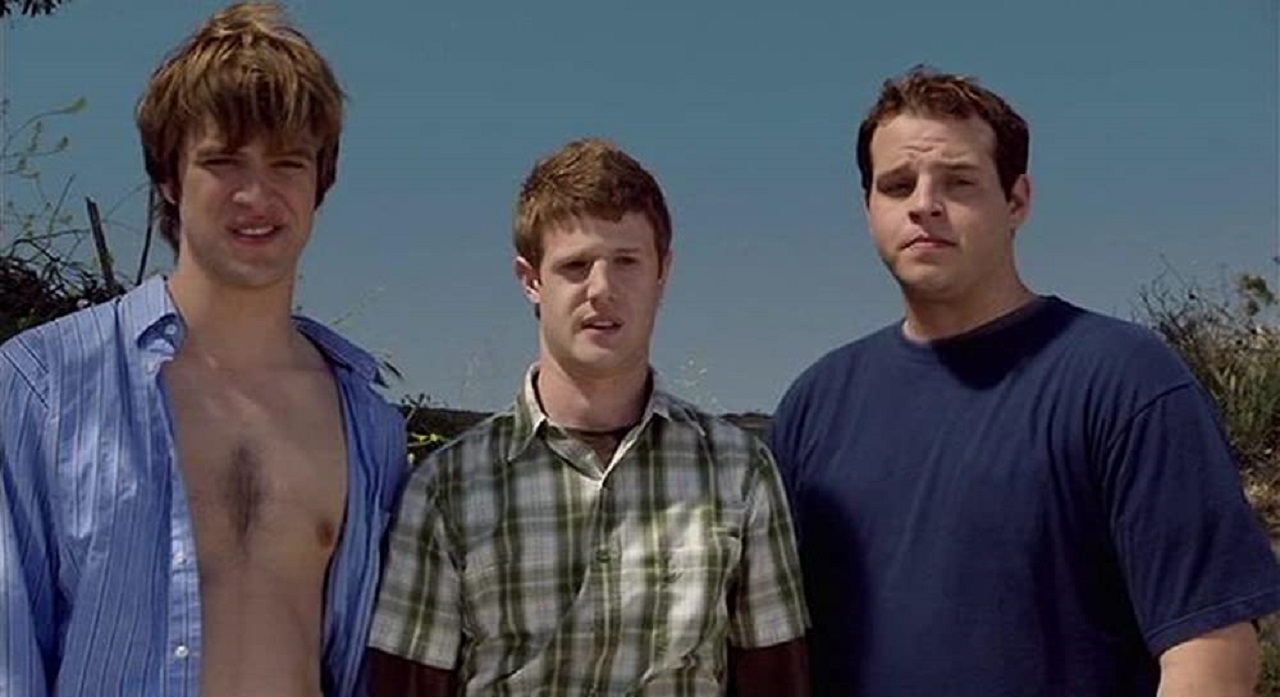 Killer Pad is pitched as a horror comedy – what it resembles if anything is a horror version of a 1980s frat house film a la National Lampoon's Animal House (1978) and assorted imitators, while the influence at the time would almost certainly have been American Pie (1999). There are all the standard characters of this type of film – the three tripping over themselves horny teen guys; the hot chick; the throwing of a big party upon which the three guys' cool rides; lots of moron comedy relief; assorted eccentric characters that turn up at the party and so on (which include later-to-be horror icon Lin Shaye as a landlady who turns the guys down during their house search).
When it comes to the horror element, Englund comically over-stresses every point – there are creatures howling in the hills, bats flap against an illuminated moon (in some crappy opticals); while a caricatured Mexican (Hector Jimenez) appears out of backlit mist and babbles in Spanish about 'El Diablo'. Englund's humour is fairly sophomoric – the guys lusting over Emily Foxler; comic caricatures of a dwarf, a fat nerd and a mannish-looking woman; awkward gay humour (a horrified reaction at as one of the female demons is found to have both a penis and a vagina); gross-out gags about people being sucked down the toilet and covered in turds. It is a film that is not particularly offensive but just seems too stupid to ever be funny.
---