---
Crew
Director – Rick Bota, Screenplay – Tim Day & Carl Dupre, Producers – Mike Leahy & Ron Schmidt, Photography – John Drake, Music – Steve Edwards, Visual Effects Supervisor – Jamison Goei, Visual Effects – Neo Digital Imaging, Additional Visual Effects – Van Hook Studios (Supervisor – Kevin Van Hook), Special Effects Supervisor – Kim Mortensen, Makeup Effects – Two Hours in the Dark, Inc. (Supervisor – Gary J. Tunnicliffe), Production Design – Troy Hansen. Production Company – Dimension Films/Neo Art & Logic.
Cast
Dean Winters (Trevor Gooding), Ashley Laurence (Kirsty Cotton Gooding), William S. Taylor (Detective Lange), Doug Bradley (Pinhead), Sarah Jane Redmond (Gwen Stevens), Jody Thompson (Tawny), Kaaren De Silva (Sage), Michael Rogers (Detective Giveus), Trevor White (Bret), Rachel Hayward (Dr Allison Vermeer)
---
Plot
In the midst of a marital argument while driving, Kirsty Cotton and her husband Trevor crash off a bridge in their car. Trevor escapes but sees Kirsty drown trapped inside the vehicle. Afterwards however, detectives are unable to find Kirsty's body and begin to suspect Trevor of having murdered her. As he recovers from the accident, Trevor finds himself in the midst of a series of baffling reality flips. As he tries to piece together things from the past, various women come onto him but are then found murdered by what he comes to realise are the Cenobites.
---
Hellraiser: Hellseeker was the sixth of the films that began with Clive Barker's innovative, low-budget film Hellraiser (1987). Barker oversaw the first three sequels – the decent Hellbound: Hellraiser II (1988), followed by the disappointing Hellraiser III: Hell on Earth (1992) and Hellraiser: Bloodline (1996). The rights were then brought up by Neo Art and Logic who produced Scott Derrickson's underrated Hellraiser: Inferno (2000), Hellraiser: Hellseeker, followed by the mostly worthless Hellraiser: Deader (2005), Hellraiser: Hellworld (2005), Hellraiser: Revelations (2011) and Hellraiser: Judgment (2018) and then the remake Hellraiser (2022). . Doug Bradley is again present as Pinhead, as he was in all the Hellraiser films up until Revelations. Hellseeker does see the return to the series of Ashley Laurence, the teenage daughter from the first two films.
Hellraiser: Hellseeker is quite an oddity. It is certainly an attempt to do something decidedly different with the Hellraiser mythos. For the most part, the Cenobites do not even feature in the film and Hellseeker suggests something more akin to the blurring reality shifts of a film like Brain Dead/Paranoia (1989) or a Philip K. Dick work. These reality disjunctions prove rather fascinating.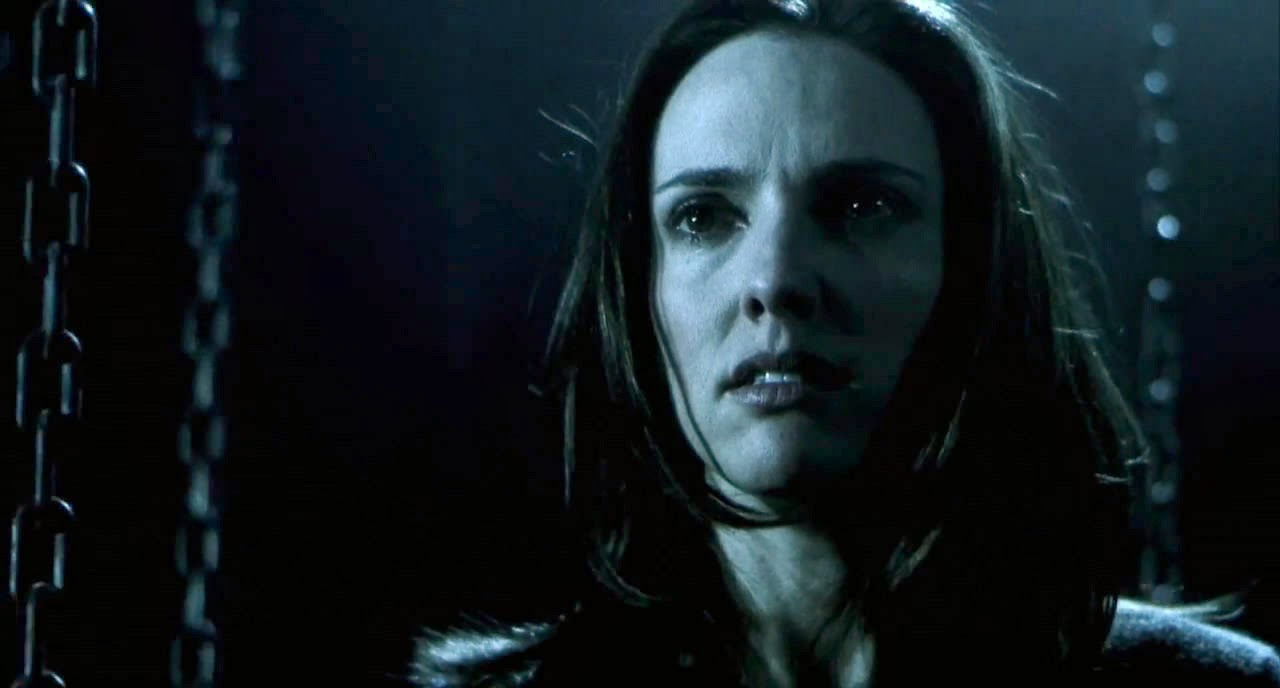 There is an intensely weird sequence where Dean Winters starts coughing up water and then an eel emerges from his mouth and he is forced to wrestle with it. Or where Winters finds that his video camera is on and when he looks at the viewing screen it is photographing a sex scene but when he looks up, the chair it is aimed at is empty; or where Dean Winters has sex with Jody Thompson, she turns into a bandaged face and he then finds her dead, only to go to the neighbouring apartment and she answers the door but doesn't know him and he finds another guy is with her; the doctor who does and then doesn't exist and people ask Winters who he is talking to when he goes to her office.
Or quasi-surreal images like seeing the police brutally beating a subject in the background at the station and this being ignored by all the officers, and the entirely surreal scene where detective William S. Taylor starts talking about how we all have good and evil parts within us and his partner's head bursts out of his side to show his evil half. The result achieved by these scenes is fascinating. In fact, these reality disconnects take over the film and the Cenobites are almost entirely pushed aside.
Where Hellraiser: Hellseeker falls down is when it comes to introducing the Cenobites. Hellseeker would have worked much more effectively if it were not a Hellraiser film, one suspects. The explanation of what is going on is far-fetched – like the idea that Ashley Laurence's Kirsty Cotton would glibly reopen the cube after all she has been through and would so easily trade six souls just because her husband cheated on her. Or for that matter, why she would do something as crazy as shoot at a person who is driving the car she is a passenger in. It feels like she has become a character who has been stretched way out of their natural state to be made to fit the story the film wants to tell.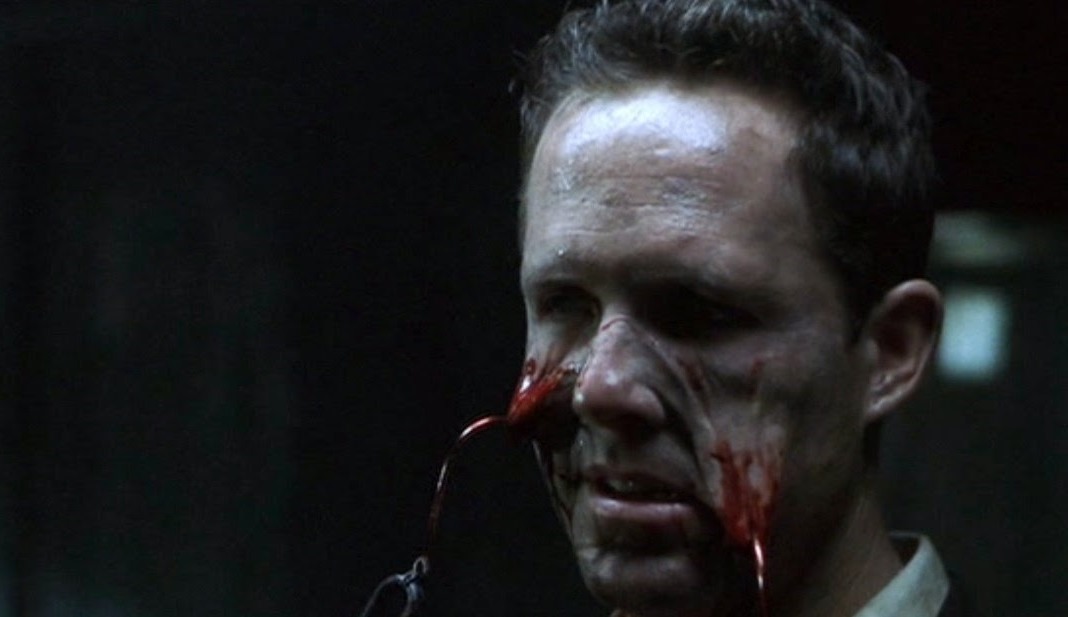 Also the end revelation leaves one wondering how all the reality disjunctions fit into Kirsty and the Cenobites's grand scheme. Don't the Cenobites just grab and physically tear people apart, as opposed to distort and turn their realities upside down? Hellseeker also returns somewhat to the interpretation that was offered in the previous film, Hellraiser: Inferno, which saw the Cenobites as representing a personal subjective Hell for corrupt souls rather than being actual figures that had been conjured up. It is an end that turns the whole of Hellseeker into a deathdream fantasy a la An Occurrence at Owl Creek Bridge (1961) and its numerous copies.
Hellraiser: Hellseeker was the directorial debut of Rick Bota who had previously worked as a cinematographer on films such as Tales from the Crypt Presents Demon Knight (1995), Barb Wire (1996), The Glimmer Man (1996) and House on Haunted Hill (1999), among others. Bota went onto direct the next two Hellraiser films, which are much less interesting, and then various work on tv, and has made only one film subsequently with the teen thriller Love Me (2012) and several thrillers for the Lifetime Channel.
---
---