---
Crew
Director – Stan Dragoti, Screenplay – Robert Kaufman, Story – Robert Kaufman & Mark Grindes, Producer – Joel Freeman, Photography – Edward Rosson, Music – Charles Bernstein, Special Effects – Allen Hall, Makeup – William Tuttle, Art Direction – Serge Krizman. Production Company – Melvin Simon Productions.
Cast
George Hamilton (Count Dracula), Susan St James (Cindy Sondheim), Richard Benjamin (Dr Jeff Rosenberg), Arte Johnson (Renfield), Dick Shawn (Lieutenant Ferguson)
---
Plot
The Communists evict Count Dracula and his manservant Renfield from Castle Dracula so that the Rumanian Gymnastics Team use the castle. Dracula decides to head to New York City in pursuit of fashion model Cindy Sondheim, whom he believes to be the reincarnation of his lost love Mina Seward. He seduces Cindy after meeting her on a disco dancefloor. Cindy's e, psychologist Jeff Rosenberg, notices the bites on her neck and tries to stop Dracula.
---
The vampire – or at least the classical image of the vampire with dinner suit, cape and East European accent as popularised by Bela Lugosi – has always had a struggle fitting into the modern age. When Hammer tried it with Dracula A.D. 1972 (1972), they could only keep Christopher Lee confined to a church for the duration as though bringing him to terms with the modern world was too much of a conceptual challenge. The tv series Dark Shadows (1966-71) was theoretically set in the modern world but its perpetually Gothic mansion might well have been set in the 19th Century. In Count Yorga, Vampire (1970) and The Return of Count Yorga (1971), the image of the urbane dinner-suited vampire became a self-referential joke.
By the end of the 1970s, with George Romero's remarkable Martin (1976) bringing the classic vampire up against the modern world in an abrupt way, there did not seem anywhere left for the classical Bela Lugosi vampire to go except for self-parody. Indeed, all that Love at First Bite has to do to be a parody is to simply place the anachronistically caped Dracula onto the streets of Harlem or the middle of a disco dance-floor.
Contrary to the vampire film's seeming creative desiccation, 1979 saw a host of vampire modernisations, including the lush big budget remake of Dracula (1979) with Frank Langella wherein Dracula was reinvented as a romantic leading man; the Stephen King adaptation Salem's Lot (1979), which asked what would happen if a classic vampire invaded a small town; Werner Herzog's Nosferatu the Vampyre (1979), which deconstructed the first screen vampire; not to mention silliness like the disco vampire film Nocturna: Dracula's Granddaughter (1979) and the sex comedy Dracula Blows His Cool (1979).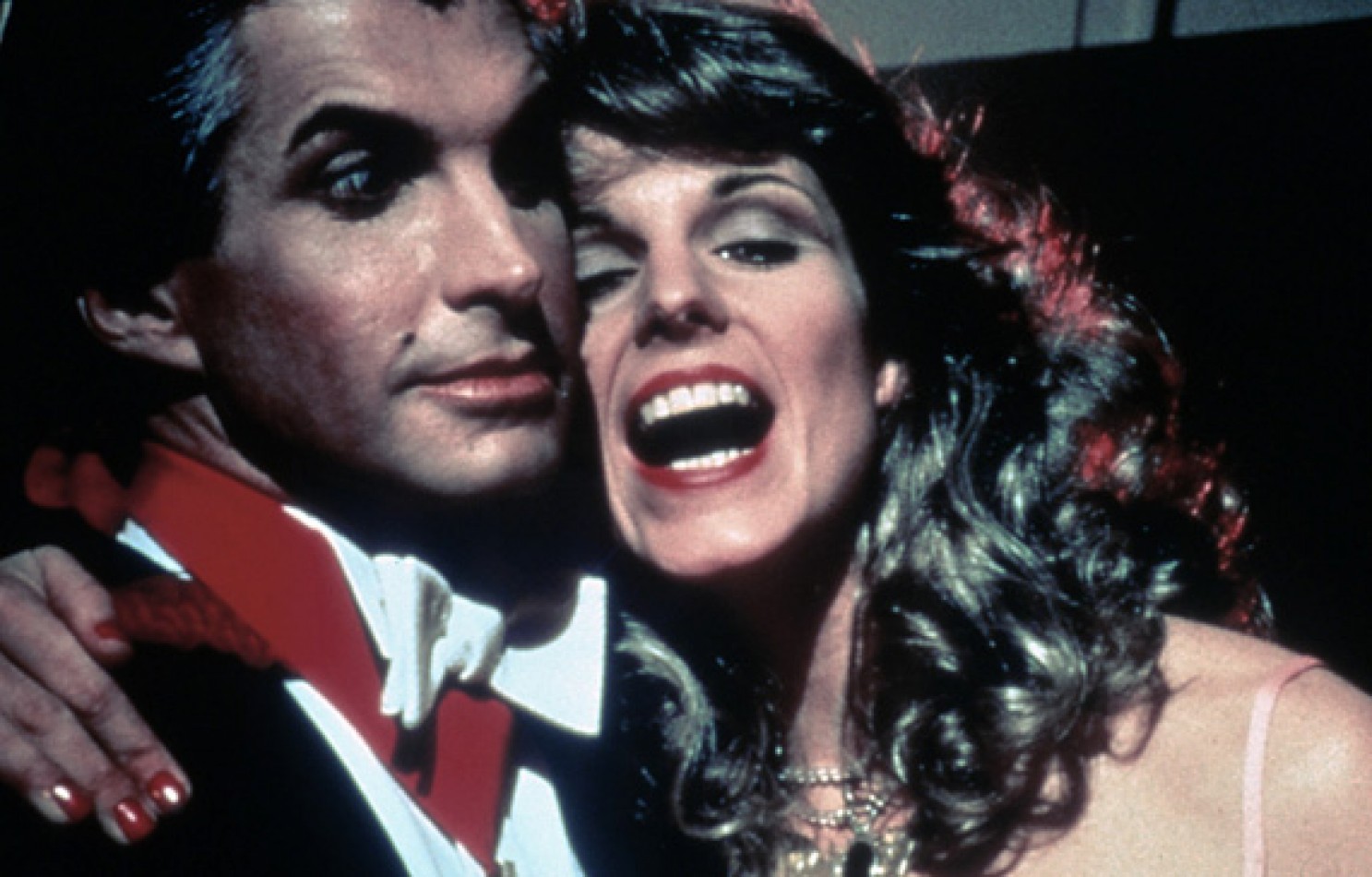 Among these came Love at First Bite, a witty little spoof of the vampire genre. A good many people think fondly of Love at First Bite and it may well become regarded as the definitive spoof of the vampire film. It is certainly a lot of things as a spoof that both Roman Polanski's The Fearless Vampire Killers/Dance of the Vampires (1967) and Mel Brooks' Dracula: Dead and Loving It (1995) should have been but weren't. There are also incidentall a number of plot similarities between this and the earlier French comedy Dracula, Father and Son (1976).
The filmmakers were almost certainly inspired by the then recent success of Mel Brooks's Young Frankenstein (1974) and were looking to it for inspiration, although Love at First Bite is a far less vulgar and raucous film than Young Frankenstein, if also one that is not entirely as uproarious. Nevertheless, it is the best of several vampire comedies that came out during this period including also Tender Dracula (1974), Vampira/Old Dracula (1974), Dracula, Father and Son (1976) and Mama Dracula (1980).
The humour comes quick and fast – Bela Lugosi's immortal "The children of the night – hear their music" line becomes "Children of the night – shut up!" Dracula goes to sleep with a night light in his coffin; and peevedly comments "How would you like to be dressed as a head waiter for the last 700 years?," while Susan St James's love interest proves to be refreshingly modern: "You're biting my neck! That's so kinky." Love at First Bite doesn't always manage to hit with everything it serves but its undeterred persistence pays off more often than not.
George Hamilton plays with sly, debonair charm, all suavely rolled r's and querulously raised eyebrows, and lets us know he is having an enormous amount of fun. Up against him, Susan St James plays with daffy charms. Best of all is Arte Johnson, who plays with a manically perverse glee as Renfield and steals the film with his diet of living creatures and unnervingly maniacal laugh.
---
---