---
Crew
Director/Producer – Mel Brooks, Screenplay – Mel Brooks, Rudy De Luca & Steven Haberman, Story – Rudy De Luca & Steven Haberman, Photography – Michael D. O'Shea, Music – Hummie Mann, Visual Effects – Dream Quest Images (Supervisor – Mike Shea), Special Effects Supervisor – Richard Ratliff, Animatronics – Optic Nerve, Production Design – Roy Forge Smith. Production Company – Gaumont/Brooksfilm/Castle Rock.
Cast
Leslie Nielsen (Count Dracula), Peter MacNichol (Thomas Renfield), Steven Weber (Jonathan Harker), Mel Brooks (Dr Abraham Van Helsing), Harvey Korman (Dr Seward), Amy Yasbeck (Mina Seward), Lysette Anthony (Lucy Westenra)
---
Plot
British solicitor Thomas Renfield travels to Transylvania to arrange the sale of Carfax Abbey in England to Count Dracula. However, Count Dracula is a vampire and makes Renfield his servant. Moving into Carfax Abbey, Dracula introduces himself to Dr Seward who runs the neighbouring asylum. He is particularly taken by Seward's ward Lucy Westenra and transforms into a bat to drink her blood. After killing her, Dracula moves in on Seward's daughter Mina. Seward calls upon the help of Professor Abraham Van Helsing, an expert in rare medical disorders and folklore at London University, who mobilises forces to stop Dracula.
---
Two decades prior to Dracula: Dead and Loving It, Mel Brooks made Blazing Saddles (1974) and Young Frankenstein (1974), which both remain the definitive parodies of respectively the Western and the classic Frankenstein film. All of Brooks's films since have been spoofs of popular film genres – the self-explanatory Silent Movie (1976); High Anxiety (1977); which sends-up Alfred Hitchcock; The History of the World Part I (1981), which parodies the historical film; Spaceballs (1987), which skewers the Star Wars saga; and Robin Hood: Men in Tights (1993), which takes on the cinematic Robin Hood. With Dracula: Dead and Loving It, Brooks attempts to do for the Dracula film the same things he did with the Frankenstein film in Young Frankenstein. Certainly, the Dracula film has become so stale it is well due for a parody – although one had the impression that that was what Love at First Bite (1979) tried to do.
As with Young Frankenstein, Brooks closely mimics the look of the classic Dracula films, in particular the Bela Lugosi Dracula (1931) – there is a perfect replica of the cobwebbed grand staircase in Dracula's castle, as well the long sweeping staircase that Lugosi carries Helen Chandler up at the abbey. Peter MacNichol also closely bases his Renfield on the weird performance given by Dwight Frye in the Lugosi film. The story follows the original Bram Stoker novel surprisingly closely – although one might also note that it changes Stoker in exactly the same places that the Lugosi Dracula does. In both films, for example, it is Renfield that takes over the Jonathan Harker role and travels to Transylvania, and in both films the subsequent action is also constricted to the Seward asylum.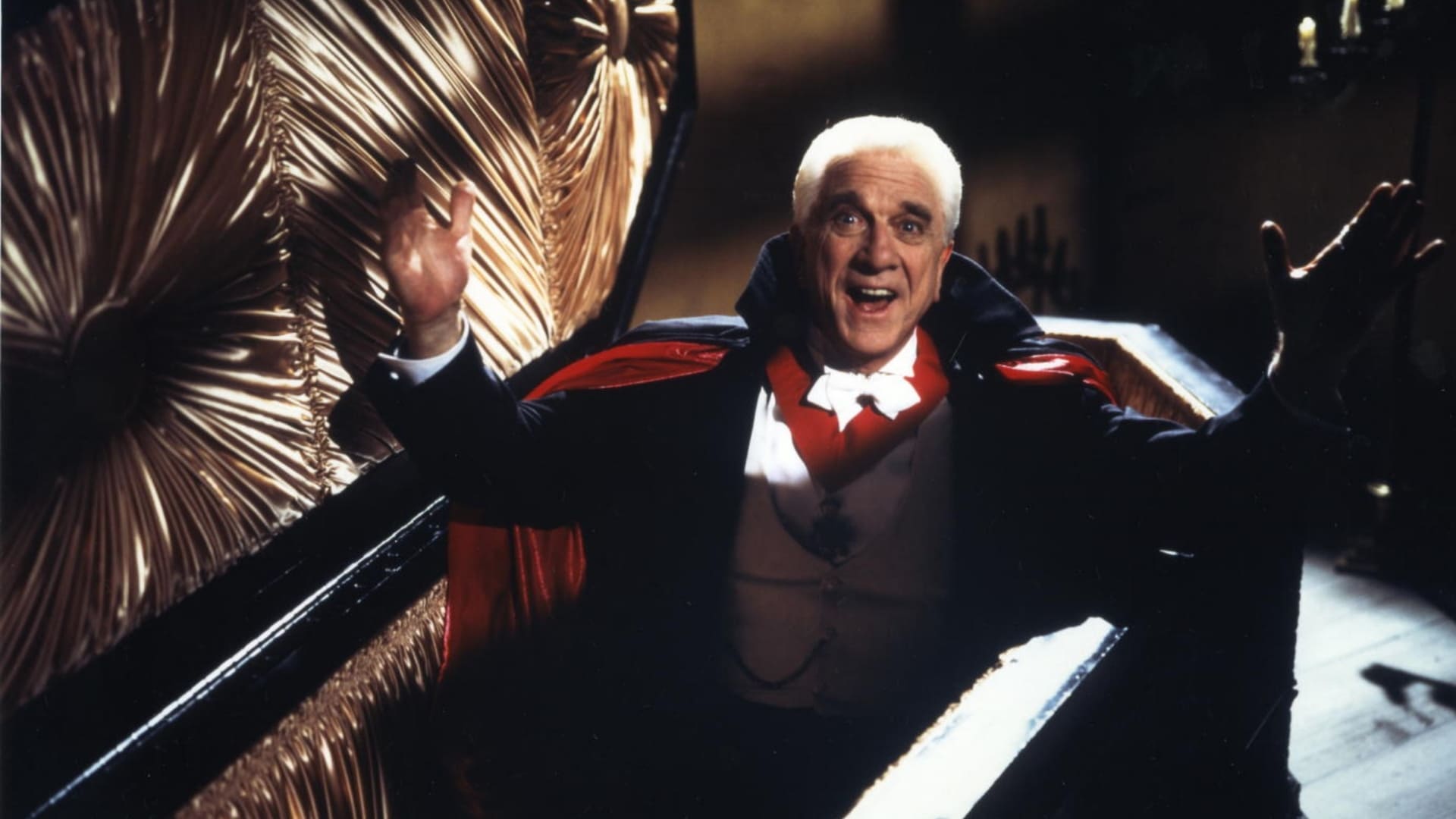 Sadly, Dead and Loving It fails to add up to a decent or even funny film. Brooks does lame gags on familiar cliches of the genre – Dracula rises up out of his coffin and whangs his head on a low-slung chandelier; he has to tell his wives to stop mysteriously gliding and walk normally; when he hypnotizes Mina and orders her to come to him, she confuses the directions and walks into a cupboard; he carries her off, professing undying love only to find he has picked up the overweight maid by mistake; and, in a spoof of Bram Stoker's Dracula (1992), Dracula's shadow is independent and keeps tripping up or trying to roger other people's shadows. None of this amounts to anything particularly funny. Most of Brooks's humour is lowbrow and vulgar – sex-oriented jokes, pratfalls and an obsession with bodily fluids. The sad truth, one realises, is that Mel Brooks has failed to make a good film in the ensuing twenty years since Young Frankenstein.
Mel Brooks casts Leslie Nielsen as Dracula. Through his popularity in the Airplane and Naked Gun films, Nielsen subsequently turned himself into a live-action cartoon figure of sorts and appeared in numerous other movie parodies. Here however, Nielsen fails to carve a memorable Dracula – he is merely playing another live-action cartoon figure that happens to wear a cape and have a funny accent. Everyone else affects a ridiculously fruity British accent and are not helped by Brooks's habit of getting them to yell at the top of their voices while standing eyeball to eyeball.
Aside from the aforementioned works he has directed, Mel Brooks has also produced a number of other films through his Brooksfilm production company. including David Lynch's The Elephant Man (1980), the Burke and Hare film The Doctor and the Devils (1985), David Cronenberg's The Fly (1986), the post-holocaust teen sports film Solarbabies (1986) and the horror black comedy The Vagrant (1992).
---
---
<!– the different voice in the social group % TNRd 15/08/10 BBMGd-ND 28-06-13 Re Date 05/09/02 (*) ->