---
Crew
Director – Warren Evans [Shaun Costello], Screenplay/Producer – K. Schwartz, Photography – William de Main, Music – Leger Productions, Art Direction – Steve Finkin. Production Company – Fat Rat Company.
Cast
Jamie Gillis (Count Leopold Dracula), Samantha Fox (Sally Iancu/Surka), Vanessa del Rio (Vita Valdes), Gordon G. Duvall (Renfrew), Bobby Astyr (Anatole), Erik Edwards (Big Bird), Mark Dexter (Sergeant Blick), Murray Bukofski (Chikopnik), Alba Bonn (Castle Tour Guide), Joel Kane (Morgue Attendant)
---
Plot
The aristocrat Leopold Michael George Count Dracula is prevented from marrying his beloved, the groundsman's daughter Surka, because of class differences, and she is sent off to a convent. A hurt Dracula throws himself into orgies. In the midst of one of these, he drags Surka from her prayers and forces his way with her. Disgusted at what he has done afterwards, Dracula begs that God reject him from all salvation and is made a vampire. In the present day, Dracula returns to life. Finding that Castle Dracula has become a tourist attraction, he begs the Communist government for a passport and travels to the USA. Setting up an audition ostensibly to recruit girls for a European tour, he comes across Sally Iancu and believes her to be the reincarnation of his beloved Surka. However, she has been sent to spy on him by US agents.
---
It was probably inevitable after the rise of the softcore erotic vampire film in the early 1970s in films like The Vampire Lovers (1970) and sequels, Vampyros Lesbos (1970) and The Blood Spattered Bride (1972) that the vampire would invariably gravitate to the arena of the pornographic film. This came about in 1979 with Dracula Sucks (1979) and was followed by Dracula Exotica here – adult star Jamie Gillis plays the title role in both, although the two films are otherwise unrelated.
Dracula Exotica is not an X-rated version of Bram Stoker's Dracula (1897) or a remake any of the film adaptations as some people have insisted. If anything, it reads more like a straight version of the then-recent comedy Love at First Bite (1979), which had a revived Dracula forced to vacate his castle by now-Communist Romania and travelling to present-day New York City with his manservant where he woos the woman who is a reincarnation of his love. Some of the shots of Dracula's resurrection and images of him in frilly high-collar shirt seem readily borrowed from the then-recent remake of Dracula (1979) starring Frank Langella.
While the modern porn film is cheaply made and only ever offers up serial sexual encounters with the most minimal plot connecting them, it is a surprise to see Dracula Exotica, which comes from the heyday when porn was made for theatres and shot on film rather than videotape. It is a feature-length film whereas most modern porn films tend to be well under the one-hour mark. It also features that rarity in this particular genre – a story. Moreover, it offers a Dracula origin story and a surprisingly psychologically convincing one – that his beloved was placed into a nunnery, he ravaged her in his pain and then begged God to withhold him from any redemption – that holds just as much water as the more seriously intended origins offered in Bram Stoker's Dracula (1992) or Dracula Untold (2014).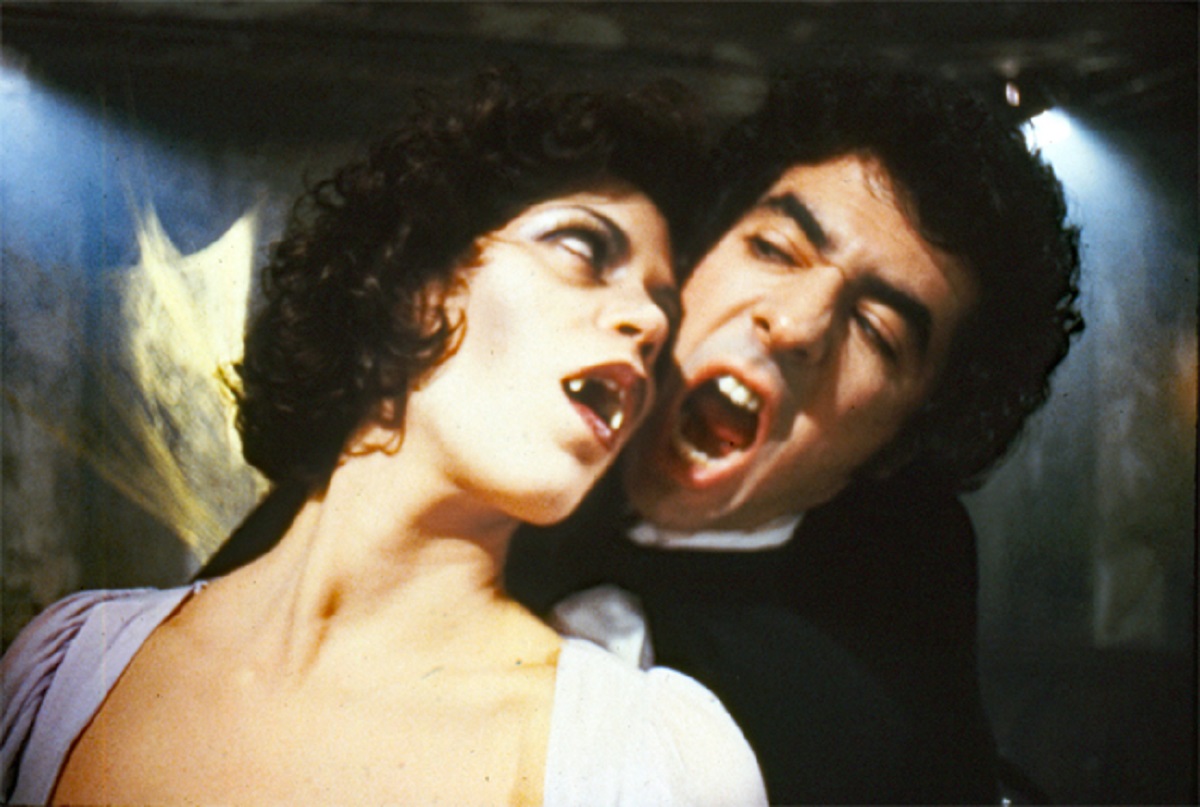 Many of the porn scenes seem perfunctory – indeed, surely seem the porn equivalent of a man who is over and done within five minutes. There is one modestly evocative scene where Jamie Gillis's reflection appears in Samantha Fox's mirror as she stands and masturbates – when you consider that most other porn films consist of no more than unromanticised naked bodies, this does seem a huge amount of style.
On the minus side, this is not a film that gives the impression the makers have a high opinion of women who are frequently referred to as 'whores' and 'cunts', while a covert meeting between spy recruit Samantha Fox and her handler Erik Edwards seems to involve he demanding that she give him a blowjob in a porn theatre. There is also what must be a first for a pornographic film – a necrophilia scene as a male morgue attendant molests a woman's corpse.
There is an undeniable sense of humour lurking in the background – like when Jamie Gillis meets Vanessa del Rio and in the midst of going down on her stops to ask "Can you type? … How many words a minute?" – or scenes with him transforming into a bat only to crash into a glass window. The cutest part is the ending where Dracula finally has sex with his reincarnated love Samantha Fox and afterwards the two of them are transformed into 'pigeons of peace' and fly away across the city.
As Dracula, Jamie Gillis plays with a sneer and seems to look down his nose at everything. He however does a quite a good job of mimicking the accent of Bela Lugosi. Curiosity seekers can also spot porn superstar Ron Jeremy in a minor uncredited part as one of the orgiasts in the castle near the start of the film – moreover, back at a time when Jeremy was young and handsome rather than overweight and ugly – at one point, we even see him being blown as he stands juggling.
---
---