---
Crew
Director – Sam Irvin, Screenplay – John Paragon & Cassandra Peterson, Producer – Mark Pierson, Photography – Viorel Sergovici, Music – Eric Allaman, Visual Effects – Sota Digital, Special Effects Supervisor – Martin Ilie, Production Design – Radu Corciova. Production Company – Spirit Entertainment/The Elvira Movie Company, LLC.
Cast
Elvira [Cassandra Peterson] (Herself), Richard O'Brien (Lord Vladimere Hellsubus), Mary Jo Smith (Zou Zou), Scott Atkinson (Dr Bradley Bradley), Heather Hopper (Lady Roxana Hellsubus), Mary Scheer (Lady Edna Hellsubus), Gabriel Andronache (Adrian)
---
Plot
The year 1851. The showgirl Elvira travels through Carpathia with her French maid Zou Zou. They are given a ride in the coach of Dr Bradley Bradley who takes them to the castle of Lord Vladimere Hellsubus. Lord Hellsebus suffers from an agonising over-acuteness of the sense. He is struck by Elvira who proves to be a dead ringer for his late wife Alura. While they are there, Lord Hellsubus's sister Roxana suffers from a cataleptic attack and is buried alive.
---
Cassandra Peterson gained a name after being cast as Elvira, the hostess of L.A.'s KHJ-tv Channel 9's Movie Macabre segment between 1981 and 1993 (which was also revived in 2010-1). Prior to that, Peterson had worked as everything from a go-go dancer and a Las Vegas showgirl to the lead singer in an Italian rock band and stand-up comic. The Movie Macabre show was devoted exclusively to B-genre films during which Elvira would pop up in the midst to crack bad jokes. Elvira's persona was construed as a parody of classic horror vamps like Morticia Addams and Vampira (indeed Peterson was sued at one point in the 1980s by Maila Nurmi alias Vampira for ripping off her act) – but sent up as a cheap bimbo. The character became a celebrity with Peterson going on to host a label of B-movie video releases, not to mention spinoff Elvira comic-books, calendars and even pinball games. Elvira burst out onto cinema screens with Elvira, Mistress of the Dark (1988), a likeable effort that found its success more on video than the big screen. Peterson, who co-wrote the film, cast herself as a trampy bimbo and peppered the film with an amazing number of bad puns and tongue-in-cheek innuendoes.
Elvira's Haunted Hills was a long-awaited follow-up to Elvira, Mistress of the Dark. As Cassandra Peterson herself recounts in the dvd making of section, it was a project she and her producing team had touted for a number of years following Mistress of the Dark but had been unable to find any backers. After thirteen years, they were able to bring together a miniscule budget, mostly floated by Peterson herself, and shot the film on the cheap in Romania.
Cassandra Peterson is a B horror movie fan. Much more so than Mistress of the Dark was, Elvira's Haunted Hills has been construed as a homage to horror movies of yore – in particular the Roger Corman-Vincent Price Edgar Allan Poe films of the 1960s. An overacting Richard O'Brien's is clearly modelled on Vincent Price's Roderick Usher from The House of Usher (1960) – at one point he complains "My eyes are tormented by all but the faintest of light," which gets the response from Elvira "Ahh, I see you've got a hangover too, huh" – and there are various other plot homages about his sister being buried alive. At the end, the castle sinks down into the pit as in the climax of The House of Usher but in this case splits in two a la the Titanic in Titanic (1997) in a very cheap digital effect whereupon Elvira is given cause to wonder: "That's incredible … that we could afford such a crappy effect." There are aspects taken from the other Corman Poe films, in particular the use of the reincarnated wife plot from The Tomb of Ligeia (1964) with Richard O'Brien decked out in the same square sunglasses that Vincent Price sported in that film. Everything naturally climaxes with Elvira tied up under a pendulum a la Pit and the Pendulum (1961). The film also stages the bricking up alive from Poe's story The Cask of Amontillado (1846) but here it becomes a Keystone Kops routine.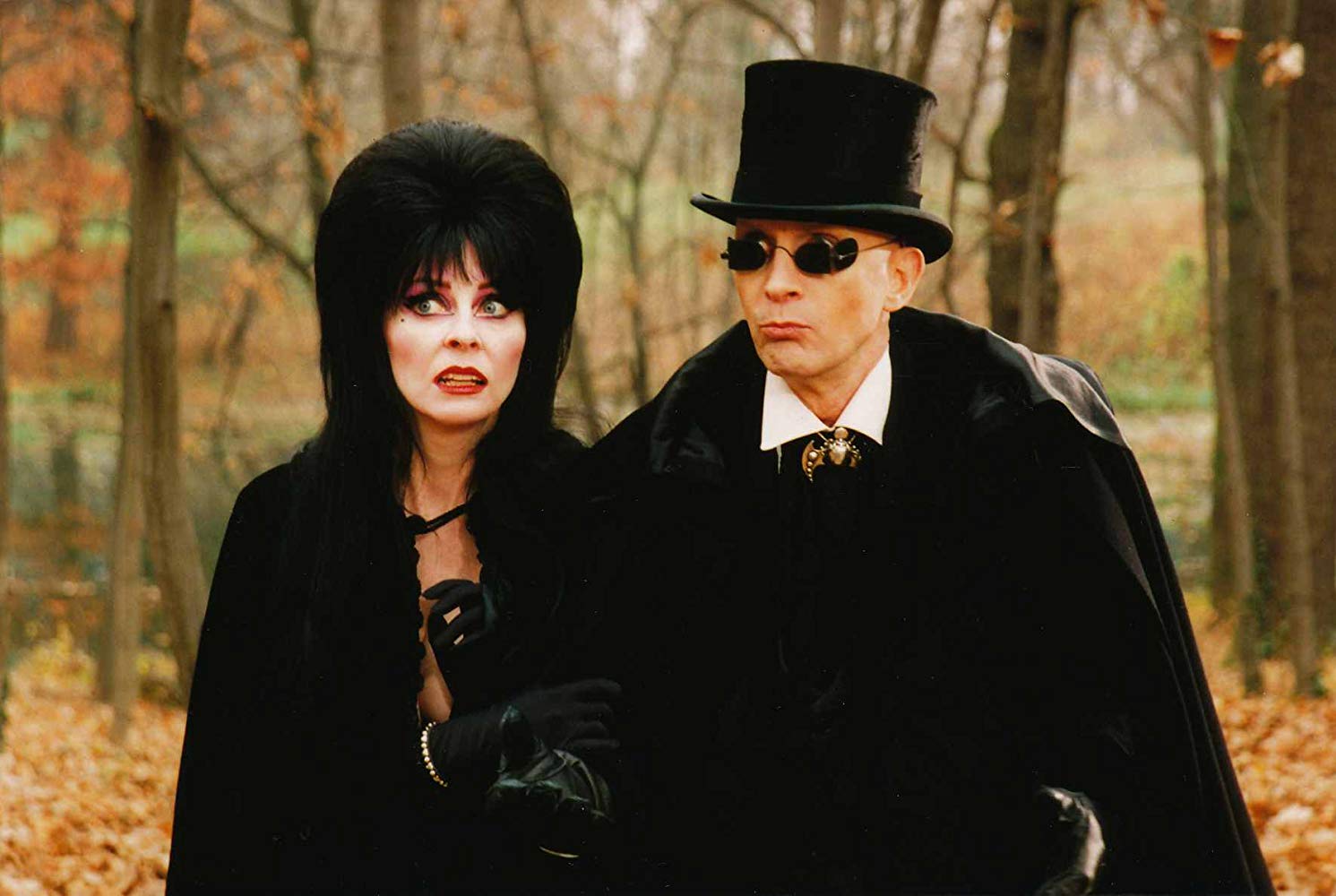 Elvira engages her penchant for atrocious puns and cheesy double entendres. The bumpy coachride throws Scott Atkinson across to land with his face buried in her cleavage – "Lucky for you I come equipped with my own airbags," she quips. Or "The village people say the castle is evil," "Ahhh, who listens to The Village People anymore?" Not to mention:- "Lord Hellsubus has not been feeling himself," "Too bad – might relieve some of that tension." One of the most amusing running gags throughout the film is Mary Jo Smith's French maid who is constantly producing items out of her ample cleavage, which range from everything from hand mirrors to blood sausages and Elvira's fluffy slippers.
On the minus side, Cassandra Peterson, who turned fifty when she made the film, is starting to show her age and her routine is starting ever so slightly to seem stale. Delivered amid the often clearly impoverished surroundings, it all has the feel of a former big-name comic reduced to doing dinner theatre in the boondocks. Far more so than in Mistress of the Dark, Elvira's Haunted Hills seems reliant on slapstick routines. Elvira does a rather silly burlesque routine that is nowhere near a patch on the tassel twirling sequence she did in Mistress of the Dark, the climax of which is her throwing up her dress and showing her ass to the audience, revealing she is wearing a pair of bloomers that say 'Applause'.
Sam Irvin has been a regular B-budget director. His first genre film was Guilty as Charged (1992) about a vigilante judge who builds a private electric chair and he went onto make a handful of production for Charles and Albert Band – Oblivion (1994), Magic Island (1995), Oblivion 2: Backlash (1996) – as well as one or two other oddities like the eccentric thriller Roses Are Dead/Eyes of a Stranger (1993) and the asteroid collision film Deadly Skies/Force of Impact (2006). He has also acted as producer of When Time Expires (1997), Gods and Monsters (1998), The Mating Habits of the Earthbound Human (1998), Bolt Neck/Big Monster on Campus (1999) and Ancient Evil: Scream of the Mummy (2000).
---
---