---
USA. 1983.
Crew
Director – Michael Dugan, Screenplay/Producers – Robert Barich & Robert Madero, Photography – Robert Barich, Music – Jamie Mendoza-Nava, Special Effects – Roger George, Makeup Effects – John Buechler, Art Direction – Robert Burns. Production Company – Western International Pictures.
Cast
Bobbie Bresee (Susan Nomed Farrell), Marjoe Gortner (Oliver Farrell), Norman Burton (Dr Simon Andrews), Maurice Shrebanee (Ben), La Wanda Page (Elise), Laura Hippe (Aunt Cora), Sheri Mann (Dr Roni Logan), Julie Christy Murray (Young Susan)
---
Plot
Ten-year-old Susan Nomed is at the funeral of her mother but breaks away from her aunt to enter the nearby mausoleum, only to cause the demonic forces there to stir. Twenty years later and Susan is married to wealthy businessman Oliver Farrell. Her aunt goes to Susan's psychologist Dr Andrews, fearful of the curse that has struck all of the firstborn among the Nomed women once they enter the mausoleum. Susan starts to manifest green glowing eyes as the demon from the mausoleum possesses her and then arranges bizarre deaths for all around her. Dr Andrews comes to believe in what is happening and realises that the demon can only be driven back from where it came by a crown of thorns being placed on it.
---
Mausoleum attained a reasonable profile when it came out. It was released to theatres in many parts of the world and did well in video sales. Oddly, hardly any of the personnel involved in its making behind the cameras have gone onto anything else. The only recognisable on the credits outside of the cast is John (Carl) Buechler who went onto make a great many cheap makeup and creature effects for Empire during the 1980s and even directed several of their films, most notably Troll (1986).
Among the cast, Bobbie Bresee was a former Playboy model who played in half-a-dozen other B-budget films of the era, while Marjoe Gortner was a former child evangelist who renounced the faith and developed a small career as an actor in films such as Earthquake (1974), Bobbie Jo and the Outlaw (1976), Food of the Gods (1976) and Starcrash (1978).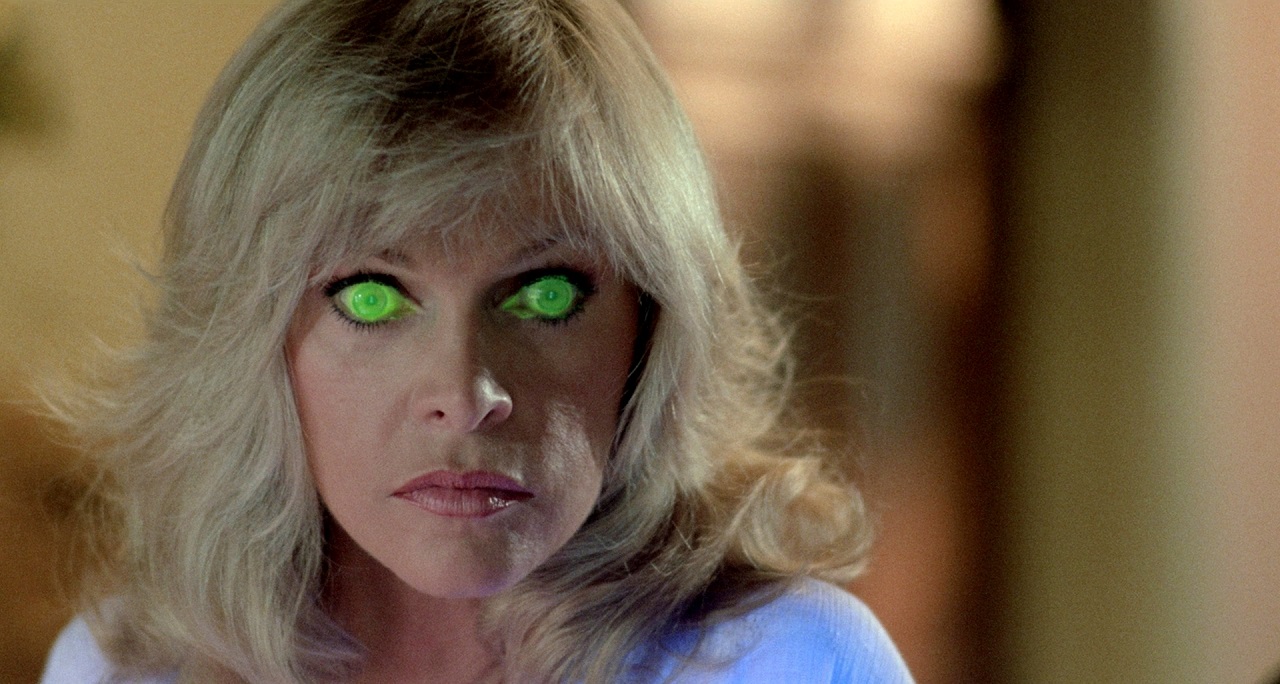 Mausoleum falls into the fad for Makeup Effects Vehicles that were all the rage during the 1980s and made cult figures out of artists like Tom Savini, Rob Bottin, Stan Winston and Rick Baker. That said, John Carl Buechler's effects are down the cheaper end of the market. The film wheels out a series of schlocky set-pieces that prove absurdly entertaining. Bobbie Bresee develops glowing green eyes and sets a drunk who forcibly came onto her in a nightclub alight in his car. She sensually strips down for the horny gardener (Maurice Shrebanee) and after having her way with him in the garage turns into a demon to kill him. Laura Hippe is levitated from the second-floor landing (where you can clearly see the wire rig that is holding her up) and her chest tears itself open and so on. The show arrives at a highly entertaining meltdown effect at the climax.
This is a film that has only been construed around the provision of these cheap effects. None of them are particularly convincing. All else is predicated on lots of pastel-coloured glowing lights and mist effects, as well as Bobbie Bresee who takes her clothes off several times throughout. There seems a complete arbitrariness to things on a scripting level in terms of explanation for what is happening – a family curse for no particular reason, even the crown of thorns used to despatch the demon that emerges as a fantasy McGuffin out of nowhere in Norman Burton's hands at the end.
---
Trailer here
---