---
Crew
Director – Joe Berlinger, Screenplay – Michael Werwie, Based on the Book The Phantom Prince: My Life with Ted Bundy by Elizabeth Kendall, Producers – Joe Berlinger, Nicholas Chartier, Michael Costigan, Ara Kershishian & Michael Simkin, Photography – Brandon Trost, Music – Marco Beltrami & Dennis Smith, Visual Effects – Secret Weapon (Supervisor – Mike Uguccioni), Production Design – Brandon Tonner-Connolly. Production Company – COTA Films/Voltage Pictures/Third Eye.
Cast
Zac Efron (Ted Bundy), Lily Collins (Liz Kendall), Kaya Scodelario (Carole Anne Boone), Haley Joel Osment (Liz's Co-Worker Jerry), Angela Sarafyan (Joanna), Brian Geraghty (Florida Public Defender Dan Dowd), Jim Parsons (Florida Prosecutor Larry Simpson), John Malkovich (Judge Edward D. Cowart), Jeffrey Donovan (Utah Defense Attorney John O'Connell), Terry Kinney (Detective Mike Fisher), Kevin McClatchy (Sheriff Ken Katsaris), Forba Shepherd (Louise Bundy), Grace Victoria Cox (Carol DaRonch), Dylan Baker (Utah Prosecutor David Yocom), Barry Mulholland (Dr Richard Souviron)
---
Plot
In Seattle in 1969. Liz Kendall meets Ted Bundy in a bar and becomes charmed by him and they embark on a relationship. In 1975, Ted is arrested in Utah, accused of trying to abduct a woman. However, the charges are dropped when the woman's testimony is proven unreliable in court. Ted dismisses Liz's concerns about his seeming resemblance to the man in Wanted sketches accused of killing women in the Seattle area. In 1978, Ted is arrested in Colorado over a routine traffic violation. While being held, he is investigated for a series of murders in different states. He twice makes an escape from custody. Liz moves in with a co-worker Jerry but Ted's constant calls push her to alcoholism. Ted is re-arrested and placed on trial in Florida where his decision to become his own co-counsel as the trial is televised makes the case into a sensation.
---
Ted Bundy (1946-89) is one of the most notorious American serial killers. Beginning around 1974, Bundy attacked and murdered some thirty women (this was the figure he confessed to, although was probably higher as he admitted there were others he would not speak about) in seven different states. A law student, Bundy frequented campuses and would break into dorms where he bludgeoned a number of women to death. On other occasions, he would use a fake cast and lure them into helping him. Arrested and making two escapes from jail, Bundy was finally placed on trial in Florida in 1979. This became a sensation in that it was the first trial to be televised where Bundy acted as his own co-counsel and played to the gallery. He was convicted and sentenced to death, being executed by electrocution in 1989.
Joe Berlinger is a director better known for documentaries. He gained fame as the co-director of three documentaries about the West Memphis Three, Paradise Lost: The Child Murders at Robin Hood Hills (1996), Revelations: Paradise Lost 2 (1999) and Paradise Lost 3: Purgatory (2011). He made his debut as a fiction director with Book of Shadows: Blair Witch 2 (2000), a not uninteresting sequel that was dismissed by most at the time. Berlinger subsequently went on to make other documentaries such as Metallica: Some Kind of Monster (2004), Whitey: United States of America v. James J. Bulger (2014), Tony Robbins: I Am Not Your Guru (2016), Intent to Destroy (2017), Confronting a Serial Killer (2021), Crime Scene: The Times Square Killer (2021), Crime Scene: The Vanishing at the Cecil Hotel (2021) and Conversations with a Killer: The John Wayne Gacy Tapes (2022), among others.
Four months before Extremely Wicked, Shockingly Evil and Vile was released to Netflix, Joe Berlinger also made Conversations with a Killer: The Ted Bundy Tapes (2019), a documentary series that aired on Netflix in four one-hour episodes. This was based on audio tapes made by journalist Stephen Michaud who spoke with Bundy for several months during his incarceration and eventually persuaded Bundy to confess. Berlinger delved into every conceivable aspect of the Bundy case, interviewing childhood friends and most of the still living journalists, police officers and lawyers who were involved with the case to present one of the most exhaustive true crime works I have ever seen.
In between all of this, Berlinger made a film treatment of Bundy's life with Extremely Wicked, Shockingly Evil and Vile (the title is a phrase that comes from the pronouncement Judge Edward Cowart made on Bundy in his summation at the Florida trial). The film is based on The Phantom Prince: My Life with Ted Bundy (1981) written by Bundy's long-time girlfriend Elizabeth Kendall. Kendall is briefly interviewed in Conversations with a Killer, although her prominence is not highlighted as being as central to the Bundy story as it would appear to be from a viewing of Extremely Wicked. It is possible that Berlinger held some of this back from the documentary as he did not want to double over material he was making in his film. Given also that Extremely Wicked is based on one person's subjective account, it may also be that some of the relevance of her story has been amplified in her eyes or else by the film for dramatic purposes.
If you did not know that Joe Berlinger was a documentary maker before watching the film, you may well be led to suspect this is the case by the end of the film. It touches base with all the key points of Bundy's life – his progress from Seattle through Utah, Colorado and Florida and each of his arrests and escapes – and reconstructs aspects with exacting detail. Berlinger runs a series of clips from various interviews and tv coverage of Bundy over the end credits and here the resemblances become uncanny. In scenes like where the arrest warrant is presented to Bundy by Ken Katsaris at a press conference, the tv interview in Colorado just after his escape (where Berlinger plays the interviewer) and especially when it comes to the televised footage of the court case, you can see that Berlinger has made an exacting attempt to replicate scenes as they happened, right down to the participants quoting what was said word for word.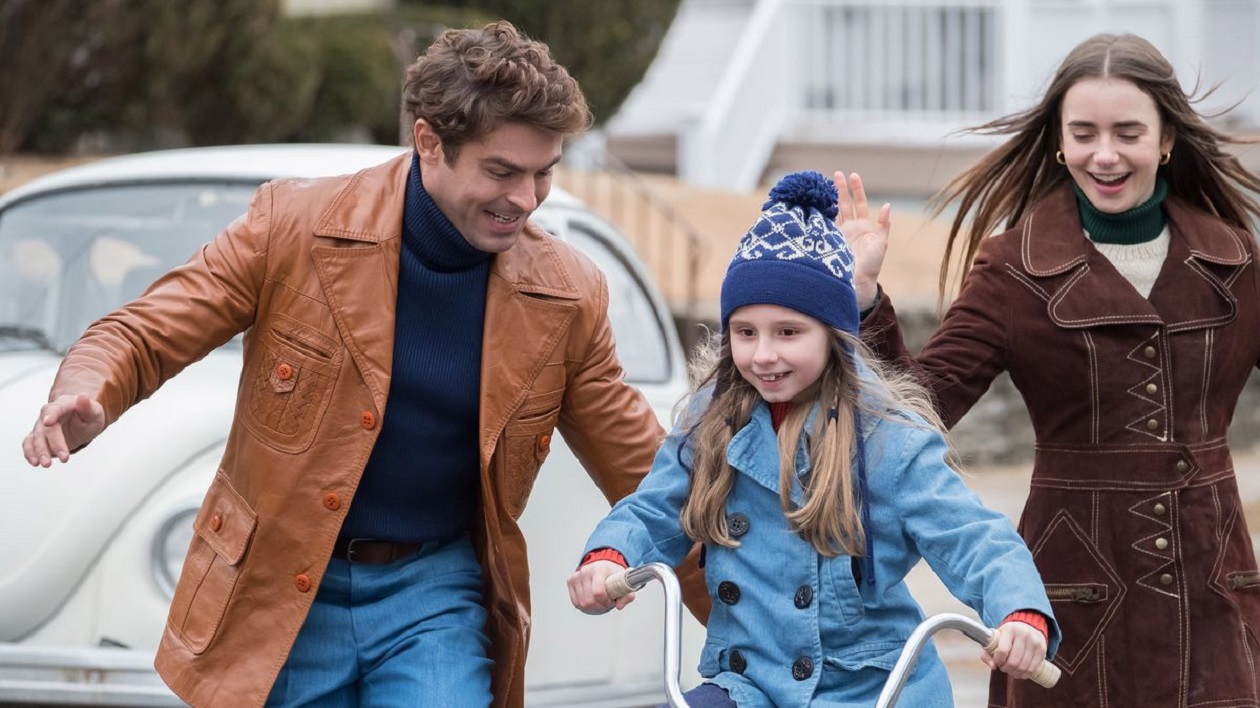 The likenesses of some of the participants in the case – including key arresting officers and lawyers, Bundy's mother and especially Kaya Scodelario's unnerving resemblance to Carole Anne Boone – is uncanny. Berlinger even takes the time to cast a lookalike actress in the role of Florida second chair defence attorney Margaret Good even though the role has only about one speaking line.
The most striking of these resemblances is Zac Efron, who also executive produces the film. Efron proves a surprise casting choice as Bundy. A few years ago, Efron was a teen pin-up sensation as a result of High School Musical (2006) and sequels and a handful of films like 17 Again (2009), Charlie St. Cloud (2010), The Lucky One (2012) and We Are Your Friends (2015) that were predicated on his inhumanely good looks. On the basis of these, it would have been extremely easy to dismiss Efron as another pretty boy who would have been forgotten after his five minutes in the spotlight were up. However, his casting as Bundy surprised me altogether. I had seen Conversation with a Killer earlier in the year and the resemblance between Efron and the Bundy we see in interviews is astonishing. Efron manages to get the mixture of polished charm that Bundy possessed down just perfectly and it is as though one is watching the real Bundy up there on the screen.
The Ted Bundy story had been filmed once before as Matthew Bright's Ted Bundy (2002), a film that was overlooked at the time but I found to be well worthwhile. Certainly, Joe Berlinger goes into the Bundy story in far more detail than Bright who was happy to fictionalise certain aspects. Despite being less accurate to the case or in depth as Berlinger's film, I think Ted Bundy is the better film of the two. The most notable thing here is that Berlinger avoids almost any depiction of Bundy's murders with the exception of one that is recounted in flashback right at the end. Certainly, we get clips of tv news reports of the crimes and detailing of the murders during the court case but Berlinger otherwise avoids this aspect altogether. On the other hand, Matthew Bright does not and his film is all the more raw and astonishing as a result.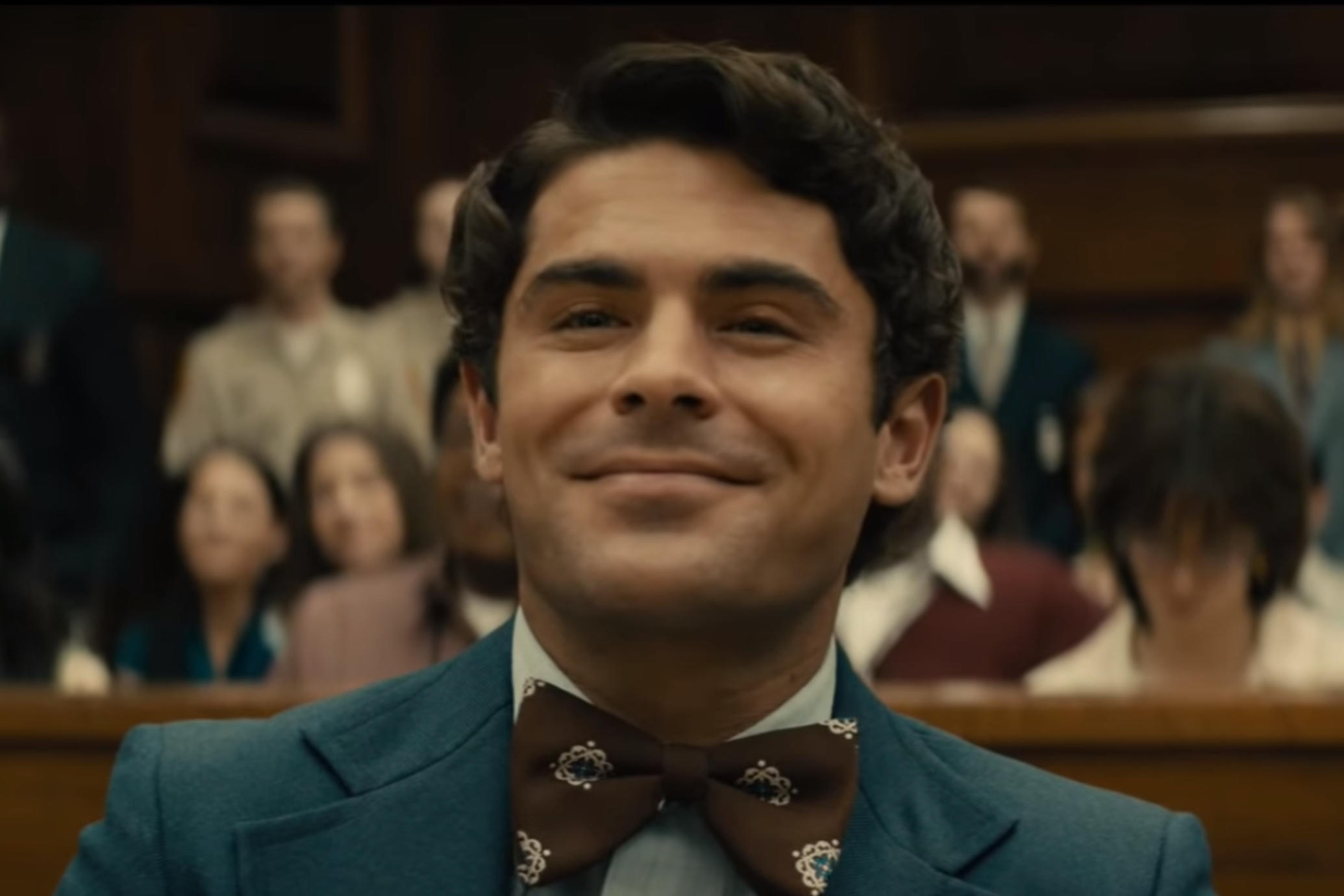 Indeed, Extremely Wicked, Shockingly Evil and Vile is a film that requires audience's to have some prior knowledge of Ted Bundy. It makes an excellent companion piece to Conversations with a Killer. On the other hand, I wonder how much audiences would make of the film if they come to it with no knowledge of who Bundy is. Certainly, Berlinger's exacting efforts to replicate the details of the case would not be apparent until the clips at the end. For anyone not knowing about Bundy, all that we get is a film about a man arrested and accused of being a killer who protests his innocence and tries to connect with the girl he loves as she gradually comes to the realisation that he is guilty of the crimes. Without the Bundy name to sell it, that makes Extremely Wicked not much more than just a regular courtroom thriller about a possibly wrongly convicted man. Contrast that to Ted Bundy, a film that held little back in diving inside the mind of a serial killer and depicting the relish he took in his crimes. The failing of Extremely Wicked, Shockingly Evil and Vile is that it creates a divide where we never connect the likeable and charming Bundy up to the one we are told brutally murdered his victims. It is a portrait of Bundy where crucially the key details of Bundy's notoriety are in effect hidden behind a curtain.
The other interesting contrast between the two films is their portrayal of Elizabeth Kendall's relationship with Bundy. For Berlinger, he seems loving, an excellent surrogate father to her daughter and where she loves him so strongly that she is willing to dismiss the mounting evidence that he is a killer and continues to believe in his innocence. By contrast, Bright sees the equivalent of Elizabeth as someone who suffered constant abuse and was forced by Bundy to engage in S&M sex. (Bright also did not portray any equivalent of Carole Anne Boone in his film). One wonders maybe if Berlinger toned some of this down but it is as though we get almost two entirely different women who are at polar opposites in terms of character at the centre of either film.
Ted Bundy has also been depicted on screen in The Stranger Beside Me (2003) starring Billy Campbell, the low-budget Bundy: An American Icon (2009) starring Corin Nemec and Ted Bundy: American Boogeyman (2021) starring Chad Michael Murray.
(Winner for Best Adapted Screenplay, Nominee for Best Actor (Zac Efron) at this site's Best of 2019 Awards).
---
---