---
Crew
Director – Svetozar Ristovski, Screenplay – Kellie Madison, Story – Clark Peterson, Based on the Book The Last Victim by Jeffrey Kottler & Jason Moss, Producer – Gordon Yang, Photography – Larry Lynn, Music – Terry Frewer, Special Effects Supervisor – Brant McIlroy, Production Design – James Willcock. Production Company – Notorious Pictures Inc.
Cast
Jesse Moss (Jason Moss), William Forsythe (John Wayne Gacy), Emma Lahana (Alyssa), Cole Heppell (Alex Moss), Andrew Airlie (Professor Harris), Belinda Metz (Valerie Moss), Michael Ryan (Frank Moss), Eric Keenleyside (Guard Stan), Patrick Gilmore (Glen Phillips), Jeffrey Bower-Chapman (Male Hustler), Daryl Shuttleworth (Guard Thompson), Michael Kopsa (FBI Agent)
---
Plot
In 1994, college student Jason Moss becomes fascinated with serial killer John Wayne Gacy who is on Death Row in Illinois. He decides he wants to do a term paper on Gacy and writes a letter to him. After receiving a reply, he studies everything he can about Gacy, determined to shape himself into someone who fits Gacy's victim profile and be able to obtain insight into him that nobody else has. They strike up a correspondence, with Gacy urging Jason to act on his fantasy of becoming a street hustler. Gacy then begins calling Jason at home and their relationship becomes more intimate. However, this is also something that draws Jason into Gacy's dark spell.
---
John Wayne Gacy Jr (1942-94) is one of the most notorious of American serial killers. In 1978, Chicago police came to Gacy's house while conducting a search for a missing teenager who had worked for him and a search of his house revealed evidence linked to a number of other missing boys. After Gacy's arrest, 27 bodies were uncovered that had been buried in the crawlspace underneath the house. Neighbours had complained for some time about the smell coming from under the house, which Gacy had explained away as a leaky sewage problem and had tried to cover with lime. Gacy was considered an upstanding member of the community and had done much in the way of work for volunteer organisations, including the much-remember occasions where he liked to dress up as Bozo the Clown at children's parties. Though he had been twice married, Gacy also had a secret life where he liked to have gay sex with young men. He had even started a contracting firm, employing teenagers on a casual basis. He liked to trick them into handcuffs and then violently rape them before disposing of their bodies. Convicted of the murder of 33 men, Gacy was eventually executed by lethal injection in 1994.
Jason Moss (no relation to Jesse Moss, the actor who plays him in the film) was a university student in Las Vegas when he became fascinated by the Gacy case while Gacy was waiting on Death Row. Moss began writing to Gacy for a term paper and studied Gacy's victim profile to shape himself as a more attractive prospect. Over the course of several months, in letters and phone calls, the relationship became a more intimate one and Moss visited Gacy twice in jail before his execution. The experience was published in a book The Last Victim: A True-Life Journey Into the Mind of a Serial Killer (1999), which Moss co-authored by Jeffrey Kottler.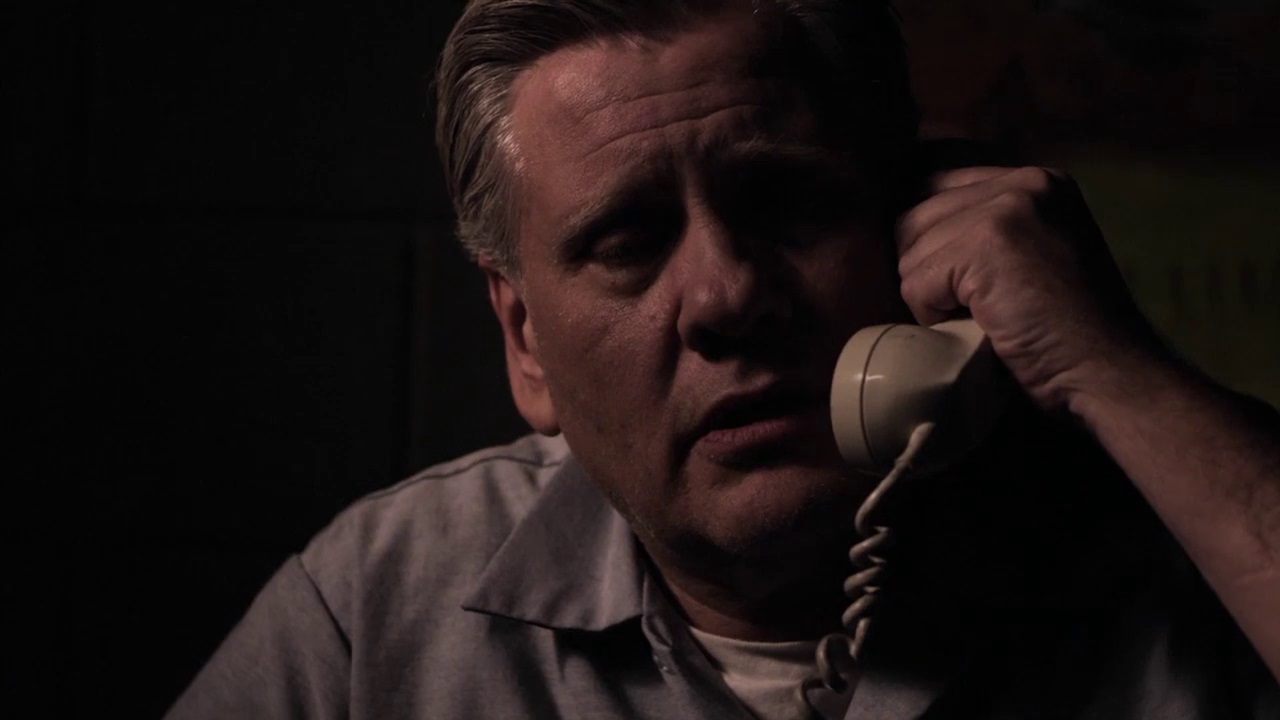 Moss went on to establish similar correspondences with other famous serial killers, including Jeffrey Dahmer, Henry Lee Lucas, Charles Manson and Richard Ramirez, using the same profiling methods, although said that his relationship with Gacy was his most succesful. The book gained Moss a certain fascination and he appeared on a number of talk shows. Following graduation, he became a criminal defence lawyer but committed suicide in 2006.
Dear Mr. Gacy is a Canadian-made film based on Jason Moss and Jeffrey Kottler's book about the courting of Gacy. I haven't the benefit of having read Moss's book to compare but the film would appear to be reasonably faithful to the conversations that took place between Moss and Gacy. About the only points of contention that seemed obvious to me is the fact that Moss made two trips to visit Gacy in jail whereas the film condenses this to one. And I am fairly sure that Moss's story did not contain accounts of Gacy attempting to rape and kill him during said visits while the warders looked on disinterested, as the film has happen near the climax. If this did occur, it would surely feature as a large part of Moss's narrative ie. his claim would surely go from "I wrote to and befriended John Wayne Gacy" to "I went to visit John Wayne Gacy in jail and he attempted to violently rape me."
Kellie Madison's script is finely attuned to the subtle nuances of the psychological interplay between the two principal characters. There is a creepy fascination as we see Jesse Moss profiling Gacy, sending Gacy posed shots of himself without a shirt, going to ask the FBI their opinion and even consulting hustlers about details of their lives. (As a journalist, I ended up being a little taken aback at the way the lines of basic interview technique seem to be blurred and muddied beyond all recognition). Equally the responses from Gacy become unsettling in the way he urges Moss to go out and hustle and then do things (which the film leaves unspecified) in regard to his younger brother, the way that the phone conversations between the two of them become more intimate.
The crux of the film's psychological interplay is the way in which the two succeed in getting into each other's head and the increasingly dark places that Jesse Moss becomes drawn. The psychological tension is wonderfully built up, before the explosive scenes when the film finally brings them together and lets it play out. In the part of Gacy, William Forsythe, a greatly underrated actor, delivers a performance that gives Gacy a sleazy thuggishness.
There have been number of other films about John Wayne Gacy. The tv mini-series To Catch a Killer (1992) with Brian Dennehy and the film Gacy (2003) starring Mark Holton are straight depictions of the Gacy crimes. Other works have included Gacy House (2010), a Found Footage film about ghost hunters encountering phenomena in Gacy's house; the bizarre Dahmer vs Gacy (2011) involving the cloning of famous serial killers; while Gacy's ghost (played by John Carroll Lynch) turned up in the Devil's Night episode of American Horror Story: Hotel (2015) and Gacy (Dominic Burgess) makes a cameo in one episode of tv mini-series Dahmer – Monster: The Jeffrey Dahmer Story (2022). However, the definitive Gacy work is Joe Berlinger's documentary tv mini-series Conversations with a Killer: The John Wayne Gacy Tapes (2022).
---
---