---
Crew
Director – Kevin Munroe, Screenplay – Thomas Dean Donnelly & Joshua Oppenheimer, Based on the Comic Book Dylan Dog Created by Tiziano Sclavi, Producers – Gilbert Adler, Ashok Amritraj & Scott Mitchell Rosenberg, Photography – Geoffrey Hall, Music – Klaus Badelt, Visual Effects Supervisor – Olaf Wendt, Visual Effects – Digital Neural Axis Inc., Gentle Giant Studios, New Breed VFX, Prana Studios Pvt Ltd. (Supervisor – Samir Hoon), Rebel Alliance Visual Effects, Spectre Visual Effects (Supervisor – Grant Hewlett), Special Effects Supervisor – Guy Clayton, Makeup Effects – Drac Studios (Supervisor – Martin Astles), Production Design – Raymond Pumilia. Production Company – Hyde Park Entertainment/Platinum Studios, Inc./Omnilab Media Group/Long Distance Films, Inc.
Cast
Brandon Routh (Dylan Dog), Sam Huntington (Marcus Steckler), Anita Briem (Elizabeth Ryan), Taye Diggs (Vargas), Peter Stormare (Gabriel Cysnos), Kurt Angle (Wolfgang Cysnos), Marco St. John (Borelli), Dan Braverman (Big Al), Kent Jude Bernard (Slake/Theodore Kuff), James Hebert (Lorca), Kyle Clements (Roddy), Garrett Strommen (Cashier/Josh)
---
Plot
Dylan Dog is a private investigator in New Orleans. He is asked to take a case by Elizabeth Ryan whose father, an antiques importer, has been killed by what Elizabeth believes was a beast. The police do not take her account seriously and it has been suggested that she seek Dylan's help – however, he says that he no longer deals with monsters or the supernatural and declines the case. That night, Dylan's assistant Marcus is killed by the same beast. Dylan returns to Elizabeth and agrees to take the case where he determines that the killer was a werewolf. Dylan also goes to the morgue to retrieve Marcus who has become a zombie. Marcus has some difficulty adjusting to his new undead condition. Dylan's investigation of the case takes him into the midst of the werewolf clans and underground vampire clubs in the city where he learns that someone is trying to obtain the Heart of Belial, an artifact imported by Elizabeth's father that has the capacity to allow the wielder to give life to a demon figure that can control all of the undead.
---
Dylan Dog: Dead of Night is based on the cult Italian comic-book Dylan Dog, created in 1986 by Tiziano Sclavi and which still continues today. Dylan Dog is a darkly funny parody of the detective story in which the eponymous hero deals with various manifestations of the supernatural. Sclavi also wrote the novel on which Michele Soavi's hilarious Dellamorte Dellamore/Cemetery Man (1994) was based – indeed, the film's central character of Francesco Dellamorte crosses over into several issues of Dylan Dog.
Dylan Dog: Dead of Night is a US-made adaptation of the comic-book. It is the live-action debut of Kevin Munroe, previously best known as an animation director with TMNT (2007) and subsequent to this the animated films Ratchet & Clank (2016) and Troll: The Tale of a Tail (2018).
I have not read the original comic-book but Dylan Dog: Dead of Night was disliked by the comic-book's fans – it supplants the story's setting from Italy to New Orleans (principally, it seems, to take advantage of the city's offer of massive tax relief to film investors as an economic boost for the city post-Hurricane Katrina) and is lacking much of the surreal humour. On screen, Dylan Dog comes across as a lesser episode of tv's Angel (1999-2004) or a variant on the great tv movie Cast a Deadly Spell (1991), even perhaps a less serious version of Constantine (2005). It is a prime example of the Occult Detective on film – for greater detail see Occult Investigators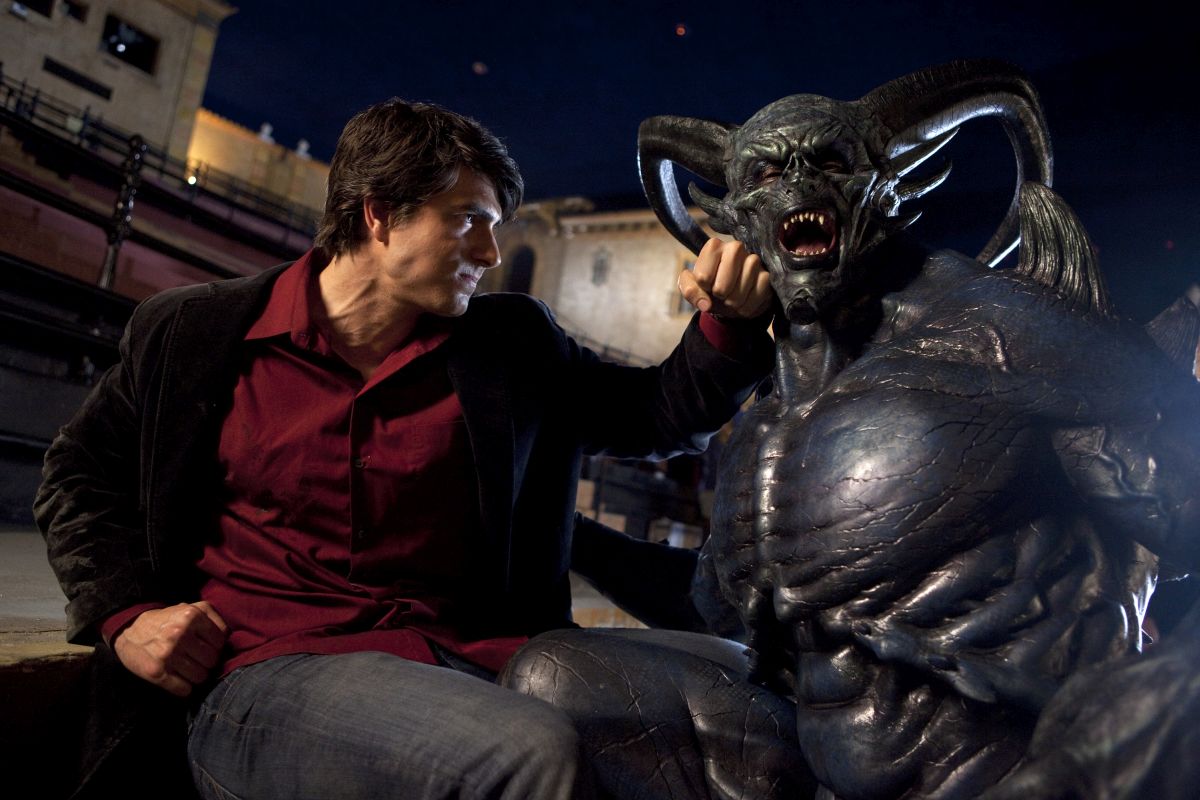 The film shows promise from the hilarious opening scene where Brandon Routh confronts a guy who has come to kill him by deconstructing the meaning of the way he holds his gun and the threats he makes, turning this completely around to instead get hired by the man. Unfortunately, once we get to the scenes with Brandon Routh retrieving Sam Huntington from the morgue, the film descends to a level of lame humour and never lets up.
The film is filled with strained and unfunny scenes with Routh wheeling Huntington through a supermarket in a trolley explaining the need for him to use floor cleaner as a deodorant, bleach as toothpaste and the like. Occasionally these amount to something amusing like the scenes where Sam Huntington tries to come to terms with being a zombie – finding that all fast food workers are zombies who have a special for the newly undead, or attending zombie support groups.
Dylan Dog is generally competent on a technical level. There is an impressive looking demon figure that turns up in the climactic scenes but the battle scenes with it are routine. The werewolf effects are so-so. The plot has its amusements but is mostly generic. The Heart of Belial is another of the routine magic McGuffin artifacts that turn up in these films – see also Blade (1998), Vampires (1998) – with the ability to change the gameplan between vampires and humans.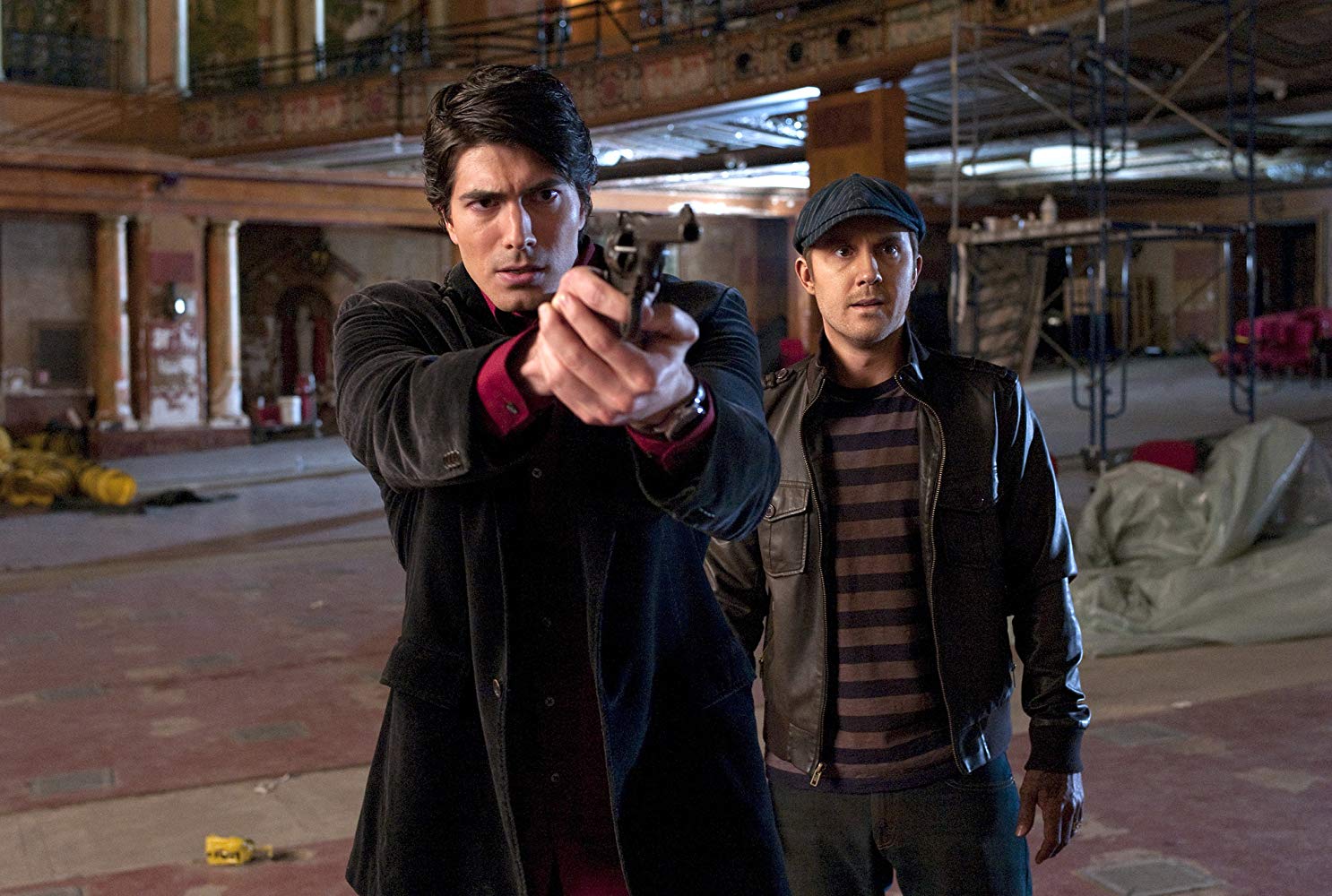 Anita Briem seems to have no real purpose in the film than be the requisite love interest before undergoing an improbable last minute character revelation [PLOT SPOILERS] where we learn that despite bringing Dylan in to investigate her own father's death, she was the one who has been plotting to use the Heart of Belial all along – not to mention an absurd climactic scene where she goes into combat wielding two short swords that she has somehow managed to hide in her brief vest while being held prisoner. I was also never sure why the werewolf killed Marcus in particular – other than this being a set-up to get to the B-plot about him as a zombie.
Dylan Dog: Dead of Night does at least answer the great pressing question of "What ever happened to Brandon Routh?" Routh was seen as holding great promise as a result of playing the lead in Superman Returns (2006) but vanished from sight after the film flopped. It is good to see him back on screens, even if the role here needed someone far more grizzled in the part.
---
---