---
Crew
Director – Bob Balaban, Screenplay – Dean Lorey, Producer – Sean S. Cunningham, Photography – Mac Ahlberg, Music – Harry Manfredini, Visual Effects – Fantasy II Film Effects (Supervisor – Gene Warren), Mattes – Matte Effects (Supervisor – Bruce Block), Makeup Effects – KNB EFX Inc, Production Design – Michael Hanan. Production Company – Touchstone.
Cast
Andrew Lowery (Johnny Dingle), Traci Lind (Missy McCloud), Danny Zorn (Eddie Connors), Mary Beth Hurt (Marge Dingle), Edward Herrmann (Mr Dingle), Jay O. Sanders (Sheriff McCloud), Austin Pendleton (Dr Emille Bronson), Paul Dooley (Big Chuck Bronski), Matthew Fox (Buck Van Patten), Philip Hoffman (Chuck Bronski), Bob Dishy (Murray Brickman), Cloris Leachman (Maggie the Zombie Expert)
---
Plot
Johnny Dingle has had a crush on Missy McCloud ever since they were children. After Missy breaks up with her boyfriend, Johnny and his best friend Eddie hatch a scheme to fake a robbery in the convenience store where she works so that Johnny can then appear and rescue her. However, a real robber enters and Johnny is shot in the ensuing chaos. Before he dies, Johnny asks Missy to the prom and she agrees. That night Johnny gets back up out of the grave. He returns home and attends school the next day as though nothing had happened. However, he soon finds that his body parts are starting to fall off. As he determines to complete his dream of taking Missy to the prom, he realizes that the only thing that will stop him falling apart is feasting on human flesh.
---
The 1980s and 90s gave us spoofs on the vampire film, the werewolf film, the Frankenstein film, the exorcism film and most other horror themes. My Boyfriend's Back was one of several comedic variant on the zombie film that came out around the same time – in the same vein see also Peter Jackson's hilarious Braindead/Deadalive (1992) and the bizarre Ed and His Dead Mother (1993).
My Boyfriend's Back is an incredibly silly film. The film's principal joke is that the hero returning as a zombie is something that is regarded as perfectly normal by most of the people around him. This is a gag that quickly tires, principally because it seems to require that people behave in ways that never coincide with real human behaviour – Johnny's parents store dead bodies in the refrigerator and abduct kids for him to eat, his friends regard the sight of Johnny eating a dead body as normal. Some of the would-be black humour scenes – like where Philip Hoffman accidentally hits himself in the head with an axe or a dream scene where Johnny's nose, arms and legs all fall off – flop badly. The plot doglegs all over the place, sometimes whipping about so suddenly that the effect is rather one of hysterically hyped silliness.
Director Bob Balaban eschews any makeup effects – the only effect we see is Johnny with a whitened face, we never see any of the noses and missing ears that are supposed to fall off. This has been deliberately played down for its target teen audience, which is fairly much what one expects to be the case when Disney makes a zombie film.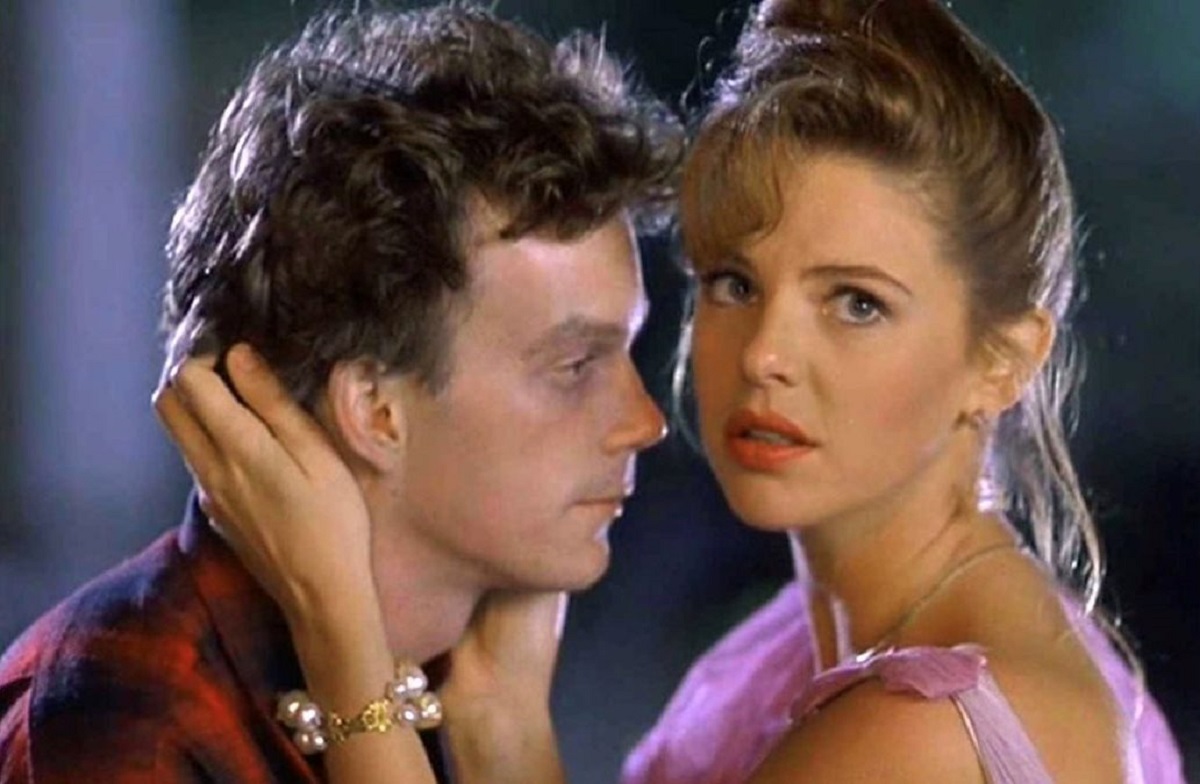 The title does not even make sense – the film is narrated from the hero's point-of-view, not the heroine's. Although part of the reason here is indecision on the part of Disney/Touchstone who did not think that the film would reach its audience under its original title, Johnny Zombie; they were partly right, it didn't under its new title either.
Bob Balaban is better known as an actor in films such as Close Encounters of the Third Kind (1977), 2010 (1984), Lady in the Water (2006) and various Christopher Guest films. My Boyfriend's Back was his second directorial film – his first, Parents (1989), also featured a theme of cannibalism. The film was produced by Sean S. Cunningham, best known as the director of Friday the 13th (1980).
In the before-they-got-famous category we can see several names, including Matthew Fox, later the star of tv's Lost (2004-10), who plays Traci Lind's ex-boyfriend, and Academy Award-winning actor Philip [Seymour] Hoffman, cast as Matthew Fox's psychotic bully friend, who both get eaten by Andrew Lowery. In his first film appearance, Matthew McConaughey also has a role in the background.
---
Trailer here
Full film available online here:-
---