---
Crew
Director – Robert Stromberg, Screenplay – Linda Woolverton, Producer – Joe Roth, Photography (3D) – Dean Semler, Music – James Newton Howard, Senior Visual Effects Supervisor – Carey Villegas, Visual Effects – Digital Domain (Supervisor – Kelly Port) & MPC (Supervisor – Adam Valdez), Special Effects Supervisor – Michael Dawson, Maleficent Makeup – Rick Baker, Prosthetic Design – David White, Production Design – Dylan Cole & Gary Freeman. Production Company – Disney/Roth Films.
Cast
Angelina Jolie (Maleficent), Elle Fanning (Aurora), Sharlto Copley (King Stefan), Imelda Staunton (Knotgrass), Lesley Manville (Flittle), Juno Temple (Thistletwit), Sam Riley (Diaval), Brenton Thwaites (Prince Phillip), Kenneth Cranham (King Henry), Isobelle Molloy (Young Maleficent), Ella Purnell (Teen Maleficent), Jackson Bews (Teen Stefan), Michael Higgins (Young Stefan)
---
Plot
Maleficent is a fairy among the magical creatures that live in the moors. One day, Stefan, a boy from the neighbouring kingdom, comes to the gates of the world. She befriends him and a love grows between them over the years. She is appointed the guardian of her world. King Henry brings his armies to conquer the moors but she and her creatures drive them back. Dying from his wounds, the king offers his crown to whoever kills Maleficent. Stefan goes to her and they reunite after many years – only for him to drug her and then cut off her wings. After returning, he is crowned the king. Maleficent swears vengeance. Stefan marries and duly produces a baby daughter Aurora. At the christening, Maleficent appears along with the other fairies who have come to bestow their blessing. She places a curse on Aurora that on her sixteenth birthday she will prick her finger on a spinning wheel and fall into a sleep from which she can only be awakened by true love's kiss. Stefan orders all spinning wheels in the kingdom to be destroyed and sends Aurora away to be raised by the three fairies at a cottage in the woods. As Aurora grows up unaware of her true parentage, Maleficent keeps a secret eye on her. Eventually revealing herself to Aurora, a friendship grows between the two of them. Maleficent then tries to undo her curse, only to find that she cannot.
---
Maleficent falls into a fad that began a few years ago where we saw classic fairytales reworked as dark adult fantasy films. This has seen the likes of Red Riding Hood (2011), Mirror Mirror (2012), Snow White and the Huntsman (2012), Hansel & Gretel: Witch Hunters (2013), Jack the Giant Slayer (2013), Beauty and the Beast (2014), Into the Woods (2014) and Cinderella (2015), as well as the tv series Grimm (2011-7), Once Upon a Time (2011-8) and Beauty and the Beast (2012-6), various cheap copies from The Asylum and other efforts such as Beastly (2011), which places Beauty and the Beast in a high school setting.
Maleficent is a prequel/remake of Disney's Sleeping Beauty (1959). It seems intended to follow what was introduced with the Disney produced Oz: The Great and Powerful (2013), and before that with the Star Wars prequels, which offer back-stories and motivations to characters in classic fantasy stories. This trend was largely popularised by the huge success of the Broadway musical Wicked (2003), which offers up the origin story of the Wicked Witch of the West from The Wizard of Oz (1939). Maleficent is clearly intended as an origin story of the witch from the Disney version of Sleeping Beauty. It is from this version that the film takes it look of the characters and the design of the world, rather than going back to the substantially different original Sleeping Beauty (1697) put down by Charles Perrault or the later version Briar Rose (1812) by the Brothers Grimm. It can be noted, for instance, that in the original fairytale Maleficent (who is never even named) is a minor character, not a major villain, while the entire kingdom goes to sleep for a hundred years before the prince appears and she is woken by the kiss of true love.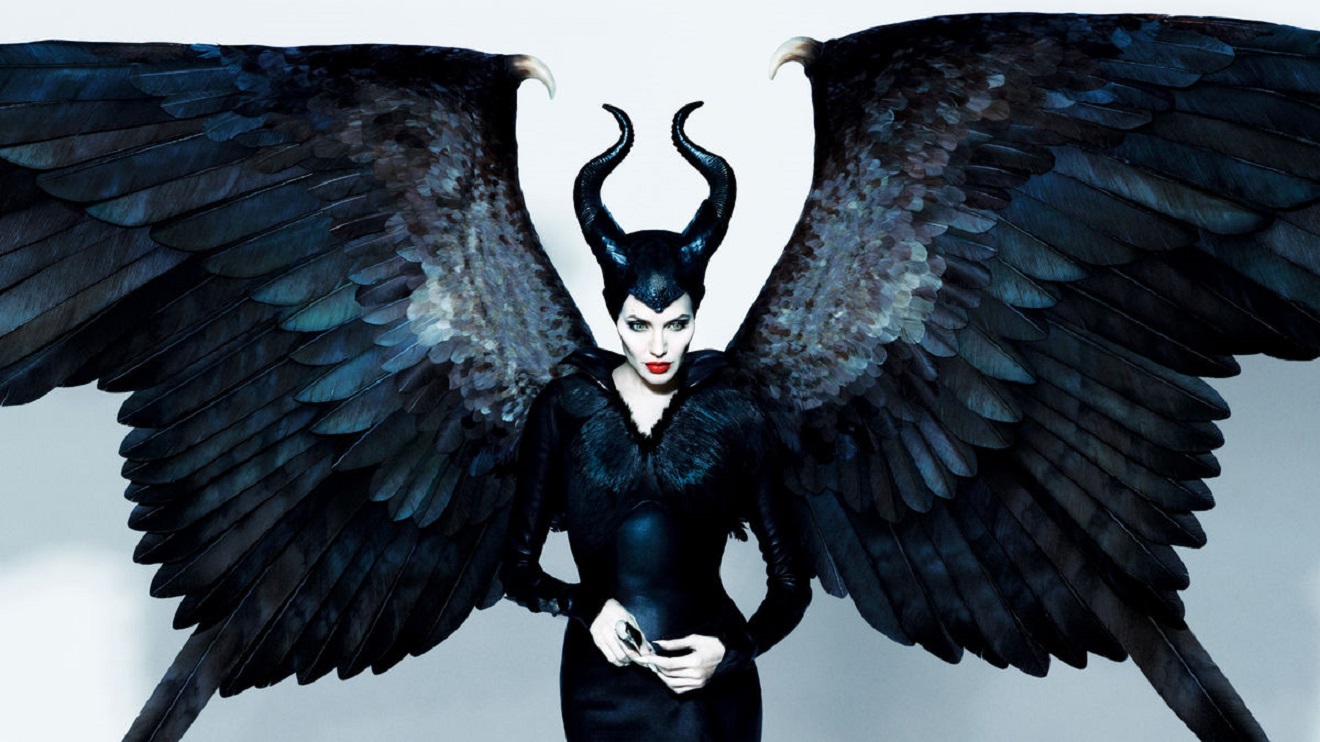 Maleficent was shepherded by Joe Roth, a Hollywood producer since the 1970s – and occasional director with rather forgettable films that include Revenge of the Nerds II: Nerds in Paradise (1987) among others. Roth has a long list of producer credits that include Young Guns (1988), Major League (1989), The Three Musketeers (1993), Daddy Day Care (2003), Tears of the Sun (2003), The Forgotten (2004), Knight and Day (2010), Heaven is for Real (2014) and, most notably, Alice in Wonderland (2010) and Oz: The Great and Powerful. It is on these last two, along with Avatar (2009), that director Robert Stromberg worked as production designer. Before that, Stromberg had, going back to the early 1990s, worked as a matte artist and later visual effects supervisor for companies such as Illusion Arts and Rhythm & Hues, among others. He makes his directorial debut with Maleficent.
Maleficent quickly falls into the look patented by these other fairytale films and in particular the world we saw on Oz: The Great and Powerful – a richly detailed fantasy kingdom with lush hyper-realised lands filled with fairies, water sprites and other magical creatures; clouds roiling with outbursts of magical energy; animal-to-human transformations; dark castles on the horizon; digitally rendered armies in their thousands crossing mighty plains and in combat with Maleficent's army of magical creatures. There are enchantments, magic forests and dark sorceries aplenty. It all makes for a pretty and visually beguiling film. Alas, it is also one that feels precisely like a meal of next-to-no-substance that can be forgotten almost as soon as it is over. It is not a film I hated by any means – I felt generally entertained; crucially though, I never felt engaged by Maleficent.
The film made a big thing in pre-publicity about how Angelina Jolie was the only one who could play the role. That is possibly the case, although you cannot help but feel that it is such a cardboard caricature she is enacting that anybody could have been cast in the part. I was never part of the glitterati that was wowed by Jolie as an actress – she seems flat in everything that she has been in. Her greatest successes have been when the respective films allow her to enact poses and let the costumiers and stunt people do the rest for her. That is certainly the case here where she is literally inhabiting a two-dimensional cartoon figure and most of her performance is delivered by her presence moving through the scenery in huge set of horns, severe black robes and haughty, digitally-enhanced cheekbones.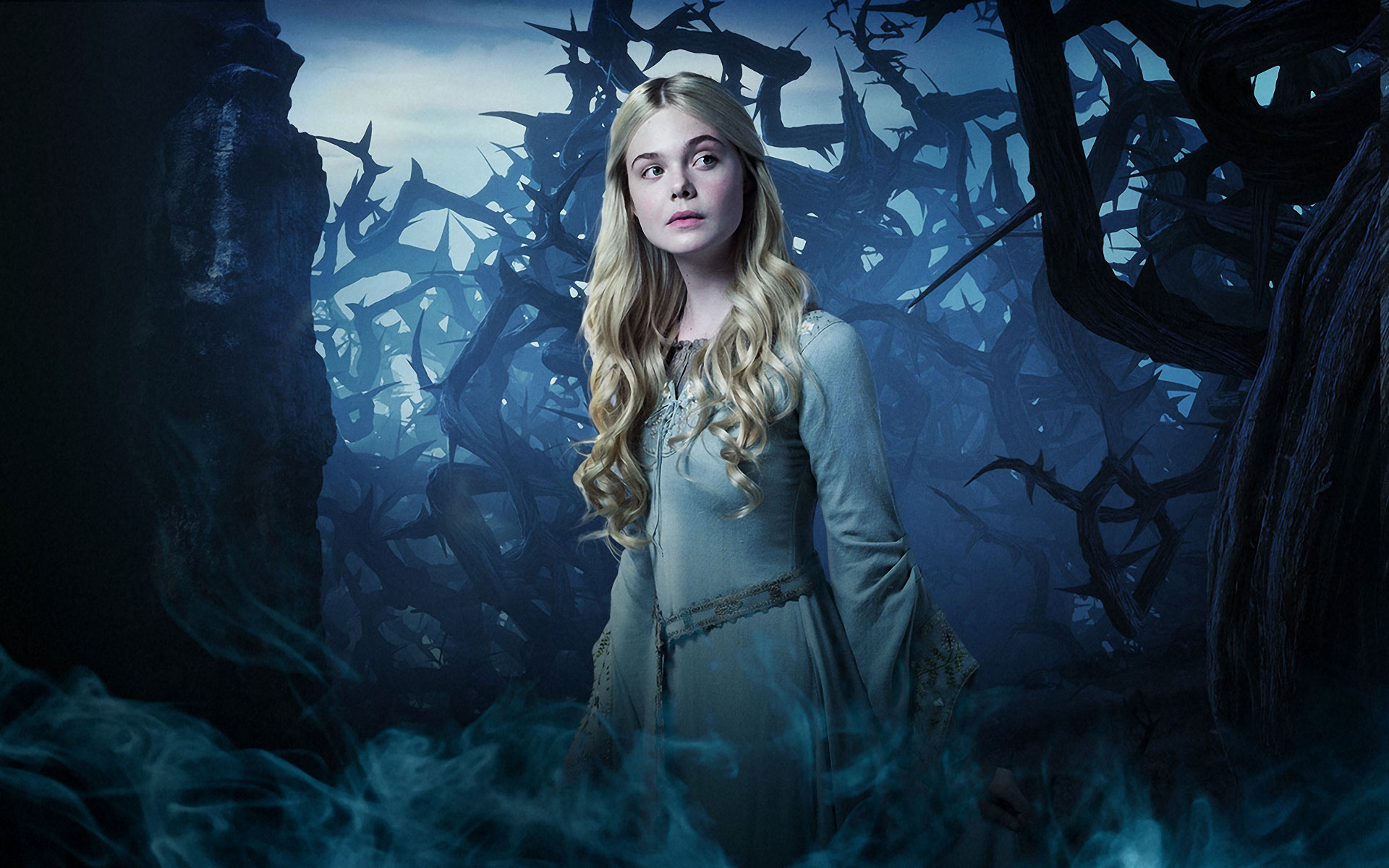 The best parts of Maleficent are when it gets to mess around with the fairytale. The most interesting scenes come around the middle [PLOT SPOILERS] when Maleficent, watching as what is later termed Aurora's 'fairy godmother', begins to have a change of heart and tries to revoke the curse she has placed only to find that she cannot. Thereafter we head down a very different path to the one that we are used to, or that Disney served up in 1959. The prince is made into an ineffectual dweeb who barely even gets a look in. There is a sort of vague attraction between the two of them but the whole issue of their true love is written out and, most radically, it is not even his kiss that awakens Aurora. It now becomes the redeemed Maleficent who places a motherly kiss on Aurora's forehead that awakens her.
The climax of the Disney animated film had the prince fighting through the forest of thorns to combat Maleficent transformed into a dragon atop the tower of her castle; this rearranges that, writes the prince out altogether and has the king and his soldiers fighting off the dragon (which is actually Maleficent's shapechanged sidekick Diaval), while the climax is a fight between the king, who is now made into the real villain, and Maleficent atop the tower of his castle from which it is he who plummets to his death. Perhaps the silliest change is the rewriting of the three good fairies as useless twits that are constantly stumbling over themselves.
Angelina Jolie and Elle Fanning returned in a sequel Maleficent: Mistress of Evil (2019), which is a far better film.
---
---