aka The Never Dead
---
Crew
Director/Screenplay/Producer/Photography – Don Coscarelli, Music – Fred Myrow & Malcolm Seagrove, Special Effects – Paul Pepperman, Makeup – Shirley Mae, Production Design – S. Tyler. Production Company – New Breed Productions.
Cast
Michael Baldwin (Mike Pearson), Bill Thornbury (Jody Pearson), Reggie Bannister (Reggie), Angus Scrimm (The Tall Man), Kathy Lester (Lady in Lavender), Bill Cone (Tommy Pearson)
---
Plot
Tommy Pearson is murdered in a graveyard by a mysterious lady in lavender. At the funeral, his youngest brother Mike sees the tall, sinister Morningside Mortuary attendant pick up the coffin and throw it in the back of the hearse with unnatural strength. Haunted by dreams and prophecies, Mike breaks into the mortuary to find the truth. There he is pursued by hooded dwarves, flying silver spheres that drill into people's brains, and the Tall Man whose finger spurts yellow blood and remains alive after it is severed in a door. Mike and his other brother Jody discover the Tall Man's scheme to shrink the dead down to dwarf size and export them as slave labour to another dimension.
---
Phantasm, aka The Never Dead in some parts of the world, was a remarkable little low-budget film that became a considerable sleeper hit in 1979. A decade later its success seemed overshadowed by other low-budget hits from the same period but for a time it almost seemed in danger of developing a cult. Director and principal creative force Don Coscarelli had made his first films, Kenny and Company (1976) and Jim the World's Greatest (1976), while in his teens. He was hailed as a result of Phantasm, although after the dull sword-and-sorcery effort The Beastmaster (1982) never fulfilled the promise he was seen to once hold and he has spent the next two decades mostly making Phantasm sequels.
Phantasm is filled with surreal offbeat images – the killer sphere that drills into victims' heads and sprays the entire contents of their brains out behind it; the sinister figure of the Tall Man who is always shot striding along in slow-motion to the accompaniment of huge booming drumbeats; his finger that continues to wiggle after being amputated and then mutates into a malevolent insect; hands exploding out of walls and graves to grab people and so on. There is even a scene with a psychic who makes the young hero overcome his fear by placing his hand inside a pain-inducing box that Coscarelli has stolen wholesale from Frank Herbert's Dune (1965).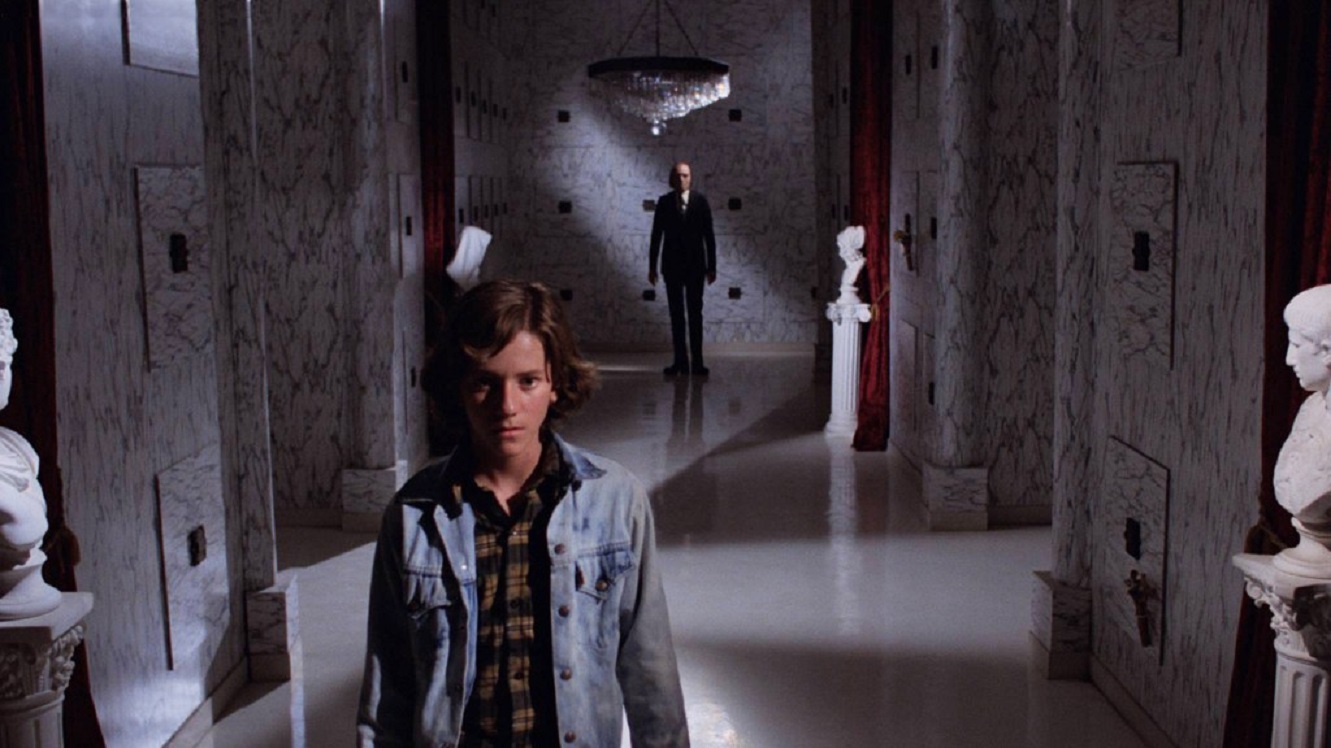 Coscarelli creates a funereal world that hovers somewhere on the twilight edge of the real world. Notedly, the film sets itself in a distorted version of reality – there are almost no daylight scenes and the few we get are always shot with threatening overtones of grey skies. Apart from the principals, a bartender and some people at the funeral, there are almost no other characters in the film.
The explanation for everything – something about people being killed and then shrunken for use as slave labour in another higher gravity dimension – is delightfully preposterous and comes nowhere near offering any reason for half the goings-on. It is, as the title suggests, a 'phantasm' – a figment of the imagination or an illusion.
You can only appreciate Phantasm not as coherent narrative but as a film that seems to operate on the logic of a dream. (Even then, the "it was all a dream" ending and the twist then offered on that makes no sense in terms of the internal logic the film establishes). Indeed, Don Coscarelli says that the film originally came to him in a recurrent dream – one wherein he was being pursued by the silver spheres. The same surreal incursions and underminings of dream and reality was conducted a few years later with Wes Craven's A Nightmare on Elm Street (1984), which more than likely drew some influence from Phantasm.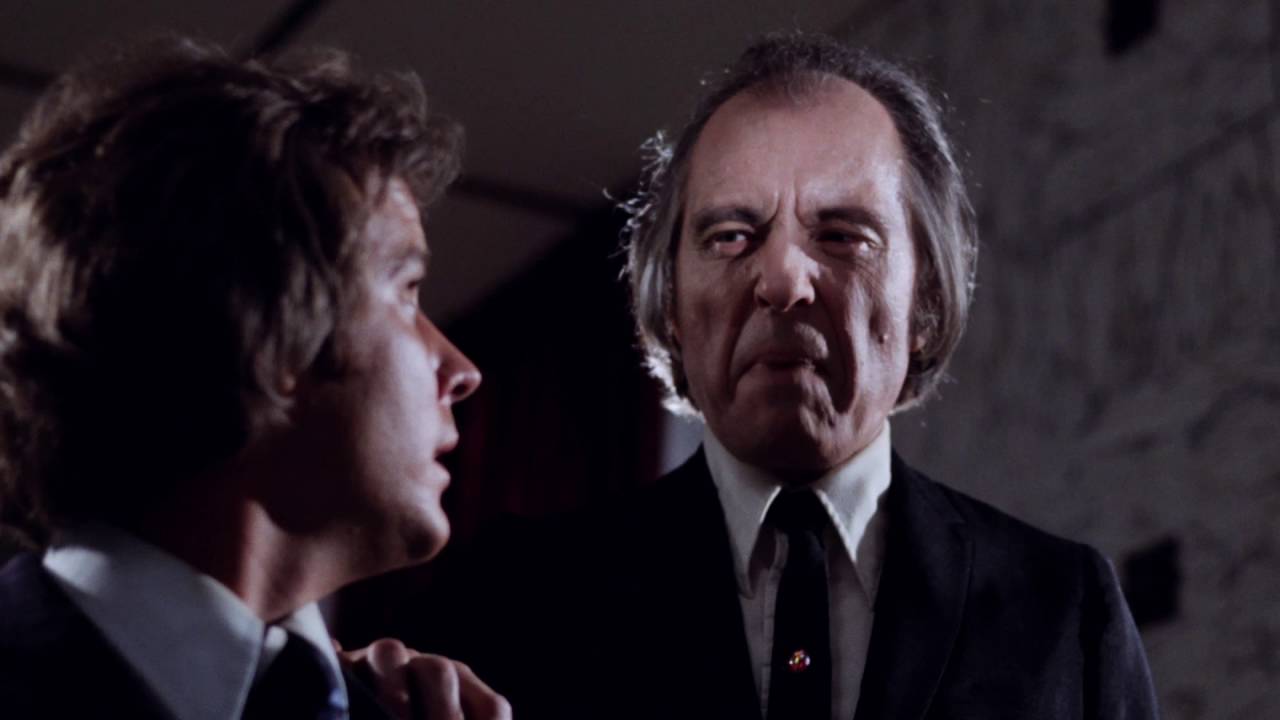 There were four sequels:- Phantasm II (1988), Phantasm III/Phantasm: Lord of the Dead (1994), Phantasm IV: OblIVion (1998) and Phantasm: Ravager (2016). Don Coscarelli wrote-directed the first three and wrote-produced the last. Angus Scrimm and Reggie Bannister appear in all four; Michael Baldwin was replaced by James Le Gros in Phantasm II but returned to the part in the subsequent sequels.
Don Coscarelli's other films of genre interest are the sword and sorcery film The Beastmaster (1982); Survival Quest (1988), a weak teenage wilderness brutality film; Bubba Ho-Tep (2002), featuring a middle-aging Elvis and JFK tackling a mummy in a retirement home; and the mind-bendingly hilarious John Dies at the End (2012). Coscarelli also wrote-produced Phantasm: Ravager (2016) and produced Dead Night (2017).
Angus Scrimm (1926-2016) went on to become a genre favourite as a result of his part as The Tall Man and makes regular appearances in low-budget productions including the likes of Jim Wynorski's spoof Transylvania Twist (1989), Subspecies (1991) where he plays the vampire king, Mindwarp (1992), Vampirella (1996) and Wishmaster (1997).
---
---