(Dnevnoy Dozor)
---
Russia. 2006.
Crew
Director – Timur Bekmambetov, Screenplay – Timur Bekmambetov, Sergei Lukyanenko & Alexander Talal, Based on the Novel by Sergei Lukyanenko, Producers – Konstantin Ernst & Anatoli Maksimov, Photography – Sergei Trofimov, Music – Yuri Poteyenko, Visual Effects Supervisors – Aleksandr Gorokhov, Vladimir Leschinski & Andrew Mesniankian, Production Design – Mukhtar Mirzakeev, Nikolai Ryabatsev & Valery Viktorov. Production Company – Channel One Russia/Tabbak/Bazelevs Production.
Cast
Konstantin Khabensky (Anton Gorodetsky), Mariya Poroshina (Sveta Nazarova), Galina Tyunina (Olga), Viktor Verzhbitzky (Zavulon), Vladimir Menshov (Boris Gesser), Zhanna Friske (Alicia), Aleksei Chadov (Kostya Sergeeivich), Dmitri Martynov (Yegor), Valeri Zolotukhin (Valery Sergeeivich), Irina Yakovleva (Galina Rogova), Nurzhuman Ikhtymbayev (Zoar), Rimma Markova (The Old Witch Darya), Igor Lifanov (Parrot), Aleksei Maklakov (Semeon)
---
Plot
As Anton Gorodetsky continues his patrol on the Night Watch accompanied by a trainee Sveta Nazarova, they receive a call about a Dark Other attack on a human. Sveta impulsively follows the Other into The Gloam, despite Anton's orders not to. Without thinking about it, Sveta pursues the Other to the Second Level Gloam, something that Anton does not have the skill to do. Before the Other flees, Sveta manages to snatch their hat. When he sees the hat, Anton realises that the attacker is his son Yegor who has gone over to the Dark Others under Zavulon's personal guidance. The Night Watch also realise that Sveta must be one of the rare Great Others, like Yegor, who have enormously powerful abilities. However, the fact that two Great Others are in near proximity could spell disaster. Yegor's tutor Galina begs Anton for the hat back to prevent Yegor being discovered and punished by The Inquisition. She is then found murdered outside Anton's apartment. The Day Watch want to have Anton executed for the murder and so Night Watch head Boris Gesser takes the step of swapping Anton and Olga's minds into each other's bodies. As Olga, Anton takes refuge with Sveta and hears her confess that she loves him. Hunted by the Day Watch, Anton travels to Samarkand on a crusade to find the legendary Chalk of Fate from the tomb of the great warrior Tamerlane, with which one is reputed to be able to rewrite their own past.
---
The Russian-made Night Watch (2004) was a horror epic that became a runaway word-of-mouth success with audiences in international release. Director Timur Bekmambetov made an effort to approximate Western styles of filmmaking and constructed a battle that took place on an epic-sized canvas with an amazingly intricate storyline. The film frequently got away from Bekmambetov and suffered from weak special effects but was fired up by a genuinely wild imagination.
Day Watch is a direct sequel to Night Watch. The sequel is based on Day Watch (2000), Sergei Lukyaneko's novel follow-up to the original Night Watch (1998) novel that the film was based on. Timur Bekmambetov returns with almost all of the cast from Night Watch. The success of Night Watch in the West has also allowed him a much bigger budget and Day Watch is far more polished in terms of the scale of special effects. Bekmambetov even gets to go on location in Jamaica according to the credits (presumably for the scene where a romantic interlude in the shower transforms into a tropical waterfall).
What made Night Watch was Timur Bekmambetov's frequently wild and out there visions of the fantastic. Belmambetov opens Day Watch with one such sequence set in the icy wastelands of Northern Iraq where the warrior Tamerlane leads a horseback army that covers miles of snow. They arrive at a vast fortress where Tamerlane smashes through the brick walls of the fortress on his horse while Bekmambetov's camera cruises up to a fabulous aerial shot looking down as fighting between hundreds of combatants breaks out in the warren of walls, turrets and courtyards of the fortress below, while Tamerlane makes his way through to the inner sanctum to find a man with his skin painted in gold waiting with the chalk balanced in a pattern of stones.
This bodes exceedingly promising things for Day Watch. Things continue a couple of scenes later where Konstantin Khabensky and Mariya Poroshina pursue the masked attacker into The Gloam, which has been revised with a better special effects budget to appear as a realm where insects buzz in patterns of light and the blurry phantoms of figures race past in sped-up motion.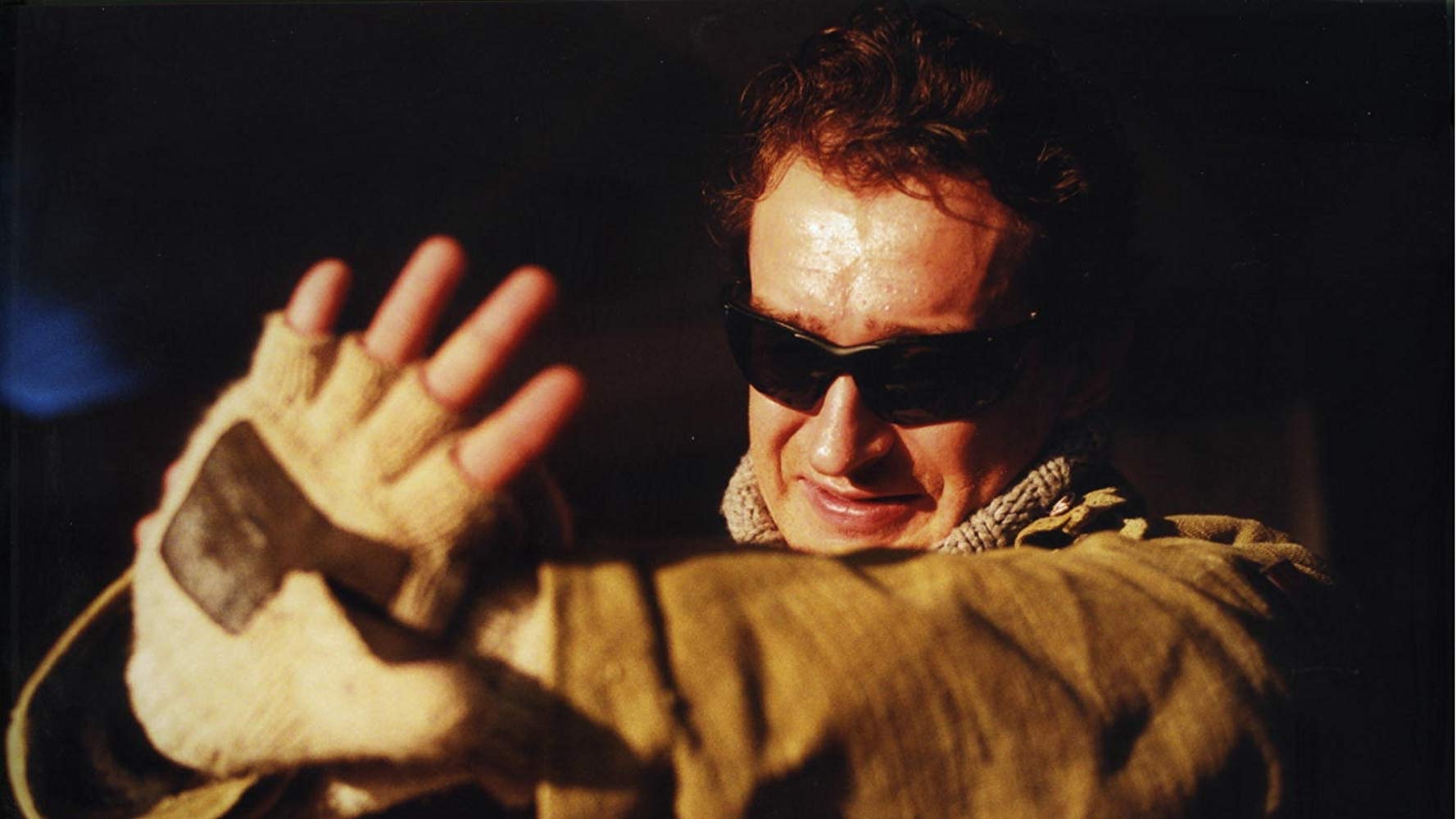 Thereafter though, Timur Bekmambetov's imagination begins to slow down somewhat. Maybe it is that Bekmambetov has improved in terms of making a film that is less constricted in terms of ideas but Day Watch also one ends feeling that the wild imagination of Night Watch has been more rationed. The funniest and wildest sequence is where Zhanna Friske drives her sportscar through the streets at high-speed and then up at a 90 degree angle across the great curved frontispiece of a hotel, before smashing through one of the windows and racing off through the corridors, pushing a cleaning trolley in front of the car, to burst into Viktor Verzhbitzky's office to be greeted with a rather deadpan "Don't you ever knock?" (The sequence is very similar to the motorcycle chase in Ultraviolet (2006), which came out the same year).
There are some other imaginative sequences – like where Konstantin Khabensky and Galina Tyunina cause a plane to keep lifting off and landing on the runway as they argue about going to Samarkand, and especially the climax where the unleashing of the silver ball causes a series of pellets to blast through the people in a ballroom, topple a neighbouring tower and unmoor a Ferris Wheel in an orgy of mass destruction. Certainly, Timur Bekmambetov has the same afire visuals (and takes them even further than he could the first time thanks to a bigger budget) but the film between them seems somewhat the lesser. Particularly in the scenes where Bekmambetov stops to conduct a romance between Mariya Poroshina and a bodyswapped Galina Tyunina, Day Watch slows down and even becomes corny.
As before in Night Watch, Day Watch has so much going on in it plotwise that it is frequently difficult to follow. Someone coming in to see Day Watch without seeing Night Watch, as a friend of mine did, would be in considerable confusion about what is going on. One must say though that seen in the light of Day Watch, the plot for Night Watch makes a good deal more sense. You have to commend Timur Bekmambetov as both Night Watch and Day Watch give the impression of having been written as one single story from the outset, as opposed to Day Watch simply being conceived as a sequel because the first film was a success as is usually the case in the West. It is only here that some of the plot elements that were laid down in Night Watch – the vampire neighbour, Yegor's surrender to the Dark Others, the character of Sveta/Svetlana – begin to gain their full flowering and make sense in terms of the overall story.
One of the aspects that Day Watch welcomely retains from Night Watch is the wonderfully visually inventive English-language subtitles – Valeri Zolotukhin calls Zhanna Friske a bitch as he throws a raw steak against the wall and the word 'bitch' appears in red amid the blood slithering down the wall; when the score for a soccer game is mentioned, we get the numbers ticking over just like the scoreboard on a pitch; the mention of Galina's murder comes with the words 'dead' highlighted in red; words vibrate on the screen as Valeri Zolotukhin plays a drum; and when Konstantin Khabensky asks an air hostess for some mint drops, the words even turn green.
Timur Bekmambetov has announced a third film in the series, tentatively titled Twilight Watch/Dusk Watch. However, Bekmambetov put plans for this on hold to travel to the US to make the action film Wanted (2008), Abraham Lincoln, Vampire Hunter (2012) and the remake of Ben Hur (2016), as well as producing a number of other projects including the animated 9 (2009), the NASA Moon landing/alien possession mockumentary Apollo 18 (2011), the alien invasion film The Darkest Hour (2011), The Snow Queen (2012), Unfriended/Cybernatural (2014), Hardcore Henry (2015), Unfriended: Dark Web (2018), The Drone (2019), Syostry (2022) and Resurrected (2023).
---
---